Victorian Fashion & Costume Plates from the 1860s
Part 7 - The Englishwoman's Domestic Magazine Fashion Plates 1869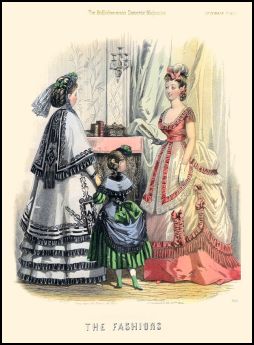 Samuel Beeton founded two of the most important British fashion magazines of the C19th. These Victorian magazines were Mrs Beeton's The Englishwoman's Domestic Magazine and The Queen. Lindsay, owner of an 1869 edition of 'The Englishwoman's Domestic Magazine', kindly sent me these wonderful fashion plates. All the pictures are thumbnails, which enlarge to full A4 size.
Last year Lindsay the owner of these fashion plates also sent me a fascinating photograph of Charlotte a young Victorian woman whom he knew to be a relative, but was unsure of which 'great' grandmother she was. Using historical images such as fashion plates like these, together we came to the conclusion that the date of Charlotte's photograph sitting was 1869-1871. Read more below.
You may have read recently in the UK newspapers about a rare 1863 copy of a Victorian magazine to be auctioned at the end of the November 2007, by Auctioneers in Derbyshire. It seems the auctioneers expect that the edition will fetch £200-£300 at auction. I've no doubt it will after all the publicity the auction house has generated!
I have to say that I don't consider such items as rare as the auction house seems to think. Search eBay on a regular basis and this type of bound book whether Petersons, Grahams, Petit Courrier des Dames or World of Fashion all at some point, appear in the fashion and costume plate listings.
Within just a day of seeing the Victorian snippet article in the Times and the Telegraph, I received an email from a site visitor saying an octogenarian relative of his had ... "just seen an article ... about The Englishwoman's Domestic Magazine. Now she has unearthed a green covered book dated 1867, with the same title..."
Rare? Not so rare I think. Desirable, if you are passionate about fashion plates. Many families just keep such items in their household as treasures from another generation to the next, and now and again they get out the book to look at the lovely plates. Americans and Australians seem to have larger lofts than we British, consequently they appear to find hordes of such memorabilia in grandma's pile of inherited goods; boxes that were never really sorted after clearing great-grandma's home.
Lindsay, owner of a 1869 edition of The Englishwoman's Domestic Magazine, inherited his fashion plates in much the same manner. He would never sell them, but he kindly sent me scans of these wonderful fashion plates back in 2004 and they have been on the site since 2005. These thumbnails enlarge to full A4 size. You can also see many more fashion plates on fashion-era.com simply by using the search button.
These images are available here as grey scale images for colouring in.
The Englishwoman's Domestic Magazine began in 1852, but it contained only nondescript black and white images until 1860. Aware of the growing interest in fashion, style and manners from the new middle classes, in 1860 Beeton began to import tinted fashion plates directly from Jules David in Paris. Every month for the next 25 years a fashion plate graced The Englishwoman's Domestic Magazine. With falling sales it merged into The Milliner, Dressmaker and Warehouseman's Gazette in 1877 although still publishing fashion plates by David and ceased business 1881.
§
Last year Lindsay the owner of these fashion plates sent me a fascinating photograph of Charlotte a young Victorian woman whom he knew to be a relative, but was unsure of which 'great' grandmother she was. Together we came to the conclusion that the date of Charlotte's photograph sitting was 1869-1871.
Imagine then my surprise when some months later he scanned these lovely fashion plates and sent them to me. It suddenly dawned on me that they had probably been pored over by Charlotte who was indeed following the latest fashions of the day. Her hairstyle bears a strong resemblance to the main lines shown in the plates here as does the cut of her bodice and the set of the long cuffed sleeve lines.
Fashion plates like these are especially helpful in dating photographs. Here I have removed the sleeves from 6 of the plates above to show the general silhouette line of the sleeve style. Obviously, there was some variation as expressed in the flamboyance of the theatrical angel sleeve in the header. However, in the main the sleeves of 1869 - 1871 were slim line and cuffed or pie crust frilled as in these examples.
You are reading an original fashion history article by Pauline Weston Thomas at fashion-era.com.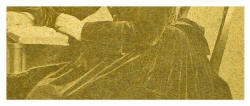 This is a section of the sleeve in Charlotte's photograph.
Read more about Charlotte's dress here.
I also own some of the fashion plates from this magazine and can confirm the text makes fascinating reading drawing the reader into a world of how to conduct oneself and organise life to perfection in the late C19th.
§
Click here to go to another page which shows the images grey scale. The thumbnails there will enlarge to make A4 prints for colouring in.
Use them in class situations. They can be coloured either by watercolour or use water soluble pencils. Instruct students to stroke the images with gentle pencil strokes then use a lightly damp paint brush to blend and merge colours. This will give them an idea of the hand work that colourists did to tint plates.
Updated Nov 2007.
If you like this page then please share it with your friends
---
--Link--
©Copyright Fashion-era.com 2005-2011
These images should not be reproduced in printed book form matter, as greetings cards, gift wrap etc., or as part of any electronic material such as a CD, DVD, TV videos, ebooks, websites or similar item.
Please DO NOT write to me asking for advice on your fashion plate as NONE can be given.
This Fashion Plates Page Added 8 Oct 2005
For more about Fashion Plates
click on the title that you need:-
Some images in this section are courtesy of eBay seller Cabrio4
Custom Search
About Fashion-Era.com
Fashion-Era.com looks at women's costume and fashion history and analyses the mood of an era. Changes in technology, leisure, work, cultural and moral values. Homelife and politics also contribute to lifestyle trends, which in turn influence the clothes we wear. These are the changes that make any era of society special in relation to the study of the costume of a period.

Fashion-Era.com can take no responsibility for any information on the site which may cause you error, loss or costs incurred from use of the information and links either directly or indirectly. This site is owned, designed, written and developed by author: Pauline Thomas and Guy Thomas. This site is designed to be viewed in 1024 X 768 or higher.
ALL RIGHTS RESERVED. Fashion-era.com reserves the right to add or delete information, graphics and links. Copyright © 2001-2014 on all content, text and images in Fashion-era.com. Images and text in this website may not be used on other websites.
Before you write to me for costume/fashion help or information please, please consult the extensive sitemap which lists all our pages. If you still cannot find the answer after searching the site, then before you email me, please consider if you are prepared to make a donation to the website.
Donations
Reader's donations help this site flourish, in particular donations encourage me to write more articles on fashion history as well as current trends. PayPal allows anyone with a credit card to donate easily and securely. You may donate any sum you feel appropriate.