Antique Costume & Fashion Plates
Victorian Fashion Plates of Georgian Fancy Dress Costumes
Every generation loves dressing up in the outfits they imagine their ancestors wore decades, or even centuries, before the age we live in now. Then of course there are those who prefer to dress in fantasy costumes of unknown times such as, Star Trek, Doctor Who, Lord of the Rings or other Sci-fi designs.
Re-enactment is big business in many countries. Fancy Dress is even bigger. In some part of the world, in any week, there is probably an important festival day occurring and this always gives rise to a need for appropriate costumes.
Amazingly, the costumes that people always envision themselves wearing are always exotic and lavish. Generally these costumes are similar to those once worn by the aristocratic, the rich, the famous, the magical or the simply beautiful.
In reality, if we were transported more than 100 years back in time, most of us would probably have worked 'below stairs', in some dark dirty mill, or more recently in an office.
Yet in real life when dressing up, we prefer to be the princess, the duchess, the cavalier or pop star, rather than the chambermaid, blacksmith, factory worker, land girl or street busker.
The belle of the ball invariably wants to be Marie Antoinette, Cinderella (in full ball dress rather than kitchen tatters), or Marilyn Monroe. The hero wants to be heroic in the eyes of the onlooker so Elvis Presley, Tarzan, Superman, Henry VIII, Mark Anthony or 007 all live again. Elvis was sighted....
It's as if the wearer hopes to achieve glamour by imitation and indeed they may well do so. For if 'manners maketh the man', so then clothes 'as costly as thy purse can afford', make the wearer. Ask any actor what helps them take on the character of a role and he, or she will tell you the clothes do half the work as posture and persona become a performance.
Disguise by clothing helps us to more easily become another character. For this reason masked balls have been popular for centuries.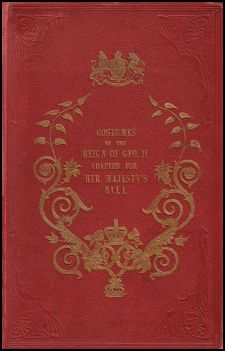 Royalty appears to have embraced masked balls too, as it enables the masked person to be off guard. Royalty has also enjoyed dressing up as characters from earlier royal courts. The more lavish and recognisable the dress of a character, the more popular the costume choice.
In some ways the modern wedding has become an excuse for all the elements of lavish over-dressing long gone from daily clothing. Now even weddings are fancy dress with medieval themes very popular. Real life becomes a costume drama. You are reading an original costume history article by Pauline Weston Thomas at www.fashion-era.com ©
The above two costume plates are from my antique costume book find discussed below.
Left - The red cloth book cover with gilt stamped cover and crest, plus the book inner plate below.
§
Regular readers of my website will know that I collect fashion plates. I never pay a great deal for them, but collect carefully just for my own amusement. Often when I have scanned and finished with a plate for site purposes I pass it on to a relative or friend.
Recently for £18 I purchased an incomplete book of costume designs for fancy dress set in the Georgian era. I bought them because they looked suitable to put on this website. The sketches are by Onwhyn. On further research, imagine my surprise to discover that a COMPLETE original copy of this c1830-1845 book sells for prices between £700 and £1000 in rare bookshops.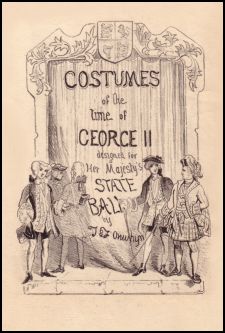 The book in question is an exceptionally slim book called Costumes of the Reign of Geo. II Adapted for Her Majesty's State Ball by J. & J ONWHYN.
George II reigned from 1727-60, thus I presume this was an early case of re-enactment. While the theme was 'Costumes of the time of George II', the ball was for Queen Victoria who was of course only in her twenties in the 1840s.
According to rare book shop websites, the book normally has 11 hand-coloured lithograph plates. These 11 plates are loose in a cover of red cloth stamped with gilt.
My book was a little bit different, and at some point in its life had been spilt. The pages in my book were all loose, and the contents had been changed a little.
Within the red gilded cover I found:-
a cut off title sheet (shown left): five loose Georgian costume sketches, which appear to be hand coloured/painted; one long etching I believe to be a rare Tho. McLean reproduction 1830s copy of an 1827 satirical 'Monstrosities' George Cruickshank hat cartoon; two Heloise Leloir original numbered fashion plates; three more plates from the Victorian crinoline era. A good buy!
The 5 loose Georgian-look sketches have a pencil sketch quality in the working, and I was very pleased with my purchase. Further below are the 5 detailed sketches of lavish Georgian inspired costumes from the book. These images have been cleaned as the originals have foxing marks. Each image is titled for a particular character. The dresses probably belong in the timeframe c1725-60. I imagine the books were reproduced either for an inner royal circle or as souvenir after the ball was over. You are reading an original costume history article by Pauline Weston Thomas at www.fashion-era.com ©
This first Georgian style plate was of Miss Hudson, a young Georgian girl. The lustre of her silk dress has been captured perfectly.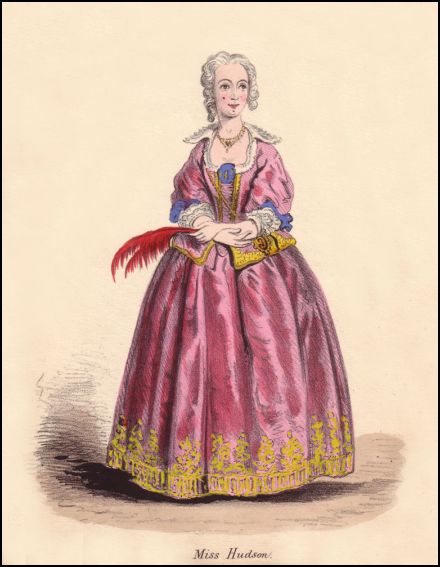 Below - This Onwhyn costume is based on Georgian Lady Fortescue.
I really like the gold gown and red robe below; also the woman in this costume plate has such a beautiful face. The red robe probably had a Watteau pleat at the back. Importantly, the painter has ensured that all the hairstyles match the costume era. Notice how the hair of Lady Fortescue is much closer to the scalp and in keeping with the earlier dress period.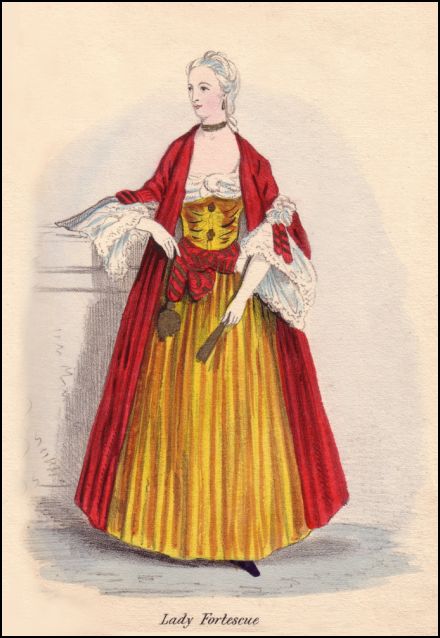 §
Below - This Onwhyn costume plate depicting Princess Carolina shows a gown of richly patterned damask with an ermine train. Her long face is delicately coloured.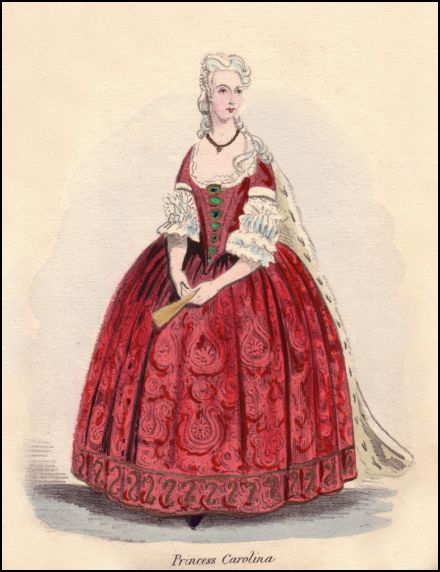 --banner2--
This Onwhyn costume based on Georgian Princess Ann, is highlighted with gold paint. What beautiful pattern detail in the skirt. The lushness of the velvet train edged in ermine is quite obvious. Clearly when royals dress in fancy dress no expense was spared.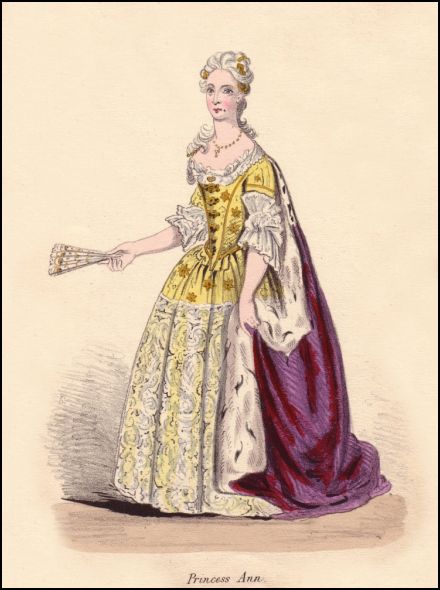 This regal gown below, taken from the Onwhyn costume book, is based on Princess Augusta. Again gold paint has been used to touch highlight the trims. See how tiny that basque encased waist looks, so minute and narrow giving the dress an Elizabethan feel, but for the sleeves.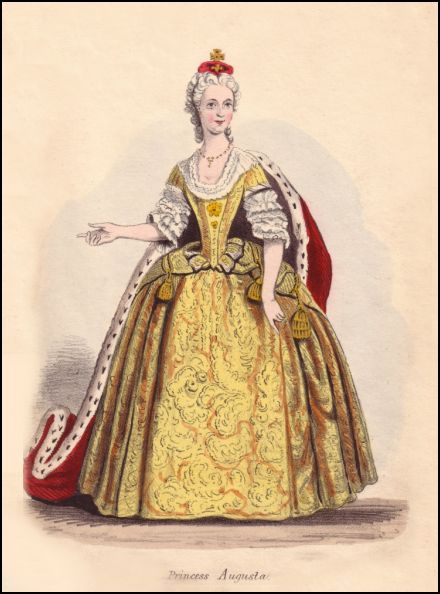 I hope you enjoy looking at these fancy dress costume plates set in the era of George II as much as I like seeing them.
Page Added 5 Nov 2007. Ref:-P657
You have been reading an original costume history article by Pauline Weston Thomas at www.fashion-era.com ©
Types of engravings, lithographs pochoirs and laid paper are here.

If you like this page then please share it with your friends
---
--Link--

©Copyright Fashion-era.com 2005-2011
These images should not be reproduced in printed book form matter, as greetings cards, gift wrap etc., or as part of any electronic material such as a CD, DVD, TV videos, ebooks, websites or similar item.

Please DO NOT write to me asking for advice on your fashion plate as NONE can be given.

This Fashion Plates Page Added 8 Oct 2005

For more about Fashion Plates
click on the title that you need:-

Some images in this section are courtesy of eBay seller Cabrio4
Custom Search
About Fashion-Era.com
Fashion-Era.com looks at women's costume and fashion history and analyses the mood of an era. Changes in technology, leisure, work, cultural and moral values. Homelife and politics also contribute to lifestyle trends, which in turn influence the clothes we wear. These are the changes that make any era of society special in relation to the study of the costume of a period.

Fashion-Era.com can take no responsibility for any information on the site which may cause you error, loss or costs incurred from use of the information and links either directly or indirectly. This site is owned, designed, written and developed by author: Pauline Thomas and Guy Thomas. This site is designed to be viewed in 1024 X 768 or higher.

ALL RIGHTS RESERVED. Fashion-era.com reserves the right to add or delete information, graphics and links. Copyright © 2001-2014 on all content, text and images in Fashion-era.com. Images and text in this website may not be used on other websites.

Before you write to me for costume/fashion help or information please, please consult the extensive sitemap which lists all our pages. If you still cannot find the answer after searching the site, then before you email me, please consider if you are prepared to make a donation to the website.

Donations
Reader's donations help this site flourish, in particular donations encourage me to write more articles on fashion history as well as current trends. PayPal allows anyone with a credit card to donate easily and securely. You may donate any sum you feel appropriate.