An Independent Fashion Shop - Review of Fashion at Lynne Craig
Lynne Craig Now Owned by Becky Sutcliff
Lynne Craig 25 Friar St Worcester, WR1 2NA Tel: 01905 28814.
Friar Street in Worcester UK is centuries old and is a long medieval street now full of cafes, restaurants, appealing clothing, jewellery and objet d'art shops.
If you walk the length of this interesting street you are sure to chance upon one of my favourite fashion clothing shops in Worcester UK - the fashion boutique is still called Lynne Craig and was originally named by Lynne who retired in 2007.
Since 2007 it has moved from strength to strength under the new ownership of Becky Sutcliffe. In January 2012 this small boutique offering style without the attitude was awarded 'Winner of the Worcester BID Customer Service Assessments January 2012.'
Right - Lynne Craig Ltd, 25 Friar Street, Worcester. Full Location Details Below.
The new owner Becky Sutcliffe a former fashion buyer has continued to expand into new lines whilst retaining old favourite brands. Rachel, Sally, Jo and Annabel are the assistants working at the shop.
Every season Becky updates and improves the selection making it easier for you to shop with confidence. Colours at Lynne Craig for Summer 2012 include papaya, cobalt, jade and pinks offset with tones of dune, blush and silver. The new collections Becky has added include Maxmara Weekend, Bernshaw, Stills, La Bottega di Brunella, Crea Concept, Camela Me, Elemente Clemente, Lauren Vidal, Sarah Arnett, Marina Avraam, Arianna, Nanette Lepore, Sonja Marolin.
Becky stocks desirable dresses to suit all occasions. When the TV series 'Mad Men' took hold of women's imagination, dresses became hot pieces in the fashion wardrobe again. Katya Wildman's Bombshell dress the must-have 'it' dress of the Mad Men fashion moment has been part of the stock Becky has offered to customers in the past few years. Read more about the Bombshell dress below.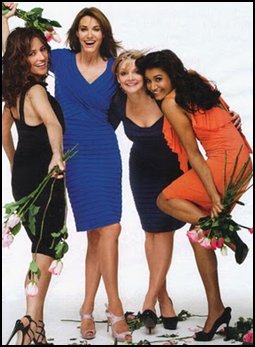 At Lynne Craig you will find dresses by Helene Berman and Bernshaw. The banded Body Con Bernshaw Mistresses dress - has been a must-have in many a suitcase.
Left - BBC TV Series 'Mistresses' Wearing The Bernshaw Dress Collection.
There is also Ella Boo - a collection of marvellous race day dresses. With Ladies Day events becoming the norm at every racecourse you are sure to find the little number that suits your special occasion.
Becky has exceptional buying skills and she continues to pursue a buying strategy of timeless, understated and enduring fashion. For summer 2012 Becky has selected tactile fabrics with lightweight knits, cool linens, and exquisite silks in all the latest fashion colours in both warm and cool shades.
Old favourites like Marc Cain, Sarah Pacini and Paddy Campbell, mean interesting choices plus appropriate solutions for every fashion need. For seasonless dressing designers Crea Concept, Elemente Clemente and Camela Me offer a mix of knit and linen.
Then there is Backstage who produce easy linen pieces and is a brand always on my shopping list. If you prefer the contrast of relaxed laid back linen looks then read more below about linen for the Joanna Lumley Nile look.
There are also coloured tights by Jonathan Aston, coloured leather gloves by Dents, and Crumpet cashmere as well as other small accessories that complete an outfit. Silk scarves, belts and bracelets all add that final polish.
Lynne Craig Ambience
Becky's stock at Lynne Craig is likely to best suit 'the snappy, but relaxed dresser,' with clothes 'for any occasion to jeans.'
I think the clothes at Lynne Craig have a continental feel and are without doubt for the discerning, well travelled woman who is seeking something different, fashionable and which makes her feel special.
That woman will find versatile items that always get compliments whether the items selected are for everyday wear, a summer barbecue, an important social function such as a wedding, a Christmas or New Year party, or for Ascot. Ella Boo dresses which are currently stocked are perfect for that race day dress.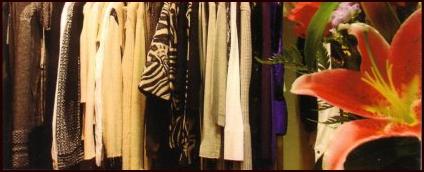 The typical customer may like, for example, designs with a Mediterranean touch. The relaxed easy lines of La Bottega di Brunella pieces in contemporary eco feel fabrics may suit your style more.
The (winter) shop rack shown left is typical of the above average carefully selected stock. You will find colour, but also good expensive looking neutral tones in line with the latest Pantone colours always on offer.
Colours at Lynne Craig for Summer 2012 include papaya, cobalt, jade and pinks offset with tones of dune, blush and silver.
Whenever I visit the Lynne Craig shop for a quick browse I have sleepless nights immediately after, thinking how I must get back for another 'proper shopping' visit very soon! Believe me each shop in Friar Street will tempt you to stop. When you are there, you can also check out Emporio Armani, with a large range of designer fashion brands. If you love gems and gemstones check out both Anja Potze - Jeweller and nearby Mark A Linley Jeweller - these are all great shops within 50 metres of each other.
A visit to Becky at Lynne Craig is always something of a surprise, because not only do the clothes selected always have a quirky, but fashionable edge, but the stock moves rapidly. The fashion choices always have an unpredictability that instantly captures your attention and wows you at the same time. When I saw the Bombshell Dress further below I just had to go back and get one.
Relaxed Dressing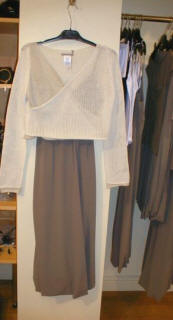 The slip dress shown right has a fascinating shaped bulbous bubble hemline. The spaghetti straps make it an outfit that would work on several levels for evening, or it could easily be dressed down for daytime with this natural looking fine linen knit. Such is the classiness and forward looking nature of the stock that the outfit shown left was actually an image I took in 2006. Now tulip and bubble hem skirts are everywhere, but the stock in Lynne Craig has always been full of new stylish pieces before the average high street fashion shop has them.
I think it's fair to say that the shop Lynne Craig specialises in unusual, individual fashion pieces for relaxed dressing. Outfits can easily be dressed up or down by adding or subtracting the other fashion pieces or accessories on offer, or by wearing your own very special pieces of jewellery.
The handbags are from Marc Cain and Orla Kiely. Hats are by Sarah Crozier, Quill & Capeline. But Becky is adding and updating stock ranges constantly so a visit is always a fresh experience. When you see something you love, but in a small size always ask if they have a larger one for you, because so often as if by magic they produce a bag from the stockroom and out slips your size.
Quality Fabrics
In the shop you will find that materials ooze quality and have a beautiful handle so this in itself makes what at first glance might seem a relaxed piece feel and look extra special to those who know their materials. I especially like the trans seasonal materials used by La Bottega di Brunella as some of their fabrics are 50/50 mixtures of wool and linen, or 90% wool and 10% Lycra adding warmth with comfort.
Without doubt the quality of a wool knit, silk jacket or linen item will speak for itself. I know from personal experience that the linen items by Clemente and Backstage launder well. They will wash easily and be suitable for many occasions.
Designer Brands at Lynne Craig
The labels Becky Sutcliffe selects for her boutique Lynne Craig engender instant respect and these clothes quite simply feel good when you wear them. Choose from fashion collection lines by Marc Cain, Oska, Backstage, Sarah Pacini, Krines, Sylvia Heise, Crea, Gabi Lauton, Annette Gortz, She's So, NYDJ Tummy Tuck jeans, Ghost, Fenn Wright Manson, Lezley George, Jovani, Privatesachen and Paddy Campbell. Specialist knits such as merino tops are by She's So and other knitwear is by Karen Cole. Tummy Tuck or Trussardi Jeans offer a great fit with a fine gradation of 1 inch difference between sizes. Becky's jeans for summer 2012 are the magic jeans by Michele - using the tummy tuck idea.
The emphasis is on being able to choose from clothes lines that flatter the female form and make the person feel good in a relaxed, but cutting edge way of dressing. I particularly like the figure flattering cut of the Marc Cain trousers with cashmere and the Mark Cain silkier summer pants. Whilst the She's So Knits are impressively understated and always scream that hidden message that decoders understand - quality. Frequently She's So knitwear uses the Plating knit technique whereby a second yarn encases the first yarn in a stitch and this can be used to create a very subtle, sometimes reversible colour change. The plating technique also produces a stable knit suitable for more structured coats, yet still easy pieces.
Whether spring, summer or autumn 2012, carefully selected trousers, dresses, skirts and tops are all in the top fashion colours at Lynne Craig.
Limited numbers of each style are purchased so bumping into yourself is much less likely than when you buy at a department store. Tell Becky or her staff what you seek and if you need advice they will guide you to items that will dress up, or dress down your selection, ensuring you find that special outfit whatever your requirements.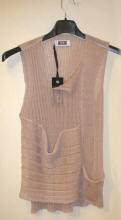 The added bonus of shopping in a smaller shop like this, is that when you are half dressed an assistant who knows her stock, who is nearby, not miles away, and truly happy to serve you, will try to find a style or size that might just be the item with which you walk out of the shop.
All the garments at Lynne Craig are contemporary, but often with an unusual kooky twist that catches your attention. This knit top shown left is an example of the unusual pieces stocked. Sizes range from UK size 8 to 18, but a few of the looser cut garments (which I have noticed sometimes have a Japanese feel) are capacious and on occasion would fit a size 20.
Like Becky Sutcliff, the assistants at Lynne Craig are experts in their field and easily able to instantly style one piece with another and show you how versatile a few pieces can be. Teamwork ensures a balanced choice of designer collections, all something different than the mainstay fashion ranges found in many department stores.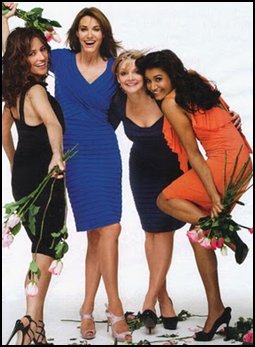 The banded Body Con dress - a must-have.
Lynne Craig Ltd., of 25 Friar Street Worcester stocks the Bernshaw collection designed by Sara Brett. It consists of fashionable, glamorous ladies evening, occasion and party wear for a diverse age group.
Bernshaw has been established for over 65 years and is still producing cutting edge fashionable dresses, combined with classic inspired designer wear, well known for its versatile and trend forward key looks.
The signature look for this collections is that of a classical, demure yet feminine look, which still offers versatility within each of its core pieces.
Key styles range from banded fitted dresses, long sequined all over styles, as well as its consistent long draped ruched jersey dresses of different lengths and cuts which maintains Bernshaw's handwriting.
Colours at Lynne Craig for Summer 2012 include papaya, cobalt, jade and pinks offset with tones of dune, blush and silver.
With such an extensive collection, Bernshaw captured the body con trend in a collection that offers something for everyone. I have one of these tuck banded dresses and like the Bombshell dress above this is another range that knocks your body into curves and a Mad Men hour glass shape. That tucked trademark fabric is very forgiving over lumps and bumps. The actresses in the TV series the Mistresses are wearing the 2010 Bernshaw Collection above right. That rich blue and singing burnt orange are still hot colours for 2012.
In fact Tangerine Tango is Pantone's Colour of The Year 2012.
This Bombshell Dress shown right in fine cotton and covered with a 50s/60s style ditzy print of wild strawberries is typical of the Notting Hill yummy mummy must-have 'it' dresses that are knocking women into curvy hour glass shapes.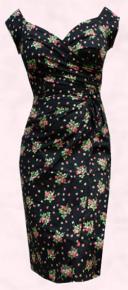 I liked the Bombshell Dress so much when I saw it and tried it on at Lynne Craig earlier in the year, that I had a sleepless night and had to go back and buy one the next day. A good shapewear control body, bustier or a strapless bra helps attain the perfect support for that film star shoulder line. When I returned to the shop I went wearing a body so I had a good idea of the final look I might possibly achieve.
The most important factor in buying from a boutique like Lynne Craig is that I got personal assistance from Rachel and her comments both negative and positive were helpful. When a different Bombshell dress I tried in the same size did not fit snugly, or look as good, it was invaluable to have an honest opinion.
The cut of the drapery is impressive enabling the picture neckline to be adjusted to reveal even more shoulder. You can also arrange this Bombshell dress to show no cleavage or plenty of it. This must-have dress does of course focus on the cinched waist and doing it up is an exercise in breathing in (that's my excuse anyway!), but because of the shirred side bodice panels it sculpts and moulds to your body.
TV Cook and Food Writer, Nigella Lawson reportedly spent £2,000 buying some 12 variations of these Bombshell dresses in different colour ways for her holidays in the Hamptons. Clearly she has over the years been inspired by old and new screen sirens like the Mad Men Joan Holloway bombshell. Read more on the Mad Men page.
Joanna Lumley dresses in total contrast to the Mad Men look, but she looks wonderful and knows how to dress to suit her style, age and activity. Her recent series which travelled through the Nile and Egypt lead to fashion columnists being inundated with requests from women for information about the lovely relaxed clothes she wore.
I'll tell you a secret, you can get just the kind of linen pieces Joanna wears at Lynne Craig. The day before I bought my Bombshell dress I had also bought a totally different look. Every year I add one main complete outfit to my linen 'holiday/very hot day/holiday' collection. That day previous to my Bombshell purchase I had bought some Backstage linen trousers, fitted panelled vest top and knee length Nehru shirt dress all in sapphire blue. Each piece will mix well with existing white, pale blue, lime linen, navy linen and red accessories I already possess. This is investment dressing at its easiest.
This brand washes well and I love it. I find it perfect for sightseeing holidays as the linen is good quality, tends to drop out overnight if hung up, just enough to breathe enough new life into a piece to see another day casual or dressed up. These linen pieces look simple, but the cut on Backstage linen items is superb. Importantly each season items are tweaked to have this years fashion edge. If one style of top or trousers does not suit you, there possibly is another type on the rail at Lynne Craig that will flatter your body shape. The shoulder cut is finely honed and enhances the neck and armscye rather than make you look square and larger than you are as some chain store linen pieces often do. Each separate I bought costs between £90 and £120. This is wash and wear summer investment dressing at its easiest.
So give Becky and her staff at Lynne Craig a try. You will find the items you buy will outlast several seasons and more importantly you will be on trend, look and feel terrific. Just wait for the compliments to roll in.
Becky Sutcliffe is the owner now of the Lynne Craig clothes shop above. It is still trading under the long established name of Lynne Craig and is very easy to find in Friar Street Worcester UK. This is a Worcester city-centre location with a car park very close by and a Vue multi screen cinema about 80 yards away. The location is just around the corner from the Shambles back entrance of Marks and Spencers and the lengthy Friar Street is parallel to the Shambles area. The Lynne Craig shop is also about 300 yards from Worcester Cathedral and the latter is close to the Royal Worcester Factory and Glasshouse restaurant of Shaun Hill fame. The shop is also about 600 yards or so from Worcester Foregate Street Rail station. Friar Street is the same street that hosts the annual Worcester Christmas Fayre.
If you are visiting Worcester Cathedral, home to the tomb of King John of Magna Carta fame, you may soon afterward find yourself very easily wandering toward Friar Street so take this opportunity to browse the lovely stock and make your day out even more special.
Lynne Craig 25 Friar St Worcester, WR1 2NA Tel: 01905 28814
Use www.multimap.com/ with the United Kingdom postcode WR1 2NA to see the location.
Open Monday - Saturday 10- 5pm.
Page first added Jan 31 2006. Text updated 7 June 2010.
Bernshaw Image Courtesy Becky Sutcliffe/Bernshaw.
To Top of Page
-------- Link Foot ---------
If you like this page then please share it with your friends
---
For more information on women's and teens fashion trends go to:-
See Marks and Spencer New Spring Collections online
Custom Search
About Fashion-Era.com
Fashion-Era.com looks at women's costume and fashion history and analyses the mood of an era. Changes in technology, leisure, work, cultural and moral values. Homelife and politics also contribute to lifestyle trends, which in turn influence the clothes we wear. These are the changes that make any era of society special in relation to the study of the costume of a period.

Fashion-Era.com can take no responsibility for any information on the site which may cause you error, loss or costs incurred from use of the information and links either directly or indirectly. This site is owned, designed, written and developed by author: Pauline Thomas and Guy Thomas. This site is designed to be viewed in 1024 X 768 or higher.
ALL RIGHTS RESERVED. Fashion-era.com reserves the right to add or delete information, graphics and links. Copyright © 2001-2014 on all content, text and images in Fashion-era.com. Images and text in this website may not be used on other websites.
Before you write to me for costume/fashion help or information please, please consult the extensive sitemap which lists all our pages. If you still cannot find the answer after searching the site, then before you email me, please consider if you are prepared to make a donation to the website.
Donations
Reader's donations help this site flourish, in particular donations encourage me to write more articles on fashion history as well as current trends. PayPal allows anyone with a credit card to donate easily and securely. You may donate any sum you feel appropriate.