Sketches of Hair Fashions from 1800-1840
Hairstyles, like dress fashions, often change gradually, moving slowly from one line to another.. These are are some drawings of hair styles, hats and bonnets between the Regency and Romantic fashion history eras of 1800 and 1835.

Hair styles of 1802, 1806, 1805 and 1805.
Above are the simple clean hair styles from the early 1800's. These hairstyles complimented simple empire line dress of the period associated with Jane Austen's novels.

Hair styles of 1815, 1820, 1829 and 1835.
‡
These hair styles show changes in the 1820's as dress became more ornate having picked up romantic elements during the Regency fashion era.
Sketches of Hat Fashions from 1800-1840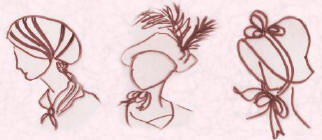 Here we see hats from the early 1800's - 1802, 1802 and 1806

Fashion history shows more ornate hats were popular in the Regency era and they grew wider in size from 1816 to 1830. Here we have 1816, 1827, 1817 and 1830.
-------v6-------
For More Information on Hats and Hairstyles go to:-
For plastic hat blocks called Hat Shapers and lots of information on hats visit Carol Marston's www.hatshapers.com
If you like this page then please share it with your friends
---
For specific details about the Regency and Romantic eras
1800-1845 click below:-
--Link--
Custom Search
About Fashion-Era.com
Fashion-Era.com looks at women's costume and fashion history and analyses the mood of an era. Changes in technology, leisure, work, cultural and moral values. Homelife and politics also contribute to lifestyle trends, which in turn influence the clothes we wear. These are the changes that make any era of society special in relation to the study of the costume of a period.

Fashion-Era.com can take no responsibility for any information on the site which may cause you error, loss or costs incurred from use of the information and links either directly or indirectly. This site is owned, designed, written and developed by author: Pauline Thomas and Guy Thomas. This site is designed to be viewed in 1024 X 768 or higher.
ALL RIGHTS RESERVED. Fashion-era.com reserves the right to add or delete information, graphics and links. Copyright © 2001-2014 on all content, text and images in Fashion-era.com. Images and text in this website may not be used on other websites.
Before you write to me for costume/fashion help or information please, please consult the extensive sitemap which lists all our pages. If you still cannot find the answer after searching the site, then before you email me, please consider if you are prepared to make a donation to the website.
Donations
Reader's donations help this site flourish, in particular donations encourage me to write more articles on fashion history as well as current trends. PayPal allows anyone with a credit card to donate easily and securely. You may donate any sum you feel appropriate.