1970s Fashion History Hairstyles Image of College Women 1977
By the mid 1970s women had adopted a variety of hairstyles many based on blow drying of hair into specific flicked positioning that emanated from a centre parting. The image below is of several hundred women between 18 and 65 and taken at the university college where I graduated. I never thought 30 years ago I would be putting it on this site to show hairstyles, but when I recently came across the picture long stored in my loft it seemed so real. Real people of the 1970s with real hair styles.

The top picture above is the full, but compressed picture. I have split it into smaller sections so you can look at the hair on individuals in a little more detail. These women did not have a great deal of spare cash, yet I recall at the time most of my fellow students in the main having fashionable hair. The main hairstyle trend was to have flicks of some sort particularly on the fringe or sides.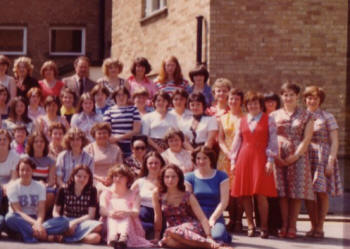 Whilst the hairstyle detail is not great, you can see lots of variation between mid late 1970's hair styles and fashions in female hair from young to old. As many of the women are under 21 they are reasonably reflective of the everyday hair fashions of the mid late 1970s.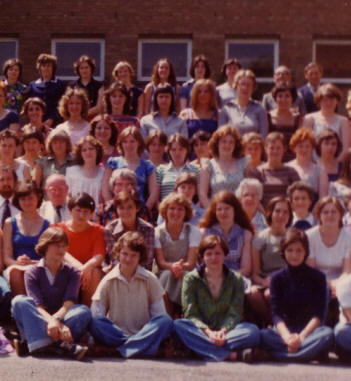 This photograph was taken about 1977 - note the centre partings and 'wings' of layered hair flicks at the sides. Here is another section
‡‡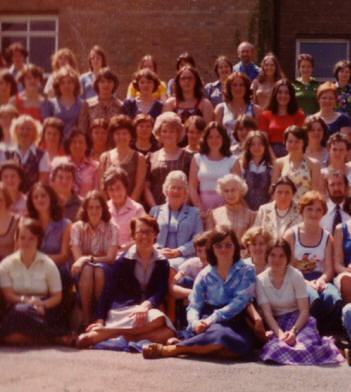 and another...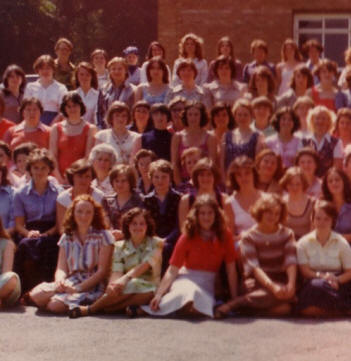 And the far left final section ...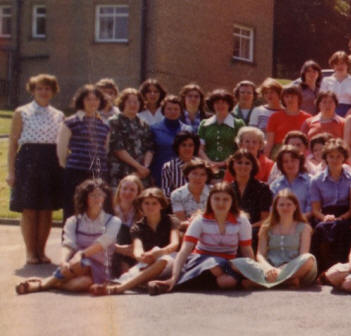 §
Real Hairstyles of the 1970s
Remember these are what real women looked like. If you are looking for glamour in 1970s hairstyles then check out images of Farrah Fawcett Majors who looked mostly like this, especially during her Charlie's Angels era. Such a hairdo would have demanded a hairdresser running around after her on a film set to constantly maintain those flicks with curling tongs. Heated rollers could be used to similar effect, but tongs could achieve more directional hair flick ups. Mostly during the 70s electric tongs were used with Braun gas tongs becoming very popular in the 1980s.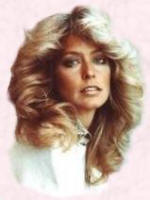 Evidence of this style is often seen in the picture above. This flicked hairstyle reached it's peak in the early 1980s and a look at images from the TV soap opera Dynasty will confirm how average hair ultimately became 'big hair'. Much of it became big hair just after people started to have afro perms and then just let the hair grow out. The remaining perm on the ends allowed full flicks and this was followed by spiral perm styles. Permanent waves were big business in the 1980s along with highlights and frosting.
Please send your old hairstyle pictures for placement on the site.
You may be interested in the 1970s section. There are also 1970s fashion drawing pictures there showing typical hairstyles.
-------v6-------
Page added 2005.
If you like this page then please share it with your friends
---
--Link--
For more information about the Royal Clothes click on the titles below:-