This lovely wide double brim Sinamay hat with lily and feathers, in pink icing and rose is £175 from John Lewis.
For more hat style ideas check out the range for 2006 spring summer shown on this page. This selection of hat images are courtesy of John Lewis who have 27 department stores in major UK towns.
About 70% of hats worn at UK functions are made from Sinamay. Most of the examples shown here use finely woven dyed Sinamay with feather or flower trim. Sinamay, panama straw and and silk are the materials for summer hats.
The abaca plant is a variety of the banana plant and abaca fibre is extracted from this. Sinamay is banana plant fibre and when woven the material it makes is a gauzy lightweight natural material with a straw like appearance. It can be used as fabric layers to create very light to more dense effects or used from preformed Sinamay hoods.
The open weave Sinamay is easily formed into crisp, but gossamer effect looks when steamed on a hat block. Often several layers are steamed together to get the correct stability, a denser material and colour tone effect for the hat type. From the variety of crown styles shown here you realise how important the hat block can be. Hats today can be made on (expensive) wooden hat blocks or using pre moulded forms such as those supplied at hatshapers.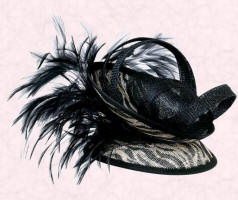 The Sinamay material can also be over printed as in this black feather animal effect print hat from John Lewis. Animal print plate with comb and feathers, black/zebra £50.
Hat straw materials with the word para or pari in front of them simply mean a 2/2 weave or a herringbone weave. Sisals are made from the most simple weave of all a basic 1/1 weave.
Within this are grade qualities from 1 to 5 with 1 being the top grade. The higher grade has fewer imperfections in the weave as smoother combed fibres are used which results in smoother yarns and thus smoother end material. Couture hats use top grades. The lowest coarser grades are the sort used in floristry, crafts or cheaper beach hats.
‡‡
Get ahead in the style stakes with a great hat from John Lewis. Off to the races? Invited to a spring wedding? These interesting double brimmed hats are bound to attract attention and admiring glances.
The pastel pink hat right is a lovely John Lewis example using a silk covered Sinamay crown combined with a visible Sinamay brim. This Silk crown with Sinamay east to west brim, feathers and diamanté is in shimmer pink costs £175.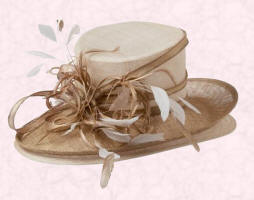 The John Lewis hat right has a double brim and is a Sinamay east to west double brim with feathers, in natural and gold at £155.
Barbara Suri, Buyer of Fashion Accessories at John Lewis said that :-
'Everyone in the hat trade is thrilled that Ascot will reopen for the Royal Meeting. It's the perfect place to show off more exuberant creations....As you can see the season will open with soft neutrals and chalky pastels, then move towards stronger shades... Monochrome looks are a strong trend and navy looks set to make a comeback.'
Feathers are still the favourite trimming, adding great movement and drama. A distinctive hat like this vibrant fuchsia pink feather decorated hat right will help you stand out from the crowd.
Pari-sinamay with chinchilla coque feathers, fuchsia hat is £195 and available from May at John Lewis.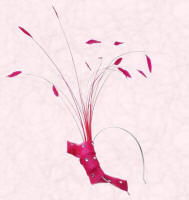 Here we have a wonderful hat fascinator from John Lewis that is a similar colour, but so totally different. A real statement piece of frippery and for the woman who like to strut her walk. Right - Sinamay Twist on Headband with Feathers & Quills, Fuchsia £115
This John Lewis fascinator disc is a bargain at just £25.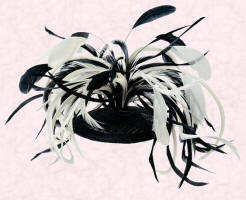 Sinamay Disc with Combs & Feathers, Black/White £25
Or you can try one of the even more inexpensive fascinators or headbands for a look that's bound to turn heads.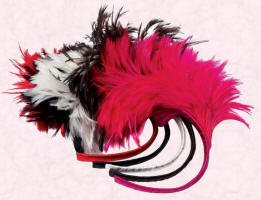 Right choose from a range of colours such as these Alice Bands with Feather Spray in Black, Ivory, Chocolate, Fuchsia & Red and just at £20 from John Lewis.
If you need any help, John Lewis fashion advisors can help you choose the perfect hat to go with your outfit.
For the ultimate luxury think of a hat by designer Treacy.
One of the masters of hat making this past 20 years since 1985 has been Philip Treacy. He has made 'creations' and they are creations, for several of the top fashion houses.
Peter Jones stocks this fabulous luscious red rose example at their store. Please note this hat is not stocked at branches of John Lewis - just at Peter Jones. Red rose hat right by designer Philip Treacy is £595.
You can also contact Philip Treacy directly at his website.
http://www.randallribbons.co.uk/shop/flowers.htm
Page Added 6 March 2006
-------v6-------
Click here and download your Full Version of the Fashion Drawing Female Outlines eBook for only $9.95.
If you like this page then please share it with your friends
---
For more information on women's and teens fashion trends go to:-
Page added 15 Sept 2005