C20th Royal Fashion History - Hats
Queen Elizabeth II's Hats to Mid 1970s
Queen Elizabeth II has reigned as Queen of the British Isles and the Commonwealth most of her adult life. Her 80th birthday was 21 April 2006 and many will applaud her long service in this role.
As a costume history enthusiast, I think that you will appreciate seeing some old images of hats and turban headwear, which are from the first 25 years of her reign. These pictures show her in a selection of hats from the 1960s to mid 1970s. Read about the Queen's clothes from this era here. These hats offered Queen Elizabeth an opportunity to have fun with fashion that was denied to other elements of her royal clothing. She began to wear hats with pleats and drapes and styles varied from wide brimmed Bretons to neat turbans.
On occasion she began to appear at evening events without a tiara, opting instead for a well brushed up bouffant hairstyle. Slowly the Queen changed her style to reflect modern times.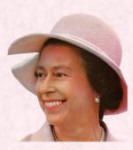 The Queen is said to take a great interest in her hats. It is important for her face to be seen from all angles and a replica of her head is kept at her milliners. Most of these hats from the 1960s to mid 1970s and shown here, were designed by either Simone Mirman or Aage Thaarup. Hats are also important as cover ups as it means the hair does not need constant attention.
Read about the Queen's clothes from this era here.
You may be interested in the 1970s section. There are also 1970s fashion drawing pictures there showing typical hairstyles.
26 July to 24 September 2006
Queen's Clothes Exhibition to Celebrate The Queen's 80th Birthday
See an exhibition of 80 of her Her Majesty's evening dresses and personal jewellery. The exhibition which begins at the Summer Opening of Buckingham Palace will show clothes from the 1940s to today and feature all the queen's most famous designers.
-------v6-------
Link to State Apartments, Kensington Palace web site where royal ceremonial robes are kept.
Jubilee Colouring In Pictures of the Coronation Dress.
Go straight back to Hartnell's Design of the Queen's Wedding Dress
If you like this page then please share it with your friends
---
--Link--
For more information about the Royal Clothes click on the titles below:-