Victorian Home Life Changes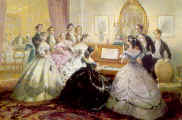 All the changes happening in industry and transport brought a new kind of prosperity to Britain and many people chose to showthis prosperity in their homelife.
The Victorians associated the clutter of ornamentation and ostentatious display with wealth and so crammed their homes with furniture,bric-a-brac and pianos to show their refinement and taste.
An after dinner scene showing the busy Victorian interior. It shows the ostentatious display of wealth through costume, ownership of a piano and other objects.
The glorious full skirted evening dresses belong at the pinnacle of the fashion history era of the crinoline when fullness in skirts had started to move to the back of dresses.
Image is of Airs and Graces by Vernon Ward.
The taste for heavy balloon typefurniture may have been a reaction to the earlier lighter Regency furniture.
Mahogany framed sofas were magnificent. Beautiful carving highlighted the vast mahogany curves. French polished rooms were liked and sometimes rosewood was used as darker woods were fashionable.
Right - Typical Victorian balloon back chair.
Vastness of scale in home furniture was essential because from 1840 from the waist down, women looked like bells. They needed big generous seats to spread their wide expanding skirts.Seat backs were rounded forms. The balloon back chair born in the 1830s remained popular until 1860s.In the 1850s the bentwood chair became popular.The pretty decorative papier-mâché chair inlaid with mother-of-pearl,cane seated, scrolled and gilded also reached its peak in these days.
By the mid 1850sstaircases also became wider and they helped accommodate crinoline skirts. Ladies swept down stairs in a flurry of petticoats.
A double seat called the tête a tête enabled women to spread their skirts to help prevent crushing and flirt with a man at the same time without being compromised by sitting too closely. The separating backrest prevented bodies touching and were ideal for couples getting to know each other in a restrained respectable way.
‡‡
Home interiors were quite dark with busily patterned wallpaper. From a picture rail hung oil paintings, etchings, engravings, silhouettes, water colours, stitched needlework samplers and hand embroidered reproductions of famous paintings.
Sunlight was kept out of the already dark room by layers of blinds, lace curtains, velvet drapes, and side curtains in dark colours.The brass ringed curtains hung on great poles, but often remained drawn on bright days.
Above Left - Eclectic interior showing a reflecting mirror, tête a tête chair and bric a brac.
Clutter of furniture and ornaments was reflected in the huge looking glasses. Furniture and shelves were covered with fringed, beaded cloths and runners.
The more a home could be over filled with china, domed wax flowers, stuffed birds, trinket boxes, the more homelife could be reflected in mirrors, the more it showed its owner had arrived to the full Victorian lifestyle.
Status was reflected in the purchase of items for the home. Status was reflected in the size of a home. Status meant having home servants. Status meant house parties where prosperity in homelife could be shown off to others. Status was so important that home lifestyle was truly invented by wealthy Victorians.
‡‡
If you like this page then please share it with your friends
---
--Link--
For more information about the Victorian Era
1837-1901 click on the title links below:-
Home TO TOP OF PAGE To Next Page
Custom Search
About Fashion-Era.com
Fashion-Era.com looks at women's costume and fashion history and analyses the mood of an era. Changes in technology, leisure, work, cultural and moral values. Homelife and politics also contribute to lifestyle trends, which in turn influence the clothes we wear. These are the changes that make any era of society special in relation to the study of the costume of a period.

Fashion-Era.com can take no responsibility for any information on the site which may cause you error, loss or costs incurred from use of the information and links either directly or indirectly. This site is owned, designed, written and developed by author: Pauline Thomas and Guy Thomas. This site is designed to be viewed in 1024 X 768 or higher.
ALL RIGHTS RESERVED. Fashion-era.com reserves the right to add or delete information, graphics and links. Copyright © 2001-2014 on all content, text and images in Fashion-era.com. Images and text in this website may not be used on other websites.
Before you write to me for costume/fashion help or information please, please consult the extensive sitemap which lists all our pages. If you still cannot find the answer after searching the site, then before you email me, please consider if you are prepared to make a donation to the website.
Donations
Reader's donations help this site flourish, in particular donations encourage me to write more articles on fashion history as well as current trends. PayPal allows anyone with a credit card to donate easily and securely. You may donate any sum you feel appropriate.