Image Planning - Clip-in Human Hair Extensions Consumer Test Product Review
Page 2 - The Hairdresser Trimmed Extensions
These pages are about modern human hair clip in extensions.
I did really like the 18 inch long hair extensions shown on the earlier page and left. But I felt they were false, unlikely and very Lady Godiva! I knew I would not wear them out, although I wore them full length, several times in the privacy of our home.
So I took them to my hairdresser and she put them into position and then I had them trimmed on my head. My hairdresser cut and styled the hair extensions so they were graduated around my face and shoulders as shown below. She used a razor mostly. When I took them out that night I used a permanent marker pen to number each extension weft carefully on the hair clips on the left and right side pieces and then the back pieces. This means I have been able to reapply them myself in the order they were cut.
Whereas my hair extension seller managed to get 5 back weft pieces in, I only ever managed putting four pieces at the back. My hairdresser also found the fifth back piece superfluous. This is probably because the hair had been doubled up when they were made. I have to confess I preferred the longer hair, but I find the cut hair extensions more wearable and more believable. Human hair extensions must be mainly cut with a razor. Please remember that hair suppliers are not always trained in hairdressing skills.
It's worth mentioning I found them extremely hot in our warm computer office, although alright everywhere else. If you are at the stage where you frequently ask 'is it hot in here or is it me?' you might get hot easily wearing any type of hair extensions and this may be worth thinking about before spending £200 or £300 or more.
Photographs of Pauline Weston Thomas in cut clip in hair extensions taken October 2005. No make up on the radiotherapy induced red thread veins or surgery neck scarring which is mainly covered by the hair.
Here are some brief instructions based on my experience of inserting clip-in hair extensions
Begin with hair you have straightened with hair straighteners. This will help the natural ends of your own hair blend in better with the extension hair.
1. Before you insert the weft extensions, practice opening and closing the hair snap clips on each and every weft of hair, leaving each one in the open state. It takes considerable pressure to open and close these special snap clips. You may need two hands to create enough pressure to do this easily. Practice doing this or you may find your hair caught unexpectedly and that can be painful. The clips pop open easily when you know how. Use both thumbs and both index fingers to apply firm pressure to the clip ends.
2. Use a tail comb to practice parting the hair over the head just to see where you might put the pieces of hair weft.
3. To insert the hair extensions use a tail comb to divide the back of your hair from below one ear to the second ear. Use hair accessories to hold the surplus hair out of the way on top of your head. Now start at the lower centre back at the middle of the nape of the neck. Next take one of the wider hair wefts and insert the opened centre clip just below the parting. Insert the snap clip on the hair not on the raw scalp. Snap the clip in hair extension grip shut so it grips the hair. You will know if the hair is caught as it can be painful. If caught just undo the snap clip and reposition it again. Carefully attach the side snap clips one at a time.
The clip-in weft hair extension should be fully stretched out with the hair weft as parallel as possible to the parting you made. Check for lumps and gaps and if you can feel bad positioning of the hair weft then undo the offending clips and reposition them until the weft feels correct and is as flat as practical to the scalp.
4. Release the hair you held out of the way and create a new parting. To do this, comb down a layer of hair with about half an inch or so between each weft layer. Each time hold back all the surplus hair as before with hairdressing grips.
5. Now insert the remaining wefts in the same manner as above. Repeat the process with a new parting above each weft extension.
6. Insert and position the side pieces so they frame the face and blend with your own hair.
7. Ensure your own hair is combed over the weft and the clips so that the hair looks natural. I have found this is one case where a little backcombing on the final smooth over layer of your own hair can be useful to give a little body. Do this before finally smoothing the hair.
8. USE A HAND MIRROR TO CHECK THE BACK VIEW AND SIDE VIEW!
LOOK FOR VISIBLE WEFT!
9. Spray the hair with a good hair spray that brushes out easily. I use L'Oreal Elnet hairspray, but sometimes leave this last stage for half an hour or more until the wefts have warmed and settled closer to the scalp. You will get used to this.
10. Remove the wefts easily by pressing open the clips.
NEVER attempt to slide them out without first opening the clip grips.
If you do tug at the grips they will cling fiercely to your own hair and could cause splitting. So pop them open carefully and the hair will just release itself without bother. Better still get a friend or hairdresser to put them in for you!
This section of the page is specifically aimed at cancer sufferers who have experienced skin damage including in scarring and red thread veins.
Not only did I want to do more versatile things with my growing bob I had also suddenly realised that hair extensions might be a short term solution to another concern of mine on certain occasions. In the autumn of 2002 I had 6000 cGy of radiation therapy in 30 fractions to my face and neck for occult (hidden) primary head and neck Squamous Cell cancer. Being very fair I was severely burnt by the radiation treatment. Although my skin healed well it was soon clear that the treated area of skin was permanently damaged.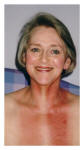 As time passed after recovery, red tiny clusters of broken thread veins emerged in the field of radiation. The picture left shows the skin 17 days after radiotherapy treatment finished. I had more directed treatment on the left side and so there is more red thread vein damage on that side. The skin may look red to you, but it was raw red burnt and much redder before day 17. This picture is actually one of healing skin. You can see all the post radiotherapy daily pictures here in my cancer diary and if you are a patient or carer read about taste problems too.
As the skin is now super sensitive post radiotherapy to the sun, cooking heat and scratchy fabrics, I am reluctant to cover the skin up other than occasionally. Because of this, the area is often visible to others. I have been told by my consultant there is no remedy for these radiation induced broken veins and it has been very difficult to find answers to my concerns even on the internet. I do know that many other people who have had the same radiotherapy treatment suffer with these red veins too. Most people feel like I do - we are just thrilled to be alive after the treatment whatever the skin damage.
So when you next see someone with red thread veins don't jump to the conclusion that they have not cared for their skin, have over sunbathed or over indulged in alcohol. They may simply have had treatment to save their life.
Sometimes I find people such as cosmetic and fashion clothing assistants, looking sideways at these broken thread veins probably thinking to themselves 'silly woman too much sunbathing,' except I never sunbathed as I always burnt! I feel obliged to explain to them why I have the red thread veins. More than one close relative has made unkind remarks about the red veins and such ignorant comments can be hurtful. However I wear my daily reminder 'badge of survival' with pride. Survival is what it's all about.
For the benefit of those who have had similar radiotherapy treatment or those with 'life' thread veins, I chose not to apply foundation and a basic cover up stick to any part of my neck or décolletage in the hair extension pictures on this page.
I do on occasion use a cover up stick and/or foundation base make up on the red vein neck to cleavage area of damage. I have also used green cover up red vein cream with a flesh tone on top of it. Frankly I prefer some normal foundation, plus on severe damage, extra No7 cover stick from Boots to anything else I have tried.
I find ordinary make up sufficient to soften the red veins lightly on days when I wish to disguise them. In my opinion, thicker make up products draw even more attention to the area. One make up which is particularly good at covering red veins is an Estee Lauder Doublewear foundation with a waterproof finish. You would need to check with an Estee Lauder consultant for your own individual case and matching skin tone. Waterproof skin foundation products do not come off on clothing so easily. When applied lightly with a sponge coverage is very good.
So as you can imagine I am always looking for a fresh approach to find a solution. I would not say that the clip in hair extensions have solved the problem, but it is a different approach to living with something like red veins or other scarring on the neck. Mainly it can just make you feel glamorous for a few hours whatever your age.
In this photograph the extensions were wrapped to the neck side most damaged by cancer treatment. The hair effectively covered most post treatment scarring. If you dear reader have a similar problem I empathise. This is why I write this here so you know you are not alone. You are probably like me just glad to be alive with or without red veins. Life is good.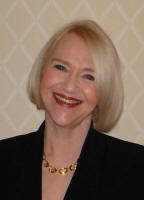 Finally if you are in need of a boost, you might like to treat yourself to some hair extensions as a birthday, Valentine's Day or Christmas gift. Clip-in hair extensions can also be ideal as a fancy dress addition to create a totally different image.
Have I worn the hair extensions since writing this article.
Yes - twice at home!
Would I bother to buy them again - no. I'm just a woman who likes to try things. I did grow my hair longer, but as one does, one day I just rang the salon to get it cut and so this is my hair in October 2006.
Footnote 1:- The unit of radiation measurement is the Gray (Gy) Other units include the centiGray (cGy) and the rad. One cGy equals one rad. One hundred cGy equals one Gray and so, 60 Gy equals 6,000 cGy. Although the term rad isn't used now, 6000cGy equals 6000 rad which is why people who have had radiotherapy refer to it as having had rads. The radiotherapy is delivered in fractions. For example I had 30 days of treatment of 2Gy or 200cGy for 5 days a week which totalled over the six weeks (minus rest weekends) 6000cGy or simply 60Gy.
Radiotherapy has given me extra years I never expected and I thank all those involved at Cheltenham and Worcester UK hospitals. See my radiotherapy treatment here.
Footnote 2:- My hair extensions were obtained from a seller in 2005 but by late 2009 I noticed her website was a dead link.
Read more about my clip in hair extensions here :-
clip-in extensions before cutting - and types of hair extensions.
Page added November 12 2005.
Page Updated 27 Nov 2011.
--Link--
Image Planning
See Marks and Spencer New Spring Collections online
Custom Search
About Fashion-Era.com
Fashion-Era.com looks at women's costume and fashion history and analyses the mood of an era. Changes in technology, leisure, work, cultural and moral values. Homelife and politics also contribute to lifestyle trends, which in turn influence the clothes we wear. These are the changes that make any era of society special in relation to the study of the costume of a period.

Fashion-Era.com can take no responsibility for any information on the site which may cause you error, loss or costs incurred from use of the information and links either directly or indirectly. This site is owned, designed, written and developed by author: Pauline Thomas and Guy Thomas. This site is designed to be viewed in 1024 X 768 or higher.
ALL RIGHTS RESERVED. Fashion-era.com reserves the right to add or delete information, graphics and links. Copyright © 2001-2014 on all content, text and images in Fashion-era.com. Images and text in this website may not be used on other websites.
Before you write to me for costume/fashion help or information please, please consult the extensive sitemap which lists all our pages. If you still cannot find the answer after searching the site, then before you email me, please consider if you are prepared to make a donation to the website.
Donations
Reader's donations help this site flourish, in particular donations encourage me to write more articles on fashion history as well as current trends. PayPal allows anyone with a credit card to donate easily and securely. You may donate any sum you feel appropriate.