Figure Saving Spanx and Knitwear Choices
Lingerie - From Pretty to Figure Saving Helpful
Beautiful lingerie for every shape, from slender to plus sizes is now very easy to buy online.
Companies like Figleaves, La Senza, Bravissimo, Big Girls Bras, Next, La Perla, Rigby and Peller, Victoria's Secret or Marks & Spencer all stock a wide range of products. This varies from the pretty, to the purely functional, from lacy bras to backless, strapless all purpose bras for halter dresses.
You may be hoping for some gorgeous underwear as a Christmas box, birthday or Valentines gift. You may also know that to look perfection in the slender little black dress at the office party you'll need a little help. Slinky dresses may require you to wear nipple concealment covers. Visible nipples are one of the no-nos of dressing today, so purchase petal covers or similar products. If you can't get hold of them then use a circle trimmed or a round corn plaster!
You may need to hold everything in with shaping contoured tights with extra added Lycra panels or a product like Spanx tummy control power pants shown below.
Spanx Power Pants
At Figleaves you can purchase Spanx Power Panties with tummy control which slims the thighs, tummy and rear. It will help you achieve a smooth, seamless look for that little black dress you may have bought at matchesfashion or Net a Porter. You can also buy the Spanx product online at John Lewis and Tights Please UK.

Spanx Power Pants have a high waist to smooth the entire waistline. They help slim your tummy, thighs and rear.
They make a seamless shape under clothes and are perfect for wear under cropped shorts as well as waist cinching dresses and pencil skirts.
Spanx also make a figure hugging short to waist slip and a full bust to knee slip. Both modern support products are in the same power net.
‡‡
I've always been a big fan of Marks and Spencer. When it does something right, it does it well producing a quality product at reasonable cost. After a decade in the doldrums when many of us wandered into shops that were trying harder M&S is at last back on target.
Marks and Spencer do similar thigh control products with a light control Magic Tummy Slimmer and it may suit you just as well as the Spanx does. Their patent pending 'Magic' products use Elastane. I have recently written my opinion page of the Magic slimming dress they are currently selling. It is a totally independent review of the MagicwearTM dress and may help you in your purchase to buy a basic crepe sheath dress which 'helps' give you an hourglass body. Apples cannot be made into pears, but you will feel your body is being genetically modified when you wear it. Read more here.
...(v4r)
A garment to think about is this traditional control embroidered Lycra corselette. You'll find many similar versions of corselettes at catalogue companies and top lingerie specialists.
'Me in a corselette, not likely' I hear you groan!
If you have a bit of flesh that seems mobile - that's a polite way of saying extra lumps and bumps, then if it suits your body type and cup size try an embroidered corselette to get a good uplift garment for the sweater dress which is a fashion trend of this autumn 2006.
Some women have never really invested in a girdle other than a Basque affair for their wedding. Ms. Average of today should consider how women of the fifties and early sixties only ever wore a sweater dress with under foundations similar to this corselette. Most already had a good figure, but they were interested in improving their silhouette. You may well think women were liberated when they threw away such things. But liberation can also mean feeling comfortable that most ripples are under control and not in free fall when revealing your all woman shape in that latest must-have fashion.
This corselette reigns 'it' all in, but quite gently compared to fifty years ago and it is not too expensive. I have one of these I've had a couple of years and it really is a product I might only wear a three of four times a year. On occasion there is an outfit that somehow does not quite gel with your womanly excesses! The correct undergarment may just lift it and your body into a curvy hour glass without overspill.
It's worth having such a corselette in your wardrobe so you can compare how different types of underwear can work with a dress. Sometimes it's a soft contour flesh tone Lejaby bra that does the trick and other times almost ironmongery like qualities of Lycra power nets and uplift wires are the answer. The key to success is to be open to trying traditional and modern underpinnings.
There are Bum, Tum & Thigh Shaper
tights especially designed to pull and smooth you into shape. Pantyhose like the Bum, Tum & Thigh Shaper
tights are especially useful if you just want to feel your legs and thighs are smoother and firmer looking without too much effort. A Google search will soon find you up to date stockist.
First we had manicures being a must have pamper now we have pedicures which for me is the perfect pamper. Ok a manicure is a treat, but it's a lot easier to reach your hands than your feet. The pedicure is one luxury worth paying another to help you with and a good pedicure usually last 2 weeks whereas that manicure done Saturday can be flaking off with the chore effect by Monday.
So if you just want to show off a fabulous pedicure, but like to wear tights I really do recommend are those called Marks and Spencer toeless tights. They are silky on the leg and wear very well. Despite being a fine 7 denier leg I find the toeless band with a big toe separator stronger than the enclosed toe piece of normal tights. Their toeless tights last me longer than standard tights and they do not snag as easily. You do though need to wear sandals or open shoes that cover the area of the toeless band. You may have abandoned tights for summer, but in winter these are the solution to smooth legs and visible painted party pinkies if you prefer a leggy look to leggings.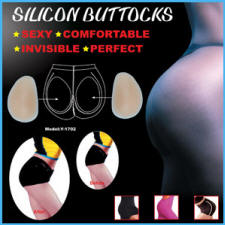 Silicon buttocks - I'm not sure how easily available these silicon buttocks are globally, but I received this promotional image earlier in 2005 from Chinese producers of the item.
I know some of you will just love it. My husband and I had a good laugh when we first saw it, but someone out there needs this product. Rapid weight loss can mean a bottom can just disappear and clothes such as trousers can look flat and hang badly. I know this for a fact. When I had radiotherapy five years ago I could not eat properly for months, lost 4 stone and much of it seemed to be from my rear!
So for bottoms that have dropped south, or disappeared, these new design Silicon buttocks give a woman's bottom a more rounded shape.
I first saw the latest perfume promotional photograph of the Beckham's new perfume in my copy of WWD in August 2006. I couldn't help wondering if Victoria Beckham was wearing a similar product above, had opted for transferred liposuction or if a lot of airbrushing or body manipulation in Poser software had taken place. If your body is emaciated these buttocks may be your answer for a J.Lo backside.
These silicon buttocks are made from 100% high quality silicone and I'm told they are soft, comfortable and perfectly combined with underwear panties. The underwear has a super thin edge for a better fit. The panties lift the hips and also reduce the pain caused by long-time sitting. The latter benefit methinks could be useful for computer buffs welded to their pc's!
More and more I find it odd that people starve their bodies to an anorexic state, then add silicone implants Barbie style both front and back. Neither product is on my Christmas shopping or wish list. Give me diamonds any day.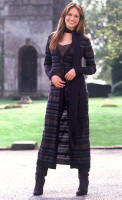 Once you have your underwear sorted out consider some lovely knitwear. Knitwear is varied and will continue to be interesting as long as the passion for jeans is with us. People want attractive appealing tops and knits to go with jeans. This purple stripe long cardigan left is £39.99 sizes 6-22. The blue skinny leg jeans £29.99 sizes 6-20R/8-20L/8-18XL and purple piped micro suede long boots £39.99 sizes 35.5 - 43 are also from NEXT Directory. Images courtesy of NEXT UK
Knitwear this mid decade has gone from the shortest bolero to a shrug, to a hip length V neck cardigan and to full cardigan coats as above. Wraps and other knits often have cut or looped fringe, or crochet edgings. Sleeves are three quarter length, or overlong and flopping over the hands.
Spring 2006 saw crochet revived and autumn 2006 has a handcrafted knit look to it too. So now is the time to start your own little personal hand crafted knitwear range and have a wardrobe of fashionable knits at the ready. These knits in the image courtesy of Benetton show how pattern is remerging as a knitwear trend for autumn winter 2006/2007.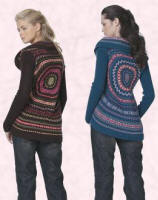 ‡
You may also prefer your knits with just a percentage of cashmere such as a pretty knit wrap cardigan from Boden, with just 9% cashmere. At Boden you can find affordable, but fun lambswool scarves plus other lambswool or mixed yarn knits.
...(v4r)
Do remember that the cost of cashmere is frequently related to weight. I think many cashmere knits on the market today are being knitted from the most superfine of ply yarn with less density, so that the item weighs less and is therefore cheaper to manufacture.
If you prefer silk mixed in with the cashmere then Boden sell silk and cashmere mix knits.
If you feel the chill, there is nothing better to make you feel cosy than soft knitwear. What would Christmas be without a great new knit? You want to feel warm and pampered or you want to pamper loved ones. There is no better buy than a cashmere knit. It's perfect for feeling warm and very relaxed for casual occasions with family. Cashmere allows you to feel special without feeling overdressed. Wear cashmere with jeans, cropped trousers, a corduroy or velvet skirt and you'll feel a million dollars. Can you tell I'm a big fan. I just know that every cashmere item I've ever bought has repaid itself wear for wear.
Ballantyne, N.Peal, John Lewis and Benetton all do great cashmere knits. N. Peal now has an affordable npealworks range online as well as its world famous cashmere Burlington Arcade and Gleneagles product shops.
Don't forget value for money Marks and Spencer's cashmere knitwear. Some of the Autograph and Limited Collection cashmere range by Marks is particularly well styled in a classic way. From my personal experience of trying the Marks cashmere I can report I found that you may find that the sleeves on the Limited Collection cashmere knits seem extra long. This could be a bonus if you are tall or have long arms, not so good if they are average or short.
I preferred the Autograph cashmere knits which seem more average in length an suit my 5'4" height. When I buy a classic cashmere twin set I always like to purchase a close fitting short sleeve jumper with a cardigan one size larger. This basic and classic V neck cashmere jumper below comes in a rainbow of colours all year and can be the perfect layer beneath more fashion forward clothes. I never fly anywhere without a cashmere knit like this in my hand luggage or at the top of the suitcase. Light yet cosy cashmere is perfect for the fluctuating temperatures of air travel.
At both John Lewis and M&S these ranges are targeted around the £70 price mark.
You can get a wider selection of cashmere knits at www.purecollection.com. The range includes bedsocks, pretty shrugs and frilled cardigans, classic knits and scarves.
My favourite Pure Collection item is a wonderful cashmere cable hot water bottle cover. All products at Pure Collection are made in pure cashmere. They also do a collection of cashmere goods for men including cashmere shooting socks, ribbed beanie hats and sweaters. Like N Peal, Pure Collection also sell a cashmere washing product for laundering precious knits.
Finally Pure Collection sell from a choice of over 30 colours of cashmere pashminas a fashion classic.
If you can afford more, try browsing for cashmere knits at the Ralph Lauren site. Cashmere knits for ladies ranged from $179 to $755 when I last checked there.
-------v6-------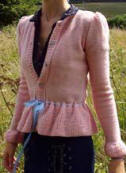 I love merino wool too. It's warm and keeps its looks well long term, far longer than anything made from acrylic yarns. Merino knitwear is also available at most of the stores mentioned above. But if you seek something that is more custom made let me tell you about Constance Eyre a young British knitwear designer. Constance brings a nostalgic eye to knitwear.

I particularly like these 2 knits and she has more at her website. Right is her merino wool designer knitted Georgiana Cardigan. This Wool cardigan has puffed sleeves, picot neck detail, frill tuck stitch cuff and a peplum skirt. It comes with silver grey satin ribbon and mother of pearl buttons.
This pastel blue Constance Eyre designer merino wool knitted Fairfax Sweater below is a V neck sweater. The merino wool sweater has a chunky knitted wraparound V fall neck, cuffs and large button detail.
The knits all have a nostalgic feel to them and would suit vintage lovers or women who enjoy feminine clothes. Constance collects vintage knitting patterns from the 1930's and 40's and uses techniques favoured at that time in order to emulate the style and shape. You may also like ephemera so could try browsing for old knitting patterns on eBay. But just as importantly for autumn 2006 Constance also has some interesting modern takes on styles that have a sixties look.
My thanks to Constance Eyre for the images and information.
Her namesake knitwear designer Constance Willems has a page about her wonderful knitted hats here.
You may also get a few more ideas from my Xmas ideas page related to nativity and re-enactment or fancy dress sewing patterns, kid's fancy dress in stores, paper dolls here, xmas books, or about beauty here. For latest fashion trend ideas including office party and prom dress for autumn winter 2007 wear see my index page here.
Page Added 19 November 2005. Updated 24 August 2006.
--Link--
Image Planning
Custom Search
About Fashion-Era.com
Fashion-Era.com looks at women's costume and fashion history and analyses the mood of an era. Changes in technology, leisure, work, cultural and moral values. Homelife and politics also contribute to lifestyle trends, which in turn influence the clothes we wear. These are the changes that make any era of society special in relation to the study of the costume of a period.

Fashion-Era.com can take no responsibility for any information on the site which may cause you error, loss or costs incurred from use of the information and links either directly or indirectly. This site is owned, designed, written and developed by author: Pauline Thomas and Guy Thomas. This site is designed to be viewed in 1024 X 768 or higher.
ALL RIGHTS RESERVED. Fashion-era.com reserves the right to add or delete information, graphics and links. Copyright © 2001-2014 on all content, text and images in Fashion-era.com. Images and text in this website may not be used on other websites.
Before you write to me for costume/fashion help or information please, please consult the extensive sitemap which lists all our pages. If you still cannot find the answer after searching the site, then before you email me, please consider if you are prepared to make a donation to the website.
Donations
Reader's donations help this site flourish, in particular donations encourage me to write more articles on fashion history as well as current trends. PayPal allows anyone with a credit card to donate easily and securely. You may donate any sum you feel appropriate.