Pictures of Indian Dress Fashion
I hope you enjoy viewing the wide variety of traditional Indian dress styles featured on this page. In addition to the pictures, I will explain the component garments such as the lehenga, choli, dupatta and the different types of sari (saree).
Twenty fashion designers across India participated in Vibrant Fashion Week 2010. Vibrant Fashion Week 2010, Season 1 event was held at the Courtyard Marriott, Ahmedabad on 21-23rd Feb 2010. The event was organised to show off the latest Indian fashion talent and to develop the fashion industry within Gujarat State.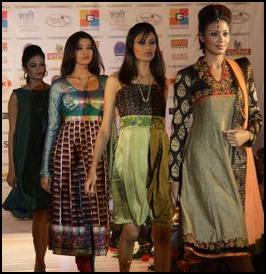 India's top models paraded for 3 days with various designers Collections. Zarin Khan (of Veer movie fame) walked for Archana Kochhar and Alisea Raut. The Brand Ambassador for Chirag Joshi showed their collections for spring summer 2010. The catwalk event was organized by Akshar Events & Entertainments and you can find the list of fashion designers at the vibrant link above.
Raahul Dhyani of Akshar Events & Entertainments wrote to tell me about the Vibrant Fashion Week and he sent me some stunning PR photographs of the colourful catwalk shows. I am showing the photos over several pages on fashion-era.com. But first, a look at the different types of Indian dress.
Indian Clothes Fashion
These links take you immediately to the other five pages of Indian fashion images.
Many Asian women shun western clothes and prefer to wear traditional forms of dress. Proud of their heritage many young people with an Indian ancestry love dressing up and flaunting traditional Asian clothing especially at family, wedding and festival occasions. In a nation with a rich cultural history, traditional costume still plays a big part in everyday Indian way of life.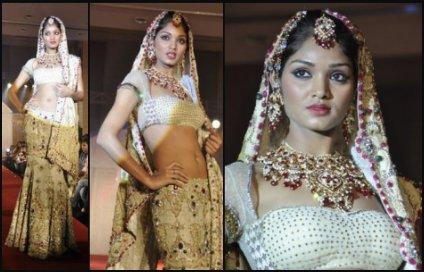 Any bride who will be the star of an Indian wedding should remind herself she also needs to be comfortable for the long event. But once a bride has settled on her chosen style then she can select the appropriate fabric for the garment type and season.
Right - Ornate lehenga choli and knee length dupatta.
Indian Bridal Clothing
Modern Indian brides can choose from three types of clothing for their big day.
While the style of Asian apparel is recognised everywhere in the world, many of us don't know the names of those individual garments.

Since there are many living languages and dialects spoken throughout India, Asian clothing pieces are frequently called a different name in a different region, but essentially the garments are similar. What I want to do is simplify the female costume to a few of the essential styles a westerner may already have seen, but is unsure of its name. Other items an Indian woman may wear include the dupatta, the Odahni and the Kurti. What essentially makes the look totally bridal is the traditional jewellery and decorative mehendi henna work. Some brides will of course select western bridal gowns if that is their preference.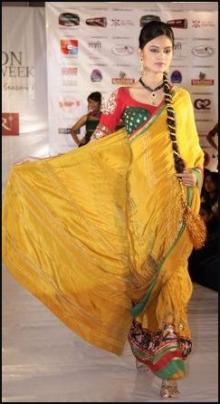 The Sari/Saree - Traditional Draped Wrap Dressing of India
The Indian female garment most of us are able to recognise is the sari also spelt Saree, Shari and Sharee. Saree is also how it sounds when spoken. The Sanskrit word chira means 'a wearable length of cloth' and sari comes from a corruption of this. In Prakrit after the decline of Sanskrit the same sari garment was called Sadi. From all of these spellings I'm favouring sari as that's how I have always known word for this wonderful garment.
Left - Designer sari shown at Indian Vibrant Fashion Week 2010.
‡‡
For many years the popularity of the Bollywood film industry has been highlighting the sari as the national dress of India. However, contemporary forms of similar dress - especially the lehenga/choli is fast becoming a hotter fashion trend. Indian fans want to look like the film star celebrities who wear these garments and they do of course look closer to formal western dress and also show a lot more body.
According to legend the sari has existed for 5,000 years. This is not unexpected especially if you recall the draped methods of dressing used by other ancient civilizations such as the Greeks and Romans. What is amazing is that the sari garment has survived where togas and other robes have passed into myth and are now only seen in the land of fancy dress.
In India the original sari form is still widely worn by Indian ladies in every part of India. This is essentially the same style of dress as worn by ancestral Indian women hundreds of years ago. Whilst younger women favour western dress especially jeans and tops, many wear traditional dress too.
Teenage girls wearing traditional Indian dress don a pared down version of a half sari - a langa (skirt), a choli (blouse top) and a scarf/stole. saris are usually worn over a petticoat (called ghagara, pavada, chaniyo and shaya according to the region).
A sari is worn with a blouse top called the choli, which is also called ravika. The sari is worn with short or long cholis or the Kurti top.
Right - Rich yellow/gold, green and peach coral patterned choli top and luscious green trimmed saffron yellow sari. You are reading an original Indian dress fashion article by Pauline Weston Thomas only for publication on www.fashion-era.com ©
Where women wear saris they also wear a top called a choli, which is like a blouse but allows for a bare midriff. You can see examples where women don saris and wear the choli all over India, Pakistan, Bangladesh and Sri Lanka.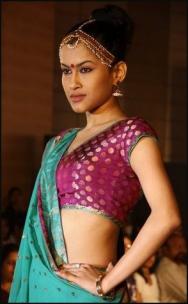 The choli is an under bodice that like the Ghaghara petticoat acts as a foundation for the top layer of the sari, but unlike the Western petticoat, the Indian choli can be quite visible.
The choli can be cropped short and snappy, almost like a built-up bra and finishing under the bustline revealing bare midriff flesh. A U-scoop neckline is simple, and can be cut to be revealing or not making it easy to wear and easy on the eye.
The cropped design is suitable for the hotter regions of the sub-continent, but the choli can also be longer to cover more flesh rather as an over-blouse does. The choli top can have a V, round, boat, sweetheart, square, wrap-over, button front neckline or shoestring strap. It may be, with/without sleeves, one sleeve, one shouldered, short or longer or so brief it's almost a bikini bra top.
The traditional silk choli complements the sari fabrics very well. Shimmering contrast warp and weft yarns create fabulous pattern effects like this designer choli left. The choli can act as the accent that pulls the outfit together in the way that a western woman uses a great coloured bag or belt to achieve the same effect.
Modern designer cholis are often simple bandeaus and bra styles. Cut-out keyhole backs and modern knit materials are all part of the newer choli designs.
The traditional sari (saree) has always been a statement of refinement in both old and modern India. The traditional length of a sari is a rectangular woven length of fabric, with loom fabric width at 4ft by a bolt length of 18ft. Yes 9 yards of fabric that will pleat and flow into goddess drapery. Most modern saris are made from shorter bolts of fabric using less length with about 5 or 6 yards/metres of material.
Nowadays most saris have one undecorated short edge, which is designed to be hidden, a narrow band/border on the two long edges, and then a deeper wider band on one the visible short end. This decorated short end is called the Pallav or Pallu. It is the pallu end that we see flowing over the face or over the breasts. The wearer becomes adept at arranging at the pallu over the front of the face/neck according to her modesty needs. Interestingly, Greek costume images show wearers draping their pallu too.
Historically early saris were undecorated, but with time fabric was block printed, and decorative weaving or embroidery added. Embellishment became normal and today is almost the whole point for occasion wearing of a sari - to show off a sumptuous length of decorative fabric, including lavish scallop edge lace tulle fabrics.
The arrangement of a sari is peculiar to a region, and so there are many forms of draping. However the most popular drape method is the nivi. In Gujarati the style is just like the nivi, but the draping of the pallu (end of the sari) is different. In Gujarati the loose pallu end is draped over the right shoulder and from back to front.
How the pallu is arranged gives the wearer individual choice. She has the opportunity to leave the pallu hanging freely or tuck it into the waistline with freedom to show or conceal the navel.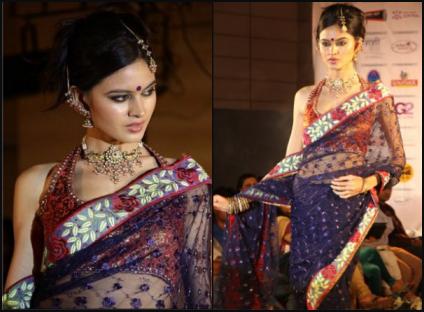 The model above wears a sari with a rich rose embroidered band over a halter style choli. She could easily drape her semi sheer sari over her head pallu style. Unlike some models this girl shows how the sari has mystery - she hides her midriff and navel but with a semi sheer fabric that hints at the body beneath.
§
Pre 1970 most saris were made of fine silk or cotton, but in recent decades synthetic materials especially polyester silk and polyester georgette has meant women everywhere can afford to buy a sari. One famous shop in Brick Lane, London sells in every price range with saris ranging from £5 to £500. The same shimmering effects are used in sari fabrics.
Some London based designer saris can start at £3,000. Indian silk is one of the fibres used in the making of the most fine or heavy woven silk saris whether traditional self draped saris or designer prepared sari gowns.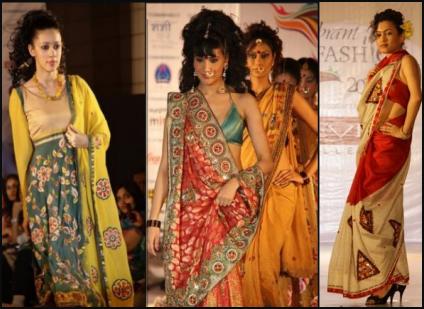 The more decorative saris with extensive embellishment and embroidery are as expensive as any western designer fashion anywhere.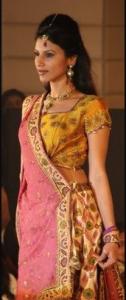 Contemporary designer pre-made saris are often fixed into position and have zips for ease of access so they can be put on just like an evening dress. This does not make them worse or better, but is a new approach to wearing a traditional garment. Designers are producing pre-tucked and pre-pleated waistbands, half-draped and part stitched saris that eliminate traditional adjusting and fitting. This is how fashion evolves in any century. Designers can fix drapery in specific ways peculiar to a regional sari draping style and introduce innovation that a younger customer may have difficulty achieving the correct expertise which is easy when done daily, but harder for occasional use.
At first this approach may seem threatening to the traditional sari, but ease of putting on a sari may even help to maintain the sari in the eye of C21st women. Ease of dressing with a little fastener here and there, a zipped or half constructed designer sari may also mean the sari style spreads globally as celebrities adopt the gown. They love the graceful draped fashion look. As wanna-bees make it their must-have too. It's easy to recognise that in the face of the current craze for maxi dressing this is a real possibility.
In fact designers acknowledge that the one shoulder style of the sari is their direct source of inspiration for asymmetric draped dresses so beloved of celeb followers. Today there is hardly a pop star, politician's wife or film celebrity that hasn't donned a sari at some stage of their life to make a cultural leap making it the garment of choice for numerous formal multi cultural events. As ladylike dressing returns we may see more of this traditional long dress as the sari offers an alternative romantic elegant chic that transcends seasonal trends.
Sari buying is easier if you know what you like or want or which product is best. Silk and cotton are good traditional choices and if you are wealthy enough then a diaphanous fine silk sari may be on your shopping list. The more expensive the sari the more likely it will be heavily embellished or complex in its ornate weave especially on the Pallu end. When saris have gold or silver pattern in the weave this is known as zari (jari) work.
Frequently the sari warp will be a thread of one colour and the weft a different yarn. This adds variety, lightness, shimmer and sometimes extra strength to a sari fabric.
Mostly you will want a silk base, but you may want decoration and different types of jari add the metallic effects. You may also want your sari to be long lasting so factors such as high thread count and the use of top quality pure jari come into play. Pure jari is the best as it's is more long lasting and the sari will last longer. This pure jari uses silver thread plated with gold. saris using pure jari should be dry cleaned first laundering and carefully hand washed on later washings.
Heavy silk tissue for example is made from a silk warp and the weft (weaving thread is made from jari producing a silk cloth which shimmers with a shot of gold. Varoosi is also a gold shot silk, but uses a gold weft every few rows rather than every row. The alternative copper jari is dry clean only and not particularly admired and you are advised to save up for pure jari saris.
Brocade is a silk that can use Jari and is made on a Jacquard loom to create richly ornate patterns.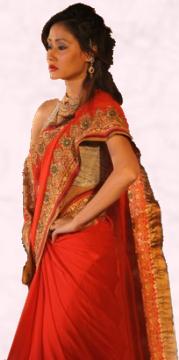 Heavy surface embroidery work such as shisha mirror work, buttis, zari (jari), zardosi (jardosi), zardoji, golden dori work, beads, kasabtiki, tikli, aari, stones, chikankari, phulkari, gotapatti, sequins, sequences, kundan and are all used to embellish silk saris.
Zari work is the most ancient of Indian embroidery forms with Zardozi the heavier embrodiery type and Kamdani the lighter type. Zardosi stitches are very elaborate and closely worked and used on heavier weights of fabrics including coats and curtains. Kamadani is lighter and more suitable simply worked on finer gossamer fabrics such as clothing and scarves.
Surat in Gujarat is famous for Karchobi work - spangles, raised designs and thread combinations all create rich patterns. As well as using gold and silver thread Zardozi embroidery can incorporate pearls and precious stones.
Since true Zardosi is hand crafted hand woven and decorated sari and lehnga fabrics are expensive, but are still very desirable for weddings and special occasions.
Left and Right - Rich gold decorative work on a coral red designer saris. The red wedding lehenga or red sari is a popular choice for Indian brides especially for Sikh brides.
Today fake pearls and Swarovski crystals and synthetic metal thread can provide less costly alternatives and are a cheaper modern Zardozi this might also be done on a synthetic fabric such as polyester, rayon or polyamide.
‡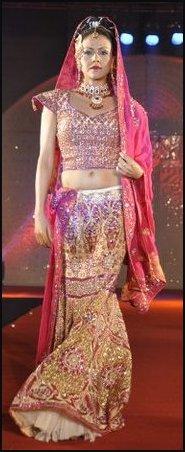 One of the most special pieces of clothing a woman can wear is a wedding lehenga. Lehenga choli is currently the most contemporary popular form of bridal dress for the bride and bridal party at Indian/Asian weddings.
The words lehenga, lengha, lehnga all mean the same thing - a long gypsy style skirt. In India it is spoken as Lengha or Lehnga and in Pakistan the usual pronunciation is lehenga.
Right - Rich metallic fabric used in making a pink designer inspired swirling fishtail lehenga skirt, choli top and dupatta and worn with Indian traditional jewellery
The Lehenga is the skirt (as above and below right).
The Choli Bodice (which can be cropped or worn longer to cover bare flesh).
The Dupatta which is a shawl stole that is draped over the shoulder or head as desired. The Dupatta can finish at about the hip, but is often much longer and this can elongate the body.
Extras include an overlay jacket for those who don't want the brevity of a choli top and a lehengas belt. Contrarily for the less modest and more modern woman the lehenga skirts is sometimes teamed with Western crop top, halter neck or baby doll top.
Left - Designer inspired swirling lehenga-choli and vivid Indian pink contrast dupatta.
Fabric choice can dictate the style of lehenga, flounces and drape. The lehenga is customarily worn in the rural areas of Gujarat and Rajasthan and those lehenga skirts are frequently panelled and swell into a full hem, but the skirts can also be slimline columns and slenderising on the right person. When you are choosing fabric look especially at silks - brocade, raw silk, and jacquard silk. Note the comment about selecting garments using pure jari here.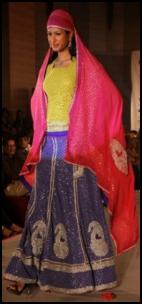 Women of Gujarat and the Rajasthan countryside often wear the lehenga a form of gypsy skirt. The lehengas are worn with choli which can be looser than in other regions. Often these garments, especially the choli are decorated with mirror work and embroidery. This choli top left is longer than many cropped cholis and is a desirable look.
A lehenga is worn in other parts of India, but some designs have less or more volume with some styles having lower skirts that spread into swirling fans. These long skirts are also called a gypsy skirt. A wraparound version is the gopi skirt. Needless to repeat this gypsy skirt has inspired many a western fashion designer!
As with any garment regional differences mean there are many variations of the lehenga and combined with the use of different fabrics and patterns the range of styles is enormous. Bandhni work is a tie dye technique used by Hindu women of the Gujarat region and Gujarat is well known for this tie dye skirt style. When a head covering is called for a bright veil called the Odhani (scarf/dupatta) can be used for draping.
In the south less volume is used in the lehenga skirts and a longer tunic called the kurti is worn because it covers the midriff. In Northern states voluminous flaring skirts are worn along with a kurti and Chunni (scarf) which is draped around the neck, worn as a half sari or shoulder stole.
When visualizing the modern Indian bride of today the outfit look many have in their head is the Bollywood endorsed Lengha. You are reading an original Indian dress fashion article by Pauline Weston Thomas only for publication on www.fashion-era.com ©
Despite many variations there are basically 4 main styles of lehenga/lengha/lehnga skirt from slim line to full. The first two are the simple styles of straight and flared.
The first is basically a long straight skirt falling straight from the hips and it may be wraparound as in gopi skirts.
The second the long flared skirt that gradually increases flare from hip to hem in proportion to the skirt length.
The third is the lehenga that is pleated from the waist and the heaviness of this creates flare
The fourth is the form and fit mermaid fish style which hugs to the knees and then flares from the knees. Younger girls love the fishtail style.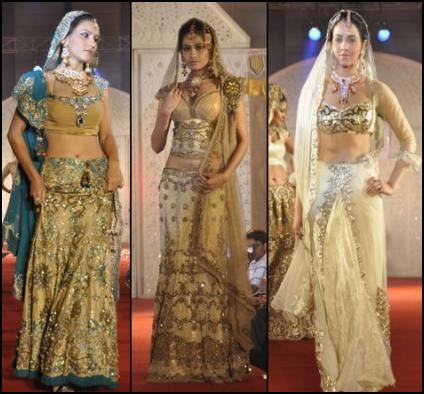 Where women wear saris they also wear a midriff baring blouse called choli. India, Pakistan, Bangladesh and Sri Lanka are all places where women don saris. In Urdu the word for choli is lehnga and so it's easy to get confused as the many Asian languages affect clothing names.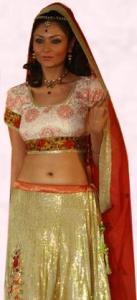 Contemporary choli designs have front-opening buttons or cut-out keyhole backs and although once the choli was worn braless modern women prefer a bra. Designer versions also use boning and foundation padding to create just about any style like the bustier choli above centre, so the wearer can wearer the choli with comfort without worrying about straps showing beneath. Modern Indian designers today push boundaries and team the sari with halter bikini style tops.
The lehenga choli needs a fair figure to show off skin and your figure will help clarify the choice of choli. The choli is the foundation bodice and it can be cropped short and snappy finishing under the bustline and revealing flesh.
The cropped design suits the hotter regions well leaving the wearer with cooler skin. But the choli can be much longer and more covering like a bustier if you are not comfortable with a brief choli. For extra shape, princess seaming gives any woman a better figure.
Longer cholis and Kurti style cholis can overlap the lehenga belt and anyone still unhappy with the basic choli can consider wearing an overlay jacket.
The choli top can be any style you desire from the currently fashionable halter neck to a V, sweetheart, shoestring strap or square neckline. Likewise consider short or longer sleeves, one shoulder or bandeau effects.
Some saris are extra long so that a choli can be cut off the excess of the fabric bolt, but a matching choli is not essential. For even more comfort many women prefer a more forgiving choli made of modern knit materials. Lycra gets everywhere. But like any garment perhaps the most comfortable choli would be one made to fit you. EBay sellers that sell individual choli recommend careful measuring and fitting as this is a garment on show, so a neat snug fit is important.
If however you are full busted keep the choli plain and avoid adding bulky ornate embellishment to it. The simple contrast of the silky plain top beneath your dupatta will be more flattering. But this is where the reverse can work if you are small on top and need to bulk up your top half. A little decoration on the choli will draw attention to your top.
Overall remember it's your lehenga-choli, so you have the style you like best and feel most comfortable wearing. A few digital photographs may help you see more easily which style is most flattering to you.
Rich intricate embroidery and other surface embellishment is an important feature of the clothing and the variety of scale within the ultimate pattern utilising small, medium and larger motifs ensures balance and good design that will stand the test of time and those photos.
To bring the look together you will be best choosing a medium to lighter weight dupatta (stole). The dupatta folds and drapes over the shoulder and you need to ensure it does this to best effect without adding so much excess bulk that you find yourself becoming swamped with fabric.
Try fabrics out against yourself. Select soft georgettes, smooth silks and firmer heavier silks or brocades. Try draping these various fabrics against you whilst looking in a cheval mirror to gauge the overall effect. Perhaps get a friend to help you buy taking some digital photos of the different fabric types against your body type. Take a deep breath and with the help of your friend assess which looks best against your frame and height.
-------v6-------
The Salawar Kameez is worn more than the sari in Pakistan especially since the changes of 1947. The sari is considered Hindu dress and retained as formal dress for two extremes - older women familiar with it pre 1950s and young adults new to the fashion.
Left - The modern designer Shalwar Kameez with indo-western cut and empire line bodice and fitted sleeves and even sleeveless Kameez more like an empire Kurti. Note the slits to the waist in the centre image - a traditional feature of a Kameez. You are reading an original Indian dress fashion article by Pauline Weston Thomas only for publication on www.fashion-era.com ©
Spellings for the pants garment include:-
shalawar, shalvaar, salvaar,salvar
Shalwar - UK/Canada usage and Oxford English Dictionary. Salwar - USA usage.
The Shalwar Kameez consist of two garments plus an optional dupatta.

The Shalwar or salwar - are loose pyjama-like trousers that taper to the ankle to twice ankle width. Tape or Lycra/elastic is used to hold them up. This leg style is cut from a wide waist line which can be made up to twice the waist size, giving lots of loose fabric around the thigh area. This means the Shalwar has been designed with physical work, ease of movement and cool airy volume in mind. Modern designers love reinventing these proportions giving the Shalwar a new modern look.
Churidars - By using fabric cut on the true bias crossway of fabric Shalwar pants can also be made up quite narrow and look much like western leggings/jeggings. The narrow fabric wrinkles at the ankles and this form of Shalwar is called Churidars. Indian fashion designers appear to be very fond of this narrow style right now as it reflect the western love of leggings.
Right - A Fashion designer wearing Shalwar Kameez - note split at sides.
Pyjamas - During the British Empire era (18th/19th centuries) the British took the Indian word for Paijamas around the world and so today we are all familiar with pyjamas.

The Kameez - this is the over top a long loose shirt or fairly straight cut tunic which can be as long as a dress but which may have open side seams (chaak) from the waist for ease of movement. It is quite a unisex garment apart from the fabric choice. This word Kameez has a Latin origin and relates to camisia (tunic/shirt) and from which we also get the European words chemise/camisole. The Arabic word is Qamees.
The older style Kameez uses traditional cuts based on rectangles. Modern Kameez have shaping and a leaning toward a European set in cut at the sleeve especially. More fitted Kameez also mean more body is revealed so if the Kameez is sheer or semi sheer women wear a choli top beneath it. The decorated edges of the Kameez - the hemline edge, the sleeves and neck are known as the daaman.
Right - Vibrant Fashion Week Shalwar Design.

The Dupatta - the scarf - a multi purpose scarf. The Shalwar Kameez is completed with a dupatta which is a scarf shawl that drapes over the head. This dupatta is frequently softer and more scarf like than some which are huge like stoles. Dependent on region other names for these scarves are Odhani/Odhni, Orna/Orni, Chader and Chunri/Chunni - in Gujarat it is called the Unni.
For modesty the dupatta long shawl is used to cover the head and can be used for drapes around the shoulders or over them. By varying the fabric, colour mix, print, pattern and cut of the garment pieces along with the dupatta a huge fashion variety can be achieved. Compared to the Chador or Burkha the dupatta is the less restrictive option for Muslim women, but even the wearing of the dupatta is a iconographic symbol of shyness and modesty especially for Hindu women where the head must be covered in temples.
Today the Shalwar Kameez is the outfit worn both women and men in many parts of Asia. The unisex dress bears a relationship to the top/shirt and trousers worn by western men and women. The area in South Asia surrounding India we know has had many changing boundaries.
So today the Shalwar Kameez is worn everywhere, but especially Pakistan and Afghanistan. It's very popular in India, particularly the North-western part of India and across South Asia. Within India, Indian women often wear the Shalwar Kameez in place of a sari and of course the style is perfect for men. The Shalwar Kameez is worn more in the North India Punjab region following the history of the Moghul Empire. In the Punjab it has the alternative name Punjabi Suit.
For British born Pakistani and Indian people living in UK it's also an everyday form of dress. The UK Asian community is hard working and many men and women are professionals so many of them also interchange with or solely wear western dress.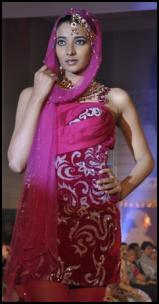 I've noticed on a hot summers day in UK that Asian men in particular don a cool fine cotton Kameez even if it's over jeans. As cultures cross and fashion fusion occurs so this unisex form of dress has gone into the costume melting pot. The easy tunic and loose trousers is a combination that people through Europe buy in linen and wear for a continental holiday or a retreat spa holiday.
A Kurti is a tunic (a short kurta) that reaches mid thigh and is often interchanged with a choli or Kameez for comfort, a different look or modesty. The Kurti is popular with straight trousers or jeans as a form of Indo Western trouser suit. It is personalised with a long scarf or for a modern look a short dupatta. The dupatta is also added to totally western outfits to add that Asian connection.
Traditional styling and traditional jewellery, parure and headdresses complete the look of many of these outfits. Not an it bag in sight. Who needs one when you have the opulence of a sari or Shalwar Kameez and hand crafted embroidering on a border plus headdress or necklace like these here illustrate. These images will inspire you to create your own innovative Indian inspired fashion designs.
About India
The population of India is made up of an amazing mix of gifted people steeped in artisan tradition as well as technological expertise. India is so large with so many very different regions and terrains it can be considered a sub-continent.
According to the CIA, India is a country about one third larger than the USA. In July 2010 the estimated population is 1,173,108,018 persons. Gujarat is a state in North West India about 450 KM from Bombay/Mumbai the fashion capital of India.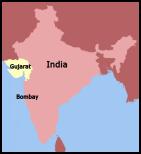 Gujarat's population is thought to exceed 50 million people. Jari gold decoration is popular on clothing and Surat in Gujarat is one of the most important jari-piding districts in India.
There are many forms of dress within India districts with business and traditional clothing in huge urban cities to nomadic wear in remote rural villages. The fusion of South Asian and Western fashion has created Indo-Western clothing. Empowered professional Indian women, girls and teens all favour western dress.
Left - Western Wedding Dress - Vibrant Fashion Week 2010 India.
So this page has been about these Asian clothing items.
The sari (Saree) - A long rectangle of fabric wrapped and draped around the body and worn over a choli top/blouse.
The choli - A bodice top mostly cropped, which is worn under a sari or the transparent to knee Kameez and thigh length Kurti tunics. It is also worn alone with a lehenga.
The lehenga/Lengha - A long swirling, straight or fish tail skirt of India and Asia.
The Dupatta - A Traditional Scarf/ Shawl Stole of India - with lehengas the dupatta stole is wrapped around like a sari - adding a contrasting border and the glamour of drape.
The Kurti - Traditional hip/thigh length tunic garment of India usually with a wide border and shaded dupatta flowing scarf.
The Odhani/Odahni/Chunni - A Traditional Head Covering of India.
Pink has always been a hot trend in India. Vibrant Fashion Week 2010 held catwalk audience attention by showing a variety of pink evening pieces. Many of these pieces embraced the whole spectrum of the pink range from hot raspberry pink to palest pastel pink magnolia. India is famous for its pinks especially vibrant hot pink.
All the designs used both traditional and contemporary styles, construction and materials providing fashion choice for everyone. Admire the saris, lehenga choli and Shalwar Kameez suits, Kurti Tunics and Pyjama leggings all worn with dupatta. Read more and see the Indian fashion images here.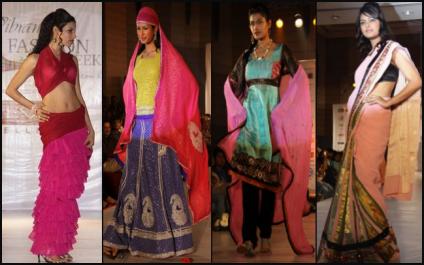 These 4 pieces above reflect some of the Indian fashion shown at vibrant Fashion week. This page is about pink fashions especially pink/red toned saris.
Jewellery
According to taste, wealth and tradition bridal jewellery can be made from 24K gold, silver or platinum. The bride is adorned with abundant layers of jewellery that matches her chosen outfit. You can be sure an Indian bride loves a diamond as much as western bride. But many styles of jewellery will be in line with traditional Kundan work and also rich gemstone settings.
Many styles, regional difference and religious facets of the Indian culture are inherent in these old and new fashion designs for women of today.
You have been reading an original Indian dress fashion article by Pauline Weston Thomas only for publication on www.fashion-era.com ©
Header Image Courtesy Raahul Dhyani of Akshar Events & Entertainments
Date added Spring Summer 2010 - Ref:P.770.
If you like this page then please share it with your friends
---
--Link--
For more information about the Indian Lac jewellery
see these pages:
Custom Search
About Fashion-Era.com
Fashion-Era.com looks at women's costume and fashion history and analyses the mood of an era. Changes in technology, leisure, work, cultural and moral values. Homelife and politics also contribute to lifestyle trends, which in turn influence the clothes we wear. These are the changes that make any era of society special in relation to the study of the costume of a period.

Fashion-Era.com can take no responsibility for any information on the site which may cause you error, loss or costs incurred from use of the information and links either directly or indirectly. This site is owned, designed, written and developed by author: Pauline Thomas and Guy Thomas. This site is designed to be viewed in 1024 X 768 or higher.
ALL RIGHTS RESERVED. Fashion-era.com reserves the right to add or delete information, graphics and links. Copyright © 2001-2014 on all content, text and images in Fashion-era.com. Images and text in this website may not be used on other websites.
Before you write to me for costume/fashion help or information please, please consult the extensive sitemap which lists all our pages. If you still cannot find the answer after searching the site, then before you email me, please consider if you are prepared to make a donation to the website.
Donations
Reader's donations help this site flourish, in particular donations encourage me to write more articles on fashion history as well as current trends. PayPal allows anyone with a credit card to donate easily and securely. You may donate any sum you feel appropriate.