Indian Women's Dress - Lehenga Styles
When thinking of Indian dress you may at first envisage a draped sari worn with a choli top. But think again - Bollywood films have recently popularised the Lehenga Choli as a glamorous alternative outfit fit for the heroine to marry the hero. For today's Indian bride influenced by Bollywood actresses, this often makes the Lehenga Choli a perfect bridal wear choice. The lehenga is the skirt while the choli is the bodice (which can be cropped or worn longer to cover bare flesh). The Dupatta is a shawl stole that is draped over the shoulder or head as desired. Designer examples of the lehenga, choli and dupatta from Vibrant Fashion Week 2010 are shown below.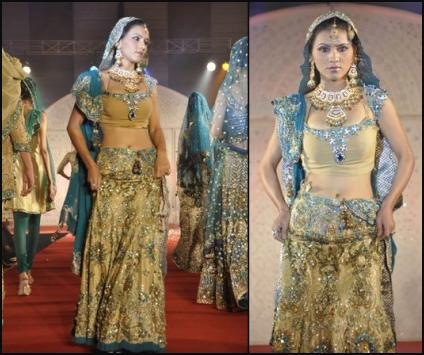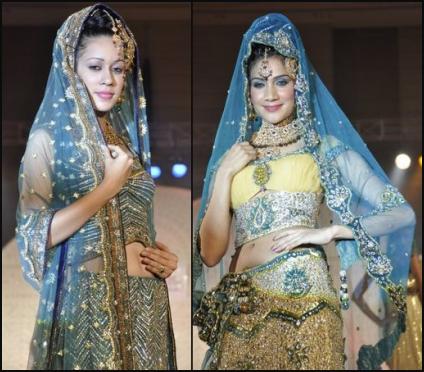 Extras include an overlay jacket for those who don't want the brevity of a choli top and a lehengas belt. Contrarily for the less modest and more modern woman, the lehenga skirt is sometimes teamed with Western crop top, halter neck or baby doll top.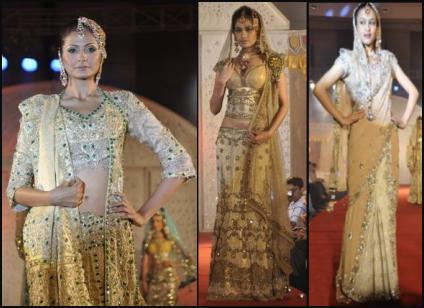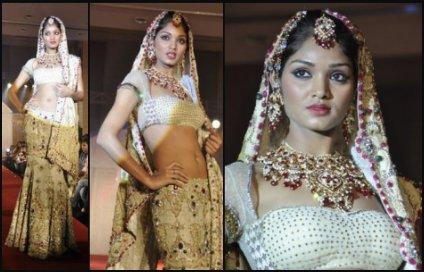 ‡‡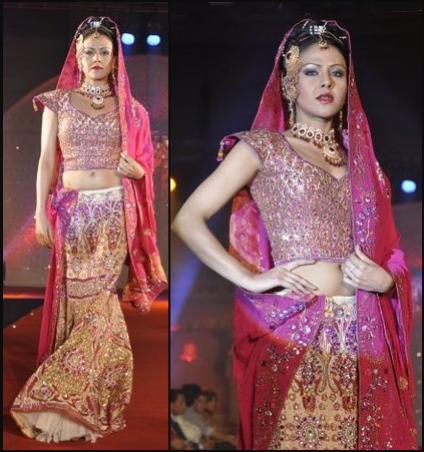 Above - The popular mermaid fishtail lehenga style and loved by younger girls.
Despite many variations there are basically 4 main styles of lehenga/lengha/lehnga skirt from slim line to full. The first two are the simple styles of straight and flared.
The first is basically a long straight skirt falling straight from the hips and it may be wraparound as in gopi skirts.

The second the long flared skirt that gradually increases flare from hip to hem in proportion to the skirt length.

The third is the lehenga that is pleated from the waist and the heaviness of this creates flare.

The fourth is the form and fit mermaid fish style which hugs to the knees and then flares from the knees. Younger girls love the fishtail style.
Swirling Lehengas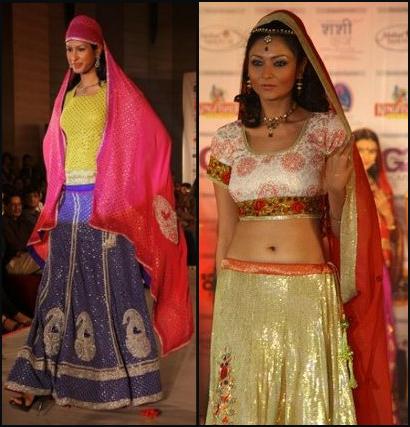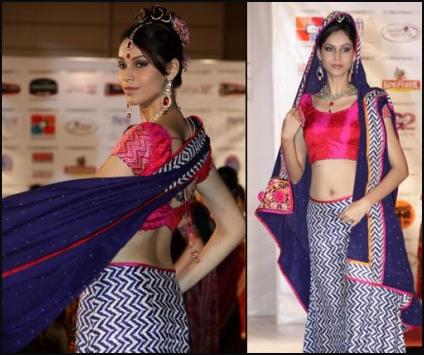 ‡
Richly patterned fabrics are used in all Indian wear but especially in lehengas, dupattas and saris. Cholis are often made of plainer materials that add contrast and pick up pattern colours.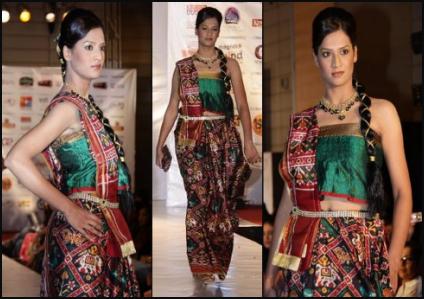 When women wear saris they also wear a midriff baring blouse called choli. India, Pakistan, Bangladesh and Sri Lanka are all places where women don saris. In Urdu the word for choli is lehnga and so it's easy to get confused as the many Asian languages affect clothing names.
The choli is also worn with the lehenga skirt.
You have been reading an original Indian lehenga fashion article by Pauline Weston Thomas only for publication on www.fashion-era.com ©
Header Image Courtesy Raahul Dhyani of Akshar Events & Entertainments
Date added Spring Summer 2010 - Ref:P.773.
If you like this page then please share it with your friends
---
--Link--
For more information about the Indian Lac jewellery
see these pages:
Custom Search
About Fashion-Era.com
Fashion-Era.com looks at women's costume and fashion history and analyses the mood of an era. Changes in technology, leisure, work, cultural and moral values. Homelife and politics also contribute to lifestyle trends, which in turn influence the clothes we wear. These are the changes that make any era of society special in relation to the study of the costume of a period.

Fashion-Era.com can take no responsibility for any information on the site which may cause you error, loss or costs incurred from use of the information and links either directly or indirectly. This site is owned, designed, written and developed by author: Pauline Thomas and Guy Thomas. This site is designed to be viewed in 1024 X 768 or higher.
ALL RIGHTS RESERVED. Fashion-era.com reserves the right to add or delete information, graphics and links. Copyright © 2001-2014 on all content, text and images in Fashion-era.com. Images and text in this website may not be used on other websites.
Before you write to me for costume/fashion help or information please, please consult the extensive sitemap which lists all our pages. If you still cannot find the answer after searching the site, then before you email me, please consider if you are prepared to make a donation to the website.
Donations
Reader's donations help this site flourish, in particular donations encourage me to write more articles on fashion history as well as current trends. PayPal allows anyone with a credit card to donate easily and securely. You may donate any sum you feel appropriate.