Indian Lac Fashion Jewellery
How Indian Lac Costume Jewellery of Rajasthan is Made - Pictures 1
Some months ago when jewellery wholesaler and exporter Pradeep Kapur of Jaipur India first wrote to me, I began at last to put a name to the intriguing traditional Lac enamel fashion jewellery from India I've seen occasionally before. I had seen Indian costume jewels many times in Bollywood films and paintings depicting Indian lifestyle and fantasy. Now I want to tell you about one type of traditional Indian jewellery called Lac jewellery. On this page (with Pradeep's help) I explain how Lac (wax filled) jewellery is made and on these pages show examples of some of his Lac jewellery samples. I have seen real samples of these products and this jewellery is superior to other Bollywood style ethnic jewellery I've seen before.
Image courtesy of Pradeep Kapur, jewellery manufacturer and exporter.
Many pieces like these exotic earrings above have a unique look to them and would easily compliment current trends in western dress. You can see more examples such as this on the next pages. You can contact Pradeep Kapur directly for more information about sales.
This traditional handcrafted ethnic jewellery from West Rajasthan in India is made in time honoured fashion by ancient methods passed down by generations of jewellery makers. This is a rural jewellery art which has not received much publicity. Pradeep tells me all pieces are hand made by artisans/their women folk in a place called Bikaner in the desert state of Rajasthan.
Pradeep arranges to get this unusual jewellery manufactured to order and then exports it around the world. The artisans shown in the images below are just some of the talented people keeping this age old jewellery form alive. There are many designs to select from each with infinite variation.
Traditional Handcrafted Ethnic Jewellery from India
India is famous for traditional handcrafted ethnic jewellery. There are different types of ethnic jewellery such as 'Kundan' (where gold foil is used in settings), 'Jadoo' (stone setting), 'Meena' (enamelling) and 'Lac Jewellery' (wax filled jewellery). A combination of one or more of these types can also be used to produce highly individual unusual pieces.
Lac (Wax) Jewellery
Lac jewellery comes from the princely city of Bikaner in the Indian state of Rajasthan. It is situated in West Rajasthan in the heart of the Thar desert. Being in the desert, the local population have livelihoods other than agriculture. The main occupation there is the manufacturing of handicrafts, furniture and jewellery.
Stages of Making Lac Jewellery
This type of jewellery is normally referred to as ' Lac Jewellery' but in fact it is really 'Lac Filled Jewellery', as lac or wax is filled in the hollow silver foil piece to give it strength.
The stages of making of this type of jewellery are explained below.
Designs/Dies
The design of the jewellery is first drawn and given to the die maker. A solid brass metal die is made by etching out the design on top of the die. A separate die is made for the front and one for the reverse of the jewellery piece.
‡
Imprinting/Stamping- Lac Jewellery 1 & 2
A thin piece of silver foil is placed over the metal die as in picture 1.
Indian Lac Jewellery 1 & 2

Picture 1 clearly shows the metal die with the design on it and a silver foil on which this design is to be transferred. Picture 2 shows the foil being hammered over the die.

Images courtesy of Pradeep Kapur, jewellery manufacturer and exporter.
In picture 2 the silver foil is gently hammered over the die using a rubber headed mallet to transfer the design of the die to the silver foil and is called imprinting. The same is done with the reverse side die. Then two pieces of imprinted silver foil are fitted together to form a delicate hollow silver shell.
Enamelling - Lac Jewellery 3
The basic enamel colour is painted on the whole shell. It is then fired in a tiny cylindered kiln for the enamel to set permanently. There are mainly 9 colours of enamel used. These are white, golden, pink, blue parrot green, red, bottle green, turquoise, orange and black. Shades of these colours are also made. The shell is delicate at this stage.
Indian Lac Jewellery 3 & 4

Images courtesy of Pradeep Kapur, jewellery manufacturer and exporter.
Lac (Wax) Filling - Lac Jewellery 5
To protect and help in filling the silver shell with lac it is covered with clay mud. When the clay mud dries it is placed over a hot plate/sand. The clay gets heated and then lac (wax) in the form of needle straws (see picture – 5 the needle straws are clearly seen) are slowly inserted into the hollow silver shell which is protected by the clay mud. Once filled the silver shell gets strength. Though it looks delicate it is strong enough to be used as jewellery.
Indian Lac Jewellery 5 & 6

All images courtesy of Pradeep Kapur, jewellery manufacturer and exporter.

‡
Cleaning - Lac Jewellery 6
The protective clay mud is removed and the whole piece is washed and cleaned using soap with a brush until the pieces gives a lustrous shine.
Gold Polishing - Lac Jewellery 7
Each cleaned/shining piece is then gold polished at places where the base enamel is not there. These are usually the design outlines/borders.
Finishing - Lac Jewellery 8
The final finishing is done by touching up where the gold polish/enamel is distorted.
Rhinestones and Bead Application - Lac Jewellery 9
Rhinestones are pressed into the silver foil and set in the wax at the required places as per the designs. The final work involves attaching beads and findings to complete the jewellery.
Lac Jewellery 9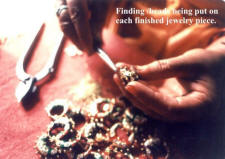 All images and details courtesy of Pradeep Kapur, jewellery manufacturer and exporter.
Conclusion
It takes 9 different craftsmen to produce each piece of jewellery. Many small pieces are joined together to get one complete earring/necklace/pendent. From start to finish it takes up to 15 man hours to complete one piece of medium size earrings, pendant or necklace. The final piece is absolutely 'Unique Fashion Jewellery'.
Comment by Pauline Weston Thomas
As ethnic/Bohemian fashion trends have really permeated the fashion world in the past 40 years I thought it was about time to tell you all the name of this specific type of Indian jewellery from a fashion and costume history point of view. I've always loved knowing how items were made and was delighted when by my request Pradeep sent me lots of images of the production of the Lac jewellery. On other pages I also have some sample pictures of the delightful Lac jewellery he exports globally.
Please note I have no vested interest in this Lac jewellery, but I hope you enjoy looking and learning about this craft skill as much as I have.
All images courtesy of Pradeep Kapur, wholesale jewellery manufacturer and exporter.
For sales details you must contact Pradeep Kapur of Jaipur directly using his email here. Please do not contact me about this as I will be unable to assist you. Instead write directly to Pradeep for full sales information and fuller details on shipping etc.
His email is
One other point of note - whilst I was working on this page I found myself looking up Bikaner and before I knew it was browsing many interesting Indian web sites. This one is a travel website where you'll find really interesting information about Rajasthan the second largest state in India. http://www.merukatours.com/rajasthan.htm
This web site explains about the jewellery heritage of India and some other similar types of Indian jewellery also made in Rajasthan http://www.rajasthan.gov.in/Jewel.SHTM
This site has some interesting comments on traditional techniques used to ornament textiles. http://www.rajasthanheritage.com/
If you like this page then please share it with your friends
---
For more information about the Indian Lac jewellery
see these pages:
For more information on Jewellery go to:-