Modern Indian Dress Fashion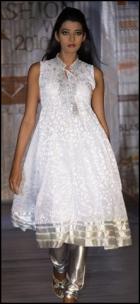 Earlier this year in February in India, Vibrant Fashion Week 2010 showcased the work of some wonderful Indian designers. The fashion pieces shown over 3 days showed not only exotic and colourful rich Indian traditional styles, but also modern fashion designs from minis to hot pants. Stunning colours, rich brocades and lustrous silks made the best of traditional and new designs. India is a rising star in the fashion world.
Some of the Indian fashion designs shown in this section are designed to make a woman feel she is a MAHARANI of today. Equally others will make her feel like a hot chick fully up to date with trends in the western world. If you are a buyer do consider using the innovative talent India is encouraging. I'd certainly imagine this brocade coat shown right would wow many westerners.
I was sent these stunning PR photographs by Raahul Dhyani of Akshar Events & Entertainments in India and although I have no information on the designers I hope you will enjoy viewing them as much as I have.
Just enjoy looking at the mixture of regional variations and modern interpretations that creates clothes than many westerners with their love of leggings, bare midriffs, border prints, bold brights and embellishment might adapt to their style with ease.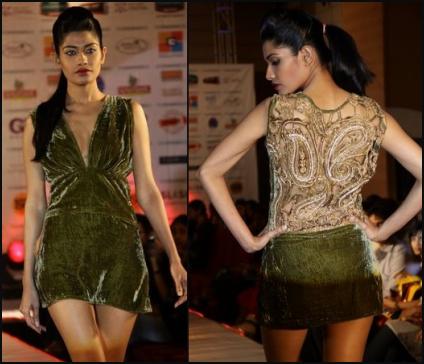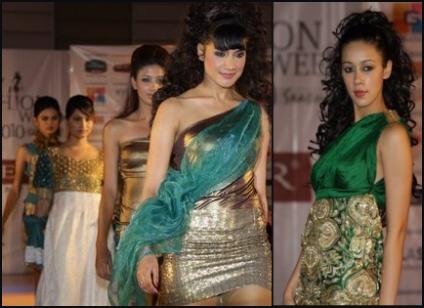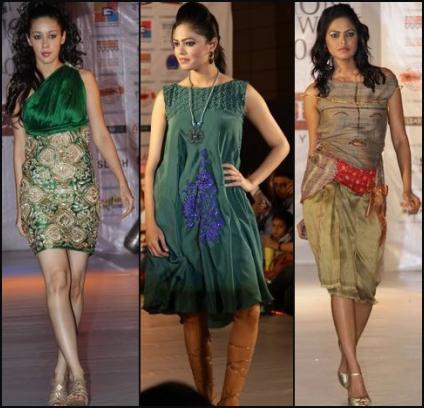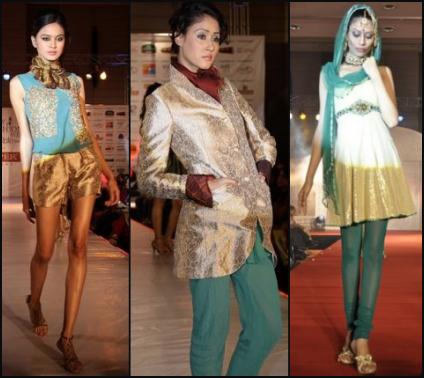 Indo-Western looks that emulate the silhouette of the salwar kameez.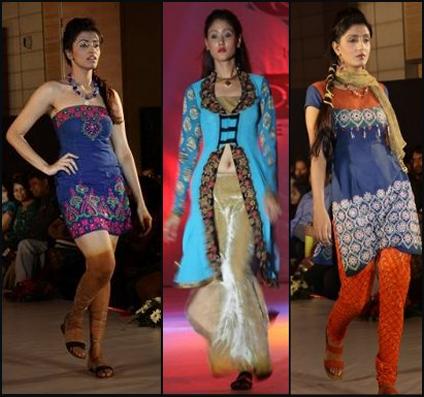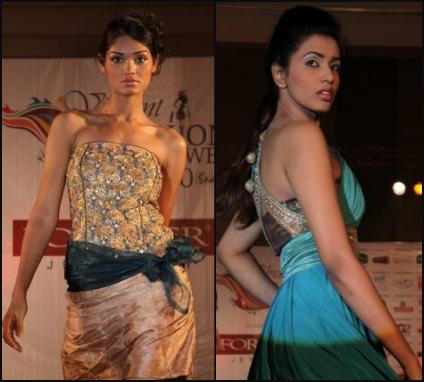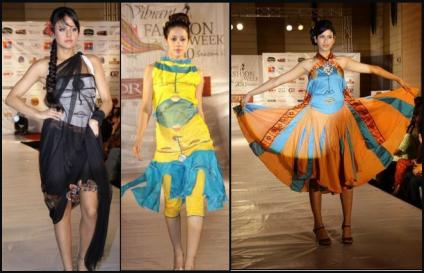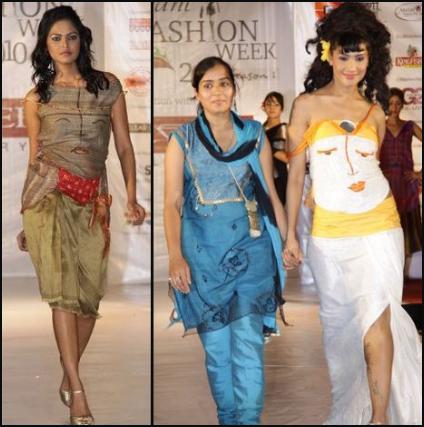 See more modern Salwar Kameez here.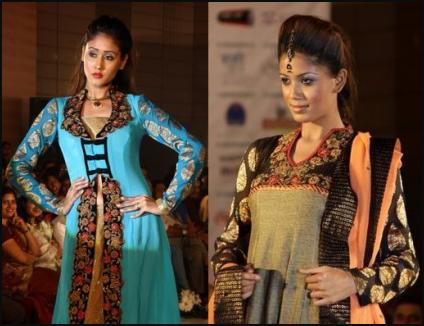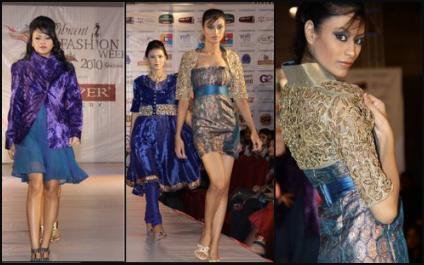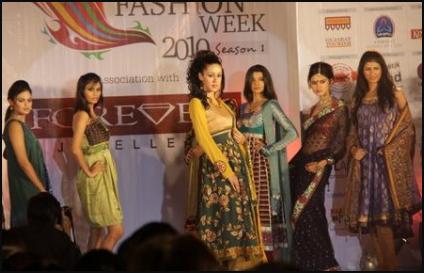 The maxi dress at Vibrant fashion week 2010.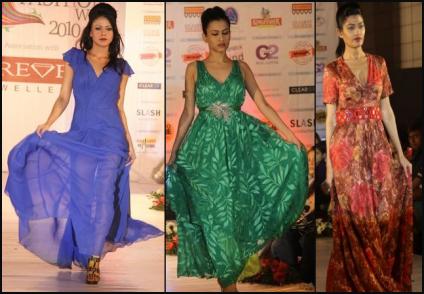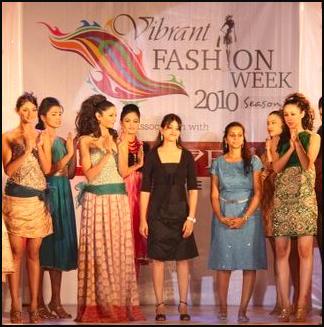 With the global melting pot love of all things ethnic, folkloric and tribal expect to see more of this influence as Indian fashion inspiration gains new followers. These are alternative trend inspirations to Mad Men, Vintage, Corsetry as Outerwear, Draping or Utility Chic. Many of these Indian garments are hot on trend with their authentic maxi style or narrow leggings. Mixing old and new and creating designs for women of today twenty Indian designers produced a fashion season that achieved a look that embraces the many styles and facets of the Indian culture.
Raahul Dhyani of Akshar Events & Entertainments (+91 96387137870) wrote to tell me about India's first Vibrant Fashion Week 2010 - www.vibrantfashionweek.com.
Akshar Events & Entertainments organized Vibrant Fashion Week 2010, Season 1 and held the event at Courtyard Marriott, Ahmedabad on 21,22 and 23rd Feb 2010. Twenty fashion designers across India participated to develop the fashion industry in Gujarat State.
India's Top models walked for 3 days with various designers Collections. Zarin Khan (of Veer movie fame) walked for Archana Kochhar and Alisea Raut. The Brand Ambassador for Chirag Joshi showed their collections in Spring Summer 2010.
You have been reading an original Indian fashion article by Pauline Weston Thomas only for publication on www.fashion-era.com ©
Header Image Courtesy Raahul Dhyani of Akshar Events & Entertainments
Date added June 2010 - Ref:P.775.
If you like this page then please share it with your friends
---
--Link--
For more information about the Indian Lac jewellery
see these pages:
Custom Search
About Fashion-Era.com
Fashion-Era.com looks at women's costume and fashion history and analyses the mood of an era. Changes in technology, leisure, work, cultural and moral values. Homelife and politics also contribute to lifestyle trends, which in turn influence the clothes we wear. These are the changes that make any era of society special in relation to the study of the costume of a period.

Fashion-Era.com can take no responsibility for any information on the site which may cause you error, loss or costs incurred from use of the information and links either directly or indirectly. This site is owned, designed, written and developed by author: Pauline Thomas and Guy Thomas. This site is designed to be viewed in 1024 X 768 or higher.
ALL RIGHTS RESERVED. Fashion-era.com reserves the right to add or delete information, graphics and links. Copyright © 2001-2014 on all content, text and images in Fashion-era.com. Images and text in this website may not be used on other websites.
Before you write to me for costume/fashion help or information please, please consult the extensive sitemap which lists all our pages. If you still cannot find the answer after searching the site, then before you email me, please consider if you are prepared to make a donation to the website.
Donations
Reader's donations help this site flourish, in particular donations encourage me to write more articles on fashion history as well as current trends. PayPal allows anyone with a credit card to donate easily and securely. You may donate any sum you feel appropriate.