The Salwar Kameez / Shalwar Kameez Asian Pyjama Trouser Pant Leggings
The Salwar Kameez is worn more than the sari in Pakistan especially since the changes of 1947. The sari is considered Hindu dress and retained as formal dress for two extremes - older women familiar with it pre 1950s and young adults new to the fashion. This page concentrates on the Shalwar Kameez, but you can see saris and lehengas on other pages by using the side navigation links.
Enjoy viewing these Indian Vibrant Fashion Week 2010 photographs as much as I have.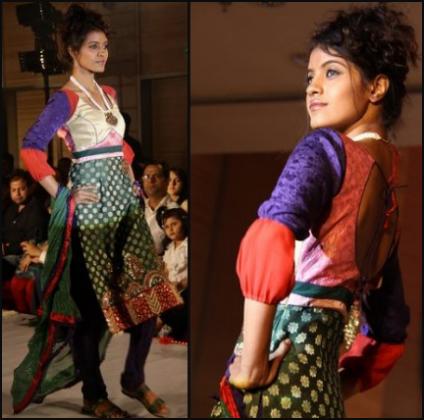 The images on this Salwar Kameez page are from India's first Vibrant Fashion Week 2010. That event was held at the Courtyard Marriott, Ahmedabad in Feb 2010. Details of contact at bottom of page. Twenty fashion designers across India participated to develop the fashion industry in Gujarat State. India's Top models walked for 3 days modelling the collections and these photos show modern versions of the Salwar Kameez. Unlike traditional Kameez some of these tunics show more shaping such as princess seaming in the upper bodice.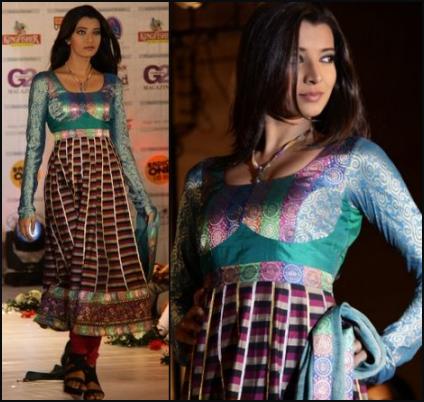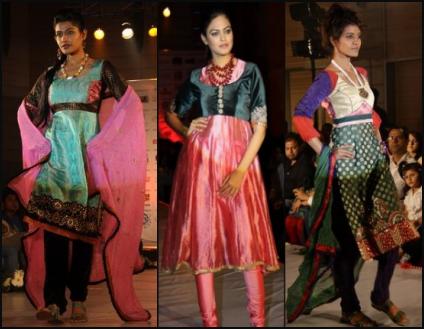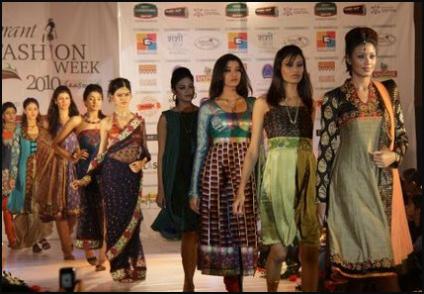 Empire line longer Kameez like the design above can also be worn as dresses with or without the Salwar pants.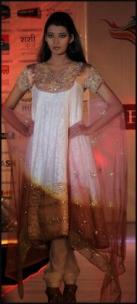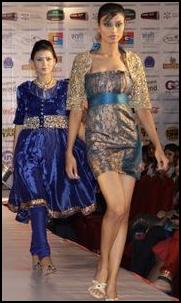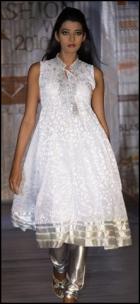 Spellings for the pants garment include:-
shalawar, shalvaar, salvaar,salvar
Shalwar - UK/Canada usage and Oxford English Dictionary. Salwar - USA usage.
The Salwar Kameez consists of two garments tunic top and pants, plus an optional dupatta scarf.

The Shalwar or Salwar - are loose pyjama-like trousers that taper to the ankle to twice ankle width. Tape or Lycra/elastic is used to hold them up. This leg style is cut from a wide waist line which can be made up to twice the waist size, giving lots of loose fabric around the thigh area. This means the Shalwar has been designed with physical work, ease of movement and cool airy volume in mind. Modern designers love reinventing these proportions giving the Shalwar a new modern look.
Churidars - By using fabric cut on the true bias crossway of fabric Shalwar pants can also be made up quite narrow and look much like western leggings/jeggings. The narrow fabric wrinkles at the ankles and this form of Shalwar is called Churidars. Indian fashion designers appear to be very fond of this narrow style right now as it reflect the western love of leggings.
Right - A Fashion designer wearing Shalwar Kameez - note split at sides.
Pyjamas - During the British Empire era (18th/19th centuries) the British took the Indian word for Paijamas around the world and so today we are all familiar with pyjamas.


The Kameez - this is the over top a long loose shirt or fairly straight cut tunic which can be as long as a dress but which may have open side seams (chaak) from the waist for ease of movement. It is quite a unisex garment apart from the fabric choice. This word Kameez has a Latin origin and relates to camisia (tunic/shirt) and from which we also get the European words chemise/camisole. The Arabic word is Qamees.
The older style Kameez uses traditional cuts based on rectangles. Modern Kameez have shaping and a leaning toward a European set in cut at the sleeve especially. More fitted Kameez also mean more body is revealed so if the Kameez is sheer or semi sheer women wear a choli top beneath it. The decorated edges of the Kameez - the hemline edge, the sleeves and neck are known as the daaman.
Right - Vibrant Fashion Week Shalwar Design.


The Dupatta - the scarf - a multi purpose scarf. The Shalwar Kameez is completed with a dupatta which is a scarf shawl that drapes over the head. This dupatta is frequently softer and more scarf like than some which are huge like stoles. Dependent on region other names for these scarves are Odhani/Odhni, Orna/Orni, Chader and Chunri/Chunni - in Gujarat it is called the Unni.
For modesty the dupatta long shawl is used to cover the head and can be used for drapes around the shoulders or over them. By varying the fabric, colour mix, print, pattern and cut of the garment pieces along with the dupatta a huge fashion variety can be achieved. Compared to the Chador or Burkha the dupatta is the less restrictive option for Muslim women, but even the wearing of the dupatta is a iconographic symbol of shyness and modesty especially for Hindu women where the head must be covered in temples.
Today the Salwar Kameez is the outfit worn both women and men in many parts of Asia. The unisex dress bears a relationship to the top/shirt and trousers worn by western men and women. The area in South Asia surrounding India we know has had many changing boundaries.
So today the Salwar Kameez is worn everywhere, but especially Pakistan and Afghanistan. It's very popular in India, particularly the North-western part of India and across South Asia. Within India, Indian women often wear the Shalwar Kameez in place of a sari and of course the masculine version of the style is perfect for men.
For British born Pakistani and Indian people living in UK it's also an everyday form of dress. The UK Asian community is hard working and many men and women are professionals so many of them also interchange with or solely wear western dress. You are reading an original kameez fashion article by Pauline Weston Thomas only for publication on www.fashion-era.com ©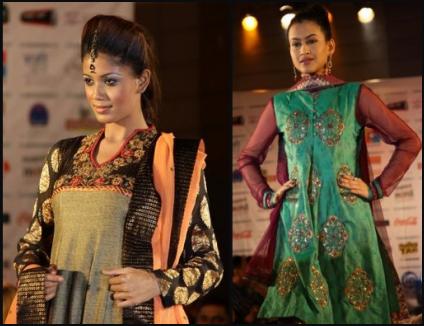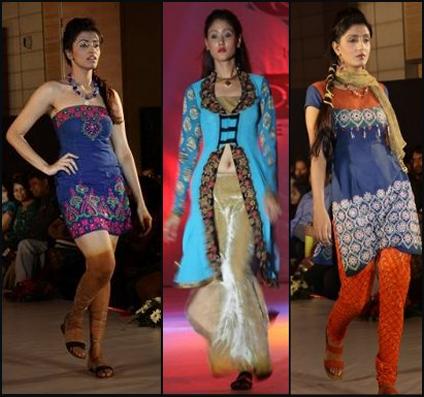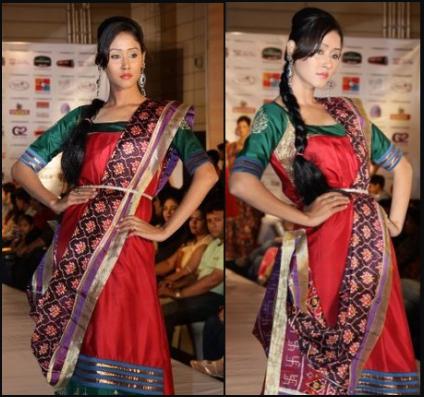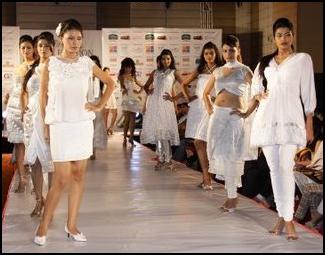 `
A Kurti is a tunic that reaches mid thigh and is often interchanged with a choli or Kameez for a comfort, a different look or modesty. The Kurti is popular with straight trousers or jeans as a form of Indo Western trouser suit. It is personalised with a long scarf or for a modern look a short dupatta. The dupatta is also added to totally western outfits to add that Asian connection.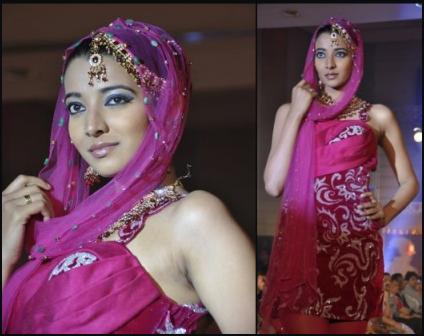 Traditional styling and traditional jewellery, parure and headdresses complete the look of many of these outfits. These images will inspire you to create your own innovative Indian inspired fashion designs.
Akshar Events & Entertainments organized Vibrant Fashion Week 2010, Season 1 and held the event at Courtyard Marriott, Ahmedabad on 21,22 and 23rd Feb 2010. Twenty fashion designers across India participated to develop the fashion industry in Gujarat State. India's Top models walked for 3 days with various designers Collections. www.vibrantfashionweek.com.
On this page we have Indian fashion that leans toward traditional dress, but could appeal to modern woman of any nationality.
You have been reading an original Indian salwar kameez article by Pauline Weston Thomas only for publication on www.fashion-era.com ©
Header Image Courtesy Raahul Dhyani of Akshar Events & Entertainments
Date added Spring Summer 2010 - Ref:P.774.
If you like this page then please share it with your friends
---
--Link--
For more information about the Indian Lac jewellery
see these pages:
Custom Search
About Fashion-Era.com
Fashion-Era.com looks at women's costume and fashion history and analyses the mood of an era. Changes in technology, leisure, work, cultural and moral values. Homelife and politics also contribute to lifestyle trends, which in turn influence the clothes we wear. These are the changes that make any era of society special in relation to the study of the costume of a period.

Fashion-Era.com can take no responsibility for any information on the site which may cause you error, loss or costs incurred from use of the information and links either directly or indirectly. This site is owned, designed, written and developed by author: Pauline Thomas and Guy Thomas. This site is designed to be viewed in 1024 X 768 or higher.
ALL RIGHTS RESERVED. Fashion-era.com reserves the right to add or delete information, graphics and links. Copyright © 2001-2014 on all content, text and images in Fashion-era.com. Images and text in this website may not be used on other websites.
Before you write to me for costume/fashion help or information please, please consult the extensive sitemap which lists all our pages. If you still cannot find the answer after searching the site, then before you email me, please consider if you are prepared to make a donation to the website.
Donations
Reader's donations help this site flourish, in particular donations encourage me to write more articles on fashion history as well as current trends. PayPal allows anyone with a credit card to donate easily and securely. You may donate any sum you feel appropriate.