Sari - Traditional Indian Women's Dress
On this page we have Indian fashion that leans toward traditional dress and the traditional colours Indian pink. I hope you will enjoy viewing these Indian Vibrant Fashion Week 2010 photographs as much as I have. Akshar Events & Entertainments organized Vibrant Fashion Week in India in Feb 2010. Details of contact at bottom of page. All the designs used both traditional and contemporary styles, construction and materials providing fashion choice for everyone. This page mostly shows pink and gold saris and lehengas.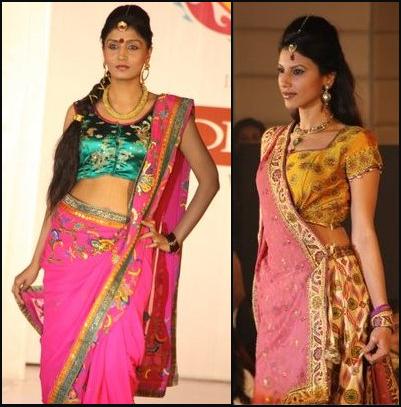 Admire the Saris, Lehenga Choli and Dupatta and on other pages see the Salwar Kameez and pyjama leggings. I hope you are enjoying looking at these stunning fashion pieces. The mixture of regional variations combined with modern interpretation has created lively vibrant looks and a fashion for living in the large diverse country of India.
Traditional styling and traditional jewellery, parure and headdresses complete the look of many of these outfits. Not an it bag in sight. Who needs one when you have the opulence of a Sari or Lehenga and hand crafted embroidering on a border plus headdress or necklace like these here illustrate. These images will inspire you to create your own innovative Indian inspired fashion designs.
Many styles, regional difference and religious facets of the Indian culture are inherent in these old and new fashion designs for women of today. Contemporary modern versions of the sari are similar to these two models shown above - Vibrant Fashion Week 2010 Pink Fashion.
Above Right - Sumptuous saris in traditional pinks brights. Hot pink inlaid with gold trim and softer pinks.
Far Right - India following the western fashion for palest pink such as this soft pink magnolia. This is a pretty feminine combining brilliant brights in hot pink and coral red.
Pink and gold is often mixed together and creates truly feminine saris. This golden sari below right, uses pink for the floral decoration.
‡‡
For many years the popularity of the Bollywood film industry has been highlighting the sari as the national dress of India. However, contemporary forms of similar dress - especially the lehenga/choli is fast becoming a hotter fashion trend. Indian fans want to look like the Bollywood film star celebrities who wear these garments and they do of course look closer to formal western dress and also reveal a lot more body.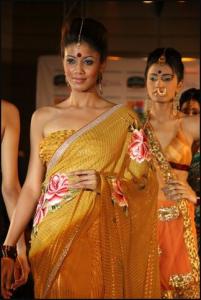 According to legend the sari has existed for 5,000 years. This is not unexpected especially if you recall the draped methods of dressing used by other ancient civilizations such as the Greeks and Romans. What is amazing is that the sari garment has survived where togas and other robes have passed into myth and are now only seen in the land of fancy dress.
In India the original sari form is still widely worn by Indian ladies in every part of India. This is essentially the same style of dress as worn by ancestral Indian women hundreds of years ago. Whilst younger women favour western dress especially jeans and tops, many wear traditional dress too.
Teenage girls wearing traditional Indian dress don a pared down version of a half sari - a langa (skirt), a choli (blouse top) and a scarf/stole. saris are usually worn over a petticoat (called ghagara, pavada, chaniyo and shaya according to the region).
A sari is worn with a blouse top called the choli, which is also called ravika. The sari is worn with short or long cholis or the Kurti top.
Right - Rich yellow/gold, green and peach coral patterned choli top and luscious green trimmed saffron yellow sari. You are reading an original Indian dress fashion article by Pauline Weston Thomas only for publication on www.fashion-era.com ©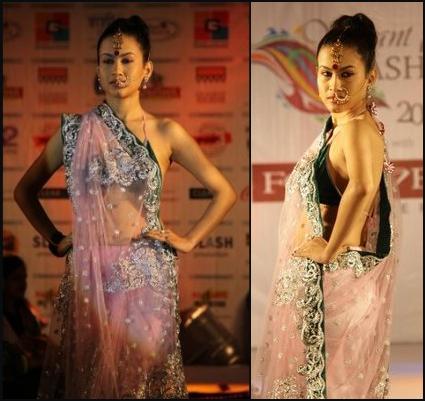 Modern brides can choose from three types of clothing for their big day. Brides select from the Sari, Lehnga Choli or Salwar Kameez. Once a bride has settled on her chosen style then she can select the appropriate fabric for the garment type and season.
One of the most special pieces of clothing a woman can wear is Lehenga Choli the most contemporary popular form of occasion dress for Indian/Asian festivities.
Because of the use of the Choli with both the Sari and Lehenga and the latter also using a draped Dupatta stole, it's easy to confuse this form of traditional dress. Here is the Lehenga.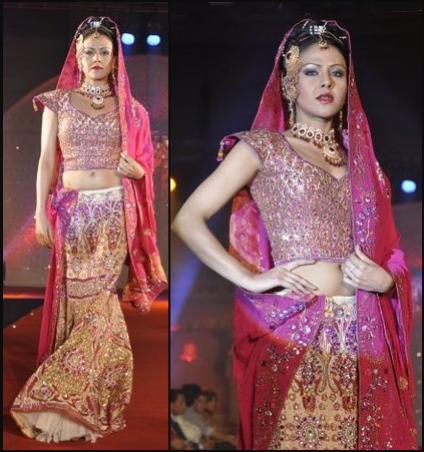 The Lehenga is the skirt, the choli is the bodice (which can be cropped or longer to the hip) and the Dupatta which is a shawl stole that is draped over the shoulder or head as desired. The Dupatta can finish at about the hip but is often much longer and on the appropriate body shape this can elongate the body. Extras include an overlay jacket for those who don't want the brevity of a coli top and a lehenga belt.
Fabric choice can dictate the style of lehenga, flounces and drape. Lehenga skirts are frequently panelled and swell into a full hem, but they can also be slim line columns and slenderising on the right person. When you are choosing fabric look especially at silks - brocade, raw silk, and jacquard silk.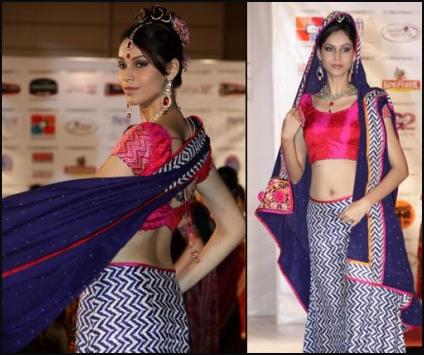 Modern Lehengas use strongly contrasting colours like this impressive navy and white herringbone teamed with a hot pink Choli. To bring the look together the model wears a matching Dupatta (stole). The Dupatta folds and drapes over the shoulder or head.
§
Pink has always been a hot trend in India. Vibrant Fashion Week 2010 held catwalk audience attention by showing a variety of pink evening pieces. Many of these fashion pieces embraced the whole spectrum of the pink range from hot raspberry pink to palest pastel pink magnolia. India is famous for its pinks especially vibrant hot pink, which is often teamed with gold or red. These 4 pieces above reflect some of the Indian fashion shown at vibrant Fashion week. This page is about pink fashions especially pink/red toned saris.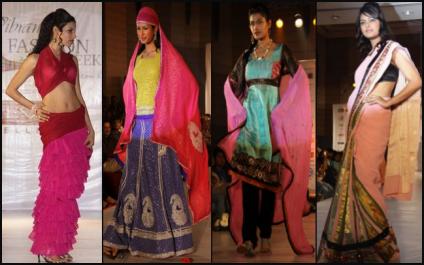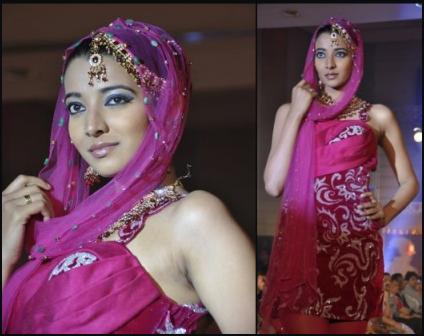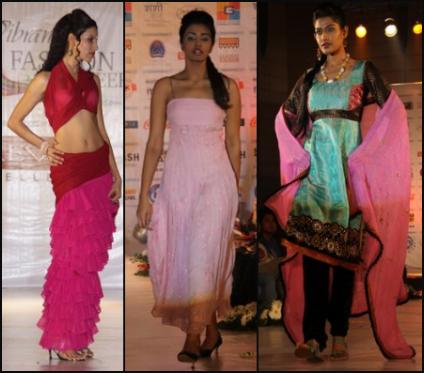 I was sent these stunning PR photographs by Raahul Dhyani of Akshar Events & Entertainments and although I have no information on the individual designers, you can find the list of fashion designers at the link. Akshar Events & Entertainments organized Vibrant Fashion Week 2010, Season 1 and held the event at Courtyard Marriott, Ahmedabad on 21,22 and 23rd Feb 2010. Twenty fashion designers across India participated to develop the fashion industry in Gujarat State.
India's Top models walked for 3 days with various designers Collections. Zarin Khan (of Veer movie fame) walked for Archana Kochhar and Alisea Raut. The Brand Ambassador for Chirag Joshi showed their collections in spring summer 2010. All in all it was successful event and you can see more images across these Indian fashion pages.
You have been reading an original pink Indian sari article by Pauline Weston Thomas only for publication on www.fashion-era.com ©
Header Image Courtesy Raahul Dhyani of Akshar Events & Entertainments
Date added June 2010 - Ref:P.771.
If you like this page then please share it with your friends
---
--Link--
For more information about the Indian Lac jewellery
see these pages:
Custom Search
About Fashion-Era.com
Fashion-Era.com looks at women's costume and fashion history and analyses the mood of an era. Changes in technology, leisure, work, cultural and moral values. Homelife and politics also contribute to lifestyle trends, which in turn influence the clothes we wear. These are the changes that make any era of society special in relation to the study of the costume of a period.

Fashion-Era.com can take no responsibility for any information on the site which may cause you error, loss or costs incurred from use of the information and links either directly or indirectly. This site is owned, designed, written and developed by author: Pauline Thomas and Guy Thomas. This site is designed to be viewed in 1024 X 768 or higher.
ALL RIGHTS RESERVED. Fashion-era.com reserves the right to add or delete information, graphics and links. Copyright © 2001-2014 on all content, text and images in Fashion-era.com. Images and text in this website may not be used on other websites.
Before you write to me for costume/fashion help or information please, please consult the extensive sitemap which lists all our pages. If you still cannot find the answer after searching the site, then before you email me, please consider if you are prepared to make a donation to the website.
Donations
Reader's donations help this site flourish, in particular donations encourage me to write more articles on fashion history as well as current trends. PayPal allows anyone with a credit card to donate easily and securely. You may donate any sum you feel appropriate.