Vibrant Indian Saris
Beautiful Sari Photographs - Vibrant Fashion Week 2010
These beautiful sari photographs are from Vibrant Fashion Week 2010.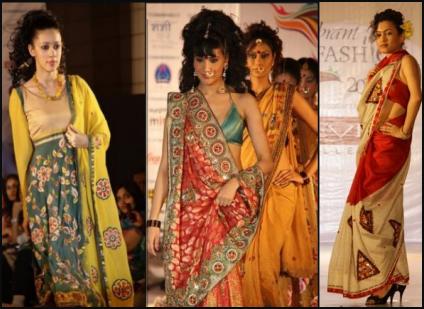 Rich embellished borders add a touch of splendour to this page of saris making them appear very opulent. On this page we have Indian fashion that leans toward saris in traditional colours of red and gold. Red is often used for bridal wear in India. Enjoy viewing these Indian Vibrant Fashion Week 2010 photographs as much as I have. Akshar Events & Entertainments organized Vibrant Fashion Week in India in Feb 2010. Details of contact at bottom of page.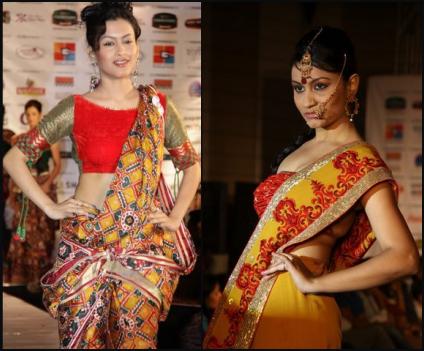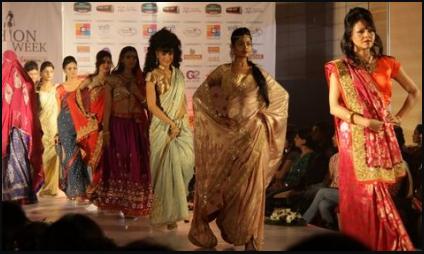 From the front of this row of catwalk models - models 1,2 and 3 wear saris. Model 4 wears a dark magenta pink lehenga choli. Behind model 4 are several more saris.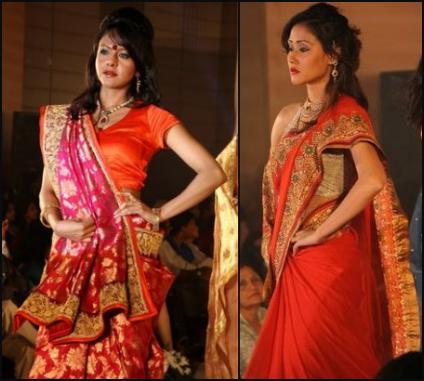 Fabulous richly embellished gold borders adorn the pallu end border of these saris.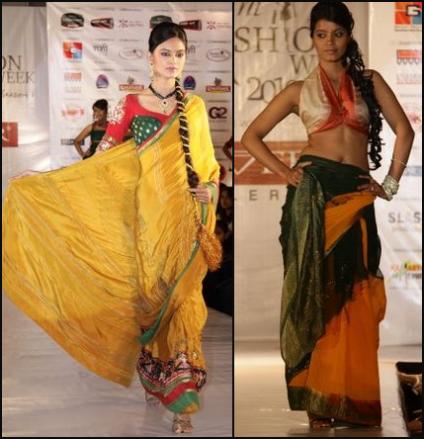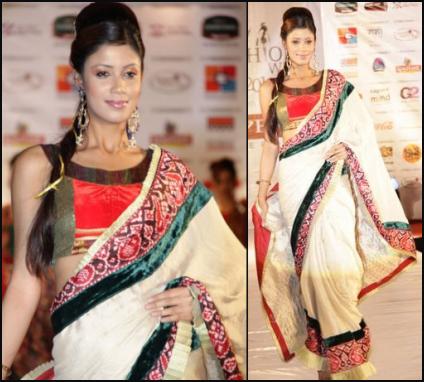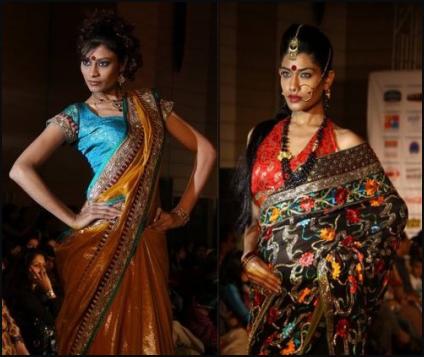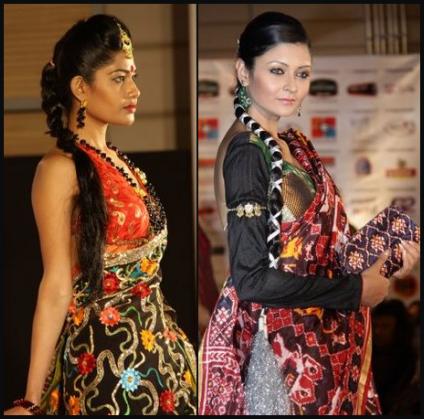 ‡‡
The sari/Saree - Traditional Draped Wrap Dressing of India
The Indian female garment most of us are able to recognise is the sari also spelt Saree, Shari and Sharee. Saree is also how it sounds when spoken. The Sanskrit word chira means 'a wearable length of cloth' and sari comes from a corruption of this. In Prakrit after the decline of Sanskrit the same sari garment was called Sadi. From all of these spellings I'm favouring sari as that's how I have always known word for this wonderful garment. A sari is worn with a blouse top called the choli, which is also called ravika. The sari is worn with short or long cholis or the Kurti top.
The golden sari shown below left is clearly the influence behind the modern halter golden print dress beside it.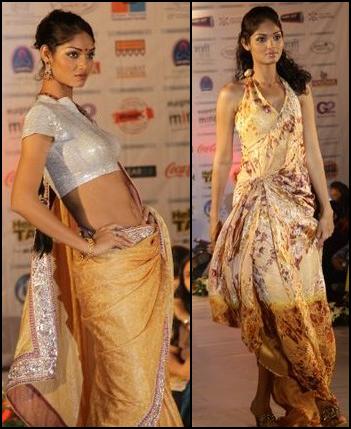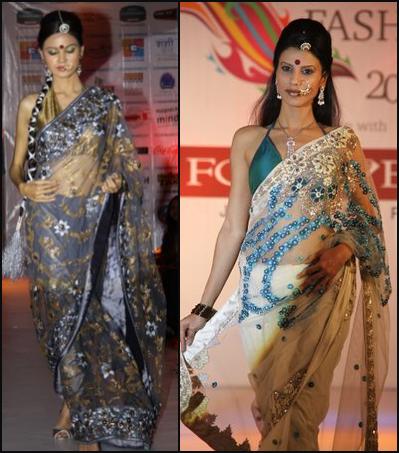 These transparent fabrics in the saris are hot on style, following the international trend among fashion designers for all things sheer and layered. But saris have always varied from superfine fabrics to thicker opaque richer brocades. I am sure Indian fashion styles and techniques are a great source of inspiration to fashion designers everywhere.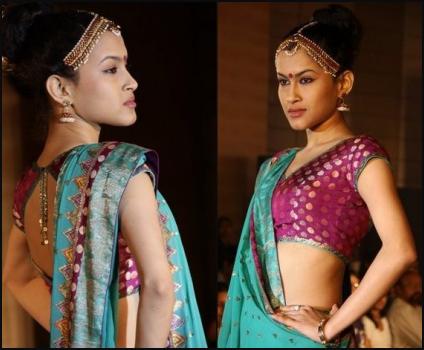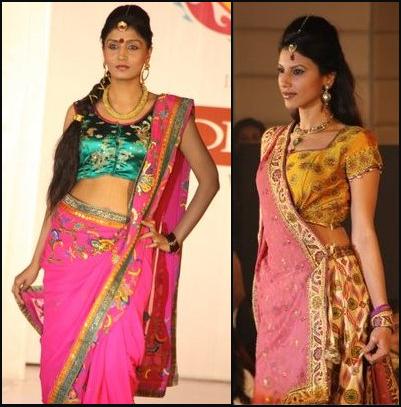 §
These saris below use cottons and silks, but are plainer, with less gold or embroidery in the designs. This makes the saris very suitable for everyday wear whilst retaining a grand feel.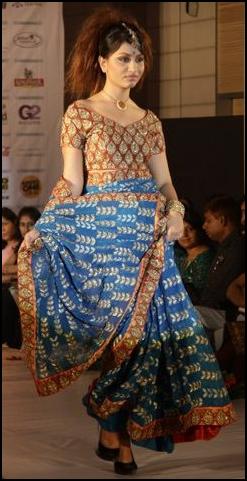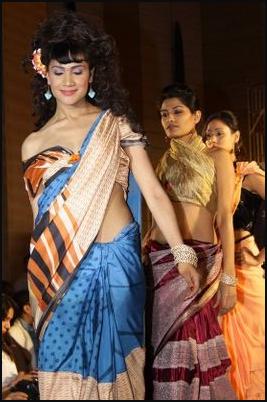 The blue and coffee prints below look very wearable in the same way that denim is wearable.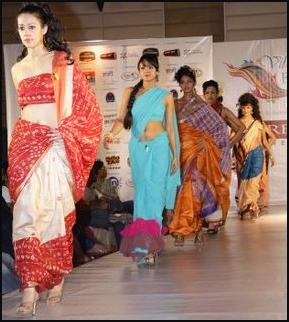 All these lovely catwalk sari fashion images above were part of catwalk collections shown at Vibrant Fashion Week 2010 and held in Gujarat India in Feb 2010.
You have been reading an original Indian sari article by Pauline Weston Thomas only for publication on www.fashion-era.com ©
Header Image Courtesy Raahul Dhyani of Akshar Events & Entertainments
Date added Spring Summer 2010 - Ref:P.772
If you like this page then please share it with your friends
---
--Link--
For more information about the Indian Lac jewellery
see these pages:
Custom Search
About Fashion-Era.com
Fashion-Era.com looks at women's costume and fashion history and analyses the mood of an era. Changes in technology, leisure, work, cultural and moral values. Homelife and politics also contribute to lifestyle trends, which in turn influence the clothes we wear. These are the changes that make any era of society special in relation to the study of the costume of a period.

Fashion-Era.com can take no responsibility for any information on the site which may cause you error, loss or costs incurred from use of the information and links either directly or indirectly. This site is owned, designed, written and developed by author: Pauline Thomas and Guy Thomas. This site is designed to be viewed in 1024 X 768 or higher.
ALL RIGHTS RESERVED. Fashion-era.com reserves the right to add or delete information, graphics and links. Copyright © 2001-2014 on all content, text and images in Fashion-era.com. Images and text in this website may not be used on other websites.
Before you write to me for costume/fashion help or information please, please consult the extensive sitemap which lists all our pages. If you still cannot find the answer after searching the site, then before you email me, please consider if you are prepared to make a donation to the website.
Donations
Reader's donations help this site flourish, in particular donations encourage me to write more articles on fashion history as well as current trends. PayPal allows anyone with a credit card to donate easily and securely. You may donate any sum you feel appropriate.