Costume Jewellery Pictures
Vintage Costume Jewellery in Fashion History
Below I show some picture examples of delightful costume jewellery pieces all from Glitterbug a vintage costume jewellery store.
Such a variety exists within pieces called costume jewellery from enamel to the sparkle of diamante, to beaten copper, to the use of semi precious stones that it has been difficult to select a mixed range of pictures. My selection grew so large I had to make 2 pages!
We begin with a beautiful Schiaparelli piece that would be perfect for wear with a special dress.
Elsa Schiaparelli (1890-1973) and Coco Chanel promoted the use of cocktail jewellery also known as costume jewellery. Production of fine estate style jewellery was halted in the Second World War and America became the leader in designing attractive costume jewellery pieces using advanced technical methods of production making a market that was dynamic, inventive and affordable.
All thumbnails enlarge.
Divine Schiaparelli Costume Jewellery Set. I just love these pretty pieces.
Picture from Glitterbug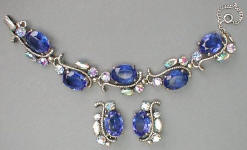 Costume jewellery was very fashionable in the 1950s in particular, when film stars gave it credibility.
‡
This Watermelon set is a very pretty, feminine costume duo, featuring crystal.

Courtesy Glitterbug
Austrian crystal necklaces and brooches were very popular in the 1950s and 1960s, with the most famous name of all being that of Swarovski. Glass beads and imitation moonstones were also mixed with crystal beads to create interesting combinations. Today these older crystal pieces are perfect for that vintage look dress, that needs something a little bit different to bring the outfit together for a special occasion.
Rhinestones, diamante, glass beads and crystals have remained popular for the past 50 years. All courtesy of Glitterbug

Blue Glass Icicles Set

The Oscar look! Glass Emerald Style Set

Blue Crystals

Copper and Glass Collar Necklace

Swarovski Crystal Cherries Brooch

Vendome Amber Crystals

Glitterbug also has a good selection of crystal/glass earrings and brooches as shown in the headers of both these vintage costume jewellery pages.
Please note I have no vested interest in Glitterbug - But I do think the stock is very varied and interesting of its type as the range of pictures on these two costume jewellery pages show and I hope you enjoy looking at them as much as I do.
-----------V6------------
--Link--
For more information on Jewellery go to:-