Jewels of Ocean Luxury Haute Jewellery
Jewellery Trends for Spring 2009
EXCELLENCE IS NEVER AN ACCIDENT
Jewels of Ocean are world leaders in the design and craftsmanship of fine jewellery. Since its establishment in 1845 in Valenza, Italy, its founders, and their heirs, have worked tirelessly to deliver uncompromising excellence in fine gem pieces.
Jewels of Ocean began as a supplier of precious coloured stones over a century ago. Through its direct relationships with mines worldwide in Colombia, Thailand, Burma, Ceylon and South Africa, it quickly became the leading distributor throughout Western and Eastern Europe. Please DO NOT contact me for more details.

Jewels of Ocean are also leading distributors of South Sea pearls, which are the finest and most lustrous of pearls. Their speciality is combining exquisite Tahitian South Seas pearls with diamonds or other coloured gems such as emeralds, rubies, tanzanite, canary diamonds, and sapphires.
For example, the necklace above features grey South Sea pearls embedded with additional gemstones and finished with an interchangeable gem-set clasp.
Pearls come naturally in many colours from softest greys to lavender, gold, champagne peach and pink. The model wears a magnificent diamond and South Sea pearl necklace of several shades. Natural pearls enhance the skin and the reflected pearlescent light makes it glow taking years off a woman's face.
South Sea black pearls from the Tahiti area, like these shown below are a speciality of Jewels of Ocean. Their size and lustrous nacre is unmatched.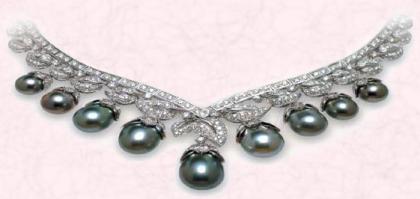 Here these beautifully matched black pearls are mixed with the finest white diamonds. It has created a necklace to treasure and to stun, in fact it's fit for a queen. Coordinating pearl and diamond earrings, bracelets, clasps, rings and clips are always available.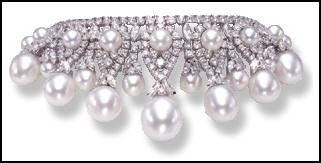 Above - Brilliant white diamond and white South Sea pearl collier necklace from Jewels of Ocean.
In the world of coloured stones the House of Jewels of Ocean are leaders in their art. Through its finely crafted collections, Jewels of Ocean pursues a dual goal. It strives to create comfort and confidence and this is imbued to wearers of their discreetly elegant jewellery.
The pave setting on the blue gem flower clip and ring, sets this company apart from run of the mill jewellery houses. Just look at these magnificent sapphire, South Sea pearl and diamond cluster chandelier style earrings. These sapphire earrings are my favourite ear-clips on this page. But it's a close decision, I also love the ruby pave half hoops and the sapphire and diamond chandelier drops - see further down.
‡‡
Jewels of Ocean Create Jewellery For Connoisseurs
Although Jewels of Ocean were trading gemstones a century ago they launched their own prestigious jewellery line in 1920. This was to maintain the integrity of its design capabilities in house. The firm's master Italian jewellers have consistently created classic and contemporary designs revered by connoisseurs internationally.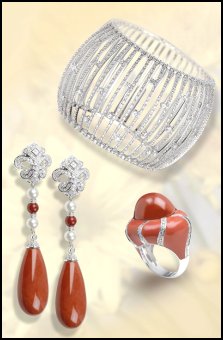 Jewellery throughout the ages represented an adornment symbolizing rank or wealth. In fact, jewellery, which predates clothing, has always been crafted by artisans of the era for those of royalty and wealth.
Ancient Egyptians used jewellery with colourful beads and emblematic motifs, such as the scarab. The Greeks enjoyed pure gold ornaments, while Roman jewellery was more massive, as ropes of pearls were prized. Medieval jewellery included large brooches and heavy girdles.
In the Renaissance, men and women wore gold chains, jewelled collars, and pendants, often designed or even rendered by noted artists. However, during the last century, with factory production and mass reproduction of designs possible, the craft of jewellery artisans has been harder to come by. Jewellery History webpage.
For now Jewels of Ocean consistently review designs within their outstanding range to keep fresh both classic and contemporary jewellery looks for their prestigious clientele. In the example right, it's easy to see how hot on trend these jewelled pieces are with the wide diamond cuff and oversized rich coral cabochon and diamond ring. Briolette cut and teardrop gems for earrings are also all the rage.
Now for the latest looks, the Jewels of Ocean showcase range is the outstanding artisan crafted Pietra Dura collection.
Jewels of Ocean unique intimacy with clients of various cultures contributes to innovative new design ideas and creations for their customers.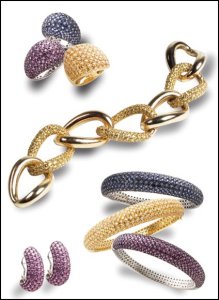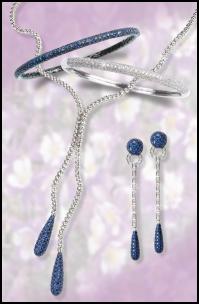 Rare diamonds, rubies, sapphires and emeralds as shown on this page are the magic ingredients of these prestigious collections that never go out of style. The combination of the Italian family's rich traditions, interwoven with contemporary international styling creates a finesse of past and present. This symmetry of innovation and tradition leaves its unique imprint on all of Jewels of Ocean's creations.
Pavé jewellery is an expensive detailed look. But, it needs to be done with meticulous attention to detail in order to achieve smooth perfection. Jewels of Ocean goldsmiths are experts in this technique which is shown in these photographs left and right.
As you can see in these lovely photographs, pavé work lends itself to modern contemporary designs, where canary yellow diamonds, rubies and sapphires add cachet. Furthermore these chandelier style drop earrings make a bold statement that is very of the moment. Let me remind you Michelle Obama wore long dangly chandelier earrings for The Presidential Inauguration ball.
§
Jewels of Ocean built its reputation over the years through an uncommon combination of perseverance coupled with obsessive attention to detail.
This diligence, was the underlying force that allowed Jewels of Ocean to accomplish what many of today's mass market jewellers can never achieve, a truly personal relationship with clientele from around the world.
During its existence, Jewels of Ocean has also designed magnificent jewellery for royalty the world over. It understands its clientele and works with clientele to be one step ahead of the latest jewellery designs.
From this relationship with royalty it has recently designed a new range of jewellery called the Sangue Blu, or 'Blue Blood,' collection, a tribute to the royalty that patronised the firm.
For more than a year, Jewels of Ocean designers sketched as many as 200 ideas before deciding which designs would comprise the spectacular collection named Pietra Dura. It is the result of the jeweller's search for a youthful, fashionable and elegant collection.
These statement pieces have a modern touch. Refined in diamonds and white gold, or dynamic in colourful precious stones on white or yellow gold, the line is fashionable for contemporary lifestyles. It draws its mystique from the stones that have enchanted in other times. Whether it is the chalcedony made popular by the Duchess of Windsor or the sea-faring talisman aquamarine, behind every precious stone is a love story.

Jewels of Ocean experts travelled the ends of the world, from Japan to India, Madagascar, Zambia and Egypt for the finest quality crystal rock, jade, mother-of-pearl, turquoise, blue and green agate, as well as angel's skin, chalcedony and aquamarine.
Above Left - A Pietra Dura parure. This consists of a blue agate necklace with white diamond enhancement roundels and surround, plus matching ear clips set with 18K white gold.
Right - An alternative earring - Pietra Dura clover shape blue agate pair of earrings set with a diamond surround.
Angel's skin is the palest of corals and is the enshrinement of royal passion.
Its name first sprung from the lips of Louis XV, who ordained the stone in honour of the beautiful skin of the mistress, Madame de Pompadour.
Today, angel's skin of the finest quality is reborn in Jewels of Ocean Pietra Dura collection. Set next to brilliant rubies on a parure with a flower pendant and matching earrings, the necklace reflects the fresh blush of spring.
Right - Pietra Dura Angel's skin necklace set with coral beads, rubies and diamond necklace with floral centre.
‡
Jewels of Ocean new Sangue Blu, or 'Blue Blood,' collection, is a tribute to the craft practiced for centuries by unnamed artisans and to the royalty that honoured the art of the jewellery. The subtle elegance of the collection is easily appreciated.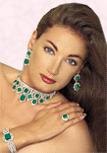 Italian master craftsmen, created the pieces as if they were making jewellery for the royalty of yesteryear. The original designer is involved with the total fabrication process for each piece made in the Sangue Blu collection. This ensures the original design idea survives.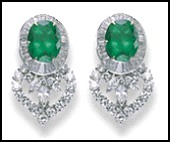 Emerald is the birthstone of May - what could be more beautiful than this emerald and diamond parure with the heart as token of love. Emeralds are one of the costliest gemstones in the world and Jewels of Ocean uses gems of the highest quality and rare beauty.
Above Right - Emerald and Diamond parure.
Left - Sangue Blu Columbian emerald/diamond earrings with heart motif.
Below Right - A splendid Sangue Blu collection necklace collier part of a parure and made from Columbian emerald heart and finest white diamonds.

Below Left - White diamond heart and snowflake drop earrings from the Sangue Blu Collection.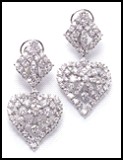 The Sangue Blu collection brings the sensation of softness to the hand and lightness to the eye. These important pieces radiate the attention to detail brought to their design. They are conceived by artist craftsmen who imagine, study and design the jewellery to recreate an innovative individual piece. So much of this is lost in a mass production jewellery process, which is why Jewels of Ocean jewellery is so prized.
More than 150 hours of work are involved in the creation of unique items such as the ones shown here. This includes not just the initial design process, but also the technical work of forging approximately 300 connections between each piece of metal. Each metal connection must be precisely positioned and then hidden behind precious and royal gems.
Today, the fifth generation of the Jewels of Ocean family maintains the concept of eternal elegance, while portraying the Italian art of tradition in all of the Jewels of Ocean Collections.
Due to the confidential nature of the clientele list, all pieces are price on application to Jewels of Ocean.
There are occasions in life when only the best will do and invariably to commemorate a special life event the phrase luxury market and haute jewellery comes to mind. In a world of uncertainty jewellery always gives pleasure. Jewellery is art, wearable art and a high fashion accessory rolled into one.
Jewellery is the perfect gift for birthdays, anniversaries, weddings, births, Mother's Day, Christmas, and Valentine's Day. Tracking down a rare piece easily equates to 'I love you, I value you, I respect you.' Jewels of Ocean know that each piece is an exquisite ornament that will be loved and so great care is taken to ensure the end design is perfection.
Buying the best jewellery you can afford, preferably high quality jewellery of diamonds, emeralds, rubies, sapphires or lustrous South Sea pearls is always a personal investment. Limited designer pieces of note always resell well at auction and some even increase in value.
And if some of these pieces are a little too grand for your lifestyle then perhaps a simple strand of the most exquisite South Sea white or creamy lemon pearls would fulfil most of your daily needs. They would be my choice. You cannot beat the aura of a well groomed gal and pearls are that entry to classic good style.
Quality lasts so if you are one of the lucky ones who are surviving the recession consider investing in high quality beautiful jewellery, gemstones and pearls from companies like Jewels Of Ocean.
This page has been about bespoke luxury, one-off, gem and haute couture jewellery trends from Jewels of Ocean.
You can read and se many more images about haute and bespoke jewellery on the Van Cleef and Arpels page and the Bespoke Jewellery page. Swarovski jewellery is featured on the Swarovski page.
-------v6-------
You have been reading an original fashion jewellery article by Pauline Weston Thomas at www.fashion-era.com ©
Header image is of a Jewels of Ocean diamond and Colombian emerald parure.
All images courtesy the jewellery PR department of Jewels of Ocean and remain their property.
Date Added 11 February 2009 - Ref:P712. Updated 21 Dec 2009.
If you like this page then please share it with your friends
---
--Link--
For more information on ladies and teens fashion trends go to:-
* AW (Autumn Winter)
Archived Sections
Custom Search
About Fashion-Era.com
Fashion-Era.com looks at women's costume and fashion history and analyses the mood of an era. Changes in technology, leisure, work, cultural and moral values. Homelife and politics also contribute to lifestyle trends, which in turn influence the clothes we wear. These are the changes that make any era of society special in relation to the study of the costume of a period.

Fashion-Era.com can take no responsibility for any information on the site which may cause you error, loss or costs incurred from use of the information and links either directly or indirectly. This site is owned, designed, written and developed by author: Pauline Thomas and Guy Thomas. This site is designed to be viewed in 1024 X 768 or higher.
ALL RIGHTS RESERVED. Fashion-era.com reserves the right to add or delete information, graphics and links. Copyright © 2001-2014 on all content, text and images in Fashion-era.com. Images and text in this website may not be used on other websites.
Before you write to me for costume/fashion help or information please, please consult the extensive sitemap which lists all our pages. If you still cannot find the answer after searching the site, then before you email me, please consider if you are prepared to make a donation to the website.
Donations
Reader's donations help this site flourish, in particular donations encourage me to write more articles on fashion history as well as current trends. PayPal allows anyone with a credit card to donate easily and securely. You may donate any sum you feel appropriate.