Jewellery Trends for Autumn 2008 and Winter 2009
Van Cleef & Arpels Couture, Luxury, High Jewellery
There is luxury jewellery, there are numerous couture jewellers, then at the top of the high jewellery tree is Van Cleef & Arpels. Even if you cannot afford this luxury - yet, its well worth admiring the detail of these necklaces, brooches, clips and motifs for themselves.
For over a hundred years, the name Van Cleef & Arpels has been recognised as a symbol of beauty, and as incomparable sophisticated style of jewellery. In America this is called 'handcrafted custom jewelry'.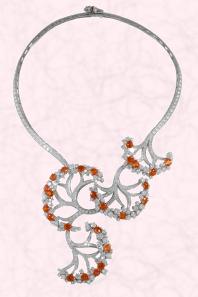 Despite the current economic climate of autumn 2008, Van Cleef & Arpels most exquisite high jewellery pieces never stop selling, because they are seen as investments.
The Van Cleef & Arpels brand instantly conjures the concept of diamonds, rare rubies, sapphires, emeralds and of one-off gemart - true bespoke luxury jewellery. This high jewellery house consistently strives to improve methods of cutting stones and create innovative pieces; as a result the pieces are treasured through generations.
In times of economic strife, or war, the idea of investing in high quality distinctive jewellery is not new. In falling markets investors look to Jewellery with couture provenance such as this gem set bespoke piece by Van Cleef & Arpels (see picture immediately right). Van Cleef & Arpels exhibits museum pieces and sometimes resells original vintage signature prized items owned by collectors.
You have to examine a high definition picture to appreciate the craftsmanship and quality of Van Cleef & Arpels couture jewellery pieces.
Right - Van Cleef & Arpels Castalie neckpiece. The Castalie Necklace is set in White gold to enhance round diamonds and orange, gold, mandarin garnets.
You need to contact Van Cleef & Arpels directly to get a current price of any jewellery. But I can reveal that most of the luxury gemset pieces shown on this page cost over £100,000. All images courtesy the jewellery PR department and images remain the property of Van Cleef & Arpels.
The Van Cleef & Arpels diamond Organdi necklace left is made of white gold and contains 79 carats of diamonds; consequently this piece makes a stupendous item of jewellery.
The Couture Diamond Organdi Necklace has the finesse of the fabric it is named after because fine wire is used to link the motifs. In the form of a ruffle, the necklace perfectly curves around the neck and unfolds, like an organdy collar.
The Van Cleef & Arpels House uses a unique winding articulation technique, making this necklace remarkably flexible. To reinforce its luminosity and lightness, the couture jeweller has used hidden settings so that the scattered diamonds appear to float across the neckline in different layers. This is why these diamond necklaces are the ultimate in statement luxury jewellery and have been for a century!
‡‡
The Van Cleef & Arpels House was inspired by the extravagance, daring and happy-go-lucky spirit of the roaring 20's.
Now at Van Cleef & Arpels, Haute couture and high jewellery unite in a world of exceptional craftsmanship, characterized by unique artistry and demanding standards. Van Cleef & Arpels celebrates this union with its Couture Collection: where fabric becomes jewellery, and jewellery becomes fabric, the result is to drape a woman in majestic splendour. You really need to study the detail of the picture (or the real article) to appreciate the extent of the craftsmanship.
The renowned jewellery ornaments and accessories of high fashion are transformed into rare objects such as: shimmering gold lace, tassels in precious stones, detailed embroideries, ribbons covered in rubies and magical zippers.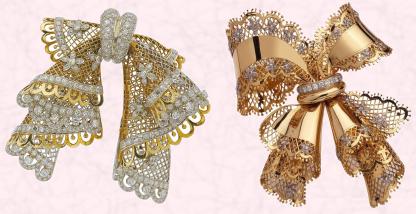 Above Left - Van Cleef & Arpels shimmering gold lace Clip Dentelle - 1949 and to the right - Van Cleef & Arpels Noeud Dentelle a gold lace clip -1945.
How could anyone fail to love these vintage jewellery pieces? Thanks to the most exquisite technique, the gold work is so fine that it looks exactly like hand worked golden lace.
As mentioned above, such antique and vintage pieces are bespoke collector's items. Some even find their way back to their original home at Van Cleef & Arpels, either as museum pieces, or for resale among the owners within the exclusive Van Cleef & Arpels vintage circle.
One collection inspired by the sea is their L'Atlantide range.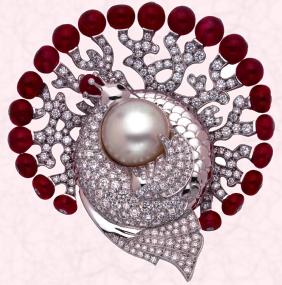 L'ATLANTIDE - Van Cleef & Arpels recreates the universe of the wondrous isle of the lost city of Atlantis. There Neptune reigned with his queen Cleita and their court of nymphs, mermaids and other mythical sea creatures.
The Odyssey to Atlantis begins with the exploration of this secret world and the discovery, amidst the oceans waters and undercurrents, the fabulous creatures that play in the shining surf. The Van Cleef & Arpels Design House uncovers this lost paradise. Their craftsmen create exquisite gemstone pieces that represent the fabulous creatures that live and play in this submerged universe.
Héra from L'Atlantide, is the most fabulous of their high jewellery clips and is shown right.
The Héra clip is white gold set with diamonds, Burmese ruby spheres and all adorn a natural, button shaped Mabé pearl (17.92 carats). Price on application to Van Cleef & Arpels.
Within the L'Atlantide collection is a range called The Kingdom of Neptune.
Using intriguing precious gems, Van Cleef & Arpels has recreated fantastical beings, wondrous fish and extraordinary fauna full of freshness and imagination. The result is a collection of fascinating jewels that reveal new figures and designs of exquisite beauty.
The Van Cleef & Arpels Kingdom of Neptune brings to life a fabulous territory where the sea god appears on his chariot drawn by surf coloured horses. The Van Cleef & Arpels Néréide clip left is one of the Neptune pieces.
The Néréide clip is a nymph of yellow and white gold set with yellow and white diamonds, pear-shaped yellow sapphires gazing at a stunning, sunset red, 7.21 carat oval cut spinel clasped in her hands.
...(v4r)
Van Cleef & Arpels regularly introduce new ranges of high jewellery. Collections often favour nature, myths and literary pieces. The Jardin Collection celebrates the gardens of France, Romantic England, Renaissance Italy, and the Orient.
It's not difficult to see how in the Orient Jardin d'Extreme Collection, Van Cleef & Arpels have captured and replicated existing elements such as trees to give a very definite impression of imagery easily related to Bonsai.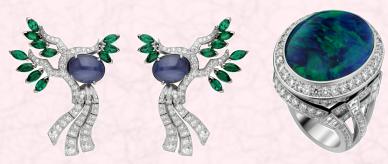 In the luxury Serenité earrings above left, designers have reproduced the pure lines of the dry oriental gardens within the flowing curves of diamonds. These lines are studded with fascinating cabochon star sapphires, imitating smooth boulders. A few marquise-cut emeralds represent the leaves of the maple, a highly symbolic tree in Japanese gardens.
Beside the earrings, the Nuit d'Orient ring features a magnificent black opal (22.96 carats). The ring has aquatic highlights which are enhanced by the mounting which represents the pools, cascades and bridges of peaceful Oriental gardens.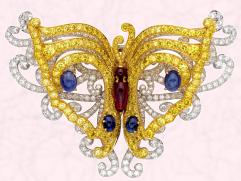 Other feminine pieces of luxury jewellery include this delightful butterfly clip.
Bugs, insects and natural forms found in gardens, pass in and out of jewellery trends with regularity, and a clip like this is an heirloom to be treasured and passed on through generations.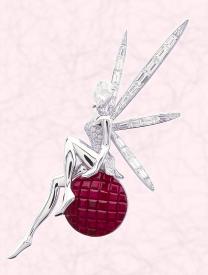 This clip shown above right is the Ephémère clip of yellow and white diamonds, rubies and sapphires. It's so pretty in its own right that I know if I was ever fortunate enough to own such a beautiful piece I would also want to display it as gemart.
Here is another pretty pretty clip which would suit any age group from a young girl to a much older woman. What a perfect jewellery gift for a special birthday.
This lovely delicate Caresse d'Eole fairy clip is the Van Cleef & Arpels interpretation of the world of fairies from A Midsummer Night's Dream.
It is made in white gold and has round, baguette & rose-cut diamonds. If you saw Moulin Rouge movie, then you will instantly recognise it has the same elegant dainty quality of the fairy Kylie Minogue gave us in the film.
The ruby setting is the famous Van Cleef & Arpels Mystery setting. You can see a film of this technique at their website.
‡
There are earrings with the Mystery setting that match more closely, but I like these divine oval ruby and diamond earrings right.
Van Cleef & Arpels have some wonderful luxury jewellery items based on the finest of rare rubies.
These Carmago earrings are from Van Cleef & Arpels Ballet Précieux - they have diamonds and 20 oval-cut Burmese rubies – 23.27 cts.
You have been reading an original article about Van Cleef & Arpels fashion jewellery by Pauline Weston Thomas at www.fashion-era.com ©
If you prefer more modern jewellery then what could be lovelier than this Dentelle bracelet from Couture. It is made from white diamonds set in white gold, alternating with pink diamonds set in pink gold.
In the past few years wrist cuffs have been one the easiest ways to update your fashion look. Cuffs have not had such a good run in fashion trend terms for decades. Cuffs are perfect to show off an elegant wrist, or slip over a glove when you wear three quarter length sleeves, a marvellous look for evening.
Pretty, on-trend and very desirable.
All pieces are price on application to Van Cleef & Arpels.
Setting the trend, and continuing to innovate within traditional gem pieces has always been a hallmark of Van Cleef & Arpels luxury jewellery. Those of you familiar with Van Cleef & Arpels gem pieces may be already aware of the Alhambra motif.
This creativity combined with the jewellery-makers' masterful use of only the world's top-quality gemstones, has left the Van Cleef & Arpels legacy ripe with iconic creations such as the Alhambra pieces.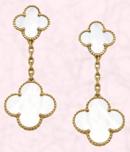 The Alhambra motif is the legendary quatrefoil Van Cleef & Arpels design which brings luck and happiness to all who wear it.
It became popular in the 1970s when it was less fashionable to wear ornate pieces, in that era simplicity of design was the byword for modern. The answer to intricacy was this modern quatrefoil motif. The motif is clearly shown in the Magic Alhambra ear clips in yellow gold with mother of pearl and shown right.
The classic Van Cleef & Arpels Alhambra motif has lent itself to a multitude of designs in many precious metals. Designs exist in white gold, yellow gold and platinum as well as gem materials.
Van Cleef & Arpels Alhambra motif frequently features in timepieces such as in the luxury watch below.
In the 1920s Van Cleef & Arpels added watches to its portfolio.
The 18 carat gold set round watch shown right, is from a current (2008) Van Cleef & Arpels timepiece collection called Charms.
This watch features an Alhambra inspired guilloche pattern on the dial, plus an Alhambra quatrefoil diamond charm. The dazzling bezel sapphire face has a double diamond surround consisting of two lines of hand set round diamonds. These diamonds are separated by a ribbon of polished gold, or a line of larger diamonds dependant on the timepiece style. Naturally, the Van Cleef & Arpels signature is engraved on the side.
The finishing touch is the charm, this is also in the shape of a diamond-set Alhambra motif. The charm is attached to the side of the case by a ring. It was with wonder I learnt that this four leaf clover turns freely around the dial as though dancing to a magical tune. And, because a lucky charm should be worn constantly, Charms comes with interchangeable straps, in coloured leather or black satin, ensuring that each wearer can create her own watch to match with any occasion.
Today with so much fashion wear having three-quarter sleeves, lucky charms and iconic talisman jewellery objects are more popular than ever as the uncovered wrist draws the eye of an admirer.
...(v4r)
These little charm ornaments find their roots in the English verb 'to charm':- to seduce, to entice. Such charms can be worn on a bracelet, chain, ring or key ring.
These lucky charms remind one of ancient amulets and trinkets, whose existence goes back to the dawn of time. Man assigns them magical powers and according to their shape and size, they can cast off bad luck, attract good fortune, assure good health or protect the bearer from the evil eye. In the 18th and 19th centuries, they take the form of personalised and miniature jewels; to onlookers they became a recognition sign, a good luck charm, or a proof of true love.
Charms made their comeback at the beginning of the 1930s inspired by Hollywood and its stars, who attired themselves in dazzling charm bracelets. The Van Cleef & Arpels heritage reveals many charm-bracelet models, often created for special events or international clientele. Many special orders were produced, such as an iconic charm bracelet made for the Duchess of Windsor and it featured a miniature of Place Vendôme. Others pieces included a charm bracelet adorned with seven swallows in precious stones.
In 1927 Charles Arpels was inspired to create a complex compartmentalised minaudière, the forerunner of all those box metal clutch bags one currently sees at evening functions.
Such is the cachet and quality of a Van Cleef & Arpels piece that it is much favoured by both royalty and film stars, as well as many who prefer stealth wealth.
Royal fans of Van Cleef & Arpels include the Duchess of Windsor (1936), Princess Grace of Monaco's engagement necklace, and the coronation crown of Empress Farah in 1967. Marlene Dietrich, Romy Schneider, Catherine Deneuve, Sharon Stone, Scarlet Johanssen, Julia Roberts and Jennifer Garner have all worn jewels by Van Cleef & Arpels.
Postscript
Since that Edwardian hostess era, Van Cleef & Arpels have opened more than 55 boutiques throughout the world and has created a long and storied history as one of the world's most celebrated jewellers. Each new collection is inspired by facets of longstanding themes including nature, couture and the arts.
The book 'The History of Van Cleef and Arpels' by Richard Jean-Jacques (2010) is now available at booksellers.
Quality lasts. In times of economic strife, war, or falling markets, the idea of investing in high quality distinctive jewellery or wearable art is not new. Jewellery with couture provenance such as the gem set bespoke pieces by Van Cleef & Arpels is always readily tradable. Van Cleef & Arpels exhibits museum pieces and sometimes resells original vintage signature prized items owned by collectors. Currently sales show that Richemont luxury goods are selling better than ever despite the credit crunch.
This page has been about bespoke luxury, one-off, gem and couture jewellery trends from Van Cleef and Arpels Jewellery design house for Autumn 2008, Winter 2009.
-------v6-------
You have been reading an original fashion jewellery article by Pauline Weston Thomas at www.fashion-era.com ©
My special thanks to Amanda for all her assistance with images. All images courtesy the jewellery PR department and images remain the property of Van Cleef & Arpels.
Date Added 22 Sept 2008 - Ref:P698.
If you like this page then please share it with your friends
---
--Link--
For more information on ladies and teens fashion trends go to:-
* AW (Autumn Winter)
Archived Sections
Custom Search
About Fashion-Era.com
Fashion-Era.com looks at women's costume and fashion history and analyses the mood of an era. Changes in technology, leisure, work, cultural and moral values. Homelife and politics also contribute to lifestyle trends, which in turn influence the clothes we wear. These are the changes that make any era of society special in relation to the study of the costume of a period.

Fashion-Era.com can take no responsibility for any information on the site which may cause you error, loss or costs incurred from use of the information and links either directly or indirectly. This site is owned, designed, written and developed by author: Pauline Thomas and Guy Thomas. This site is designed to be viewed in 1024 X 768 or higher.
ALL RIGHTS RESERVED. Fashion-era.com reserves the right to add or delete information, graphics and links. Copyright © 2001-2014 on all content, text and images in Fashion-era.com. Images and text in this website may not be used on other websites.
Before you write to me for costume/fashion help or information please, please consult the extensive sitemap which lists all our pages. If you still cannot find the answer after searching the site, then before you email me, please consider if you are prepared to make a donation to the website.
Donations
Reader's donations help this site flourish, in particular donations encourage me to write more articles on fashion history as well as current trends. PayPal allows anyone with a credit card to donate easily and securely. You may donate any sum you feel appropriate.