Wardrobe & Image Planning for Clothes
Review of the 6 Way Dress - Perfect for Fuller Tummy Figures
Fashion can be demanding - nipped in waists, hour glass silhouettes; I can hear you groan across the globe as the latest fashion demands too much of you. Your belly may be larger than you'd like for fashion wear and you may think that despite having a neat shoulder line and good arms there is no dress that will enhance your lumpy torso in particular. Fear not, help is at hand.
Recently the owner Fertile Mind the suppliers of this 6 Way Dress sent me a dress to review for fashion-era. I must say I am very impressed with the 6 Way Dress, initially designed for maternity wear, but suitable for wearing by those not pregnant.
The 6 Way Dress is very versatile in that it can be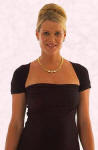 worn by those who are not pregnant, just as easily as by those who are. The fabric makes it ideal to pack for travel when you just want to take minimal luggage, yet be prepared for all events. It can be styled more than just six ways and you may have fun working out extra ways to wear the dress. The garment can even be worn as a long maxi skirt making it extra useful. In addition if you add a brooch or some clips you can make a few more intricate styles again.
The 6 Way Dress was designed for Fertile Mind Australia by a celebrated fashion designer Sacha Drake. I was sent the copyrighted 6 Way Dress design last week via TNT Global Express delivery services. It arrived just 6 days later even with a weekend in between. So if you have a special event coming up soon you can get hold of a dress within a week from Australia and even sooner once the UK site is up and running.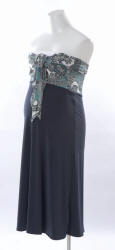 When the dress arrived early that morning I had just showered and so eager to try it on I quickly towel dried and just whipped the 6 Way Dress on as I was. Immediately I tried it on, it struck me that here was a dress that was not only suitable for the varying months of pregnancy, but also for the non pregnant. Most especially it screamed at me that it would make a useful versatile dress for travel and holidays and even lounging around at home.
I instantly thought this would also make a great beach dress in a printed fabric. When I emailed this idea to Peter the company partner I found they had already thought of this and he sent me this image left, showing a version with a printed top making it more suitable for sunnier days. You can even be a 'lady in red' if you opt for the cherry version currently on sale.
The Fertile Mind 6 Way Dress can be worn as adaptable attractive maternity wear by those pregnant for any stage of the 9 months. The retailers suggest the 6 way dress can be especially useful after birth, for belly support in particular, after Caesareans and in those early days when the figure is still out of tone. But note how it can also worn as an ordinary, but accommodating garment by those who are not pregnant, but simply in need of a useful dress that can be adapted to many styles.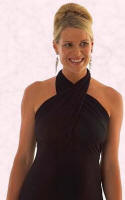 This dress is very flattering on just about everybody and one of the best features I noted was the drape of the fabric - it swings and doesn't cling. The material is made from a high grade of polyester and Elastane and the fabric has a good density that means you cannot see through it.
The Elastane content means the doubled bandeau area is supportive in the same way that a boob tube can be. It can support your bust or your tummy dependant on where you place the style on your body. The support is such that you don't need a bra. The fabric quality means that no ironing is required and the material will stay beautiful for years with simple wash and wear care. Most importantly, this dress is strongly made and will stretch with you.
The shaped overskirt flaps enable you to increase the number of styles you can tie from halter neck or baby doll to asymmetric one shoulder styles.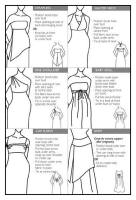 Each 6 Way Dress comes with a simple guide sheet like the one right, it explains how you can make six basic styles. But you will discover several new variations if you play about with the positioning of the side seam to create more variations. If you have played around with a sarong before this will be an easy exercise for you, but the Fertile Mind 6 Way Dress will produce more reliable results. The 6 Way Dress can also be comfortably worn as a maxi skirt in several styles either under or over the belly.
Each dress has this diagram sheet explaining how to wear the garment 6 different ways. You can see this diagram sheet more fully at Fertile Minds.
An alternative source of maternity wear is Maternity Jeans.
When choosing your size, I'd say from my experience, if you are in the UK then this size chart from Fertile Mind reflects UK sizing. Go by your bust size for a snug fit to the boob tube part as the skirt is roomy, but this is not over obvious as the drape is so good.
Your Size

Fertile Mind Size

10 – 12

12 – 14

14 – 16

16 – 18

Small

Medium

Curvy

Voluptuous
Fertile Mind also sell a wide range of other clothing and maternity specialist items to help you through pregnancy. You can learn more about the 6 Way Dress at the website http://www.fertilemind.com.au/
If you need to make this dress work for you in winter too consider adding some maternity leggings and shrug for the currently fashionable layered look.
With special thanks to Peter Hooker of Fertile Mind for the use of these images of the 6 way Dress.
Page added March 30 2006.
Image Planning
If you like this page then please share it with your friends
---
For more information on women's and teens fashion trends go to:-
See Marks and Spencer New Spring Collections online
Custom Search
About Fashion-Era.com
Fashion-Era.com looks at women's costume and fashion history and analyses the mood of an era. Changes in technology, leisure, work, cultural and moral values. Homelife and politics also contribute to lifestyle trends, which in turn influence the clothes we wear. These are the changes that make any era of society special in relation to the study of the costume of a period.

Fashion-Era.com can take no responsibility for any information on the site which may cause you error, loss or costs incurred from use of the information and links either directly or indirectly. This site is owned, designed, written and developed by author: Pauline Thomas and Guy Thomas. This site is designed to be viewed in 1024 X 768 or higher.
ALL RIGHTS RESERVED. Fashion-era.com reserves the right to add or delete information, graphics and links. Copyright © 2001-2014 on all content, text and images in Fashion-era.com. Images and text in this website may not be used on other websites.
Before you write to me for costume/fashion help or information please, please consult the extensive sitemap which lists all our pages. If you still cannot find the answer after searching the site, then before you email me, please consider if you are prepared to make a donation to the website.
Donations
Reader's donations help this site flourish, in particular donations encourage me to write more articles on fashion history as well as current trends. PayPal allows anyone with a credit card to donate easily and securely. You may donate any sum you feel appropriate.