Mid-Late Victorian Fashion and Costume History
We arrive at 1860 with four significant facts that were to seriously affect fashion of the future. Firstly the sewing machine had been invented, secondly clothes would in future become couture design led, thirdly synthetic dyes would make available intense colours.

Fourthly in 1860 the crinoline domed skirt silhouette had a flattened front and began to show a dramatic leaning toward the garment back.
Charles Worth thought the crinoline skirt unattractive. However, he is associated with it, as he did manipulate the style, as a result the shape soon changed to a new trained, softer bustled version, which only the really rich found practical.
Right - Dress designed by Charles F. Worth for Empress Elizabeth of Austria and painted by Winterhalter in 1865.
In 1864 Worth designed an overskirt which could be lifted and buttoned up by tabs. This top skirt gave a lot of scope for added ornamentation and by 1868 it was being drawn and looped right up at the back creating drapery and fullness.
In 1866 the new Princess gown also changed the line of fashionable dress. The Princess gown was cut in one piece and consisted of a number of joined panels fitted and gored from shoulder to hem that gave the figure shape through seaming.
The Gabriel Princess gown with a small neat white collar was mainly made in grey silk and followed the fuller skirt lines of the era. This is the dress style often used to depict the constrained buttoned up repressed governess character of Jane Eyre in films. Later Princess styles were slimmer and much more form fitting. Sleeves in day dresses were often of a banana shape.
‡

By 1867 with the fullness bunched up to the back of the skirt creating a polonaise style, crinolines and cages suddenly disappeared evolving into tournures or bustles. The bustles supported accentuated drapes on the hips.
Left - Women in the Garden by Claude Monet 1866-7. The Louvre Paris.


After 1868 Worth's overskirt really caught on in England and contrasting underskirts and gown linings were all revealed as the over top skirt was divided or turned back. Other top skirts were called aprons and they were also draped making the wearer look like a piece of elaborate upholstery. Rounder waistlines were fashionable and waistlines even began to rise very slightly. On the left a tiered soft bustle ball gown of 1872. Right - Apron style tablier top layer half skirt over bustle.
From 1870, ball gowns always had a train. Soon by 1873 the train was seen in day dress.
By 1875 soft polonaise bustle styles were becoming so extreme that the soft fullness began to drop down the back of the garment and form itself into a tiered, draped and frilled train.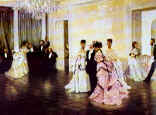 Trains were very heavily ornamented with frills, pleats, ruffles, braids and fringing. The sewing machine instead of simplifying sewing, just became a tool to add more ostentation.
Left - Painting 'Too Early' by James Tissot 1873 - Guildhall Art Gallery UK.
The other main feature of the style change was the introduction of the cuirasse bodice which dipped front and back extending a little over the hips. By 1880 the soft bustle styles of the 1870s had totally disappeared.
By 1878, women of the late Victorian era have a very different look about them compared to earlier Victorian women.
The soft polonaise style bustle styles were replaced by Princess sheath garments without a waist seam with bodice and skirt cut in one. The Princess line sheath had a bodice line similar to the very tight fitting cuirasse bodices which had been getting longer and longer.
Right - Slim fitting trained dress with cuirasse bodice 1876. By 1878 the cuirasse bodice reached the thighs.
By 1878 the cuirasse bodices had reached the thighs. The cuirasse bodice was corset like and dipped even deeper both front and back extending well down the hips creating the look of a body encased in armour.

By 1880 the two ideas merged and the whole of the dress was in Princess line style with shoulder to hem panels. The silhouette was slim and elongated even more by the train. No bustle was needed for the cuirasse bodice or Princess sheath dress, but a small pad would have helped any trained fabric to fall well.
Left - The cuirasse bodice of 1880 reached the hem actually becoming the princess panel dress. It made an exceptionally form fitting draped sheath dress which was elongated even further by the train.
The slimline style needed good dressmaking skills to get a flattering fit. When done well it was attractive, but all too often swathes of fabric were wrapped and arranged across the garment in an effort to disguise poor dressmaking skills. It was not a very practical garment and only really suited to the very slim and those who did not have to work. As a fashion it barely lasted 3 years.
§
Suddenly out of nowhere in 1883 a new jutting out shelf like style of bustle appeared. It had been shown in Paris in 1880, but as a fashion took off later outside of Paris. It reappeared even larger than ever as a hard shape that gave women a silhouette like the hind legs of a horse as shown in the page heading.
Right - The second hard bustle style 1883.
The new bustle dress had a different look. It had minimal drapery compared to the former and a slimmer more fitted severely tailored princess bodice, with a much flatter front. What drapery there was, was tidily arranged at the front of the dress as a small apron. Soon even that disappeared. For support the spring pivoted metal band Langtry bustle gave the correct foundation for the wider skirts. See Crinolines and Bustles.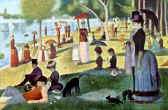 Right -La Grande Jatte by Georges Seurat 1884-6. Art Institute Chicago. This later bustle fashion was very moulded to the body and the heavy corsetry gave an armour like rigidity to the silhouette. The pointed bodice began to look quite tailored.
Tailored garments had been introduced in 1874 and their influence on design was subtle, but led eventually to the tailor made suit so fashionable in the 1890s.

In 1887 the sleeves were still slimmer, plain and close fitting. The sleeves look like quite a different style than on the bustle dress of the 1870s which had sleeves that would not have looked out of place on dresses of 1860.
By 1889 silhouette changes now couturier led were changing more rapidly and the sleeve developed a very slight leg of mutton outline which soon needed support.
Right - Dress of 1889 showing signs of elevation at the sleeve head.

It's interesting to note how late Victorian women embraced the sharper tailored jacket fashion which gave them a different posture with a more confident air reflecting the ideals of early female emancipation. Other military and more tailor made styles of jacket were also popular. Some dresses also had a more severe air about them.
Left - Tailor made suit of 1895.
There are similarities in the period 1885 with 1985 when women also showed their strength in the corporate workplace with Power Dressing through more masculine tailored, shoulder padded clothes. A similar broad shoulder trend occurred in the Utility Clothing era of the 1940s when women did work usually thought of as men's work.
----¥----
The gowns of the 1880s were almost always made in two colours of material. Vivid colours such as deep red, peacock blue, bright apple green, royal blue, purple, mandarin, sea green were used alone, in combination, or in tartan fabrics. Some colour combinations were very strange.
At night ladies evening dresses were in softer hues and although they were extravagantly trimmed in contrast fabrics and very décolleté, they followed the general line of fashion.

Gradually the skirt widened and flared as the fullness of the bustle began to fall into pleats down the garment back eventually disappearing to nothing.
As before the bustle foundation softened until only a small pad was left by 1893. The armour like hour glass figure soon developed into the S-Bend shape corset which set the Edwardian Corsetry silhouette until 1907-8.
Left - Evening gown with train 1890.
The leg of mutton sleeves continued to develop and sprouted high above the shoulders, By 1895 the sleeves swelled into enormous puffs similar to those of 1833. As happened in 1830 to balance the huge shoulders the skirt widened and flared, whilst keeping the waist tight and handspan narrow.
Queen Victoria's influence over fashion was long gone. people who were in mourning still followed court guidelines on mourning dress. The real royal influence in fashion was the wife of the Prince of Wales, Princess Alexandra. Together they set the tone for society and fashion in the last decade of the century in the 1890s and into their own reign of the Edwardian era from 1901 to 1910. Read more detail about the era 1890-1914 in the section La Belle Époque 1890-1914 Fashion and The Mood of Edwardian Society.
-------v6-------
If you like this page then please share it with your friends
---
--Link--
For more information about the Victorian Era
1837-1901 click on the title links below:-
Home TO TOP OF PAGE To Next Page
Custom Search
About Fashion-Era.com
Fashion-Era.com looks at women's costume and fashion history and analyses the mood of an era. Changes in technology, leisure, work, cultural and moral values. Homelife and politics also contribute to lifestyle trends, which in turn influence the clothes we wear. These are the changes that make any era of society special in relation to the study of the costume of a period.

Fashion-Era.com can take no responsibility for any information on the site which may cause you error, loss or costs incurred from use of the information and links either directly or indirectly. This site is owned, designed, written and developed by author: Pauline Thomas and Guy Thomas. This site is designed to be viewed in 1024 X 768 or higher.
ALL RIGHTS RESERVED. Fashion-era.com reserves the right to add or delete information, graphics and links. Copyright © 2001-2014 on all content, text and images in Fashion-era.com. Images and text in this website may not be used on other websites.
Before you write to me for costume/fashion help or information please, please consult the extensive sitemap which lists all our pages. If you still cannot find the answer after searching the site, then before you email me, please consider if you are prepared to make a donation to the website.
Donations
Reader's donations help this site flourish, in particular donations encourage me to write more articles on fashion history as well as current trends. PayPal allows anyone with a credit card to donate easily and securely. You may donate any sum you feel appropriate.