Mourning Fashion History
The complexities of wearing mourning dress took hold as the Victorian era progressed following the death of Prince Albert in 1861. Queen Victoria wore her widow's weeds for the remainder of her long life until 1901, when the Edwardian era began.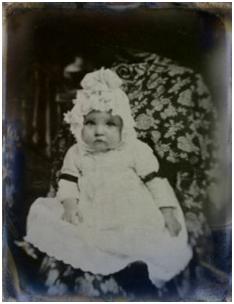 Many who saw themselves as fashionable, including those in the lower classes, followed their Queen's example.
The middle classes in particular, wishing to follow and accept the higher canons of decency of the upper classes, thus they emulated every example she set. They liked to use black edged stationery, envelopes, notepaper and visiting cards.
Prayer books and bibles had to be bound in Black morocco leather and handkerchiefs edged in black. The list was endless, but all touches were intended to convey to the onlooker through a series of signs and symbols visual messages that the deepest feelings of sadness were felt at the loss. They tied little black or purple ribbons around dressing table bottles and added similar purple or black ribbons even to the clothing of infants.
This is picture of a baby in mourning brings home the importance of mourning to the Victorians and Edwardians. This C19th tintype picture was recently sent by a site visitor. It shows a baby in mourning wearing black armband ribbons, a sign of the baby having suffered a close loss. If you have images that might be relevant to this website perhaps you could send me a good scan and with any known information.
Women in Mourning
Women were the leaders of a household's mourning drill. It was the woman who as the social representatives of their husbands showed the world how sorrowing the family was by wearing clothes and following little rules that reflected this.
While royal attitudes to mourning permeated down throughout society, often these attitudes were totally impractical for the majority of the population. This was because royalty not only had the finance to afford conspicuous consumption of the excessive rules of mourning etiquette, but also little need to labour unduly hard.
Advice on what mourning clothes to wear, what mourning etiquette to follow abounded in magazines for women. In 1865 Henry Mayhew the social historian remarked that '… Women, … had to put aside all their ordinary clothes and wear nothing but black, in the appropriate materials and with particular accessories, for the first stages of mourning.'
‡‡
Mourning was an expensive activity and also wasteful, because it also had to be fashionable. Identical in fashion styling to the modes of the day, it used different colours and materials. When more than one death occurred in a family with little space between them, mourning clothes would inevitably be worn for several years non stop. As normal clothes were put away they would often be out of fashion by the time mourning was over so they were sometimes remodelled and often discarded.
Crape (always spelt with an 'a' to indicate mourning crape) was the most used fabric for mourning clothes. It was used in such vast quantities in the 1890s that Courtaulds built a textile empire on the sales of the crape cloth alone. Crape was dull looking silk gauze like a crimped and stiff textured material and mostly dyed the deepest of blacks, although white crape was used for the widow's cap.
Black was the chief mourning colour in the immediate months after a death for deepest mourning. Dull surfaced black fabrics such as crape, plain bombazine, paramatta, merino wool and cashmere were also favoured and used depending on income.
A widow would mourn for two and a half years, with the first year and a day in full mourning. During that time pieces of the crape covered just about all of a garment at deepest mourning, but the crape was partially removed to reach the period of secondary mourning which lasted nine months. After that the crape was defunct and a widow could wear fancier lusher fabrics or fabric trims made from black velvets and silk and have them adorned with jet trimming, lace, fringe and ribbons.
In the final six months a period called half mourning began. Ordinary clothes could be worn in acceptable subdued shades of grey, white or purple, violet, pansy, heliotrope, soft mauves and of course black. Every change was subtle and gradual, beginning firstly with trims of these colours being added to the black dresses. These were the transitional mourning dresses from secondary mourning to the final stage of lesser ordinary half mourning where colours like purple and cream rosettes, bows, belts and streamers along with jet stones or buttons were introduced.
Similar rules applied for the wearing of hats or bonnets. As the mourning progressed, so the hats and bonnets became more trimmed and fancy, whilst veils became shorter until they were eventually removed altogether.
...(v4r)
The fashion for heavy mourning was drastically reduced during the Edwardian era and even more so after the Great War. So many individuals died that just about everyone was in mourning for someone. By 1918 a whole new attitude had developed and this was hastened even further by the Second World War.
By the 1950s in the UK women mourned for about 6 to 12 months wearing black and other dark colours like navy or bottle green or subdued tones. In the 1960s individuals started to wear colours like navy, purple or grey to funerals. By the 1980s it became usual for some, although not all people to only wear black at the actual funeral. Evidence of old habits like drawing the curtains when a person died was also on the wane as more and more people died in hospitals and the bodies were taken immediately to a resting chapel.
As far as possible active participation in grief in the late 20th century was removed from the majority of people and thought too unpleasant to deal with. Undertakers took over as many aspects of possible of the actual funeral. This may be why so many do not initially understand the natural grieving time of about 2 or more years that occurs when a truly loved person dies. But time is a great healer and the Victorians understood this in a way the modern world has lost grasp of.
By 2000 any dark colour was thought acceptable at a funeral, with attendance being considered far more important than the clothing. Evidence of this was shown when H. R. H Prince Charles chose to wear a dark navy blue suit to the funeral of the Princess of Wales in 1997, because it was the suit Diana most liked him to wear.
Genealogy is fascinating. You may have old photos that tell a story as you search for your roots. It is never too late to ask older family relatives who someone in an old photograph is, or what they can recall of the person or the events.
This old mourning photo left was sent to me by a site visitor Kathleen. The photo was taken in 1919 in New York City and is a photo of Kathleen's grandmother. It shows a woman in the throes of grief after the death of one of her children. Note the mourning jewellery of jet black beads and the careworn unsmiling indifference to the camera.
This old photo is of Johannah McGrath, married to William Keating. Thousands of miles from the USA a relative in Ireland sent Johannah money to have a mourning picture taken and sent on to Ireland. Johannah was 50 when her daughter, aged 12, died after a few years of kidney and heart disease.
‡
Kathleen had gleaned information from her own mother about this image and the circumstances of her grandmother. She told me Johannah had worked so hard to keep Eleanor (her daughter) alive. Kathleen was also aware of death dates of two other children in 1901 and 1902 and even believes another child died prior to 1901.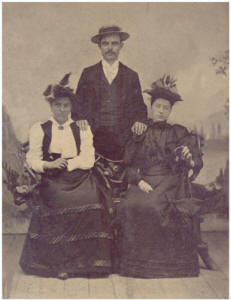 This old photo above highlights the personal torment showing sadness on the sitter's face so much so, that is almost palpable. It is thought by many that there is no worse loss than being in the position of witnessing the burial of your own child, but to have buried several must have been totally soul destroying. You can feel her pain and loss. I really hope she came to smile again one day and lived to see here own grandchildren born.
The second old photo Kathleen sent me is of Johannah with her husband and her sister-in-law. It was a tin type photo taken when she was about 20 years younger.
In this photo Johannah is totally clothed in black mourning dress. Only her hat has a concession to some subdued paler colours, probably greys, purple or mauve. Note that her parasol umbrella is also in deep black which lends credence to the idea of her wearing mourning dress. It was important that accessories were also in black and were dedicated mourning items.
The full black balloon sleeves indicate the fashion style of 1892-1895. But the sleeves are not at the maximum leg o'mutton puff sizes of 1895, so one might surmise that the sleeve styles could be earlier or later than 1895 - later with the volume on the wane at 1897. Since Johannah was a dressmaker it seems likely she would have sewn a fairly fashionable dress for herself. However as death/mourning dress was big business she may well have bought the gown ready made. Johannah was married in 1892, but a sister of hers died in 1892. The sister-in-law who sits beside her entered a convent in 1893. With some easy detective work we can surmise that the sleeve style, the convent entry both coupled with the death of Johannah's sister in 1892 means the date of this old mourning photo is 1892/3.
-------v6-------
If you have any pictures of your family wearing mourning dress I would be interested in seeing them to add to this page or another page. I am also seeking volunteered wedding photos/paintings of the era 1800-2000.
If you like this page then please share it with your friends
---
--Link--
For more information about the Victorian Era
1837-1901 click on the title links below:-
Home TO TOP OF PAGE To Next Page
Custom Search
About Fashion-Era.com
Fashion-Era.com looks at women's costume and fashion history and analyses the mood of an era. Changes in technology, leisure, work, cultural and moral values. Homelife and politics also contribute to lifestyle trends, which in turn influence the clothes we wear. These are the changes that make any era of society special in relation to the study of the costume of a period.

Fashion-Era.com can take no responsibility for any information on the site which may cause you error, loss or costs incurred from use of the information and links either directly or indirectly. This site is owned, designed, written and developed by author: Pauline Thomas and Guy Thomas. This site is designed to be viewed in 1024 X 768 or higher.
ALL RIGHTS RESERVED. Fashion-era.com reserves the right to add or delete information, graphics and links. Copyright © 2001-2014 on all content, text and images in Fashion-era.com. Images and text in this website may not be used on other websites.
Before you write to me for costume/fashion help or information please, please consult the extensive sitemap which lists all our pages. If you still cannot find the answer after searching the site, then before you email me, please consider if you are prepared to make a donation to the website.
Donations
Reader's donations help this site flourish, in particular donations encourage me to write more articles on fashion history as well as current trends. PayPal allows anyone with a credit card to donate easily and securely. You may donate any sum you feel appropriate.