Orientalism - Titanic Era Fashion History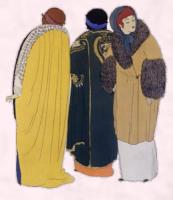 Paul Poiret trained at the House of Worth and Doucet and set up on his own in 1903. He made straight tube like sheath dresses in 1908. The styles were known as Directoire as they were similar to fashions of the early 1800s. The columnar style he introduced meant that women had to abandon their S-bend corsets and wear a longer straighter corset that almost reached the knees to achieve his early look. Later he encouraged women to free themselves from corsetry and adopt the bra.
Poiret was very sensitive to the mood of society and to trends among painters and designers. He was very influenced by Orientalism in Leon Bakst's Ballets Russes costume designs.
Over the years Poiret worked with several artists who drew fashion drawings and textile print designs for him. The artists portraying Orientalism included Paul Iribe (1908), Georges Lepape, Raoul Dufy and Erté. Poiret's influence on fashion illustration and fashion presentation was enormous and attractive prints by these artists are still used in interiors to set a mood.
Poiret loved bright colour and introduced brilliant hues whilst the sweet pea colours of the Edwardian era were still very fashionable. He had been influenced by the Ballets Russes and in 1913 he produced exotic designs based on oriental harem pants. His lampshade tunic and turbans were all in vibrant glowing shimmering colours, with beaded embellishment.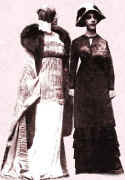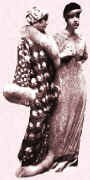 To complete the outfits there were exotic Eastern inspired jewelled slippers which drew together Orientalism in the outfit. Right - Orientalism in Fashion history.
Gowns inspired by the orient complete with oriental parasol and coolie lampshade inspired hat.
Fur was a symbol of Orientalism and appeared on all sorts of garments from outerwear to lingerie as an edging trim. Right - More Orientalism in Fashion history. Cloche hats, fur edgings on coats and long columnar dresses worn by Poiret's models.
‡‡
Having liberated women by putting them into pants Poiret then sought to design extremes and became famous for designing a hobble skirt which drew the legs closely together as it was so narrow. To increase the hobble effect women needed to wear a 'fetter', a kind of bondage belt that held the ankles together and prevented the wearer from making any movements other than small steps in imitation of Geisha girls.
The hobble skirt was probably Poiret's last real success as new designers like Chanel and Lanvin opened up Fashion Houses and began to design unrestrictive clothes that women really felt comfortable wearing.
At the same time the V neck for daywear was introduced and it was thought so shocking that it was denounced from the pulpit.
The forerunner of jazz was ragtime music and it started as early as the 1900s, sweeping Europe in the early 1910s. Ragtime was the basis of many new dance crazes. Animal movement was frequently imitated and famous dances included the Grizzly Bear, the Turkey Trot and the Bunny Hog. These energetic dances were best performed in fitting dresses with long side slits that allowed for dramatic movements.
This type of dancing required a new closeness and a certain intimacy between partners, so it was inevitably frowned upon by less liberal people still locked in Victorian mores and customs.
Mariano Fortuny 1871-1949 was a Spanish painter and inventor. He designed scarves that paid homage to ancient Greece and Crete. Later he experimented with pleating fabrics so that they draped over the female body. A version of his Delphos Gown patented in 1909 was frequently worn by the dancer Isadora Duncan. The minutely pleated silk was a secret process and the glorious colours were produced using vegetable dyes, a refreshing change from the crude aniline dyes that had been recently used.
Left - A Fortuny pleated gown worn by Lilian Gish.
His clothes had batwing sleeves and were silk and silk velvet with his original hand printed stencil designs. Venetian glass beads weighted the hems.
You can read a little more about Fortuny in the Edwardian Hostess and The Society Hostess's Wardrobe sections.
...(v4r)
Leon Bakst designed and made flamboyant exotic colourful costumes for Diaghilev's Ballets Russes. He used colour in an oriental way, using bold hues and sharp contrasts with highlights of embroidery and heavy appliqué. The idea behind the clothes was that women would look like harem slaves. To emphasise this he put women in turbans and harem pants. Much of his work showed oriental influence.
Raoul Dufy was one of the artists that founded the Fauvist movement. Dufy made fabric prints and worked on interesting dyeing techniques to enhance Paul Poiret's work in fashion. Later Dufy worked for a French textile firm where he designed dramatic prints for silks and brocades. Today many of us remember him for his wonderful light infused paintings of the south of France.
Erté was a stage costume designer who produced exotic, theatrical, elongated clothes. He designed for Poiret, did art covers for Harpers Bazaar, drew ballet costumes for Diaghilev, and designed sets and costumes for theatres in Paris and New York. Much of his work also showed oriental influence.
‡
If you like this page then please share it with your friends
---
Sellers of re-enactment pieces who sell Edwardian Gibson Girls, Victorian styled Crinoline, bustle dresses and Leg o' Mutton 1890's items include the reputable website at recollections.biz. Recollections make washable garments to fit modern measurements, as well as being wholesale dealers of re-enactment items.
--Link--
For more about the Edwardian Era 1890-1901 click on the title you need:-