Designer Perfume Trends
The Body Shop - 'Invent Your Scent'
Designer Perfumes
On the previous page I discussed how exclusive designer luxury fragrances represent the hottest new perfume trend. Tom Ford, and Armani before him, have developed their own select niche perfumes. Chanel have also launched a small group of ten exclusive fragrances that use rare ingredients. Ex Gucci designer Tom Ford regards the twelve scents in his new Private Blend Collection as his scent laboratory.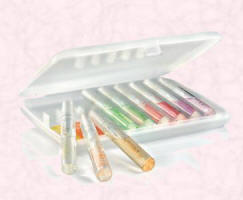 Now that Body Shop have launched 'Invent Your Scent'; you too can have your own scent laboratory to produce a designer perfume.
They have several approaches to this and I'd like to begin with the very inexpensive perfume kit selling for just £15. It contains 9 vials of fragrance so you can experiment making your own private collection of perfume blends.
The Body Shop are well known for their no-nonsense, high quality ingredients. If you enjoy shaking a cocktail, or baking a cake then you will enjoy mixing up your own scent from a limited range of well formulated fragrances. Read what I thought about the samples I received at the bottom of the page.
You too can blend your own scents using The Body Shop 'Invent a Scent'. I think it sounds like great fun. It may also make a good present at any time of year, especially when coupled with some of the perfume bases, and perhaps team it with a decorative perfume bottle, or atomiser.
This is what Body Shop have to say about their 'Invent Your Scent' concept.
Ľ
Having found your perfect fragrance, how annoying is it to then have your best friend, or worse, mother-in-law, waft out to greet you wearing exactly the same perfume? Well itís a problem no more, thanks to the exciting introduction of The Body Shop 'Invent Your Scent' Eau de Toilette fragrances.
With 'Invent Your Scent' Eau de Toilette fragrances you are your own perfumier. Experiment to your heartís content and create your very own bespoke, designer perfume by combining two or three of the nine, sophisticated fragrances in the collection.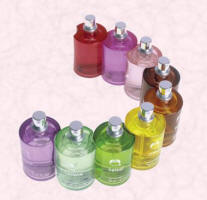 Each Eau de Toilette in The Body Shop Invent Your Scent collection is designed to complement every other fragrance within the range. Each fragrance is made up of naturally inspired top, middle and base notes to create individually complex fragrances that can also be worn alone. The possible combinations for an individual, harmonious fragrance are up to you and how you feel at that moment. Whilst you can layer as many fragrances as you wish - 362,880 combinations are possible Ė The Body Shop recommend layering only two fragrances to start with.
Each fragrance is available in a stand-alone 30 ml fragrance bottle with an ingenious moon shape cut out of one side, so your chosen fragrances can nest together. Invent Your Scent offers so much more for your money as the layering concept means you buy two fragrances and get three different designer perfumes. Three fragrances gives an amazing seven different fragrance options.
All nine fragrances are also all available in a 3 ml mini vial within a superb collection pack. The Collection has been especially developed to encourage experimentation and includes a selection of the perfect fragrance blends to start you off. It makes a great gift for friends and loved ones or even better Ė for you!
All images courtesy of The Body Shop
Invent Your Scent
Invent Your Scent is a comprehensive range of nine beautiful fragrances based on naturally inspired, simple blends of top, middle and base notes to be blended or worn alone. Itís possible to layer any number of combinations,
The Body Shop recommends layering only two fragrances at once for best designer perfume results.
Minteva - Get fresh with this green fragrance with top notes of green basil leaves, fresh lemon, orange and aromatic mint. Heart notes are ozone, peony and white lilies with base notes of spices and musk.
Beleaf - A gorgeous green fragrance with top notes of baies rose, cassis and bergamot, heart notes of fig, muguet and rose, and base notes of santal and musk.
Citrella - Add zing with a citrus fragrance with top notes of pink grapefruit, kumquat, orange and cranberry, heart notes of gardenia, jasmine and pink freesia and floral base notes of lingering gardenia and jasmine.
Aztique - A fruity little number with top notes of aqua leaf accord, bose pear accord, white peach, banana and lime peel, heart notes of cyclamen, rose and muguet and base notes of sandalwood, amber, blonde woods and musk.
Zinzibar - Add a touch of spice with top notes of ginger, bergamot, lime and tangerine, heart notes of ginger, cardamon, pepper and freesia and base notes of cedar wood and sandalwood.
Velique - A floral muguet fragrance with top notes of violet leaves, bergamot, red pepper berries, palmarosa and rose leaves, heart notes of rose petals, peony, muguet, fresh jasmine and cyclamen, and base notes of sequoia, sandalwood and White Musk.
Chymara - A fabulous floriental fragrance with top notes of mandarine, pineapple and berries, heart notes of muguet, rose and white lilies, and base notes of woody, cedarwood, praline, musky and amber.
Altaro - An oriental woody fragrance, with top notes of aldehydic and cinnamon, heart notes of sandalwood and clove and base notes of amber, vanilla and musk.
Amorito - Lick your lips! - a gourmand fragrance with chocolate top notes, jasmine and chocolate heart notes and vanilla and chocolate base notes.
The collection is designed for any two fragrances combinations to work in perfect harmony together, but a suggested menu of fragrance combinations are:
Vivacious: Citrella and Velique - Romantic and energetic, this combination is for the high-spirited in love.
Elegant: Altaro and Beleaf - Passionate and graceful, this is a classic combination.
Charismatic: Chymara and Aztique - Flirty and playful, thereís something about this combination we just canít put our finger on.
Captivating: Amorito and Beleaf - Graceful and warm, youíll be the focus of everyoneís attention.
Sexy: Altaro and Aztique - Passionate and playful, this combination guarantees an exciting evening.
Ω
So, for the perfect treat, just follow your nose to The Body Shop and create your very own magical, fragrant elixir, designed especially for you, by you.
Invent Your Scent full-sized 30 ml bottle, costs just £8.00 (Two fragrance pack for £12.00)
The Collection of 9 small vials as shown at the top of the header page sells for £15.00 and is available now.
The Body Shop International PLC has over 1,900 branches in 51 markets worldwide. The Company is not simply a global retailer of toiletries and cosmetics, they are committed to environmental protection and respect for human rights. They develop trading relationships with communities in need and they are against animal testing in the cosmetics industry.
The Body shop sent me their latest Invent Your Scent Collection which contained a few new additions to the range. My samples contained Chymara, Amorito, Velique, Rougeberry, Aztique and Zestini which I tried in various combinations. The only one I did not take to was Zestini which might have worked for me with some other greener blends. Amorito is a gourmand perfume and quite rich with chocolate notes at all stages. The Aztique and Chymara as suggested above also made a good blend.
I have to say I enjoyed mixing the perfume samples they sent me which were surprisingly sophisticated with some lasting power. Best of all, none of them got up my nose to make me sneeze for hours after as some modern perfumes do. I suggest you follow their beginner advice in their press release above for making blends until you get a feeling for mixing the scents to your liking. All of them developed a warm fragrance after 10 minutes into richer deeper fragrances than the initial spray suggested. I'm still reeling that none of them made me want to sneeze as so many modern low cost and high cost scents often do.
It's impossible to describe the Invent Your Scent Fragrances I concocted. generally I was less keen on the top notes than the middle or base notes in all cases. After 10 minutes they all settled down on my skin. So for me these would be perfumes to apply half an hour before setting off somewhere. But none of them were annoyingly in your face and at dry down all were more soft and subtle and very suitable for day wear.
At such a low price point you could easily try them yourself and two Collection size mixers would be easy to carry with you.
PRShots
Special thanks to David of http://www.prshots.com/ one of the best sources of PR material. All images courtesy of The Body Shop. My thanks to the Body Shop staff for the Invent Your Scent Collection sent to me.
(Page Date 12 Mar 2007)
If you like this page then please share it with your friends
---
For perfumes and beauty pages click below:-
Custom Search
About Fashion-Era.com
Fashion-Era.com looks at women's costume and fashion history and analyses the mood of an era. Changes in technology, leisure, work, cultural and moral values. Homelife and politics also contribute to lifestyle trends, which in turn influence the clothes we wear. These are the changes that make any era of society special in relation to the study of the costume of a period.

Fashion-Era.com can take no responsibility for any information on the site which may cause you error, loss or costs incurred from use of the information and links either directly or indirectly. This site is owned, designed, written and developed by author: Pauline Thomas and Guy Thomas. This site is designed to be viewed in 1024 X 768 or higher.
ALL RIGHTS RESERVED. Fashion-era.com reserves the right to add or delete information, graphics and links. Copyright © 2001-2014 on all content, text and images in Fashion-era.com. Images and text in this website may not be used on other websites.
Before you write to me for costume/fashion help or information please, please consult the extensive sitemap which lists all our pages. If you still cannot find the answer after searching the site, then before you email me, please consider if you are prepared to make a donation to the website.
Donations
Reader's donations help this site flourish, in particular donations encourage me to write more articles on fashion history as well as current trends. PayPal allows anyone with a credit card to donate easily and securely. You may donate any sum you feel appropriate.