Luxury Perfume Trends 2007
Niche Fragrance Perfumes and Luxury Exclusive Scents
Fragrance, perfume, scents, aromatics, essential oils - call them what you may, but judging by perfume sales, there is no doubt we all love the many different and new perfumes on offer. Consumers have become fragrance connoisseurs, always looking for new perfumes and scents. Some seek new exclusive perfumes to such an extent that designers are actively seeking to satisfy this luxury niche market.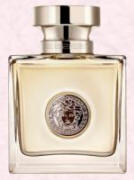 Each of us has favourite fragrances that our olfactory centre recognises. At an instant, our nose can detect, and associate, an elixir long forgotten. Thanks to a perfume, the surging memory of a special moment in our lives can be instantly restored. In a second our spirits can be lifted and soar with joy, or drown with sadness and longing.
Right - A suggestion from Harrods for the woman in your life.
Versace new fragrance £58, 100ml, an idea from 2007 Mother's Day Gifts at Harrods.
Eager to cash in on our love of perfumes, the latest fragrances being launched for 2007 are for the so called niche markets. Several are the libraries of 'exclusive' perfumes.
I have to write that as I looked at the price range of these exclusive niche perfumes, I found that at a starting price of £80 I don't think the prices are that prohibitive. Two of the best offers were from the Tom Ford Private Blend collection at £80+ and the Chanel Exclusif at £120. If I can afford one of these perfumes as a treat then I suspect you can too.
So what does this say to me? The answer is - clever marketing, very clever marketing! Maybe if the most you normally pay for a new scent is around £40, then twice that amount will sound expensive and even rarefied. These niche perfumes are supposed to be exclusive, yet I feel they would have to cost a lot more than £100 to be truly exclusive. Exclusive would be a perfume designed for you by an expert like Roja Dove at Harrods, but of course at much, much greater cost. At Roja Dove you would be involved in the consultation and savour some samplings - that is what having an exclusive perfume really means.
This idea of niche exclusive perfumes is the same marketing technique that has been successfully employed for 'must-have' and 'want it' bag ranges. Do marketers think none of us ever read the fairy story of the Emperor's New Clothes? If you remember, it took the fool to tell the Emperor that what his designers told him were fancy clothes, were in fact, nothing but their imaginations.
Now it's clear to me this all looks like a clever marketing way to hike the price of top brand name perfumes. It is so simple, but this is just marketing genius - exclusive - but not so exclusive that the item is unattainable. Hard to obtain maybe, but priced so that even if you had to save for it, the perfume is attainable, rather than priced out of your dreams. This is simply attainable luxury. Pricier than normal, but nevertheless doable. Available in selected outlets or boutiques, rather than so exclusive you couldn't get a bottle from a major city boutique, or from a top store like Harrods or Bergdorf Goodman. Such perfumes are desirable and are lovely, but always remember that branding and vanity branding is big business. Read about selling the haute couture dream here.
‡‡
I love Chanel perfumes so am pleased to see Chanel have launched a small group of ten exclusive designer fragrances that use rare ingredients. These rare perfume ingredients are also very expensive. The man behind this is Jacques Polge, Chanel's current chief perfumer. It is hoped that this exclusive fragrance collection will prevent regular Chanel perfume wearers from defecting to new lines of other designer brands such as the Private Blend collection noted below.

The Chanel heritage project draws from 4 old scents, plus the creation of 6 new scents. None of the scents are advertised nationally and these designer fragrances will be sold at a limited number of selected perfume boutiques, for example at Chanel boutiques or luxury stores. Because the ingredients are costly, there is only enough produce for a limited production run.
According to the makers, these precious rare scents are to be regarded like expensive jewellery. Many of the Chanel scents are named after places where Coco Chanel lived or worked. All are intended to evoke the haunting spirit of Coco Chanel, her homes and furnishings, her connoisseur personality and the mood of an era.
The Les Exclusif Chanel Range Includes:-
Les Exclusifs de Chanel Bel Respiro - a fresh green scent reminiscent of fresh spring air when all the trees burst into leaf and bud.
Les Exclusifs de Chanel Coromandel - a dry oriental fragrance that is bold and suggestive
Les Exclusifs de Chanel 28 La Pausa - a perfume with an iris note and woody silkiness.
Les Exclusifs de Chanel No 18 - the mingling of rose, ambrette and musk intended to evoke the sensual opulence of Chanel's Jewellery Boutique.
Les Exclusifs de Chanel 31 rue Cambon a bracing chypre style perfume with bergamot and oak moss.
Les Exclusifs de Chanel Eau de Cologne - a citrus go anywhere fragrance
A 200 ml splash bottle of any will start at £120.
These 6 new scents have been re-launched along with these old Chanel favourites from the 1920s - Gardenia, Bois des Iles, Cuir de Russie and that in the know favourite Chanel No.22. Rumour has it that these four are harder to find.
§
Tom Ford along with Armani is also developing exclusive niche perfumes. I like the work of both Tom Ford and Armani who have both been forward looking pioneers in the fashion world in their time. Ford continues to play out even more talents. Ford's new scent called Black Orchid was launched last November 2006, but now he has revealed the project that he has been working on for some time. Tom Ford's latest project is the creation of a library of 12 floral and citrus scents.
In March 2007 sales start of the 12 unisex fragrances which belong to a library of perfumes called Private Blend. The Private Blend niche perfume collection is the brainwave of ex Gucci designer Tom Ford and he regards these 12 scents as his scent laboratory. Ford has collaborated with Estée Lauder Cosmetics to create these 12 new scents.
Orientals - Amber Absolute - Noir de Noir
Florals - Black Violet - Velvet Gardenia
Woods - Oud Wood - Purple Patchouli - Bois Rouge
Tobacco - Tobacco Vanille
Chypre Woods - Moss Breches
Chypre Leather - Tuscan Leather
Colognes - Japan Noir - Neroli Portofino
Selling outlets for the Tom Ford Private Blend collection are said to be very limited to exclusive venues with 1.7 oz of EDP costing $165/£80. As time moves on some of the blends will be removed/renewed so that new blends in keeping with the mood of the times can be added.
So of the new perfumes this year apart from the 2 collections mentioned there are new directions. There is a clear resurgence of specific florals such as rose, iris, gardenia and orange blossoms often blended with citrus and exotic fruits.
Rose perfumes of note old and new include
Rose Absolu - Yves Rocher
Lancôme - Mille et Une Roses
Le Labo's - Rose31
Vera Wang - Truly Pink
L'Occitane - Rose and Reine as well as other rose versions
Aveda - Rose Attar Pure-Fume
Valentino - Rock and Rose
Serge Lutens - Sa Majeste la Rose
Perfumers Workshop (1975) - Tea Rose
Of course the answer to getting a pure rose perfume may be a trip to Bulgaria. Select from the wonderful rose vials on offer there. http://www.bulgarianroseotto.com/ or here http://www.bpg.bg/bulgarianrose/essentialoils/oils/roseoil.phtml
If asked to pick out a perfume for this spring, I would choose either a rose based perfume, a citrus lemon or orange based fragrance; indeed, why not blend them all! And if you want to be ahead of the crowd opt for organic perfumes such as L'Eau de Jatamansi by L'Artisan Parfumeur and available at the L'Artisan boutiques.
Or, create your own perfume blend by using The Body Shop Invent a Scent Collection kit.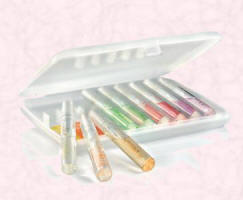 ‡
The Body Shop have a very inexpensive perfume kit selling for just £15. It contains 9 vials of designer fragrance so you can and experiment making your own blends.
The Body Shop tell me "The Invent Your Scent Kit is 100% recyclable after use and White Musk was the very first fragrance to use cruelty free musk. All our store staff are fully trained on each of the perfumes so are on hand to advise customers on how to layer scents, blend, give information on the various notes in each fragrance etc."
The Body Shop say, "All nine fragrance collection is also all available the 'The Collection', a gift box of 3 ml mini vials. 'The Collection' has been especially developed to encourage experimentation and includes the fragrance blends to start you off. It makes a great gift for friends and loved ones, or even better – for you!" I have to say I enjoyed mixing the samples they sent me which were surprisingly sophisticated with all day lasting power. Best of all, none of them got up my nose to make me sneeze for hours after like some modern perfumes do.
Read more about the Body Shop and inventing your own scent here.
Images above courtesy of Harrods and The Body Shop.
Special thanks to David of http://www.prshots.com/ one of the best sources of PR material.
(Page Date 10 Mar 2007)
If you like this page then please share it with your friends
---
For perfumes and beauty pages click below:-
--Link--
Custom Search
About Fashion-Era.com
Fashion-Era.com looks at women's costume and fashion history and analyses the mood of an era. Changes in technology, leisure, work, cultural and moral values. Homelife and politics also contribute to lifestyle trends, which in turn influence the clothes we wear. These are the changes that make any era of society special in relation to the study of the costume of a period.

Fashion-Era.com can take no responsibility for any information on the site which may cause you error, loss or costs incurred from use of the information and links either directly or indirectly. This site is owned, designed, written and developed by author: Pauline Thomas and Guy Thomas. This site is designed to be viewed in 1024 X 768 or higher.
ALL RIGHTS RESERVED. Fashion-era.com reserves the right to add or delete information, graphics and links. Copyright © 2001-2014 on all content, text and images in Fashion-era.com. Images and text in this website may not be used on other websites.
Before you write to me for costume/fashion help or information please, please consult the extensive sitemap which lists all our pages. If you still cannot find the answer after searching the site, then before you email me, please consider if you are prepared to make a donation to the website.
Donations
Reader's donations help this site flourish, in particular donations encourage me to write more articles on fashion history as well as current trends. PayPal allows anyone with a credit card to donate easily and securely. You may donate any sum you feel appropriate.