The History of Caron Perfumes and Fragrance
The Caron perfume house celebrated a century of fragrance last year and have continued to represent luxury and tradition throughout a competitive history. This is brief history of Caron Paris and some of their popular perfumes is sourced directly from Caron public relations department and may be of interest to perfume fans.
The Legend of Caron
The legend of Caron, in typical French fashion, is simply about men, women and that elusive thing called love.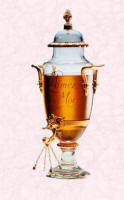 Internationally recognized for its unique blends of pure essences encased in the most luxurious flacons, Parfums Caron offers 34 perfumes (including 13 exclusive Boutique fragrances) reaching both men and women alike.
The picture below is of the New York boutique perfumery salon devoted to the olfactory experience of Caron perfumes. At the salon you can select one of 13 boutique perfumes which are sold and dispensed exclusively at the fragrance boutique from the fountain flacons shown in the second picture.
Founded in 1904 by Ernest Daltroff, Parfums Caron has a rich heritage in perfumery and is still considered a true fragrance house, a distinction very few companies hold. Caron is one of the great Paris houses to still remain entirely devoted to fragrance and one of the last perfume houses to still have an in-house 'nose' (Monsieur Fraysse) - also called a master perfumer. It is the only perfume house that is perfume led, not fashion led.
In 1906, Mr Daltroff was joined by Felicie Vanpouille, a former dressmaker, who would mark her imprint on the company with her whimsical and original bottle design dressed with detailed attention, such as grosgrain and gold braiding.
Joined professionally and personally, their collaboration would create scents including Narcisse Noir (1911), Bellodgia (1927) and for men Pour Un Homme (1934).
The Original Caron Perfume Collection

Narcisse Noir (1911)

Bellodgia (1927)

Bellodgia is a romantic blend of carnation, rose, jasmine, and lily of the valley.
In 1939, Mr Daltroff fled to America to escape persecution and Felicie officially took over the management of the company until her retirement at the age of 92 in 1962!
World famous Caron perfumes include Fleurs de Rocaille created in 1933 and Fleur de Rocaille recreated in 1993.
‡
The Feminine Essentials Caron Perfume Collection

One famous Caron fragrance is Fleur de Rocaille left, a romantic scent with tuberose, carnation, jasmine and notes of honey, vanilla and iris. Pour Une Femme De Caron for Women right has notes of lavender, jasmine, rose, Lily of the valley, carnation, cedar, sandalwood, Tonka and musk.

Aimez Moi (1996) has notes of bergamot, cardamom, anise, vanilla, mint. With jasmine, violet, magnolia, rose, Orris, heliotrope, tonka bean it is a modern perfume.
Caron introduced Nocturnes de Caron in 1981. On a fragrance base of vanilla, amber and vetiver, it has bergamot, mandarin and lily of the valley top notes, with rose, orris and jasmine as middle notes.
Parfum Sacre. Ultra feminine, this fragrance is a floriental blend of spice and florals with jasmine, vanilla coriander and clove. The oriental quality makes it very suitable for evening wear.
1933 brought Lady Caron, a floral fragrance of modern style, with a heart of rose and fruits. It has top notes of absolute jasmine, neroli + magnolia. The base is of sandalwood and oak moss.
In 1998, Mr. Patrick Alès, chairman and owner of Alès Groupe (formerly known as Phyto-Lierac), purchased the venerable house, fulfilling a lifelong dream. His unwavering commitment to providing the highest quality cosmetics, ranging from hair care to skincare transcends today to fine fragrances.
Two of the most popular Caron fragrances are Royal Bain De Caron Perfume and Muguet Du Bonheur Perfume.
The Feminine Timeless Caron Perfume Collection

‡

Royal Bain De Caron Perfume by Caron, was introduced in 1941. It is a subtle, feminine yet casual oriental scent best for evening.
Nuit de Noel is perfect for December days of celebration. It is floral woody and spicy. Deeply complex, it has a sophisticated chypre note.
Infini is an original Caron aroma of 1970.

It has a base of tuberose, hyacinth and lily of the valley.

Muguet Du Bonheur Perfume by Caron, is a timeless fresh floral scent based on jasmine, rose and Lily of the valley. A great scent for everyday use.
Phyto-Lierac, created in 1969, is publicly traded on the French secondary market and is considered amongst the pioneers and leaders in botanical cosmetics.
Parfums Caron joins the group in the fragrance category and is distributed by Alès Group USA, a fully owned subsidiary. Alès Group, opened in 1989, has distributed hair care for the past decade.
You can read more about the Caron perfumes sold today and especially more about the 13 boutique fountain perfumes and fragrance for men at parfumscaron.
NOTE
My thanks to Stacy Gulisano of marketing and promotions at Caron, Alès Group USA for the use of some of the text and all of the images.
Page added 10 Sept 2005
If you like this page then please share it with your friends
---
For perfumes and beauty pages click below:-
Ω
---
---
For superb Victorian or Edwardian
re-enactment costumes in USA, try the reproduction costume range at:
recollections.biz
---
Custom Search
About Fashion-Era.com
Fashion-Era.com looks at women's costume and fashion history and analyses the mood of an era. Changes in technology, leisure, work, cultural and moral values. Homelife and politics also contribute to lifestyle trends, which in turn influence the clothes we wear. These are the changes that make any era of society special in relation to the study of the costume of a period.

Fashion-Era.com can take no responsibility for any information on the site which may cause you error, loss or costs incurred from use of the information and links either directly or indirectly. This site is owned, designed, written and developed by author: Pauline Thomas and Guy Thomas. This site is designed to be viewed in 1024 X 768 or higher.
ALL RIGHTS RESERVED. Fashion-era.com reserves the right to add or delete information, graphics and links. Copyright © 2001-2014 on all content, text and images in Fashion-era.com. Images and text in this website may not be used on other websites.
Before you write to me for costume/fashion help or information please, please consult the extensive sitemap which lists all our pages. If you still cannot find the answer after searching the site, then before you email me, please consider if you are prepared to make a donation to the website.
Donations
Reader's donations help this site flourish, in particular donations encourage me to write more articles on fashion history as well as current trends. PayPal allows anyone with a credit card to donate easily and securely. You may donate any sum you feel appropriate.