Consumers and C21st Perfume Trends
Perfumes and Fragrance Loyalty
Read about general perfume history, some perfumes since 2000 and Caron Perfume History.
Perfumes are a 25 billion dollar industry, yet are one of the poorest performing sectors of the cosmetics industry. The fragrance market is stagnating and is cluttered with new scent products which means there is no longer any brand loyalty. As many as 300 new brands appear every year. Consumers jump with speed to the latest new 'designer perfume' product.
They must have the new perfume and can't live without the fragrance when it first arrives on the shelves. But they soon tire of the perfume and are ever seeking the novelty in an even newer scent.
The older generation, keen to be seen to move with the times, also adopts new fragrances at the cost of old favourites. This means fragrances often only have a shelf life of 3 years.
Launching a new perfume globally can cost as much as $100 million, whilst maintaining the highest profile of a fragrance such as Chanel No.5 also costs money. The Nicole Kidman advert for Chanel No.5 cost £18 million and is expected to be used for 5 years.
Successful fragrances are worth their weight in gold.
Chanel No.5 sells a new bottle of the scent every 55 seconds and has 6% of the fragrance market share. This perfume brand just grows in strength. I'd venture that is because it actually smells like a proper grown up perfume. So many new perfumes just don't beat it as a super scent.
In Britain, hot on Chanel's heels are the perfumes Jean-Paul Gaultier and Eternity, both with soaring sales and both very popular perfumes, each with a 4% market share. Anaïs Anaïs also has 4% market share, but sales of this fragrance are in decline compared to earlier years.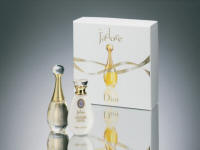 Other major players with 3% market share include fashion perfumes Angel, Coco Mademoiselle, J'adore (in decline) and Allure. Pleasure has a 2% market share making the hundreds of other fragrances just bit players in the fragrance market.
Image right is courtesy of Debenhams a perfect gift for any woman. Dior J'adore 30 ml gift set (30ml EDP and 50ml body lotion) £29.50 at Debenhams.
Perfume brand loyalty is something the younger generation have not adopted and to attract these customers some fragrance houses have fixated on using celebrities. Names like Jennifer Lopez, Britney Spears and Paris Hilton are used on new scent formulations in an effort to revive sales. These perfumes often have short term popularity.
Perfumes are often revamped producing a lighter version. One fragrance that has just had this treatment is the famous perfumes Estee Lauder Youthdew. Under the casting vote of Tom Ford, this old favourite of many has been given a new look and lighter touch. You can still smell a hint of the original Youthdew, but it is no longer so overpowering that you know what the scent is hours later. Yet I think Estee might be horrified at this subdued version.
Others stay true to famous brands like those by the House of Caron which began as a perfume house not as a couture clothes house.
»
It's not just bodies that we like to perfume, but aromatherapy scents used either on the body or indirectly around the home is also big business in the fragrance world.
Scented candles, perfumes for interiors and linens have become a huge home fashion market associated with lifestyle moods and fragrant environments with a feel good factor. It is driven by consumers who want to cocoon at home whilst experiencing relaxation and mood enhancement.
Some of the best perfumed candles you can buy include those by Dyptique, Tocca, Jo Malone, Liz Earle, L'Occitane and Molton Browne.
I have to say the nicest perfumed candles I have tried are Guerlain's Shalimar candle and Jo Malone's Amber and Sweet Orange candle. Real luxury and a heady experience in both cases.
2007 Update - Read more about exclusive perfumes here, The Body Shop invent your scent and fashion trends.
If you like this page then please share it with your friends
---
For perfumes and beauty pages click below:-
Custom Search
About Fashion-Era.com
Fashion-Era.com looks at women's costume and fashion history and analyses the mood of an era. Changes in technology, leisure, work, cultural and moral values. Homelife and politics also contribute to lifestyle trends, which in turn influence the clothes we wear. These are the changes that make any era of society special in relation to the study of the costume of a period.

Fashion-Era.com can take no responsibility for any information on the site which may cause you error, loss or costs incurred from use of the information and links either directly or indirectly. This site is owned, designed, written and developed by author: Pauline Thomas and Guy Thomas. This site is designed to be viewed in 1024 X 768 or higher.
ALL RIGHTS RESERVED. Fashion-era.com reserves the right to add or delete information, graphics and links. Copyright © 2001-2014 on all content, text and images in Fashion-era.com. Images and text in this website may not be used on other websites.
Before you write to me for costume/fashion help or information please, please consult the extensive sitemap which lists all our pages. If you still cannot find the answer after searching the site, then before you email me, please consider if you are prepared to make a donation to the website.
Donations
Reader's donations help this site flourish, in particular donations encourage me to write more articles on fashion history as well as current trends. PayPal allows anyone with a credit card to donate easily and securely. You may donate any sum you feel appropriate.