Plus Sizes - Larger Clothes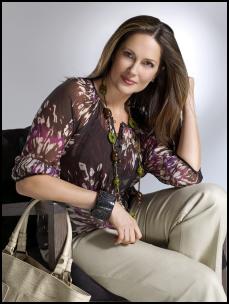 Many individuals have an ongoing battle with their size. There are times when they accept that they are overweight and live with the body they have. Yet there are other times when they adopt the regime of a new diet in an effort to feel better by losing twenty pounds, they may do this for a mixture of psychological or physical reasons.
Some time ago I found myself walking past a larger range of clothes in a store and liking one garment so badly, I felt rather miffed that the range was way above my sizing. The fact is clothes for larger women, or plus sizes, are now far more attractive than they have ever been.
Manufacturers who neglect larger sizes are missing out on a huge retail market. Those who realised there was a big market in the 1990s began producing attractive plus ranges. Plus sizes have come a long way from the 1970s with garments skimpily cut and only being sized up to a size 14 if high fashion. Communal changing rooms were another nightmare. Anyone over a size 16 had no chance of looking in tune with the latest styles. Today most women will be able to find size ranges reaching to size 22 in quality ranges and even greater sizes in garments made in some of the less costly ranges.
Even if you live in a small town, you may still be unable to find sizes to suit you, there are quality fabric garments made for both the shorter figure and the taller woman. You have the choice of shopping directly from the stores in major cities and larger towns, or ordering from the internet. If you are petite you may find my petite fashion trend page and petite problems a useful starting point. You are reading an original Plus Sizes article by Pauline Weston Thomas at www.fashion-era.com ©
Many of this site's visitors are from the USA and some reading this article may be hoping to visit the UK and shop for plus styles, which may just be a little different than usually found at home. Be warned, clothes are comparatively expensive in the UK - that's living on an island for you.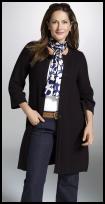 Alternatively, you can look at some of the plus size companies I have selected. I have some examples of Evans fashion in the old spring 2005 page.
Left - Spring 2009 plus size separates from Evans using nautical colours. Above right Left - Fashionable shape tunic top and easy summer trousers from Evans Spring 2009 range.
In the UK, a two-day shopping break in London may well be worthwhile if it enables you to buy some carefully chosen items that make you feel wonderful. But don't forget that the UK now has great shopping centres nationwide. Some venues like The Manchester Trafford Centre or shops in Leeds, Newcastle and Cardiff offer a range of clothing easily able to rival many a shop in London.

Selfridges in particular stocks Marina Rinaldi and other plus sizes such as Anna Scholz. This plus size area of the store was refurbished a couple of years ago.
Harrods used to have the widest selection of top end Plus sizes, from a wide range of stockists. According to a knowledgeable plus size retailer who wrote to me in 2011, "Harrods have chopped their physical retail space allocated to plus sizes by half. Harrods have reduced their Marina Rinaldi and if London customers want brands such as Persona by Marina Rinaldi, Wille, Elena Grunert, Yoek they will have to look elsewhere."
If you are a size 18 Harvey Nichols is always worth checking out if only by phone for current stock as some better quality items are cut generously. You may get a suitable fitting with an 18 fitting a normal size 20.
Get ready for summer with plussize-swimwear's amazing collection of large swimwear available upto size 32. If you're one of the lucky few to have a big bust, you should check out plussize-swimwear's range of bra cup size swimwear, available from the top plus size lingerie brands including Ballet, Panache and Fantasie.
Dusk, Coterie and Frank Usher, are all part of the Frank Usher group 020 7629 9696 and you can visit their web site for details of stockists near you. Also online you can see beautiful garments with their prices listed. However, you can only buy garments directly from stockists not online. www.frankusher.co.uk is well worth a visit.
Back in the summer of 2004 they launched a new collection with sizes 16-26 called Quintesse. You can see some Frank Usher on site here. This older (2006) page looked at typical Frank Usher occasion wear for formal events and weddings.
Coterie is a range of clothes perfect for any mother of the bride who ranges from a UK size 10 to 22. Dusk has styles that expose more of the body and range from sizes 10 to 18, whilst the original Frank Usher range has some garments that stop at size 18, some that finish at 20 and others that go up to size 22. You can see all of these ranges on their website above. Frank Usher is a division of Slimma PLC.
‡‡
Ann Harvey 020 7408 1131 is part of the same group as Alexon, the more fashionable Alex and Co., Kaliko, Minuet, Dash, Bay and for the older more petite to average height woman Eastex. They have a good selection of clothes for the larger lady from size 16 to 28. Some of the Ann Harvey knitwear is very interesting and more youthful compared to other large sized ranges. Ann Harvey has some shops and also concessions within department stores in the UK.
One advantage of belonging to a group that has trend driven occasion garments such as those found at Kaliko is that designs do transfer into other ranges. One October I noticed a Kaliko rich dark green velvet knee coat with a decorative hem. It was I'm sure intended for winter weddings or evening wear. I mention it here though because Kaliko mostly stop at size 18 and I can imagine how frustrated some shoppers must be when they see lovely clothes, but not in their size.
So it was a pleasant surprise for me to be able to report to you that in another section of the store at Ann Harvey a similar garment was available, but up to size 28 and in rich brown velvet. Ann Harvey also had jackets and other items with sufficient fashion twist in a wide range of larger sizes. I do mean wide, starting at a very generous size 16 to a size 28.
Windsmoor
Windsmoor make many of their garments from a size 10 up to a size 20, some go to size 24 - UK sizing. These garments are particularly well cut for mature figures and larger woman. The garments will often give a figure where none exists. Jackets are very figure flattering and the items wear very well as Windsmoor uses very high grade fabrics. These two dresses right are both from the Spring Summer 2009 range, both go up to size 24 and each is made from silk. The cream and navy print dress is also washable. The deeper blue dress trimmed with grosgrain is dry clean.
A great up to date hairstyle and dramatic large chunky necklaces or tribal bead jewellery will soon make these easy line dresses look very 2009. Blue is such a strong colour for 2009 you would not go wrong with these prints. The cut of the clothes flatters larger women and the quality of materials used is reliable.
You can often find very pretty tops in this brand, with intricate surface embellishment or textural fabric. In spring 2009 Windsmoor were selling some lovely vibrant linen knee length Nehru jackets perfect for creating long smooth lines.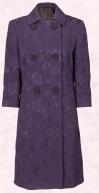 They have a good range of occasion wear outfits for the larger woman in many of the fashion colours seen elsewhere in smaller size ranges. Any larger lady would feel very special wearing such garments.
By autumn 2006 Windsmoor had cottoned onto lush brocade fabrics and cocoon styling in coats and jackets. In 2009 they have a stunning brocade purple frock coat. It has beautiful self colour embroidery, 3/4 sleeves, a small back vent and ornate corded buttons.
Windsmoor can mostly be found as concessions in UK stores such as House of Fraser, Debenhams and other department stores. They are mostly stocked in major cities where some sole Windsmoor shops also trade, but occasionally you will find them in small boutique shops. Some of the colours currently in the range are bold and strong favouring fuchsia, azalea, guava, burnt orange, coral, red, black, white, navy, cream, lilac and purple. You are reading an original Plus Sizes article by Pauline Weston Thomas at www.fashion-era.com ©
‡
High street chain Dorothy Perkins also now has a plus range size with a core collection which ranges between sizes 8 to 22 as well as a tall range from size 8 to 22. It does maternity wear from size 8 to 22. When I last checked (Feb 2009) they had bootcut jeans and dresses both in size 22. They also do a petite collection size 6 to 18. Ring 020 7494 3769 or try their www.dorothyperkins.co.uk website for more info.
Perhaps in the UK the most famous of plus size shops is Evans who before the days of political correctness was known as Evans's Outsizes and had carrier bags suitably emblazoned with the fact. It amazes me they ever sold anything with a marketing technique so lacking in finesse.
Since then they have come such a long way and much of it is due to their being part of the Arcadia group.
The outfits shown here are from Spring 2009 range and pay homage to shorter hip length colourful Macs and kimono sleeve printed caftan tops.
There are Evans branches in most average size towns and they now have shop on Regent street London.
www.evans.ltd.uk shows the range on line and is soon introducing a catalogue for those wanting to buy size 16 to 32. This makes it a shop stocking possibly some of the largest clothes and underwear in the country.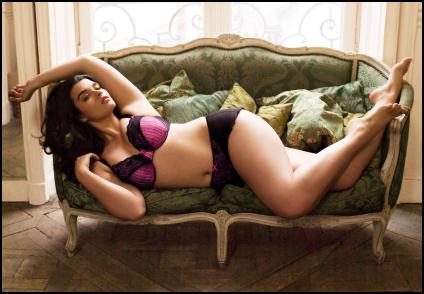 In particular Evans sells a collection of underwear for the fuller figure and as shown above. These undergarments are from Evans spring 2009 range. Clearly big girls have bodies to be proud of at Evans and can own pretty provocative underwear to match.
Marks and Spencer have a broad range of fuller plus sizes. However many have to be bought either in the larger stores or ordered. An alternative is to shop from the Marks and Spencer website and look at the plus range there where they have garments size 20 to 28.
Marks and Spencer currently have on offer an ever useful plus size leather jacket.
Many items such as trousers are available up to size 30 and in several body length fittings.
And if you are just a bit smaller consider their normal range at size 18 or 20. Per Una for example runs to size 20 and XL in knitwear
.
The newer Portfolio Collection is catering to some larger garments and is also using a larger fuller figure model to show them. This outfit left is from the Marks and Spencer Portfolio collection which goes up to size 22/24 and items reaching size 22 can often be had from the Autograph range.
For summer 2009 Marks and Spencer also had a bandeau swimsuit in bright blue and black up to size 28. From April 2009 Marks and Spencer also had a Plus Size Bridal collection. You are reading an original Plus Sizes article by Pauline Weston Thomas at www.fashion-era.com ©
Designer Plus Sizes
...(v4r)
If you love designer clothes then Marina Rinaldi of 39 Old Bond Street, London SW1 makes clothes up to size 28.
In Scotland you can get Marina Rinaldi/Persona garments in Edinburgh at 17 Stafford Street, Edinburgh. EH3 7BJ - M.R.Studio Ltd - Tel Number 0131 225 8566. You can also purchase Marina Rinaldi from Beige Plus just below.
Harrods used to have the widest selection of top end Plus sizes, from a wide range of stockists. According to a knowledgeable plus size retailer "Harrods have chopped their physical retail space allocated to plus sizes by half. Harrods have reduced their Marina Rinaldi and if London customers want brands such as Persona by Marina Rinaldi, Wille, Elena Grunert, Yoek they will have to look elsewhere."
UK Independent Plus Size Retailers
Beige is the largest Ladies fashion boutique for 16+ in North London. Beige Plus is at 8 Hallswelle Parade, Temple Fortune, Finchley Road, London NW11 0DL. It provides gorgeous clothes for business, pleasure and leisure. The garments are carefully selected from the finest Italian, French and Spanish collections.
They are stockists of N.P. Elena Miro, Wille, Persona by Marina Rinaldi and many more! They provide comfortable surroundings, complimentary refreshments and an excellent alterations service as part of the Beige experience. The shop is open 7 days a week and it is easy to park. www.beigeplus.com Tel 020 8455 1122. Map to new shop venue site: http://www.beigeplus.com/map.htm .
Update Nov 2007 - The owner tells me that Beige Plus has opened a new branch in central London http://www.beigeplus.com/About.htm In addition to smart-day and casual-wear Beige Plus (Central London) carries eveningwear, mother of the bride, special occasion and business suiting.
But more importantly,from November 2007 for those who cannot get to London, Beige Plus has opened an e-commerce site http://www.beigeplus-shop.com/ In October 2010 The owner told me that he had archived the plus size images of the past six seasons and this will over the years form a fashion history record of typical plus size wear fashion trends.
Box 2 is a quality plus size shop selling quality women's plus size clothing from size 14 to 30.
In October 2011 they were operating from 2 outlets in the UK. Their telephone number is 01444 882727 and the current shop addresses are featured on their web site. The website enables you to purchase by mail order by fax phone or email, with a £4.95 delivery charge. You can also order their snail mail catalogue.
One of the original Box 2 shop is at West Wimbledon at 267 Coombe Lane, London SW20 0RH, Tel: 0208 947 9797.
The other shop is at
Box 2 Kings Langley, 57 High Street, Kings Langley, Near Watford, WD4 9HU - Telephone: 01923 264743.
The range of plus size women's wear shown on the website illustrates a sample of styles to suit all age groups. I noticed day and evening wear, jackets and leather items, special occasion/wedding wear, bags, shawls, pashminas and accessories including some fashion jewellery items and Trinny and Susannah products.
In particular I liked the fact that they have tuned into current fashion trends and display 'now' items for really large sizes up to size 28. Many plus size women will adore these stylish looking clothes and heave a sigh of relief when looking for a special or everyday outfit.
But best of all the clothes are modelled by genuine fuller figure women who all have achieved a glamorous and comfortable at ease with themselves look. The models are all between 5'7" and 5'10" so these are super sizes that suit tall women too.
Check out their website at www.box2.co.uk Amended 1.10.2010. Added 07.08.2004
...(v4r)
Base fashions 020 7240 8914 specialise in styles sizes 16 -28. This London based independent retail store at 55 Monmouth Street in West 2 also has a website www.base-fashions.co.uk The fashions are designer led and on the site look lively and innovative.
French and Teague is for those over size 16 and was so named because 47% of the UK female population is over a size 16 yet until recently very badly catered for clothes wise. To get an idea of the kind of body the clothes can accommodate just think of Dawn French who is one half of this partnership. They trade only over the internet at their website sixteen47.
They say their sizes range from 1 to 6 which must be thrilling for anyone used to seeing size 28! They suggest size 1 will suit anyone from size 16-20. That size has a bust of 42 and a hip of 44 inches. They go right up to 1647's size 6 which will suit anyone from size 36-47. The latter size has a bust of 66 and a hip of 70 inches. You are reading an original Plus Sizes article by Pauline Weston Thomas at www.fashion-era.com ©
1647 also now do a wedding bridal dress service for plus sizes, but you must allow several months for the wedding gown to be made and be prepared to return for at least one fitting. Prices start at £1500+.
Check out their website at www.sixteen47.com.
I have also discovered that Silkies who run a mail order system also make larger and taller tights up to 64inch hips. You can often find leaflets for these in magazines and although I take a medium not a plus size I have found them to be fantastic tights well worth the money. Silkies in UK have just (April 2005) put up an internet site and you can now order online or still use the mail order facility.
In London only at Brava at 26 Buckingham Palace Road you can find bras for bigger girls up to size 52".
...(v4r)
Lands End, Bravissimo, Larger Than Life, Sizeup
A site visitor wrote to tell me that Landsend.co.uk extended their plus size range in February/March 2004. She also tells me she really likes their basic T-shirts and shells, and wears their V-Neck interlock cardigan and matching trousers as a casual suit for work. A petite friend also recently told me this is one of the few stockists of very small clothes for adult women.
Bravissimo
She also likes bravissimo.com for large-cup bras that so many large ladies need. Although they do mail order, they do have shops and the fitting rooms and assistants are wonderful. I noticed one of these lovely shops in the Touchwood Centre at Solihull, UK. Solihull (outside of Birmingham) is a really lovely town to shop with lots of variety, without feeling this is an overwhelming big city like one does when in London. Likewise Cardiff is another excellent shopping centre and I recommend both to you for their easy compact shopping.
Figleaves also have a large range of cup sizes. I have personally used Figleaves internet site many times for ordering brands already known to me, but in never available sizes at a shop.
Larger than Life
Another site visitor has written to say how pleased she was when she visited a plus size shop in Kew. The shop is Larger than Life at 3 Mortlake Terrace, Mortlake Road, Kew, Richmond, Surrey TW9 3DT. They have two shops and stock sizes 14-24.
The site visitor was very impressed with the very approachable manager on two different occasions when she was helped to find special outfits. The owner gets much of the stock from the continent so it has that European edge that so many of us like when we are on holiday abroad.
Rigby and Peller
Jean another site visitor has written to tell me that Rigby and Peller - Conduit Street (off Oxford Circus in central London) have a good range of large swimsuits and bras. They have a free measuring service which is discreet. It all happens in a lovely shop with crystal chandeliers and tented ceilings!
Sounds great news for big girls who can get to London. Rigby and Peller bras are wonderful for any size. If you can afford about £50 to £65 you can find a great sexy bra there that will uplift and contour your breast to perfection. Go on spoil yourself. You can buy certain sizes from the Figleaves internet site by clicking below.
Finally I heard recently from Katrina who told me about these sites for plus sizes. She wrote to tell me of www.grayandosbourn.co.uk as quite expensive, but they have really brilliant sales every quarter if you sign up for their catalogue. http://www.spirito.co.uk - same as above.
Ulla Popken can now be ordered online from UK. Katrina wrote that they all sold really decent suits perfect for business wear at work and I must say they do look like attractive suits. The last one also had a swimsuit size 26 in stock at the time of writing. You are reading an original Plus Sizes article by Pauline Weston Thomas at www.fashion-era.com ©
Yours (formerly Size-up) invited me to view their website. For plus sizes, it has some nice tops and denim pieces all UK sized 14-32 at very reasonable prices. These items are affordable and easily compare price wise to New Look or TopShop prices. They certainly cost a lot less than most of the items at some of the other retailers mentioned here.
A site reader wrote to tell me that 'Size-up have changed their name to Yours. They have an expanding number of stores mostly across East Anglia but are slowly heading northwards and there are some stores in Lincolnshire and one or two around Leicestershire and Rutland. Their web site is fair, but does not reflect the much wider selection of good quality, well priced clothing to be found in their stores. They do a really good range of separates both casual, office wear and party wear along with a selection of lingerie in a wide range of sizes from 16-32 and occasionally 34/36. Stock changes frequently and I would single out the Braintree in Essex branch as well worth a visit with friendly staff and fantastic choice. The quality of fabrics, colour choices and finish is very good for such value prices. I would put them above both Evans and H&M Hennes for quality, choice and value for money.'
Anna Scholz recently wrote to tell me about her plus size products in the size range 8 to 26. You can find her clothes at her site here www.annascholz.com or purchase them at Selfridges or Harrods.
Elvi has come out of the administration it went into in 2008. The new Elvi website is here. For historical purposes this link give Elvi information about that. http://www.guardian.co.uk/business/2008/feb/10/retail.clothes.
How good it is to know this company has been saved as it offered viable alternatives for large women.
Etam another victim of the late noughties recession was bought by Philip Green and drawn into his vast empire whilst dropping the Etam name.
-------v6-------
Updated 1 Dec 2011.
You are have been reading an original Plus Sizes article by Pauline Weston Thomas at www.fashion-era.com ©
Images courtesy Marks and Spencer, Windsmoor, Evans.
Click here and download your Full Version of the Fashion Drawing Female Outlines eBook for only $9.95.
If you like this page then please share it with your friends
---
For related information go to:-
--Link--