The Queen Mother's Clothes
Lady Elizabeth Bowes Lyon was born in London, UK in 1900 and died in 2002 as Queen Elizabeth, The Queen Mother.
This picture was taken when she was a young child.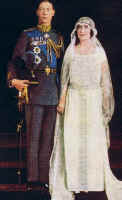 She married the Duke of York on January 13 1923. On marriage she became the Duchess of York and fulfilled her first marital duty by bearing him two girls in the early years. When her husband was crowned George VI in 1937 after the abdication of Edward VIII she became his crowned Queen Consort. Her first daughter Elizabeth became Queen of Great Britain and the Commonwealth in 1952 and was crowned in 1953.
This is the wedding photograph of the Duke and Duchess of York on their wedding day. The dress was designed by Madame Handley Seymour a former London court dressmaker to the dowager Queen Mary. The dress followed the essential fashions of the day, but has never been considered memorable for its beauty.
In 1923 the fashions of the day were not only straight and fairly shapeless, but had also cast aside the frills, fabrics and bows of a lost era. The classic simplicity of the much copied designs by Chanel did not suit the rounded curvy figure of the duchess. She looked far better in softer more feminine clothes than the boyish fashions of the day.
Motherhood rounded out her figure even more and although she was charming, pretty, captivating and the right material for a wife of the grandest sort, she was not a naturally glamorous chic woman compared with picture perfect contemporaries of the era.
The continental Princess Marina the Duchess of Kent exuded a classy style that was hard to beat. Likewise comparisons were made between the then Duchess of York and Wallis Simpson, the amour of the Prince of Wales. The latter woman made the famous remark "you can never be too rich or too thin", which is one the Duchess of York would certainly have felt directed at her.
In an effort to establish a distinctive fashion style the new King and Queen soon summoned Norman Hartnell into royal service.
‡‡
Norman Hartnell had a dressmaking business operating from four small rooms in Bruton Street in London. On his first visit to Buckingham Palace in January 1937 the new King showed him several Victorian Winterhalter paintings leaving Hartnell with a strong an impression that they should be the source of inspiration for designing the new Queen's evening gowns.
The Queen's new crinoline style evening gowns were first seen in public in November 1937 and they flattered her enormously, bringing an elongation to a body not as model like in real life as sketches by Hartnell suggested.
In the summer of 1938 Queen Elizabeth's mother, Lady Strathmore died. A state visit to Paris was already planned and after a brief delay it went ahead a few weeks later. In that time Hartnell and his team worked around the clock to to reproduce a new wardrobe based on more than 30 designs already prepared in a range of colours. The new order was now made up totally in white, an alternative royal mourning colour.
The Queen Elizabeth charmed the Parisians with her fresh perfect complexion and the layered white floaty dresses in styles that suited her and made her look a picture of assured confidence in the French sun. The theatrical sentimental styles suited her well and she never abandoned them once their success was well established.
Parisian approval and a realization that the calculated sentimental look had worked, was more than enough for any Queen. She understood public relations and thereafter continued to dress in a style that suggested wholesomeness, steadfastness, warmth, sweetness and lovability. She became what she invented, a picture that said goodness and stability.
Inevitably photographs of her by Cecil Beaton wearing the Hartnell creations helped create a more enigmatic vision in the public's eye. It's alleged that she was not averse to a little airbrushing to help define her waistline in the cause of good public relations.
‡‡
Hartnell was less successful in transforming the new Queen into a daytime mannequin. Her diminutive height, short legs and less than slender ankles made it hard for him to transform the matronly appearance into the model look chic of his sketches. She was still something of a sartorial challenge in everyday clothes. Rescue came in the form of wartime austerity.
The Queen decided to pare down fussiness in her clothes and follow government guidelines for dressing down in a Britain making do with clothing coupons, regulated cloth, seams and trimmings. She toured bomb damaged sites in coordinating but simple unfussy outfits, usually of dress and matching coat and hat, that any groomed woman of standing with money might have worn. The clean lines of the daytime clothes won out where clothes designed for a woman with the figure of a slender, but untouchable film star had not.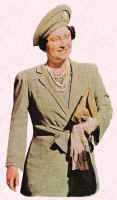 Queen Elizabeth's new clothes for day were often in lighter colours and were embellished in a less ornate way. Click the thumbnail below to see the detail of drawn thread work on the Khaki coat. It is so subtle, yet so stylish in a classic way and would not have caused offence to anyone in uniform as conspicuous wastage or conspicuous consumption. Right - The Queen Mother when Queen in simple day dress.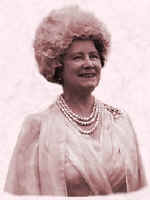 Well after the war she followed her instinct and favoured matching coats and dresses. Almost always they had a V neckline that elongated her neckline, providing a setting for her famous jewellery whether pearls or sumptuous parures.
As she aged certain features became usual. For example soft pleats or gathers from the shoulder that suit a more matronly silhouette and a body that is essentially being pulled down by gravity. Sleeves were often three quarter or elbow length and designed to draw attention to interesting edge finishes and take the eye away from the figure. Feather hats, swathes of chiffon and beautiful artificial flowers amid sweeping brims continued to mark her style until her death at 101 years of age on 30 March 2002.
Left - The Queen Mother in her own style.
Looking for a colouring in picture - Golden Jubilee Colouring In Coronation Dress Picture
Link to State Apartments, Kensington Palace web site
If you like this page then please share it with your friends
---
--Link--
For more information about the Royal Clothes click on the titles below:-