Pauline's Best Chocolate Brownie Cake Recipe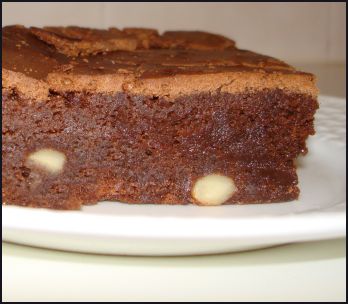 Pauline's chocolate Brownie Cake recipe makes a soft, dense, moist and delicious gooey Brownie. You can see a picture of a section of the last Brownie cake I made left. The interior is soft and dense and the top gently crusted. This is my favourite Chocolate Brownie Cake Recipe.
Over the years we all try many Brownie recipes, but this is still the one my family like best. This is the Brownie Cake Recipe my sister and her children used to make together 25 years ago and still make today. There is never any left after any crowded occasion. We try others, but always return to this particular Brownie recipe, since it always leaves us feeling we have died and gone to heaven, but still have life left in us.
Fellow foodies love this mouth-wateringly delicious Brownie cake too. Chocoholics always want a piece to take home.
When the Brownie cake is well wrapped it still tastes good several days after baking. It will have you clamouring for more. It is so hard to resist a second slice. Once cooled I cut this cake immediately into 2 halves and package one half for the freezer in double polythene bags. The Brownies will freeze well for 2 months. Sometimes I freeze 2 or even 3 quarters of the cake, otherwise naughty me can manage to eat the whole Brownie Cake in a day or two, without any help. Self control will be required and I suppose this is the ultimate treat before starting the latest diet.
In this chocolate Brownie recipe, I use a 200gm bar of Cadbury's Bournville (60% dark) chocolate. I sometimes use dark chocolate from Green and Black's (70% dark) and I also like Lindt dark chocolate. All make a delicious Brownie cake. However, in my opinion the Cadbury's Bournville dark chocolate makes just as satisfactory a Brownie cake as the others, and the Bournville chocolate bar is less than half the price of the Green and Black's bar.
In March 2008, a 200gm bar of Bourneville chocolate cost £1.12 at Tesco, whereas Green and Black's bar was £1.28 for only 100gm. Moreover, by using the Bournville chocolate you would save a 100+ calories in the recipe. Check the label backs for calories as well as cocoa mass. The Green & Black's 85% dark chocolate has even more calories, so don't let the chocolate snobs get to you, try the Bournville dark. Bournville is really very good in cooking.
On one occasion when I had no choc bars in the goody drawer, I experimented with this particular recipe by substituting pure cocoa powder, but we found the result unpalatable. Just get the bar of chocolate or use a different cocoa based recipe. I have not yet had chance to experiment with Willy's Venezuelan Black chocolate. If you wish to use that I suspect it might be best to stick to their recipes for that product, as much less would be required for a 100% chocolate base product.
I estimate my recipe ingredients costs just under £3. These days this is barely the cost of one slice of cake out in a tea or coffee shop. Before I added up the cost by checking prices at Tesco online, in my mind I had always seen this as an expensive Brownie recipe. But the truth is this is a very cheap inexpensive Brownie recipe and a super after dinner dessert, or pudding if served warm.
I have also calculated that this whole Brownie cake contains about 3600 calories and each one twelfth of the cake would therefore be 300 calories. But with careful slicing you would produce far more than 12 portions from the 9 inch tin size. The addition of a 15gm tablespoon of crème fraiche would also bump up the calories by 50. When served at the end of a meal, cut the Brownies into narrow portions as this is a rich cake. Since you can also freeze it, it's worth the effort and satisfaction of making your very own Brownie Cake.
For Easter you could decorate the cake top with toasted flaked almonds, set in a circle and fill with small sugar coated chocolate eggs.
For Easter Brownie Bites, you could cut the cake into small pieces and shape them into a nest with your thumb and fingers. Then roll the pieces in plain or toasted coconut shreds, chocolate vermicelli or slivered toasted almonds so they look like a nest with a small sugar coated speckled egg on top. Whatever version you try, place the mouth size Brownie bites in paper cases.
For Christmas this Brownie Cake could be baked ahead either the day before an event, or frozen a week earlier. The top can be dusted with icing sugar and smothered in white chocolate stars, covered in gold or silver sugar almonds, or even candied orange peel pieces dipped in dark chocolate. If your Brownie Cake has not cracked too much, you could also pour a chocolate ganache over the surface and allow that to set, alternatively, serve a loose ganache as a chocolate sauce. The cake can also be cut into small pieces and served as cocktail Brownie bites as above. Use silver foil cases.
Pre-heat your main oven at Gas Mark 4, or 180deg Centigrade, or 360deg Fahrenheit.
Butter a 9 inch round spring form tin and insert a cut-to-size circle of baking parchment or greaseproof paper. If you have time you can line the inside of your tin with paper too. I prefer pre-cut 10cm parchment paper from Lakeland. For the time saved, perfect pre-cut paper circles and loaf tin liners are well worth the extra cost.
I line the sides of this particular tin, which I've owned it 35 years. Good quality baking tins do last, but of course they do go to look rather battered. The beauty of a spring form tin is that it is not essential to line the sides. It should spring open when the hinge is released. But even the best plans sometimes go awry, and I find the paper helps the cake volume to maximise and helps prevent the Brownie cake edges charring.
Butter the top of the paper circle and then dust it with a teaspoon or so of cocoa powder. You could use caster sugar if you don't have cocoa powder.
A 9 inch round tin makes a baked cake with about 3 to 4cm depth. An alternative tin would be a DEEP 8 inch square loose bottom tin. When baked, this is substantial large cake that serves many. Since it is so rich, a small portion is often enough, especially after other courses of a meal.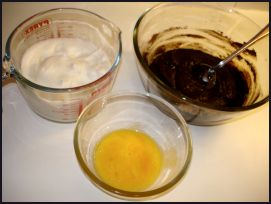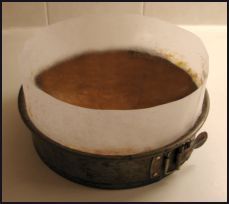 Above - The whipped egg whites and forked yolks are ready for the final folding into the melted chocolate Brownie cake mixture. The picture on the right shows the Brownie mixture in the tin.
200gm/7 oz good dark chocolate such as Bournville 60% Chocolate or 70% dark quality chocolate
200gm/7 oz Caster sugar or soft brown sugar
175gm/6 oz Butter – I use Lurpak slightly salted or unsalted butter and it is always fine whichever I use
60gm/2.5 oz Plain flour
3 Eggs size 1 (large) or use 4 medium eggs
Optional - 30-50gm/1 or 2 oz chopped hazelnuts/brazil nuts
As with all cooking, a few optionals are important for practical purposes. For example, I like my eggs to be room temperature, I will use either salted or unsalted butter. I add more or less eggs according to their size as above. Note - Do not exchange the chocolate bar for cocoa. The result does not work with this mix.
Chop the nuts and sift the flour.

Break the 200gm bar of your chosen dark chocolate into pieces, and then place in a large Pyrex bowl.

To that bowl of chocolate, add the 6 ounces of butter and 7 ounces of caster sugar.

Place the Pyrex bowl in the microwave oven and START to melt these 3 ingredients altogether for about 1 minute 40 seconds in a 900w microwave. Your microwave may take less or more seconds. At this stage some of the broken chocolate will still be in lumps, but the residual microwave heat will continue to melt the chocolate.

DO NOT OVERHEAT THE CHOCOLATE. PAULINE'S TIP: USE 10 SECOND BURSTS. (Should the time below appear insufficient after the stirring stage below.)

Remove the bowl from the microwave oven.

Now stir the 3 ingredients until the chocolate lumps melt completely into the butter and sugar mix. If a microwave is unavailable, melt the chocolate, sugar and butter in a Pyrex bowl, set on a saucepan of hot water.

Leave this basic chocolate mix to cool for a few minutes.

Next separate the yolks from the 3 eggs into a small cup or dish.

Beat the 3 whites until the whites stiffen to form good whipped peaks. Make sure you use a spotlessly clean, grease free bowl. Residual grease on the bowl will prevent egg whites from whipping; for the same reason avoid older eggs.

Use a fork to mix the beaten yolks into the cooled chocolate mix. If you use the electric beaters at this stage the chocolate mix clings like glue to them and becomes more difficult to remove.

Gently fold in the flour and nuts using a figure of eight folding movement.

Now add a couple of spoons of the whisked whites to slacken the mixture. Stir until the mix flows.

Lastly, gently fold the remaining whipped whites into the chocolate mix until whites are not visible.

Pour into your tin.

Bake your chocolate Brownie cake in the centre of your main oven for about 35 to 40 minutes until the skewer is clean when removed from the cake centre.

Rising is not essential. The top will most likely have a lightly cracked appearance that may fall back as the cake cools.

Leave to cool in your tin until cold.

Serve the Brownie cakes with or without crème fraiche. Alternatively, cut in small pieces and serve as petit fours.
This is an addictive Brownie that gives a cake depth of about 3 to 4cm. I almost always bake my cake for 37 minutes. Your oven may be different so after 35 minutes do check the cake's texture every 3 minutes with a skewer. You may need to bake your cake under or over by a few minutes according to your oven, but should get the timing perfect for you with 2 goes of making it. The slice of Brownie cake in the picture was baked 37 minutes on a middle shelf at C180deg. Try to make a note of the shelf you bake your cake on for next time.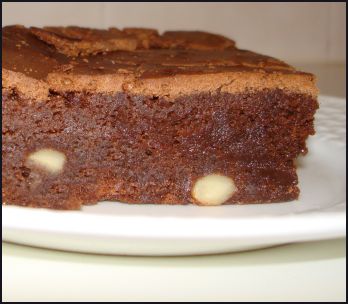 These Brownies freeze very well, so they are a good standby to make ahead of any event. What a good job that I can go and defrost a quarter of a Brownie cake to have as a treat later today.
‡
This page has been about making a great Brownie cake which can be served as an after dinner dessert or pudding, a teatime tray slice, a coffee morning cake or a naughty, but nice Easter or Christmas goodie. You probably have every ingredient already in your store cupboard to make a good Brownie cake, so go get cooking.
If you'd like to try more of my sweet recipes I have had many visitors commending my mince pie pastry, Christmas puddings and fruitcake recipe.
Date Added 20 March 2008 - Ref P.677.
See Topics Below for More Ideas on Christmas Traditions, Customs, and Recipes
Christmas Crafts

Seasonal Humour

Christmas Traditions
Custom Search
About Fashion-Era.com
Fashion-Era.com looks at women's costume and fashion history and analyses the mood of an era. Changes in technology, leisure, work, cultural and moral values. Homelife and politics also contribute to lifestyle trends, which in turn influence the clothes we wear. These are the changes that make any era of society special in relation to the study of the costume of a period.

Fashion-Era.com can take no responsibility for any information on the site which may cause you error, loss or costs incurred from use of the information and links either directly or indirectly. This site is owned, designed, written and developed by author: Pauline Thomas and Guy Thomas. This site is designed to be viewed in 1024 X 768 or higher.
ALL RIGHTS RESERVED. Fashion-era.com reserves the right to add or delete information, graphics and links. Copyright © 2001-2014 on all content, text and images in Fashion-era.com. Images and text in this website may not be used on other websites.
Before you write to me for costume/fashion help or information please, please consult the extensive sitemap which lists all our pages. If you still cannot find the answer after searching the site, then before you email me, please consider if you are prepared to make a donation to the website.
Donations
Reader's donations help this site flourish, in particular donations encourage me to write more articles on fashion history as well as current trends. PayPal allows anyone with a credit card to donate easily and securely. You may donate any sum you feel appropriate.
For superb Victorian or Edwardian
re-enactment costumes in USA, try the reproduction costume range at:
recollections.biz
--x2--