Regency Taste - Fashion History
Jane Austen wrote six novels published during the Regency period and between 1811 and 1818. The characters are not fabulously rich, but have a comfortable homelife and are wealthy enough to live virtually uninterrupted lives of leisure.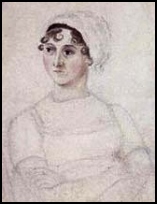 Their roles are played out in the drawing room, the assembly room, the Parsonage or Rectory, the fashionable street for promenading, or the grounds of the country house.
Her characters spend their time reading, writing letters, walking, riding, dancing, playing cards, listening to music and enjoying the art of conversation. Their conversation speaks of their own safe and comfortable society. They talk about fashion and taste, about acceptable manners and unacceptable behaviour. Above all else, their conversation concentrates on thoughts of love and marriage. Their mothers despair for the lack of suitable suitors.
Surprisingly Regency women of this era have opinions and a knowledge of the facts of life that were denied to later Victorian women. It would be wrong to suggest that all people enjoyed the kind of lifestyle of Jane Austen's characters. Possibly well over half of Europe still lived in discomfort, working hard, living poorly, outside of fashionable clothing and often going to bed hungry.
To learn more about Jane Austen when in Bath you may enjoy a to visit the Jane Austen Centre, see the small museum, browse the book shop and also take tea and light refreshments at the centre.
See the names of Jane Austen's six books in the section Contemporary C19th Books.
‡‡
Fashionable young ladies were the core ingredients of Jane Austen's world. When Jane Austen wrote her novels, Bath Spa town was still Britain's most fashionable health resort. Today it is considered a beautiful city, but in the time of Regency England it must have seemed the finest city of the world and an example of refined taste.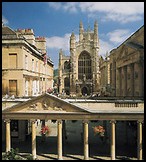 Bath town had and still has, colonnaded crescents of immaculate proportions, squares and streets. During the Regency Bath Spa oozed classical grace and proportion, then and now. Right - Architecture in Bath
Earlier in 1705 Beau Nash had become Master of Ceremonies at the Assembly Rooms in Bath. He laid down rules of etiquette relating to behaviour and acceptable dress. By 1730 Bath was the most fashionable city in England. It held this position until the Regency Era, by which time it was highly established as the place to be seen.
In the name of refinement restraint was more evident than ever before. Fashionable women shed their hoop skirts and their high wigs.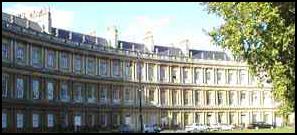 Make up usually made of lethal ingredients was discarded. Hair powder was abandoned for fresh clean washed cropped hairstyles. Blatant use of jewellery was soon seen as vulgar and outdated.
Soon much simpler styles of dress in plain cotton fabrics resulted in a fresher less artificial look and became quite usual. The simple clothes worn by fashionable women and men were in perfect parallel with the classical mood of the Regency era homes and the delightful streets Austen's characters occupied. Left - A part of the curved circus area.
...(v4r)
Earlier in the late 18th century, a similar move to an uncomplicated taste had taken place in other things including furniture, ceramics and silver. Previously heavily decorated objects had dominated rooms. These were called 'Rococo', a taste that sprang from the French word 'Rocaille' which literally meant rocky or shell encrusted and which flourished between 1730 and 1780.
Adam's influence meant that Rococo waned and was replaced by more delicately balanced items, so that the house and the objects were harmonious. The Age of Adam coincided with the early stages of industrialization so that people like Hepplewhite, Wedgwood and Boulton were greatly influenced by the spirit of Adam.
By the early 1800s even Adam was thought too fanciful and decorative.
Connoisseurs began to look to Greece rather than Rome for inspiration. Greek design was thought purer and simpler than Roman sources. The Greek revival was boosted in 1806 when Lord Elgin brought pieces of the Parthenon from Athens to London. Suddenly the vogue was for every item in interiors to be Classically Greek. There had to be Greek styled tables, chairs, coaches, wall hangings, pottery and silver all following the clean simplicity of pure Greek palaces.
Most of the classical buildings erected during this time culminated in John Nash's improvements in Central London which began in 1811. They included 'The Royal Mile' that cut through London town in an uninterrupted sweep. The central section of the sweep was called 'Regent Street' and this ended in a spacious park called Regent's Park. Much of this still survives as a monument to the last great attempt at classicism and is known as The Regency after the era lasting from 1811-1820.
‡
The period 1800-1837 is part of the Georgian era. George III was insane after 1811, but lived on until 1820. His son the Prince Regent, George, acted as Regent for nine years of the King's madness, then reigned 1820-1830. Because of the influence of the Georgian Prince Regent, this is known as The Regency Period, or the Regency fashion era.
The Royal Pavilion at Brighton was built for the Prince Regent in 1785 in the classical tradition. It was such an attraction that Brighton soon rivalled Bath.
After the war with France ended John Nash supervised the extraordinary transformation of the Pavilion between 1815 and 1818.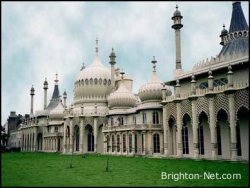 The Prince had become fascinated by a new taste and favored all things Indian. Soon the Brighton Pavilion resembled an Indian Mogul's Palace.
Brighton Pavilion images courtesy of www.brighton-net.com
Bath is a beautiful city and well worth a visit. It has a great architecture and attractive half circular streets. Bath has a good selection of shops and antique shops and you are sure to find a great restaurant.
We always like to take lunch or afternoon tea in the atmospheric Pump Room - if you are lucky classical music may be played on the piano or a little trio may entertain you with music. All the buildings around the Pump room area have history. You can buy a glass of pumped mineral spring water at the Pump room right. You will never forget that strange volcanic smell not unlike famous French drinking waters.
Or try the food and wine at one of the many restaurants such as The Beaujolais. There are many many fine restaurants in Bath. There are also various tea rooms such as the famous Sally Lunn where you can enjoy a light as air Sally Lunn cake in the 3 restaurant rooms in this house shown left.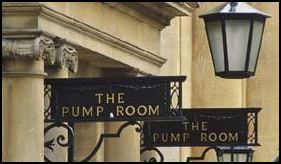 You can easily pick up a restaurant guide on arrival and soon be spoilt for dining choice. Tourists will find ample information available to them to enable them to enjoy many activities within and outside of the city.
The Roman Baths
If you have never visited The Roman Baths do visit this ancient site which was at a peak of popularity in the Regency era. If you can get hold of a BBC video of Jane Austen's Northanger Abbey you will view the wonderful Roman Baths scene in context and see Regency England in all its splendour.
This photograph was taken on a visit in the early millennium and shows the Roman Baths. At the Baths you will have the chance to see computer enhanced depictions of the layout of the bath house as it would have been for the Romans who visited it.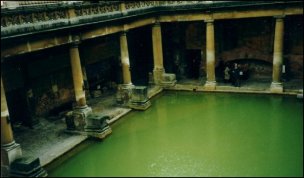 The main tourist attractions in Bath such as the Costume Museum all present you with individual audio sound receivers. The sound receivers help you gain a greater understanding of the venue and its contents. This is a particularly useful facility at the Costume Museum.
In addition to absorbing the feel of Bath when you have the opportunity to visit the Costume Museum also look out for the antiques shops nearby. If you are a serious student of costume you can, by pre arranged appointment visit the Costume Research Centre which is open for student study at specific times.
If you have two or three hours to spare, drive or take a short taxi ride for a few pounds to the American Museum for several interesting hours. View the historic quilts and artefacts, stroll in the lovely grounds and get a coffee and cake at the Orangery. Then try to tear yourself away from the wonderful selection of costume and textile books.
Re-enactors and Bath Jane Austen Festival 17th to 25th September 2010
...(v4r)
The Bath Jane Austen Festival draws attention to the author with an annual celebration held in Bath. Austen fans dress up in Regency costume every September. At forums months are spent discussing costumes and outfits suitable for the occasion.
Jane Austen devotees can acquire tickets from Bath Festivals Box Office a few months before September, but I suggest you also check out the Jane Austen Centre for practical details and an enthusiastic look at the Miss Austen. The festival opens with a Regency Costumed Promenade through Bath streets on a Saturday. Lots of opportunities exist for minor related events, but dancing devotees can buy tickets for the costumed Ball at the Assembly Rooms.
You'll have a grand day time in Bath whatever time of year you visit.
Home TO TOP OF PAGE To Next Page
If you like this page then please share it with your friends
---
For specific details about the Regency and Romantic eras
1800-1845 click below:-
--Link--
Custom Search
About Fashion-Era.com
Fashion-Era.com looks at women's costume and fashion history and analyses the mood of an era. Changes in technology, leisure, work, cultural and moral values. Homelife and politics also contribute to lifestyle trends, which in turn influence the clothes we wear. These are the changes that make any era of society special in relation to the study of the costume of a period.

Fashion-Era.com can take no responsibility for any information on the site which may cause you error, loss or costs incurred from use of the information and links either directly or indirectly. This site is owned, designed, written and developed by author: Pauline Thomas and Guy Thomas. This site is designed to be viewed in 1024 X 768 or higher.
ALL RIGHTS RESERVED. Fashion-era.com reserves the right to add or delete information, graphics and links. Copyright © 2001-2014 on all content, text and images in Fashion-era.com. Images and text in this website may not be used on other websites.
Before you write to me for costume/fashion help or information please, please consult the extensive sitemap which lists all our pages. If you still cannot find the answer after searching the site, then before you email me, please consider if you are prepared to make a donation to the website.
Donations
Reader's donations help this site flourish, in particular donations encourage me to write more articles on fashion history as well as current trends. PayPal allows anyone with a credit card to donate easily and securely. You may donate any sum you feel appropriate.