C20th Royal Fashion History
H.R.H Princess Anne The Princess Royal - Early days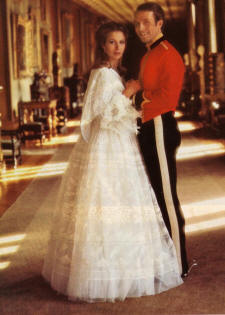 Princess Anne and has often been chided for her dress sense and interest in fashion. The fact is Princess Anne is a classic no nonsense dresser and likes to stick with styles she feels happiest wearing. Those styles work well for her life of meeting people and they also give her years of wear.
She has had an enviable figure for many years and during her engagement to Lieutenant Mark Phillips she was photographed. She revealed herself as a dazzling young woman.
The images of Princess Anne stunned me at the time, yet these same photos of her are often long forgotten probably because she divorced Mark Phillips and moved on to a new marriage.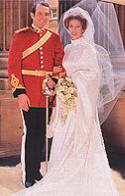 Her Royal Highness the Princess Anne married Lieutenant Mark Phillips on November 14, 1973. Despite their common love of horses Mark Phillips never enjoyed attending official duties with the princess and after growing apart in April 1992 they divorced.
Later that year in December 1992 and by then known as the Princess Royal, the princess married Captain Timothy Laurence. The marriage took place in Scotland very quietly without pomp or great ceremony.
‡
Princess Anne Images
These are images from 1973. I've kept the pictures for years, because I though Princess Anne looked so radiant. This Vogue cover I've photographed looks wonderful framed.
-------v6-------
Page Added 28 July 2006 Looking for a colouring in picture - Golden Jubilee Colouring In Coronation Dress Picture
Link to State Apartments, Kensington Palace web site where royal ceremonial robes are kept.
Go straight back to Hartnell's Design of the Queen's Wedding Dress
If you like this page then please share it with your friends
---
--Link--
For more information about the Royal Clothes click on the titles below:-