C20th Royal Fashion History
H.M. Queen Elizabeth II's Clothes 1960s - 1970s
For most of her adult life, Her Majesty Queen Elizabeth II has reigned as Queen of the British Isles and the Commonwealth. Her 80th birthday is 21 April 2006 and many will applaud her long service in this regal role.
As costume history or royal enthusiasts I think many of you will appreciate seeing some old images below which are from the first 25 years of Queen Elizabeth II's reign. These pictures show her in a selection of outfits that marked her as a young queen in the 1950s, moving toward being a more modern looking queen of the 1970s.
Even in her first 25 years of service Queen Elizabeth II had travelled to more parts of the world than any other British monarch. Her wardrobe in those days was cared for by the Queen's personal attendant a Miss Margaret 'Bobo' McDonald. Officially titled The Queen's Dresser, Bobo was also the Queen's last nanny so had seen the Queen grow into womanhood. Her later duties were to look after the Queen's extensive wardrobe once designs had been selected by the Queen, made up and fitted. These duties involved Bobo assembling outfits plus accessories such as jewellery for the Queen to wear for all events of any particular day. She also oversaw the packing for world tours.
‡‡
The Queen's Clothes
In her early reign the Queen relaxed in country clothes, but for more formal wear in the public eye she wore many crinoline based styles which suited a young figure with a neat waistline. The clothes of her first reigning decade were primarily designed by Norman Hartnell and later by Hardy Amies. However the clothes by Hartnell were mature in design for one so young, but many women of her age group also dressed in a similar 'mature' manner where they aped their mothers rather than their young sisters. The Queen Mother in the early days of the Queen's reign had a strong influence. To add to the mature effect, the Queen also favoured a mink coat made by Calman Links and wore it throughout the 1950s and 1960s.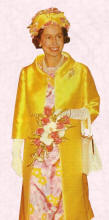 The duster coat right is very typical of the earlier more formal day outfits the Queen often wore. Thick slubbed silks with a high sheen were teamed with matching heavy silk dresses. The fuller styles eventually gave way to more modern lines.
Gradually the clothes became less formal as the sixties gathered pace and Hardy Amies designed more streamlined outfits in keeping with the times. At the same time the masses began to wear even more relaxed easy cut styles. Her classic pastel Duster coats and dresses made of shiny silks or organza became more subdued and gradually morphed into duller less shiny, less gauzy silks. Soon flatter wools, linens and matt silk mixtures were more often used with shinier fabrics kept strictly for evenings.
Colours became more vibrant and the Queen developed a strong style of her own where she could easily be seen across a crowded venue and recognised for who she was. This style was sleeker and more streamlined and consisted often of unfussy coats or jackets with toning or matching dresses. Of course that royal touch that marked the Queen from the crowd was always a finishing touch accessory - a piece of jewellery sparkling with the finest diamonds or rubies, sapphires or emeralds. Fabulous pearls were always a firm favourite.
In the sixties her skirts got shorter, but never short enough to look silly 20 years later. Every outfit takes the middle road. They pay homage to elements popular in fashion in a particular year, but always in a very classic manner. The Queen is a woman who is a world celebrity, but is not an actress, and she is as she is.
‡
Royal Outfits
The outfits above are of a groomed woman who has developed her own style in keeping with her role. At the time I recall her being criticized for wearing dowdy insipid safe garments amid a society wearing every colour of the rainbow in a heady mix of pattern. Yet looking at them now one sees how truly classic a dresser she was. In these images she does look very good in a classic way some forty years later. The Queen's fashions are always suitable to look at in a long term photograph. The clothes in strong colours often complimented the place she was visiting. The outfits always single her out from the masses as the special person everyone is keen to see that day.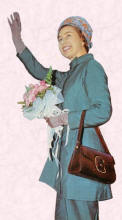 By the 1970s a designer called Ian Thomas who was Hartnell trained, began to inject a more youthful look into the styles offered to the Queen. It was Ian Thomas who encouraged her to choose less structured styles and move forward in fashion whilst retaining her sense of the clothes fulfilling a function of helping her be seen, whilst also complimenting the event.
The trouser suit she donned here in 1970 was a somewhat daring public fashion for the Queen. Whilst she regularly wore trousers in her personal life as an active participant of field sports, she had avoided wearing trousers in her public life. But in the late 60s all women regularly wore trouser suits and the Queen's trouser suit was inevitable. It was a huge move forward from the very formal clothes sported earlier. This matt silk trouser suit was worn on a Canadian visit and it is known she wore culottes to informal evening events at home.
At the same time the range of hat styles increased with designers Simone Mirman and later Freddie Fox introducing livelier millinery. You can see pictures of hats the Queen wore here.
26 July to 24 September 2006
Queen's Clothes Exhibition to Celebrate The Queen's 80th Birthday
See an exhibition of 80 of her Her Majesty's evening dresses and personal jewellery. The exhibition which begins at the Summer Opening of Buckingham Palace will show clothes from the 1940s to today and feature all the Queen's most famous designers.
-------v6-------
Link to State Apartments, Kensington Palace web site where royal ceremonial robes are kept.
Jubilee Colouring In Pictures of the Coronation Dress.
Go straight back to Hartnell's Design of the Queen's Wedding Dress
If you like this page then please share it with your friends
---
--Link--
For more information about the Royal Clothes click on the titles below:-