C20th Royal Fashion History
Her Majesty Queen Elizabeth II's Fashion History Exhibition
Queen's Clothes Exhibition to Celebrate The Queen's 80th Birthday 26 July to 24 September 2006

See an exhibition 'Dress for the Occasion' of 80 of her Her Majesty's evening dresses and personal jewellery. The fashion history exhibition which began at the Summer Opening of Buckingham Palace shows fashion history of a revered and modern Queen's important often bejewelled gowns.
Clothes from the 1940s to today are displayed and feature all the Queen's most famous designers, including Norman Hartnell and Hardy Amies. In her twenties the Queen had a handspan waist. Those super slender waist gowns are shown on dress forms each crafted using the Queen's original measurements.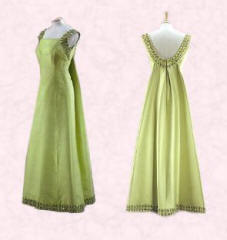 Dress for the Occasion is the exhibition which features 80 evening gowns to celebrate the Queen's 80th birthday. Caroline de Guitaut is the curator of the exhibition and has arranged the 80 dresses since the 1940s in colour groups and a neutral section of creams and whites.
The dresses also show how the queen's figure has changed from slender young girl to mature stately woman.
The jewelled embroidered green silk dress dress above was designed by Norman Hartnell. It is an example of a typically fabulous gown designed for the state visit to Ethiopia in February 1965.
‡‡
The Queen's Wardrobe
The Queen's wardrobe represents a working wardrobe designed for maximum visibility. For half a century her clothes have been used as an expression of diplomatic gesture. Never mind the film, 'If It's Tuesday This Must Be Belgium', for the Queen if she is in Japan there must be a recognition of the emblematic cherry blossom, or if in Canada there must be acknowledgement of maple leaves. Emblematic flora and fauna of a host country or special guest wherever she may be, is delicately hinted at somewhere in the gown, the fabric print or trimmings.
Her Majesty knows her flag colours well too. She shows the greatest diplomatic touches in often honouring other countries by wearing those same flag colours in her clothes. Her wardrobe is invariably dictated by such diplomatic gestures to other countries. This has resulted in the making of some truly fabulous strongly coloured gowns over the years.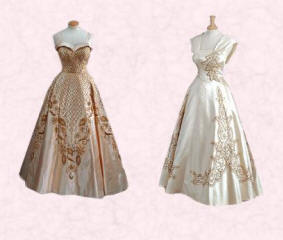 There is also a need for neutral toned gowns as they are a perfect foil for gaudy sashes and other regalia. These satin dresses left and embroidered with gold, diamanté and pearls by Norman Hartnell are good foils for strongly clashing garter sashes.
Her evening and state gowns have often been works of art with sumptuous embroidery and fine embellishments. More of the Queen's gowns are shown on the Queen & Commonwealth: The Royal Tour 2009.
Many of Queen Elizabeth's dresses have been simply stunning, adding not celebrity bling, but just a touch of tastefully acceptable glamour for a woman who is not an actress, yet finds herself constantly in the public eye.
Her clothes whether day or evening always suit the occasion. They still look appropriate and regal in photographs years later. They pay a small tribute to well established fashion trends, but the styles never stray too far into fads that might look the worst excesses of an era 10 years later. Any exhibition of the Her Majesty's clothes is always an eye opener as you notice the quality and richness of colour of the heavy satins, the exquisite beading and somewhat amazingly how very tiny her waist was in the earlier years of her reign.
Whenever I get an opportunity to see the Queen's clothes at an exhibition I jump at the chance to study them closer.
Dress for the Occasion is an exhibition of Fashion History in the making – simply wonderful.
Copyright Pauline Weston Thomas - Editor in Chief www.fashion-era.com
Exhibition which begins at the Summer Opening of Buckingham Palace 26 July 2006 will show clothes from the 1940s to today and feature all the Queen's most famous designers. Dress for the Occasion exhibition runs until September 24 2006 at Buckingham Palace State Rooms, London SW1 (020-7766 7300. www.royalcollection.org.uk.
Whilst this exhibition has long since passed, another exhibition of 28 of The Queen's special dresses is on view during summer 2009. Read more on Queen & Commonwealth: The Royal Tour 2009.
§
Link to State Apartments, Kensington Palace web site where royal ceremonial robes are kept.
Jubilee Colouring In Pictures of the Coronation Dress.
Go straight back to Hartnell's Design of the Queen's Wedding Dress
If you like this page then please share it with your friends
---
--Link--
For more information about the Royal Clothes click on the titles below:-