Shirley Eborn Theatrical Costume and Bespoke Bridal Wear Maker
Many people who seek vintage find that it is not for them when it comes to wearing it. Whilst countless adore vintage, some find it just too precious to wear and still others don't like the idea of wearing clothes that someone else has worn before them. Having your period costume or bridal wear made for you may be the answer. Let me introduce site visitors to the gifted costume maker and theatrical tailor Shirley Eborn. Shirley is one of the finest makers of quality theatrical costumes and bespoke bridal wear within the UK. It's often practical for her to make costumes for clients elsewhere in UK and even globally.
One of Shirley's qualifications is a BA Honours degree in Costume Interpretation from Wimbledon School of Art. She is a costumier specialising in theatrical and period costume and bespoke bridal wear. Add to this a fine work resume and you can easily describe Shirley as creative, clever and competent. She can work with you to create an original costume piece or a bespoke bridal dress. Images of her work speak for themselves and some are featured here and on Shirley's own web sites.
Bar at the Folies Bergere - Costume Design
Costume design Commission above right is by Shirley Eborn - costume maker. It is a beautifully executed costume based on Manet's painting, 'Bar at the Folies Bergere' and shown right.
You may have a particular costume design prepared, or want an authentic reproduction of a costume featured in a photograph or painting. Well Shirley can turn that two dimensional image into three dimensional reality.
The costume above is a marvellous interpretation of the famous painting left.
Commissions from Shirley Eborn - Costume Maker
Shirley Eborn has 2 websites and at her first website Shirley has a page explaining types of costume making commissions that she can deal with. You need to read her process page to find out more about costing, individual discussions, timings and fittings. For those unlikely to be satisfied by wearing vintage purchases, Shirley deals with several main areas of costume making covering period costume, theatrical costume, bespoke bridal wear and children's fancy dress costume.
Bespoke Bridal Dress Service
On her second website Shirley Eborn recognises your wedding is a very special day and she offers a personal yet professional service to design and create a wedding dress tailored to your needs and fulfilling your wishes. Shirley's bridal design site is at www.labelle-epoque.co.uk and has more detail on bespoke bridal dresses and bespoke corsetry details.
Shirley can make costumes for every occasion from theatrical needs to Re-enactment to themed weddings with bespoke bridal wear to fancy dress. Themed medieval weddings are currently a choice of many brides.
Theatrical Costumes for the Stage and Film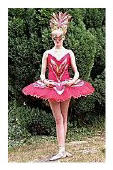 This lovely cerise tutu above is one of Shirley's own designs for Stravinsky's "Firebird" featuring an entrance mask and headdress.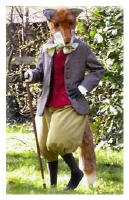 Shirley Eborn is an expert in everything from corsets and crinolines to bustles to wings, including the movement and fit requirements of ballet costumes.
Beatrix Potter's Mr Tod
You'll soon recognise this wonderful costume.
It's Beatrix Potter's Mr Tod by Shirley Eborn - costume maker. The picture says it all - he is simply wonderful!!
‡
Lilac Butterfly
On the left we see all of this lovely costume for an Edwardian showgirl costume.
Here on the right Shirley adjusts the wings of a costume making sure the wings are balanced whilst appearing lightweight yet fragile, but strong enough to cope with dance and movement.
Whilst the above is a theatrical costume Shirley can accommodate designs for children.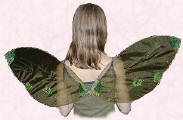 Many children love dressing up and if you want something different from "off-the peg" costumes available on the High Street then she can make that a reality.
If you have a musical Shirley can work with you to devise costumes for the production, but do remember that this is a bespoke service and will require fittings.
18th Century Costume and Corsets.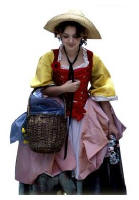 All costume, whether reproduction or vintage is improved by wearing the correct underwear and the correct boning and inner support.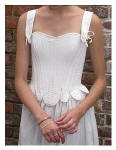 Shirley is a master at giving a costume the inner support that makes the structure move exactly into the era for which she creates it.
More examples of corsets can be seen at Shirley's own pages and at her new bridal website here - www.labelle-epoque.co.uk.
Images all by arrangement with Shirley Eborn - costume maker
Shirley Eborn's Resume
Shirley's resume is extensive so for this I suggest you visit her websites where you can read and see the variety of work she has done. By profession, Shirley is a costumier specialising in theatrical and period costume and bespoke bridal wear.
Her career expertise varies from Costume supervisor for European Chamber Opera performances of Don Pasquale, Tosca and Cosi Fan Tutte; to costume maker of elf costumes for Santa-Holidays.com to demonstrator of corset making at the Victoria and Albert Museum as part of the Vivienne Westwood exhibition.
I know I'd trust Shirley to make a costume for me as I'm a fussy Madame! More importantly I would trust her to make a wedding gown. Her new website www.labelle-epoque.co.uk
With thanks to Shirley Eborn - costume maker for her cooperation in providing the images for making this page which I know will delight fashion-era readers.
(Page Date 11 April 2005, updated 20 Feb 2007)
-------v6-------
If you like this page then please share it with your friends
---
--Link--
For more information on go to:-
Custom Search
About Fashion-Era.com
Fashion-Era.com looks at women's costume and fashion history and analyses the mood of an era. Changes in technology, leisure, work, cultural and moral values. Homelife and politics also contribute to lifestyle trends, which in turn influence the clothes we wear. These are the changes that make any era of society special in relation to the study of the costume of a period.

Fashion-Era.com can take no responsibility for any information on the site which may cause you error, loss or costs incurred from use of the information and links either directly or indirectly. This site is owned, designed, written and developed by author: Pauline Thomas and Guy Thomas. This site is designed to be viewed in 1024 X 768 or higher.
ALL RIGHTS RESERVED. Fashion-era.com reserves the right to add or delete information, graphics and links. Copyright © 2001-2014 on all content, text and images in Fashion-era.com. Images and text in this website may not be used on other websites.
Before you write to me for costume/fashion help or information please, please consult the extensive sitemap which lists all our pages. If you still cannot find the answer after searching the site, then before you email me, please consider if you are prepared to make a donation to the website.
Donations
Reader's donations help this site flourish, in particular donations encourage me to write more articles on fashion history as well as current trends. PayPal allows anyone with a credit card to donate easily and securely. You may donate any sum you feel appropriate.