20th Century Sports Dress Fashion History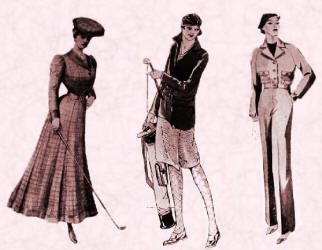 Early in the 20th century it was not considered important for women to win at competitive sports and so clothes were not designed to give the movement that would allow them to excel.
For golf women wore tailored blouses and skirts similar to clothing worn for business and shown in the header.
By 1910 only golf allowed women to have expanding pleats down the sides of their tweed jackets to prevent clothes tearing when they did a golf swing. Even those pleats could not be decorative.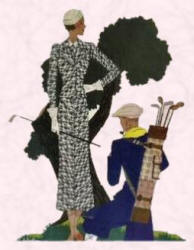 Tweed was used in many sports and the golf sweater made its way into fashion as the first casual garment. Above outfits suitable for golf in 1903, 1929 and 1935.
Mass production techniques being applied more swiftly in America, benefited sportswear for women and shorter hems were common on most American sports skirts.
By 1917 Vogue urged women to put their overskirts in a knapsack once on a mountain slope and ski in their jodhpurs.
‡

By the 1920s women wearing trousers had become an acceptable fashion. Workers in munitions factories had worn trousers beneath their overalls and after The Great War they kept trousers for private wear at home. Later when crepe pyjamas were worn publicly at the seaside, trousers for women were a usual sight, but still quite confined to beach and promenade areas.
Far right - Beach trousers with low back top 1930-31. These were a female version of Oxford bags.
Near right - Artificial silk crepe de chine or satin pyjamas. Worn for sophisticated party or casual wear 1929.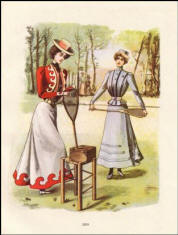 Women had worn long skirts and restrictive clothing to play tennis until 1910. This fashion plate left is dated 1895 and was typical 'sporty' dress for tennis. Note the hats, tight sleeved jackets and heavy skirts.
In 1922 Suzanne Lenglen shocked the world when she dressed for tennis at Wimbledon wearing a short skirt.

She abandoned the hat and also caused a stir with her hair bandeau designed to enable her to actually see what was going on. Such seriousness of purpose was unknown before. By 1930 a bare head was acceptable for tennis playing.
Right - Alice Marble's shorts 1932.
Even more shocking than Lenglen was Alice Marble who strode onto court wearing white shorts in 1932. Both outfits were at the time considered outrageous, but over the years other sports women have braved new ground with more appropriate dress.
In 1947 Teddy Tingling influenced by Dior's New look began to put femininity back into tennis wear and produced waffle pique flared dresses. By 1949 Teddy Tingling designed lace trimmed knickers for Gussie Moran to wear at Wimbledon.
Practicality in sports clothes was set in the 1920s. Jean Patou was revolutionary in shortening sports skirts and accustoming people to the idea of suitability of purpose. You are reading an original 'Sport Fashion Clothing 1900 to 1960', fashion history article by Pauline Weston Thomas at www.fashion-era.com ©.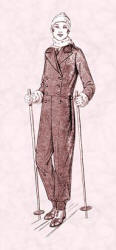 Skiing was the sport of the thirties and clothes were designed for the slopes. The silhouette was long and slender. Long Norwegian trousers with cuffed hems were worn with short boxy jackets with wide shoulders that accommodated sweaters beneath them.
White, navy or bright trousers were most seen and at the same time a fashion for two tone garments including gloves emerged. Lastex yarn began to be used in areas where stretch was needed.
Knitwear for skiing had fair isle patterns and motifs illustrating skiers and skaters, trees and snowflakes. Sunbathing on the slopes became normal and women began to wear swimsuits that had panels which could be rolled down so they gained full sun exposure.
§
Trousers were not thought acceptable everyday wear for sports until the mid thirties.
For skating a skirt a skirt was always a popular choice as these illustrations of 1901, 1911 and 1934 show.
By 1936 women began to wear slacks for all form of casual dress particularly in America. But it took three decades for trousers to really gain mass interchangeability with the skirt in the late 1960s and early 1970s.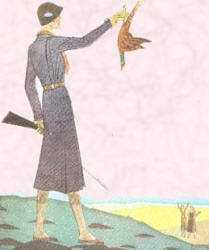 By the late 30s women were participating in a wide range of sports such as water skiing, golf, running, tennis, fishing, mountaineering, shooting, archery, fencing, skating, as well as riding and cycling which were still thought of as forms of transport.
Slowly sportswear was adapting to meet the real needs of active women. For tennis the correct wear was a shorts dress.
For golf smart suede jackets in strong shades, slacks or sturdy box pleated skirts or culottes were breaking barriers.
For shooting and fishing, pleated jackets, pleated skirts or culottes and Loden wool capes were brightened with Austrian style trim and embroidery.
You are reading an original 'Sport Fashion Clothing 1900 to 1960', fashion history article by Pauline Weston Thomas at www.fashion-era.com ©.

With Utility restrictions on fabric, sportswear took a back seat. The major effect of the war was that slacks became even more suitable wear for sports and that the colours became sombre. Windcheaters and anoraks still retained prewar styles with close fitting sleeves.
Dungarees and overalls worn in mainstream war work of factory and land girls led to the invention of salopettes. Mostly they were sleeveless and front zipped all in one and like a siren suit, but sleeved versions existed. The fabric used for outdoor sportswear was usually gabardine as it tended to repel water on first contact.
Right - Women's wartime dungarees worn in factories.
----¥----
Since ancient times men and women have worn garments that stretched simply by the fact that they were knitted. Jersey was invented in the late Victorian era in 1882 and by 1900 was made into breeches for riding. Lastex made from rubber fibres was used for stockings and underwear in the 1930s.
After 1945 a whole new range of synthetic fibres often best suited in the early days of production to knitted fabrics were made into pullover dresses, underwear and gym tops. By the mid sixties stretch garments became quite usual and the comfort factor of being able to move with a garment didn't go unnoticed.
The fifties saw revolutionary changes in sports clothes much of it due to the earlier invention and new use of synthetic fibres particularly nylon combined with practical techniques developed in military clothing. For example hoods could be concealed in neck collars. Pockets in jacket fronts were designed to store snack foods. Gloves had zip pockets for ski passes. Elastic inserts in the sides of ski pants and stirrup straps underfoot made for pull on, pull off clothes all features we expect automatically today. Right - Windshirts for Skiwear 1947.
Athletes adopted nylon running shorts and cotton vests. Zip up windcheaters and anoraks were taken onto the athletics and sports fields to keep off the chill, but often with odd trouser bottoms. Thoughtful colour coordination only became a norm in the 1960s when thick jersey cotton sweat shirting or nylon jersey track suits in colours like navy, bottle green or grey were the forerunners of vibrantly coloured 80's nylon shell suits.
Tennis whites became available in a huge range of fashion styles and it was up to the individual to make her choice as long as it was white and decent, the outfit could vary from shorts and a top to a pretty flared dress with decorative hemline and frilled knickers. Teddy Tingling continued to dominate tennis wear in the seventies and eventually it became acceptable to wear coloured clothes to play in. You are reading an original 'Sport Fashion Clothing 1900 to 1960', fashion history article by Pauline Weston Thomas at www.fashion-era.com ©.
Cycling, motorcycling and scooter riding were able to easily adapt existing clothes. Denim Jeans, Capri pants and Bri-nylon stretch ski stirrup pants were the narrower trousers women preferred for cycling.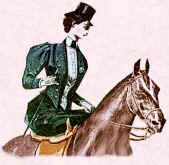 Motorcyclists adopted either the leather aviator's jackets or tweeds both suitable for keeping out the wind. Vespa scooter owners also liked leather jackets and jeans or black stretch pants, but suede was popular too, and towards the late fifties often followed the beatnik look with a roll polo neck or cowl jumper.
The only sport which remained unaffected by changes was horse riding which stuck to the rigid hard hat, jodhpurs, riding or hacking jacket or sometimes skirt.
Right - Riding costume 1890s. See more riding costume history and redingotes here.
Functionalism became strongly associated with sports clothes in the 1950s. The clothes did a job and consumers noticed how useful the features often were in everyday life. Hooded anoraks and enveloping parkas for wet weather were a big feature of the early sixties, yet often go unrecorded.
The greater availability of goods in the fifties meant that consumers now made choices. Rigid sports uniforms were waning. Looks were less important than staying warm, dry or cool and after 1960 huge strides were made to produce clothing suitable for many sporting occasions. You are reading an original 'Sport Fashion Clothing 1900 to 1960', fashion history article by Pauline Weston Thomas at www.fashion-era.com ©.
-------v6-------
If you like this page then please share it with your friends
---
For related fashion eras of the mid twentieth century click below:-
--Link--