Stays to Corsets - Fashion History
Stays and Corsets
In both England and America the word corset replaced the word stays. The soft muslin dresses of 1800 clung to the body highlighting the natural body outline. This made it difficult to wear stays, but those with imperfect figures had no choice.
The stays were boned less than in the late 18th Century and were lighter in make up. The newly lengthened stays gave a smoother slinkier shape to the hips and thighs and the bust gained a more natural outline.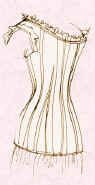 When it became fashionable to wear a white slippery silk satin slip over the stays, the dress line became quite smooth as the muslin flowed over the silk underskirt. Later, extra fullness at the skirt back, was supported by a small bustle pad.
The Empire fashions at the turn of the century were often little more than sheer nightgowns. The practical solution to the discomfort of lighter clothing was to adopt the warm male undergarment called pantaloons. Made of light stockinet in a flesh colour they went all the way to the ankles or to just below the knee.
The flesh tone pantaloons acted in the same way flesh toned bra and briefs do today under white or pastel trousers and top. It is for this reason that Empire women seen in paintings of the era, often appear to be wearing no underwear. Right - Corset of 1810. You are reading an original ' Stays to Corsets in Underwear', fashion history article by Pauline Weston Thomas at www.fashion-era.com ©.
In the 1820s the skirts widened with frills and were often horsehair padded at hemline to make them stand away from the legs. After 1820 corsets were worn again by all women.
By 1825 the high waist had dropped to its normal position, but skirts became wider and shorter to balance the increasing sleeves. Corsetry was a must again to show off the narrow waist. In the mid 1830s basque shaped pieces were added to the hips.
»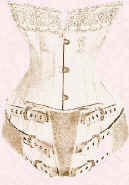 After 1840 the corset was of a new style made from seven to thirteen individual pieces. The gusseted reinforced stitched corsets of strong white twill cotton, used vertical rows of whalebone shaped to the natural body shape. They were still laced at the back.
Evening dresses had such low décolletage showing exposed shoulders, that the corset had to lose its shoulder straps and become free standing. Because the dress bodices were lengthening the actual dress bodices were boned in sections and this gave not only extra contour, but also helped stop creasing across the body fabric.
Right - Madam Cave's patent Corset of 1884 without shoulder straps, but with abdominal over belt to keep the figure to proper proportion. Recommended by The Lancet as it was thought to be designed with healthy intention.
You are reading an original ' Stays to Corsets in Underwear', fashion history article by Pauline Weston Thomas at www.fashion-era.com ©.
Buy my latest ebook and learn how to recognise changes between Paniers, crinolines, bustles, bras and corsets and the affect this has on the outer silhouette of female costume

My How to Recognise Undergarments in Fashion History e-book has 12 chapters about the changes in under foundations in costume history found in various articles on this website. It also has a new chapter on the history of drawers and knickers and one covering the chemise and petticoats. This ebook enables you to read, print and copy from various web pages of fashion-era.com all in one go.

The Undergarments ebook includes information from my articles on early corsetry, C18th Paniers and the sack dress, stays to corsets, crinoline styles from 1830s to 1860s, bustle styles of 1870s & 1883/5, Edwardian corsetry, bras and girdles before and after 1950, and a new chapter on drawers, pantaloons, knickers to panties. A look at Rational Dress Reform, the contribution of Mrs. Bloomer and Dr. Jaeger to the resultant cycling and swimming dress. For more information on the contents of Undergarments click here.

A Printer Friendly Version allows the ebook to be printed as single chapters or as a whole book without clipped text at the sides and can also be copied into Word for ease of use when writing handouts. Don't know what an ebook is? Click here
If you like this page then please share it with your friends
---
For specific eras about shape and body manipulation click below:-
Home TO TOP OF PAGE To Next Page
Custom Search
About Fashion-Era.com
Fashion-Era.com looks at women's costume and fashion history and analyses the mood of an era. Changes in technology, leisure, work, cultural and moral values. Homelife and politics also contribute to lifestyle trends, which in turn influence the clothes we wear. These are the changes that make any era of society special in relation to the study of the costume of a period.

Fashion-Era.com can take no responsibility for any information on the site which may cause you error, loss or costs incurred from use of the information and links either directly or indirectly. This site is owned, designed, written and developed by author: Pauline Thomas and Guy Thomas. This site is designed to be viewed in 1024 X 768 or higher.
ALL RIGHTS RESERVED. Fashion-era.com reserves the right to add or delete information, graphics and links. Copyright © 2001-2014 on all content, text and images in Fashion-era.com. Images and text in this website may not be used on other websites.
Before you write to me for costume/fashion help or information please, please consult the extensive sitemap which lists all our pages. If you still cannot find the answer after searching the site, then before you email me, please consider if you are prepared to make a donation to the website.
Donations
Reader's donations help this site flourish, in particular donations encourage me to write more articles on fashion history as well as current trends. PayPal allows anyone with a credit card to donate easily and securely. You may donate any sum you feel appropriate.