The Society Hostess Fashion Wardrobe
The Edwardian era was the last period when the mature female figure was every man's ideal. Buxom ladies tortured their flesh to achieve the hour glass figure Edward VII favoured. They distorted their figures into the exaggerated S bend shape associated with the fashions of the era. To carry the 'S' figure well a woman needed a good carriage and height; advantages many a hostess possessed, being better fed and ladylike in deportment. The effect when she moved was very stately mainly because the sheer weight of many under-garments over the corsets restricted her movements. W. McQueen Pope was stirred by the sight of a well dressed Edwardian woman. In 'Goodbye Piccadilly' he writes,
'The sight of an Edwardian lady, stepping out of her brougham, her Victoria or Landau outside a Regent street shop was a spectacle which cannot be seen today... The lady swept across the pavement like a Queen, like a procession of one, for she knew how to move and carry herself.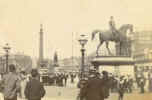 She had balance and poise, she had elegance and she was one hundred per cent feminine. She paid no attention to the world around, to the envious glances of her less favoured sisters, but she proceeded like a ship in full sail, a gracious galleon into the harbour of the favoured emporium.'
To see detail of the upright posture of the Edwardian lady to the far left. Notice how uncluttered the skyline of central London is Circa 1895 -1900.
You can read more about the S-Bend corset in the section Edwardian Corsetry or in my ebook.
The hostess achieved this stately movement as much by the restrictive nature of her clothes as by years of deportment and dancing lessons. Skirts were confining, being tight waisted and 'bell' shaped, with every aspect of the skirt presenting a concave curve. They followed the same sinuous lines of art nouveau.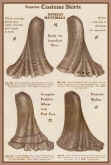 The period 1897-1907 was the time of the 'flared skirt'. The skirt had never before presented concave surfaces other than in the train section. However from 1897 onwards the yoked skirt developed, the yoke being achieved by joining together two widths of fabric which reached the knee. Then a hole was cut in the centre to fit the required waist measurement. Circular extensions cut from a circle or deep, bias cut flounces were attached to the yoke and these additions tended to flow outwards from the body.
Left - Skirt advertisement from The Lady's Realm magazine.
During the next three years the 'eel skirt' and 'umbrella skirt', both cut on the cross and having an element of flare became fashionable. Improved versions appeared during the 1900s and the flare became more and more effective with gored skirts having as many as fifteen gores.
‡‡
The grace-fullness of the elliptical curve which passed from hips to hem depended on the skirt length and the height of the wearer. This fashion favoured the taller woman. It also favoured the wealthier woman. Many skirts had trains which swept the ground, indicating that their owners belonged to the carriage class and could afford to employ servants to valet them.
Trailing her obvious wealth behind her the hostess soon found herself the centre of criticism from medical men. Long trains were denounced as being unhygienic by the medical profession. It is more than likely however, that they gradually disappeared because women found them uncomfortable to wear. Cynthia Asquith recalls:-
'the discomfort of a walk in the rain in a sodden skirt that wound its wetness round your legs and chapped your ankles...Walking about the London streets trailing clouds of dust was horrid. I once found I had carried into the house a banana skin which had got caught up in the unstitched hem of my dress.' You are reading an original Edwardian Society Hostess in Fashion article by Pauline Weston Thomas at www.fashion-era.com ©
Right - A sweeping dress of the early Edwardian era.
...(v4r)
Under their skirts leisured hostesses wore foundation underskirts, made of beautiful taffetas or organdies, that rustled as they walked. No decent lady ever wore less than six petticoats, and it was generally believed that a mass of under-wear was hygienic. Petticoats made of silk, satin, moiré and other luxury fabrics were advertised. A wealthy lady might have chosen one costing as much as fifty guineas, although the less fortunate paid as little as five shillings and sixpence for a popular make that could swish equally loudly with movement.
Contemporary writers were thrilled about the glamorous underwear worn. W. McQueen Pope recalls that,
'Women wore a tremendous amount of underclothes, as compared with today. They wore many petticoats, fringed with lace which formed an enchanting foam around their ankles.'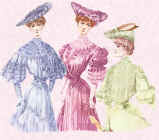 High fashion was the sartorial art of high living, providing the visual symbolism that enabled others to place the hostess on a scale of status. With varying degrees of subtlety the hostess used dress to titillate the male imagination. Lace, chiffon and frills were used as an instrument of sex appeal. Fashions favoured the mature woman and exploited the curves of an elaborately corseted figure amid the allure of tempestuous petticoats.
Right - Edwardian bodices blouses dripping with lace, and other decorative embellishment as worn by society hostesses.
Dr. Willett Cunnington maintains that:-
'Undergarments became "lingerie", and their primary function was to attract the other sex. We find them being frankly called seductive.....'
In earlier periods of history the exquisite froths of fine lawn, embroidery and lace now officially worn by refined ladies would have been thought proper only for a professional courtesan. It could be argued that this was one of the major roles played by the society hostess.
Between three p.m. and six p.m. husbands were expected to go out to tea whilst their wives played hostess to visitors both male and female. During this period there was a good chance of romance and sexual intrigue.

Attired in her tea-gown, a soft flowing robe of filmy chiffon or fine silk, trimmed with an abundance of lace and often free of corsetry, the hostess must have been a tempting prospect for many men. Such loose gowns afforded women great comfort, ease of access and a tremendous sense of femininity. Little wonder then that whilst hemlines rose and fell the tea-gown, which had appeared in England as early as 1875 lingered on until the 1920s.
Right - An example of a tea gown by Redfern 1900.
Susan, Lady Tweedsmuir, recalls the gorgeous tea-gowns Fortuny made for her cousin, Hilda, gowns always recognisable for the minute accordion pleating sewn around the edges:-
' I can see her wearing her tea gowns made by the Italian Dress Designer, Fortuny, whose fanciful, but lovely dresses were all the rage in those days. He made for her long straight garments of artfully pleated satin held at neck, wrists and waist by strings of small iridescent shells. Fortuny wished his clients to look like the ladies in Italian pictures.' You are reading an original Edwardian Society Hostess in Fashion article by Pauline Weston Thomas at www.fashion-era.com ©
Dressing for dinner was a ritual in itself. In the semi-biographical novel The Edwardians, Miss Sackville West describes an Edwardian hostess, (A Duchess) dressing for dinner:-
'...Her mother was seated, poking at her hair... while Button (the maid) knelt before her, carefully drawing the silk stockings on to the feet and smoothing them nicely up the leg. Then her mother would rise, and, standing in her chemise, would allow the maid to fit the long stays of pink coutil, heavily boned, round her hips and slender figure, fastening the busk down the front, after many adjustments; then the suspenders would be clipped to the stockings;
then the lacing would follow, beginning at the waist and travelling gradually up and down, until the necessary proportions had been achieved... then the pads of pink satin would be brought, and fastened into place on the hips and under the arms, still further to accentuate the smallness of the waist.
Then the drawers; and then the petticoat would be spread into a ring on the floor, and Lucy would step into it on her high-heeled shoes, allowing Button to draw it up and tie the tapes... Button gathering up the lovely mass of taffeta and tulle, held the bodice open while the Duchess flung off her wrap and dived gingerly into the billows of her dress ...
(She reached) down stiffly for the largest of her rubies, which she tried first against her shoulder, but finally pinned into a knot at her waist. Then she encircled her throat with the high dog collar of rubies and diamonds, tied with a large bow of white tulle at the back (and) slipped a ear ring into its place.' The ritual complete, the Duchess picked up fan and gloves before joining her guests for dinner.
‡

To help the society hostess look picturesque, the lady's maid was always at hand. Her duties were many and varied and included personal care of the hostess's wardrobe.

The hostess expected her maid to be personal hairdresser, valet, dressmaker, milliner, and dog walker all for the princely sum of £20-35 per year. A good lady's maid was an essential hidden companion to the society hostess, especially necessary when great parties of fashionable people moved from town to country and a variety of clothes had to be maintained bandbox fresh.
Pictures - A laundry maid would have washed and ironed delicate lace pieces
...(v4r)
Society ladies eagerly copied fashion conscious entertainers because they were dressed with great expense by leading fashion houses. Apart from royalty, Edwardian fashion leaders included actresses, singers and professional beauties such as Mrs. Wheeler and also Lily Langtry pictured above in the header.
Ladies of rank flocked to see first night theatre performances to take note of the stylish fashions being worn for the first time. Constance Collier, the first singing Gaiety Girl, was one such woman who experienced wearing the sort of clothes and jewels that only a moneyed hostess could really afford to buy, and then maintain in pristine condition. She writes:-
'Two famous dressmakers, one in London and one in Paris dressed me for nothing, and a famous English designer called her models after me and made my clothes at a very nominal fee.

A famous jeweller would allow me to wear anything I wanted. The jewels were well insured before I left the shop...'
'... If ever I was hard up - Mr. Reville, who is one of the greatest dressmakers in the world, proved a marvellous friend... he would lend me cloaks and gowns and hats for special occasions, but with the break of dawn a messenger would arrive to take my glorious raiment away, and I was left like Cinderella, in my rags. People often wondered how I managed to look so magnificent on my small salary.' Right - An Edwardian Beauty. You are reading an original Edwardian Society Hostess in Fashion article by Pauline Weston Thomas at www.fashion-era.com ©
The image society has of the Edwardian Era as the lost golden age is primarily due to the lifestyle of Edward VII and his close circle of associates. The King liked luxury in all its forms, and as such appreciated the company of beautiful, refined, witty and clever women who wore their femininity with some style. Truly accomplished women were generally able to gain access to his circle of friends, and although the King did not discriminate against the poor beauty, the wealthy beauty had a definite advantage. Not only could such a woman entertain Edward VII with lavish menus in opulent surroundings, but she could also dress in a manner that befitted membership of his set.
By wearing fragile and impractical clothes that necessitated the help of others to maintain them in pristine condition, the wealthy have always created distinctions between themselves and those they considered inferior. The Edwardian society hostess as the social representative of her husband was no exception. Using body imagery to differentiate efficiently between the social groups both within and outside 'society' her main rôle function was in effect, dressing for status. She had so much spare time that using it up was a full time occupation, and regular changes of costume for every mentionable occasion became 'de rigueur'.
Eventually wearied and discontented in luxury, the Edwardian society hostess was tired of expending so much energy on useless activities and rituals of dress and etiquette. She longed for freedom from the repression of a male orientated society where life was geared to satiate male needs.
Change was in the air, but it would take a World War to end an era where the role of the society hostess would be swept aside at a stroke. By 1914 the shooting was of a different kind and after 1918 the world was of a different kind too. The society hostess was no more, she was simply a phenomenon of the lost golden age. You have been reading an original Edwardian Society Hostess in Fashion article by Pauline Weston Thomas at www.fashion-era.com ©
-------v6-------
If you like this page then please share it with your friends
---
Sellers of re-enactment pieces who sell Edwardian Gibson Girls, Victorian styled Crinoline, bustle dresses and Leg o' Mutton 1890's items include the reputable website at recollections.biz. Recollections make washable garments to fit modern measurements, as well as being wholesale dealers of re-enactment items.
--Link--
For more about the Edwardian Era 1890-1901 click on the title you need:-
Footnote:- This page was partially based on content I updated from a dissertation I first wrote in 1979. The dissertation a Comparative Study Between the Rôles of the Edwardian Hostess and the Edwardian Seamstress looked at the symbolism behind Edwardian dress and the rôles of women in Edwardian society. In particular it examined the rôle and high lifestyle of Edwardian society hostesses compared with the degrading working conditions and impoverished lifestyle of the seamstresses that made clothes for hostesses.