Women's Fashion Handbags Autumn 2006 Winter 2007

We all know that women change their handbag styles often. You don't need to lose any weight to buy the perfect new handbag, nor do you need to embarrass yourself by squeezing into it in front of a helpful, but sneering assistant. You can read more about selecting a designer women's handbag from the 2006 bag pages.
This fall the new trend of a clutch bag will update evening looks. Another must have fashion accessory is a tiny bag or minaudière like the ultra small designer evening gold bag. See Blugirl evening bag image courtesy of IFTF.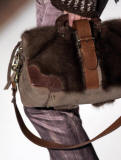 This small inexpensive evening gold bag is from prettyballerinas.com and would go well with the many pretty ballerina shoes they have in gold tones.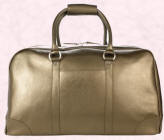 This Marks and Spencer gold bag called Midnight (available for Christmas) is a large barrel bag, it would be perfect for a change of clothes when out and about in the evening whilst having to stay on overnight. This barrel bag is also be available in cream, silver and black.
Overview of online handbag shops at passador.com
You are reading an original fashion trends article written by Pauline Weston Thomas© at www.fashion-era.com ©
For day looks, a big bag is still the bag of choice for many women. Although I do feel that beyond a certain size a big bag becomes LUGGAGE! Read about all types of other bag styles and how to avoid purchasing a fake bag in the 2006 range here.
‡‡
The new film 'Snakes on a Plane' shows the complete hype of snakeskin handbags, belts, wallets, purses, shoes and bangles all in reptilian skins. This may have an influence on purchasers of fashion accessories, but the importance of the film in relation to the trend seems over hyped to me.

Exotic leathers or reptilian skins have been with us for some time and still captures the textures of fall. These handbags come in either real or faux impressed patterns with a high glaze.
Fur bags are a newer use of fur and if you can't wear the bulk that the more voluminous looks currently give then try the bulky fur bag.

Far right is a Gucci Hobo fur bag.
Animal print shoes and fashion handbags abound. These give an instant update without creating too much of a 'Bet Lynch' barmaid effect, as these prints in nasty fabrics sometimes do. Left is an animal print bag from the autumn 2006 range, image courtesy of Debenhams.
I recently treated myself to a Russell and Bromley small cute suede leopard print bag (£145) with partial gilt link chain in its Linky style. It's a perfect expensive looking small boxy shaped bag for day or as an evening bag and still holds a few essentials. It does not have that weighed down look some of the current super sized bags have and which can look ludicrous with evening wear. Leopard print looks terrific with black or gold. With leopard or any animal print choose the bag material carefully to avoid the bag looking cheap.
Fur women's fashion handbag image courtesy of IFTF.
This capacious Billy Bag will hold everything you need. Don't forget fashion handbags come in a wide range of great colours, for example, this berry red is such a great tone that even if red is not your colour you can team it with a black and grey outfit.
There is no doubt, even if you cannot wear a red dress, the colour red need not pass you by this autumn 2006.
Golds and purples are also a strong colours for Autumn 2006 and the purple bag in the header is from Bag Boutique and is an Emma Gordon design.
You are reading an original fashion trends article written by Pauline Weston Thomas© at www.fashion-era.com ©
On designer handbags, casual looks are mixed with luxury details often in the form of gold plated hardware attachments that can form the function once performed by jewellery worn on the neck or wrist.
Chain handles are used often on grab bags. Decorative chain is also applied to the handbag body. Cabochon stones decorate bag corners. Studding is everywhere especially on distressed leathers.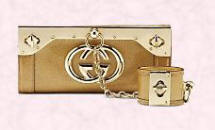 Women's Fashion Accessories are now 'precious' with hardware becoming an accessory to the accessory. An example of bags of this type include this Gucci clutch evening bag shown right. It is the latest fashion trend and has the functional addition of wristlet hardware - after all holding a clutch does put one's other hand out of action.
On many other designer handbags, the accessory additions are just so OTT, but in this case, the wristlet is truly useful. I find it the ultimate silliness to accessorize the accessory with extra charms and brooches. Leave that to the consumer to think out for themselves with real personal items owned with love.
Shoulder bags with a chain strap are another look of this fall. Some bead bags have long bugle beads and trailing fringes.
Gucci brand has been having a boom in sales in the Asia pacific region, with double digit growth globally. Gucci was founded in 1881 and so is 85 years old. Gucci's Frida Gianni reworked the Hobo bag at Gucci to commemorate the 85th anniversary of the Gucci House.
Other top brands for fashion accessories include Bottega Veneta with their handbags performing well. Bottega Veneta is the most prestigious luxury brand of 2006 and is Gucci's second main string to its bow. Bottega Veneta is understated, but makes goods of the highest quality. Very Chic. They are famous for their woven leather distinctive tasteful bags. Such bags account for 83% of the Bottega revenue.
...(v4r)
Bottega Veneta has a website and one section has a unit called Tomas' Picks which is updated 6 times a year to match ready to wear collections. They have 540 styles, but what is online is more limited making it a more exclusive outlet. One concept will be to produce handbags online that are not found at Bottega Veneta retailer properties.
Bottega Veneta has a reputation for incomparable quality. Its trademark recognisable understated fashion handbag is that of the interwoven leather style. Owned by the Gucci Group since February 2001. Tomas Maier, who trained in Paris, joined in June 2001. His shows have been highly acclaimed and he utilises fine materials such baby lizard and soft crocodile often adorned with further embellishment of embroidery or appliqué. The luxury products are available globally from a website designed to satisfy discerning clients
Other brands like YSL have had good sales of the Muse bag. Recently LVMH has extended its stores to Abu Dhabi, UAE and Luxembourg and will soon be in Budapest. They are also set to open a Louis Vuitton outlet in Leeds UK this autumn 2006.
Elliott Lucca handbags often have a look similar to Bottega Veneta handbags, but in a price range more suited to the average person.
This handbag with a woven effect, is a fraction of the cost of a Bottega Veneta designer handbag. The image is courtesy of Debenhams.
Bows Fashion Accessories

Bows are big news as women's fashion accessories. Choose garments trimmed with satin bows at the waistline or under the bustline.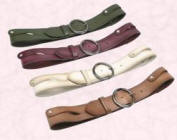 Read about belts here in new fashion trend wardrobe tips and materials. These belts from Benetton on the right are just the sort to wear doubled up.
If you are feeling wistful because this year you simply can't run to a new evening party gown consider adding great accessories to existing outfits.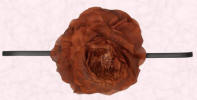 You may already own a glamorous dress quite suitable for the one evening function you may attend this winter. If you don't want to buy a new gown then simply re accessorize your existing gown. Use an accessory such as this House of Fraser lovely flower corsage at the waistline and bring your dress bang up to date with a cinched in waist. Or buy new fashion accessories such as a hard case minaudière.
‡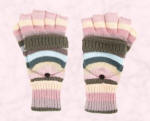 Gloves are back big time. They can be zany like these knitted gloves for young girls from Accessorize or very sophisticated like these tan gloves from Harrods.
These tan gloves are made from extra soft hairsheep leather, a luxurious material coveted for its softness, strength and thinness.
The gloves from Harrods have a pure silk lining and four leather covered buttons at the wrist.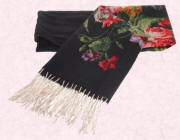 Available in black, camel, cognac and berry at £59.95 they are dry clean only.
Three quarter gloves, 1950s gauntlet gloves and button trimmed gloves set the scene for autumn 2006.
This lovely scarf patterned with large red rose blooms is from Accessorize.
This funky red curly ruffle knit scarf £15 is from John Lewis. It would bring a dash of energy to a dull grey or charcoal outfit.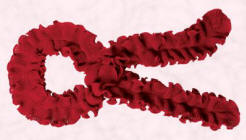 See more red clothes on the red page.
Read more about hat styles in hats, main looks for Autumn 2006/7 and also in wardrobe tips for autumn winter 2006/7.
You are reading an original fashion trends article written by Pauline Weston Thomas© at www.fashion-era.com ©
Images are courtesy of IFTF, NEXT UK, Billy Bag, John Lewis, Harrods, Accessorize, Marks and Spencer and Benetton. Header image Bag Boutique. See the bag in detail on the purple page here.
(Page Date 11 July 2006)
-------v6-------
If you like this page then please share it with your friends
---
For more information on ladies and teens fashion trends go to:-
Archived Sections
Custom Search
About Fashion-Era.com
Fashion-Era.com looks at women's costume and fashion history and analyses the mood of an era. Changes in technology, leisure, work, cultural and moral values. Homelife and politics also contribute to lifestyle trends, which in turn influence the clothes we wear. These are the changes that make any era of society special in relation to the study of the costume of a period.

Fashion-Era.com can take no responsibility for any information on the site which may cause you error, loss or costs incurred from use of the information and links either directly or indirectly. This site is owned, designed, written and developed by author: Pauline Thomas and Guy Thomas. This site is designed to be viewed in 1024 X 768 or higher.
ALL RIGHTS RESERVED. Fashion-era.com reserves the right to add or delete information, graphics and links. Copyright © 2001-2014 on all content, text and images in Fashion-era.com. Images and text in this website may not be used on other websites.
Before you write to me for costume/fashion help or information please, please consult the extensive sitemap which lists all our pages. If you still cannot find the answer after searching the site, then before you email me, please consider if you are prepared to make a donation to the website.
Donations
Reader's donations help this site flourish, in particular donations encourage me to write more articles on fashion history as well as current trends. PayPal allows anyone with a credit card to donate easily and securely. You may donate any sum you feel appropriate.