Dog's Tooth Check and Tartans Plaids in Women's Clothing
Autumn 2006 & Winter 2007
Check and Plaids in Fashion
I always knew Zara was good at catching the fashion moment. But, whilst browsing in my local Zara a few weeks ago, I was knocked out by their terrific take on current fashions and zeitgeist know how. Out came my digital camera to remind me what wonderful styles they had in their store.
The shape of this check coat, see right, is everything you may be looking for in a Balenciaga inspired short coat. I love it, it's such a dynamic statement piece. I can only think that the reason I never tried it on was that it was 30 degrees centigrade that day. Things don't hang around at Zara and within a few weeks it may not be available any more. This coat is youthful, yet so classically styled it would look great on any woman.
The last time I recall hound's tooth, dog's tooth and puppy check making such an impact on high street fashion, was in the early 1990s. Yes we have seen it since, but not on this scale.
Zara was full of black and white selections as this thumbnail of a rack of stylish clothes shows.
At Zara' I spotted this black and creamy white, large check, short jacket. Right on trend, it has a large collar and a belt for a cinched in waist and three quarter cropped bell sleeves with deep cuffs.
Long gloves, or visible contrast knits beneath cropped bell sleeves, are likely to emerge as staple garments as the weather gets colder. Perhaps a long sleeve layer would do just as well.
Try a long black, yellow gold or red sleeve peeping out from beneath a roomy sleeve. These Zara check jackets have also reinforced the layered look.
You are reading an original fashion trends article written by Pauline Weston Thomas© at www.fashion-era.com ©
‡‡
Dorothy Perkins offer this cropped, hound's-tooth check, swing jacket, see below left. It has all the elements of the Zara coat above and would be easy to team with slouchy trousers. The Dorothy Perkins black and white hound's-tooth swing coat is £60 / €99 and the black pencil skirt is £18 / €30
You could also try mixing and matching various sizes of checks in Dorothy Perkins, or from other stores. For example, the second photo, below right, shows a coats from Debenhams, with a skirt from Dorothy Perkins.
The Debenhams black and white, hound's tooth check, car coat, above right works well with the finer check of the skirt. When mixing black and white checks, the modern way is to use several scales of check size. The dog's tooth handbag, also from Debenhams, is very useable and could create an interesting mix with other garments before you fully commit yourself to checks. Details Debenhams Model:- Red Herring dogtooth shift dress £28, John by John Richmond dogtooth checked coat £100, J by Jasper Conran Limited Edition dogtooth tote bag £125, dogtooth tights £6, Mood black bead necklace £15, Collection black cut out pumps £35.
When wearing volume on top, keep the bottom half looking neat and slim. Black slim line bottoms, pencil skirt, skinnies or tailored city shorts would all assort well with the Dorothy Perkins swing check jacket in particular. Just a very small amount of black and white check teamed with plain black can be very striking.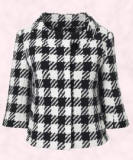 Wallis also have their version of the black and white check jacket shown just right. Taking inspiration from this season's celebration of traditional fabrics such as dogtooth and plaid, Wallis' signature coats and tailoring range mixes 1960's styling with checks and tartan. The large dogtooth Wallis jacket right is £70 (€110).
From my range of photos you can see that every size of check variation is available.
...(v4r)
Very large checks can sometimes be difficult for some women to wear. Checks can swamp and overpower, or create fattening effects on plus sizes when incorrectly chosen. Trying on lots of different styles and fabric textures, is the only way to find the right check for you. On plus sizes, bulky fabric texture can fatten you up, whereas a smoother textured check will create a finer overall effect. Very large checks can also be too overpowering on petites.
Petites and Plus sizes can try out this smart cropped dog's tooth jacket from Marks and Spencer, available both online and in store. They will have stock in a wide range of sizes from petite to plus sizing.
I think this check size is very acceptable on both of the above women. Each looks terrific and at £75 it is a stunning jacket.
The curved hemline and cropped design make for a stylish, yet elegant appearance. The fabric mixture is 40% cotton, 34% polyester, 15% wool, 8% viscose, 2% acrylic and 1% polyamide with a 100% polyester lining, making it the perfect weight in winter for a centrally heated office.
Not convinced? If you like checks and plaids, but think you don't have the presence or figure to carry them well, try a check or plaid accessory. Handbags like shoes have become the perfect way to buy into a fashion trend whatever your size.
Major outlets in the UK such as New Look, Topshop, Oasis, Benetton, Warehouse and Miss Selfridge, sell clothes that make fast moving fashion sales at an affordable price point. These companies make lots of women's clothing available across the quality spectrum.
These clothes are purchased by those who are cost aware and only require a short life for the apparel.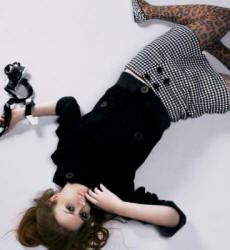 Many teens fit in this category. They have cash, but have many other needs such as buying music, magazines and mobile phone talk time. They want fashion cheaply, yet they get tired easily of a clothing fad.
Miss Selfridge is expert at achieving fast fashion looks for teens and young women. The young can pull off cute mini skirt look, from kilts and ra-ra skirts to bubble puffballs.
This black and white dog's tooth check wrap mini skirt right from Miss Selfridge is styled with animal print tights making it look fresh and youthful all at an appealing price. They have similar black and white dogtooth skirt in their petite range. Miss Selfridge also has wide waist cinchers in dogtooth materials. You are reading an original fashion trends article written by Pauline Weston Thomas© at www.fashion-era.com ©
‡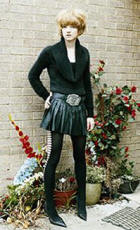 If however you want the real designer look, then you will find the highland plaid mini skirt at Brown of South Molton Street and Harvey Nichols select designer styles.
On the left is the designer version of the plaid mini skirt by Alexander McQueen at Harvey Nichols.
On the right is the rockabilly red tartan skirt version by House of Fraser. Both have been styled with leggings or opaque tights and pointed toe stiletto shoes.
As the rockabilly trend gets underway at House of Fraser, highland fling meets punk rocker. The bold tartan checks and a touch of military styling, make this look one of fashion with attitude. Plaid mini skirts, leggings, tight jeans and pea coats are all high on the agenda for the ultimate rock chick wannabe.
Leggings have been used with dozens of promotional photo shots this season and you can get several styles at chain stores including maternity leggings.
Even though monochrome schemes are hugely popular, red is colour which gives impact in autumn 2006. You can read more about dressing as a 'Lady in Red' on the red fashions page. Red tartan plaids and checks are likely to be worn as everyday wear. The Per Una range will have a short just at the knee red tartan check skirt as autumn progresses.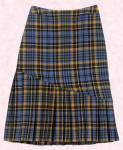 Red and black as a colour mix was a big colour statement in the 1980s and very much associated with power dressing.
If you love the plaid skirt looks above, but know your mini skirt wearing days are over, consider this blue plaid version from designer Paul Costelloe at John Lewis. Sold as separates, a matching jacket is available.
You'll be comfortably in fashion if you wear any of the fashion colour combinations on this page.
You are reading an original fashion trends article written by Pauline Weston Thomas© at www.fashion-era.com ©
Images all courtesy of House of Fraser, John Lewis, Wallis, Miss Selfridge and Dorothy Perkins at Arcadia UK.
(Page Date 23 August 2006)
-------v6-------
If you like this page then please share it with your friends
---
For more information on ladies and teens fashion trends go to:-
Archived Sections
Custom Search
About Fashion-Era.com
Fashion-Era.com looks at women's costume and fashion history and analyses the mood of an era. Changes in technology, leisure, work, cultural and moral values. Homelife and politics also contribute to lifestyle trends, which in turn influence the clothes we wear. These are the changes that make any era of society special in relation to the study of the costume of a period.

Fashion-Era.com can take no responsibility for any information on the site which may cause you error, loss or costs incurred from use of the information and links either directly or indirectly. This site is owned, designed, written and developed by author: Pauline Thomas and Guy Thomas. This site is designed to be viewed in 1024 X 768 or higher.
ALL RIGHTS RESERVED. Fashion-era.com reserves the right to add or delete information, graphics and links. Copyright © 2001-2014 on all content, text and images in Fashion-era.com. Images and text in this website may not be used on other websites.
Before you write to me for costume/fashion help or information please, please consult the extensive sitemap which lists all our pages. If you still cannot find the answer after searching the site, then before you email me, please consider if you are prepared to make a donation to the website.
Donations
Reader's donations help this site flourish, in particular donations encourage me to write more articles on fashion history as well as current trends. PayPal allows anyone with a credit card to donate easily and securely. You may donate any sum you feel appropriate.