Fashion Colour Trends Autumn Winter 2006/7

As autumn 2006 settles down, colour fashion trends for fall 2006/7 reveal that warm earthen tones and natural materials gain appeal as women shop for new clothes.
The strongest colours in this palette are golds, reds and violas.
In autumn 2006 the colours for apparel are firmly in accord with nature. Traditional earthy tones with sun dried rich ochre and terracotta tones gain ground. Women's clothes the colour of pollen, honey, scorched gold, burnt earth and fox hues, meander amid a few livelier more shocking tones. Expect surprise with the jewel colours of purple and vibrant rich ruby red. Urban charcoal greys are enlivened with splashes of the brighter tones and look new because many materials have glazes. All the images below enlarge.
With both greys and gold tones found in pebbles and stones so currently fashionable, either silver grey or golden metals make a good AW (Autumn Winter) 06/07 choice for jewellery or accessory trims. Golden sequins, paillettes and beads, shimmer and glimmer on fabrics that appear to look like molten gold and sheets of liquid glistening glass. Gold is one of the season's hottest looks. I'm sure you will find gold dresses and jackets in every autumn range.
For lovers of pinks good news, pink is still around, but it is either warmer becoming more coral/watermelon toned or more powdered and dustier toward heather/lilac.
Spring and summer saw a move toward natural tones, especially creamy and skin toned buffs or cameo pinks. Fall winter 2006/2007 predictions sees those fashion trend colours merge into earthier and more softened powdered colours. Powdery shades with brownish undertones are used as carob colours are teamed with each other or mixed and layered with old rose or mauve rose pinks. These clothing colours move through the mahogany tonal range and plum pinks. The latter also work well as contrast highlights to grey, charcoal tones and indigo blue dark inky shades. All are strongly acceptable urban colour ways. Greys paired with plum pinks create a seemingly fresh autumn colour scheme.
Winter white set against black helps keep garments looking peppy and sharp, but many whites are soft and flattering with their creamy cast. White can also be as subtly subdued as a pearl or oyster grey like in tone. You are reading an original fashion trends article written by Pauline Weston Thomas© at www.fashion-era.com ©
‡‡

So the colour forecast is to be prepared for more subdued, more murky and subtle fashion colour combinations such as those shown directly left. Autumn 2006/7 colour combinations of the latest fashion palette really are the colours of the rustling leaves of a New England Fall.
The powdered soft-tones help create the newness of a more reserved palette. This dusty palette of the autumnal woodland floor is sometimes surprisingly livened by dashes or strong vibrant red, mahogany or purple. Metallica fashion looks are important - many colours are over burnished with a metallic cast and the fashion trendsetter will already be garnering more natural dusted earthy tones on their wardrobe rail.


Good colours to invest in for fall 2006/2007 are all the earth tones, golden ochres, rusts, taupe, khaki, olive green, red, and purples.
Colour combinations of the palette this season really are the colours of falling leaves. Golden mustards are key colours for fall. Read more about Gold Looks and Gold Accessories.
Sometimes because of layering you will see colours that are not shown here as colour mixing takes place on the layered garment. For example a garment with a layer of gold georgette over a blue tone chiffon will create a variation of sea green.
Soft whites and subtle, but rich monochromes with texture on texture are all very strong for fall.

Along with the shimmer of glistening gold materials, red and purple are both likely to provide the most vital injections of colour.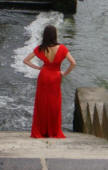 Red comes in every hue from cranberry to iron oxide. These bursts of colour will be vital to add life to what is a fairly subdued murky palette with a great deal of monochrome grey schemes. Read more about the red dress here. You are reading an original fashion trends article written by Pauline Weston Thomas© at www.fashion-era.com ©
Even so all the colours of fall are more muted than in previous recent season.
When I was in Paris, earlier this summer, this glorious red gown right was being photographed on the Seine at a photo shoot. I could not resist snapping the wonderful dress back myself. This gown says top fall colour for 2006/7.

These rich colours of ruby, purple, gold and green tones means a higher demand for colour coordinating gemstones. Rubies, red and rust garnets, amethyst, tanzanite, citrine, Peridot, emerald, and tourmaline are all jewels which pick up the tones of fall beautifully.
All the images enlarge.


Grey and charcoal ranges from pale grey to blue grey and deep ultramarine blue to darker shades.
Premium denim is dyed deep indigo or black. Black denim is de rigueur. The denim is premium pristine quality and is not distressed, torn or abraded.
§
Mood Boards

See my four AW 2006/7 color Moodboard pages enlarged and in greater detail here.
Read about the main looks for fall winter 2006/7 here.
Fashion-era copyright on these images. You are reading an original fashion trends article written by Pauline Weston Thomas© at www.fashion-era.com ©
(Page Date 11 July 2006)
If you like this page then please share it with your friends
---
For more information on ladies and teens fashion trends go to:-
Archived Sections
Custom Search
About Fashion-Era.com
Fashion-Era.com looks at women's costume and fashion history and analyses the mood of an era. Changes in technology, leisure, work, cultural and moral values. Homelife and politics also contribute to lifestyle trends, which in turn influence the clothes we wear. These are the changes that make any era of society special in relation to the study of the costume of a period.

Fashion-Era.com can take no responsibility for any information on the site which may cause you error, loss or costs incurred from use of the information and links either directly or indirectly. This site is owned, designed, written and developed by author: Pauline Thomas and Guy Thomas. This site is designed to be viewed in 1024 X 768 or higher.
ALL RIGHTS RESERVED. Fashion-era.com reserves the right to add or delete information, graphics and links. Copyright © 2001-2014 on all content, text and images in Fashion-era.com. Images and text in this website may not be used on other websites.
Before you write to me for costume/fashion help or information please, please consult the extensive sitemap which lists all our pages. If you still cannot find the answer after searching the site, then before you email me, please consider if you are prepared to make a donation to the website.
Donations
Reader's donations help this site flourish, in particular donations encourage me to write more articles on fashion history as well as current trends. PayPal allows anyone with a credit card to donate easily and securely. You may donate any sum you feel appropriate.