Fur Fashion Trends Autumn 2006 Winter 2007
Reprinted International Fur Press Report News for Women Autumn Winter 2006/7
MODERNISM IS THE NEW MÉTIER OF THE PARIS COUTURE
A vital new dynamic infuses the Couture collections for Autumn/Winter 2006-2007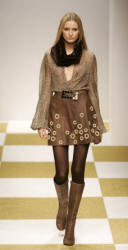 The masters of Couture approached their Autumn/Winter 2006-2007 collections with a sense of modern style that firmly connects Couture's luxury and craftsmanship with the 21st century.
As a result, Couture has never been more relevant, imbued with a fresh vitality for the ever-younger coterie of celebrity customers who attend the shows.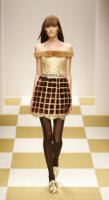 The presence of young stars in the front row generates more than just publicity for the designers; the styles worn by celebrities are now a major factor in influencing the public's sartorial choices. The repercussions of Mischa Barton attending Galliano are hard to track, but her field of influence over the direction of fashion is indisputable.
Read about the meaning of couture here.
Christian Lacroix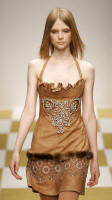 Autumn/Winter 2006-2007, Couturiers have redefined the major story of the ready-to-wear shape by further simplifying it, giving it a more youthful silhouette, and using imaginative craftsmanship and luxurious materials.
And for observers of fur fashion trends, the autumn 2006 range was all about simplicity of shape and clever juxtaposition with contrasting fabrics, textures and metallics.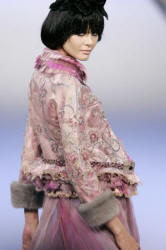 Modernism's simplified presence on the Couture catwalks was evident in Christian Lacroix's remarkable collection, which the designer described as "quintessential couture" and "freedom without extravagance".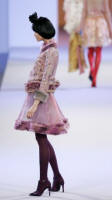 All images this page courtesy of IFTF.
Lacroix imparted bell-shaped perfect fit to a burgundy velvet coat with a sable fur collar and fox trim, as well as to a richly embellished grey-and-black velvet mini coat with full sleeves of finn raccoon.
Taking modernism to the extreme, designers mixed fur and fabric in sculptural silhouettes with subtle details.
At Givenchy, Ricardo Tisci's autumn 2006 range included an almost egg-shaped fox coat with metallic insets, and an extraordinary round-shouldered collarless coat that combined sheared and longhair mink fur in horizontal bands.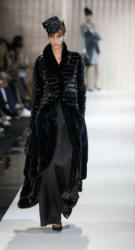 In its second couture collection, Armani Privé used sculpted sheared-and-grooved mink in a cutaway maxi coat, which masterfully accented the luxurious, clean lines of the collection.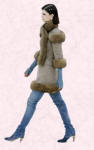 Attention to precise cutting was a key Couture trend, modern medieval, seen at both Jean Paul Gaultier and Chanel.
At Chanel, Karl Lagerfeld melded the medieval and the modern in a short-skirted suit, embellished with pearl beading and trimmed with sable fur, balanced by edgy denim thigh-high boots. All thumbnails above enlarge.
Gaultier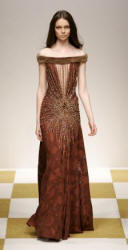 Gaultier's full-skirted and bell-sleeved silver fox maxi coat, cinched in the back with a leather corselet, was an exercise in both craft and cut.
In his autumn 2006 range, Gaultier went to great lengths for a modern-day Maid Marian, creating a long, shoulder-less, russet velvet dress, flung with wraparound red fox fur.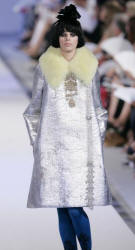 Christian Lacroix uncharacteristically used simplicity as the golden rule for his textural silver-metallic trapeze coat trimmed with a bold, shoulder-defining fox fur collar and decorative metallic-beading accents.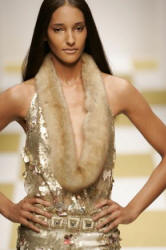 Hobeika gave gold lace a modern turn in a bell-shaped dress with geometric-cut sheared-mink fur trim.
Read about the meaning of couture here.
‡‡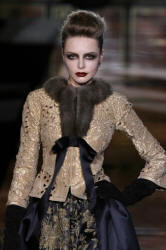 Valentino's evening jacket, lavished with gold lace, trimmed with sable fur and paired with a full skirt, served as an elegant underscoring of the season's contemporary shape.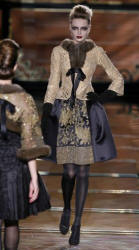 Paris Couture for Autumn/Winter 2006-2007 reinforced the significance of the collections to all fashion and the influence of the Couture shows will spread as ripples in a pond.
The fur fashion trend came to a head as the designer linked luxury, craftsmanship and modern sensibilities for the 21st century in general and the autumn 2006 range in particular.
All fur fashion images on this page are courtesy of IFTF. My thanks to Fran Harrow of IFTF.
(Page Date 27 July 2006)
Read about the meaning of couture here.
§
If you like this page then please share it with your friends
---
For more information on ladies and teens fashion trends go to:-
Archived Sections
Custom Search
About Fashion-Era.com
Fashion-Era.com looks at women's costume and fashion history and analyses the mood of an era. Changes in technology, leisure, work, cultural and moral values. Homelife and politics also contribute to lifestyle trends, which in turn influence the clothes we wear. These are the changes that make any era of society special in relation to the study of the costume of a period.

Fashion-Era.com can take no responsibility for any information on the site which may cause you error, loss or costs incurred from use of the information and links either directly or indirectly. This site is owned, designed, written and developed by author: Pauline Thomas and Guy Thomas. This site is designed to be viewed in 1024 X 768 or higher.
ALL RIGHTS RESERVED. Fashion-era.com reserves the right to add or delete information, graphics and links. Copyright © 2001-2014 on all content, text and images in Fashion-era.com. Images and text in this website may not be used on other websites.
Before you write to me for costume/fashion help or information please, please consult the extensive sitemap which lists all our pages. If you still cannot find the answer after searching the site, then before you email me, please consider if you are prepared to make a donation to the website.
Donations
Reader's donations help this site flourish, in particular donations encourage me to write more articles on fashion history as well as current trends. PayPal allows anyone with a credit card to donate easily and securely. You may donate any sum you feel appropriate.