Female Fashion Trends 2006/7 Autumn 2006 Winter 2007
Dolce and Gabbana Press Reports For Women Autumn Winter 2006/7
*DOLCE & GABBANA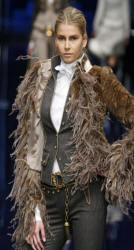 The sophisticated charm of royal beauties, the amazing allure of imperial feasts and the romantic style echoing Napoleonís gliding parades are the essence of this Dolce & Gabbana fall/winter 2006-07 collection that played around the Emperor, his famous wives, and his well known lovers.
In the impression of a magic music box, which reveals its precious jewels one by one, Dolce & Gabbana presented a vibrant collection were each piece was a uniquely crafted and specially embellished work of art. Every look was created with distinctive detail and unique intricacies, while remaining modern and wearable. This signature style is now a trademark of the House.
Left photo courtesy of IFTF of Dolce & Gabbana mahogany mink jacket with mink fringe.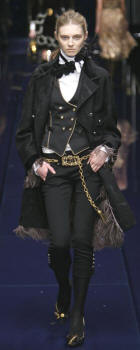 Short jackets with metal buttons and military embroideries, ŗ la Imperial Army, complement perfectly designed coats and fitted jackets in new proportions, which are worn over high-collared shirts.
Tight knickers and jodhpurs accentuate the silhouette and create a long line when worn with high boots.
Romantic capes and empire-waist baby doll dresses create a feminine counterbalance to the androgynous Imperial side of the collection. The result is a juxtaposition of Napoleon versus Josephine that celebrates the two sensual sides of a woman - a woman who plays with the symbols of power but knows that her real force is always found within.
Right - photo courtesy of IFTF of Dolce & Gabbana, Black coat with mink fringe.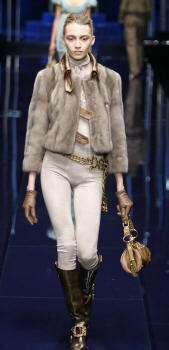 The colour palette and detailed accents of the collection are what truly define and distinguish each look. Sable, chalk, ice, and canvas are the most important colours that compose this serene palette.
Touches of royal blue, deep red and emerald green, strategically used throughout the collection, add a regal opulence to the show. Detailed accents of gold-brushed chains, Napoleonic bees and gold laurel leaves create a strong statement of luxury, refinement, and elegance.
In addition, over forty-three different kinds of intricacies (from archives of the most prestigious and historical Parisian couture atelier) glisten on coats, jackets, and dresses.
Left - Dolce & Gabbana - Cerulean mink cropped jacket. Photo courtesy of IFTF.
For accessories: delicate velvet slippers with gold stitching alternate with high boots; the must-have court shoe is in velvet, with a 6cm (to swap with the classic 11cm) heel.
áá
Fashion Handbags
The "Miss Waterloo" bag is shaped like an antique coin-purse, with a round buckle and a short leather and metal handle; the same fastening enhances the "Miss Lise" bag, in velvet and fine leathers.
The "Gloriosa" bag is also in velvet (in lots of colours) or in leather, and has a dense DG embroidered logo with imperial laurel and gold chains.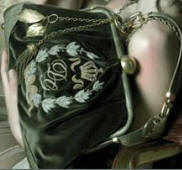 The bijou "Etoile" bags, in velvet and encrusted with pearls and feathers, complete the grand finale look; but the real "it-bag" for this season is the "Hot Baroque", embellished with baroque buckles and gilt laurel leaves, produced in ostrich, eel or leather.
Beads, crystals, sequins, pearls, and feathers (some of which are hand painted in leopard or gilded in gold) are applied by hand to create thirteen unique gowns for the finale. In pure Imperial court style, each of these couture-like gowns express the essence of Dolce & Gabbana with their handcrafted signature workmanship and intricate detailing. Elegance, tailoring, refinement, and sensuality make up the perpetual allure and unmistakeable quality of this beautiful fall collection.
Milan, February 2006 *
The D&G Collection below showed a strong emphasis on knitwear and layers.
*D&G
A VACATION IN THE SNOW

D&G women on a romantic, sexy and glamorous weekend in the snow.
WEAR: White wool knitwear: hand-made cashmere, mohair and angora threads, often matched with light and impalpable fabrics like organza.
Knitwear appears for dresses, micro shorts, bodysuits, boots, bags and even underwear.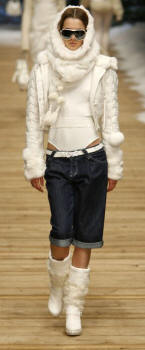 An extremely luxurious revisitation for all mountain-wear: the ski suits in hi-tech material, that shorten and reduce themselves to a second skin, quilted jackets with borders in Mongolian fur. Snowflakes in precious Swarovski decorate the clothing and even the moon boots.
The only colours allowed are dark blue found in denim with white stitching, always worn with pure white sweaters and red on velvet skirts or sweaters with sequins.
DESTINATION: All ski locations.
On the D&G catwalk, special t-shirts displaying a frame from Madonnaís last video, "Sorry," created exclusively for the womenís winter show. The t-shirts are a warm-hearted tribute to one of D&Gís greatest admirers.
Milan, February 2006*
*DOLCE & GABBANA
...(v4r)
The new power of the Dolce & Gabbana man: himself.
A crown: an unmistakeable symbol of strength and independence, that celebrates a man who is able to reign with his own will.
The suit was the way in which man boasted his own self-assurance and his own power, today he no longer has that necessity.
A new man is born: not the daring man of the 80s, not the introspective one of the 90s, today a man is aware, independent and has conquered a perfect equilibrium between body and mind.
This new man discovers self-esteem and the satisfaction of looking after his own body.
Interior serenity: no to exercising power through the suit... the deconstructed suit.
Confidence: no ostentation... T-shirt seraph.
New self-awareness... brocaded velvets.
Self-esteem: satisfaction in communicating sensuality... sweaters, velvet scarves.
Care for oneself and oneís own body... tight-fitting shirts.
Masculine aggregation: free time, gym and shopping with friends... emperor/military.
The Dolce & Gabbana man has always understood the importance of oneís own personality and has never kept secret his desire for sensuality, although this could undermine the rules of etiquette.
It is evident how the Dolce & Gabbana style has influenced, on a global level, menís clothing by imposing itself as the predominant aesthetic taste, also for those that Dolce & Gabbana does not dress: jacket, shirt and ripped jeans.
Milan, January 2006*
*D&G
A VOYAGE IN THE WORLD OF D&G
FIND: creative sailors, deck hands with admiral uniforms, deep-sea fishermen, dockers, military cadets, experienced seamen and captains swap clothes.
WEAR: long and tight-fitting deck hand long-johns worn with a baggy jacket on which military badges are applied. Special boots in leather and fabric. Shrunken and wrinkled jackets with clashing buttons matched with over-sized trousers. Heavy Norwegian fisherman wool sweaters in dark blue and off-white, matted wool sailor caps and thick scarves. Jogging suits and sneakers with anchors.
DESTINATION: the seas of the world.
A tribute to Madonna: special t-shirts are featured on the catwalk depicting the cover of her latest album "Confessions on a Dance Floor" in which the superstar wears D&G. The T-shirts were created exclusively for the D&G Menís Autumn/Winter 2006/2007 fashion show.
á
Milan, January 2006
D&Gís little women will have a wardrobe for all times of day in Autumn-Winter 2006-07.
The Glitter Star theme features kiddie skaters: lines and colours of the ice dance world enhanced with glitter graphics, stars and precious details. The dominant colour is navy, combined with white, red, pink and grey mťlange and striped motifs.
For the flirty, romantic girl, the theme is Velvet Print with floral prints on smooth velvets and treated denim. The vintage-feel prints prefer Seventiesí style cult advertising subjects.
The New Portrait theme is the expression of true elegance, inspired by a portrait of old-style Sicily, starring black with hints of wool lace and crochet that express the excellence of Made in Italy.
Velvet, astrakhan, satin, lace and jersey are combined with denim to create soft, warm pieces like bombers and short coats. Crocheted mohair flowers enhance cardigans and sweatshirts, with prints brighten up black t-shirts and blouses.
Delicate shades of milky white and antique pink are the backdrop for the Sweet Home look: a romantic style in which the floral motif is the outright star of the show. Ruching, crochet and mohair trims embellish the garments and make them even more girly. Treated, distressed tweed is presented in an original casual look for jeans-cut trousers and bombers. Coloured sequins and beads are embroidered onto jersey t-shirts for a flirty look.
The D&G boy gets a tough, upfront look in the Fans Jump theme, with colour in the front line. Red, hazelnut, navy alternate to highlight fabric mixes of plush, towelling and denim that sketch out stars, numbers and very sporty slogans. Bomber jackets in knitted fabric cut with denim inserts are the themeís cult item.
Lots of details to enhance each tastefully-created novel, practical garment: branded zip-ups and belts with logos. Kiddiesí thirst for adventure is the theme for Fish 4 Fun, expressed in clothing inspired by fishing in the north seas: a mix of seafaring stripes dominated by blue, red, grey and cream.
Prints and embroidery conjure up a Norwegian feel for t-shirts and polo shirts. Denim appears in various nuances of "navy-style" washes, waistbands lined with branded underwear elastic. Gabardine oversize trousers feature buttons and trims.
The Italian Player theme has gritty, comfortable garments that follow the D&G Junior kid on his metropolitan days. Slogans, prints and embroidery with a sporty feel, inspired by the world of football, decorate sweatshirts and t-shirts with a sport-chic feel. Cardigans, sweatshirts and crewneck sweaters mix black, grey and ecru.
And when heís tired of football, the D&G Junior lad will get down to the country for some Farm Style. The colour palette includes rust, mud, sand and burgundy, with a special treatment for fabrics to give them vintage-look "used" style: printed t-shirts using subjects from old ads, with denim meeting sheepskins and tweed for comfy, warm big jackets.
D&G Juniorís "baby boy" and "baby girl" take inspiration from the bigger kids wardrobe, with more comfortable, bright colours for next winterís D&G Junior Newborn range.
Photos courtesy of IFTF.
(Page Date 11 July 2006)
-------v6-------
If you like this page then please share it with your friends
---
For more information on ladies and teens fashion trends go to:-
Archived Sections
Custom Search
About Fashion-Era.com
Fashion-Era.com looks at women's costume and fashion history and analyses the mood of an era. Changes in technology, leisure, work, cultural and moral values. Homelife and politics also contribute to lifestyle trends, which in turn influence the clothes we wear. These are the changes that make any era of society special in relation to the study of the costume of a period.

Fashion-Era.com can take no responsibility for any information on the site which may cause you error, loss or costs incurred from use of the information and links either directly or indirectly. This site is owned, designed, written and developed by author: Pauline Thomas and Guy Thomas. This site is designed to be viewed in 1024 X 768 or higher.
ALL RIGHTS RESERVED. Fashion-era.com reserves the right to add or delete information, graphics and links. Copyright © 2001-2014 on all content, text and images in Fashion-era.com. Images and text in this website may not be used on other websites.
Before you write to me for costume/fashion help or information please, please consult the extensive sitemap which lists all our pages. If you still cannot find the answer after searching the site, then before you email me, please consider if you are prepared to make a donation to the website.
Donations
Reader's donations help this site flourish, in particular donations encourage me to write more articles on fashion history as well as current trends. PayPal allows anyone with a credit card to donate easily and securely. You may donate any sum you feel appropriate.