Colour Fashion Fabric Trends - Autumn Winter 2006/7
Fabric, Print, Texture & Knit Autumn Winter 2006/7

The most important textures for Autumn 2006/7 are of airy light lace knits, jersey knits, loose thread fabrics, brocade and textured cable Aran. Fluid jersey knit fabrics and brocade are two of the strongest fabric stories for fall.
Lustrous Jacquard damask renaissance brocades, gold sequin fabrics that look like liquid or molten gold, silk velvet, satins, boiled felted wools and of course fur make for an opulent autumn. Many autumn 2006 fashion fabrics are dry looking with checked, chalk striped or herringbone chevron patterned.
Calvin Klein's autumn 2006 range has very full herringbone trousers with chevron running through designs. These herringbone and chevron patterns cross the whole range of materials right through to fur. Designer fur and couture fur can be feathered, shaved or knitted to create a lighter effect. Shearling furs both real and faux and animal prints such as leopard prints still seem loved by many.
Leathers are embossed with organic surface texture patterns as well as reptilian/snakeskin effects. For those who can afford it crocodile leather is a high end finish.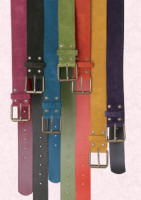 Of the exotic skins saltwater crocodile skin is highly sought after and commands a premium price even over alligator because of the shape and scale of pattern.
The skin is flexible and can be re-polished when scratched. Python and snake are mostly used for small leather items as the scale of pattern is smaller and the skins are also expensive. Artisan tooled leather effects encompass bags belts and apparel.
Coloured leathers using the main colours of fall create instant interest to more sombre greys and micrometric black and white schemes. So cinch that waist.
Often further texture is introduced by weaving leather strips into a new textile.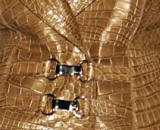 Finishes given to many textiles especially leather includes burnishing it with a metallic cast or distressing it. Gold looks are especially popular in all materials.
The distressed washed effects give a mattness and dry look which can contrast well with another trend for fluid glazed materials.
Smocking, ruching, wrinkling and gathering all add extra texture as does layering of sheer chiffons.
Wood used as beads and as elements of accessories such as cone heels add a rustic touch to the autumn 2006 range.
You are reading an original fashion trends article written by Pauline Weston Thomas© at www.fashion-era.com ©
‡‡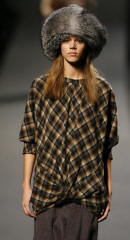 Plaid fabrics are strongly bold in larger than usual scale in black and white or charcoal/cream/grey mixes.
Surprising bursts of colour mean there will be red tartans which work well in taffetas. For more natural country looks of wools, velvets and corduroys, expect to see heather tones, earthen rusts and olive khaki green mixes. Read more about the autumn 2006 range of colours here.
City smart tablecloth check wools provide contrast to plain and knobbly textured tweed and worsted weaves. Revived traditional Nordic or Fair Isle patterned knits complete any designer country look.
Retro print imagery, often abstract, is a fashion fabric trend seen in autumn 2006. It has many design motifs giving print fabric a geometric quality. The enlarged oversized floral textiles around have Painterly effects such as those seen in impressionist Monet qualities. A pointillist approach makes these overblown flower prints exotic and fantasy like. Retro prints have been a novel fashion through 2006 and in particular TopShop UK employed designer Celia Birtwell to produce a range of attractive fresh looking prints.
Computer designed fashion prints and graphic patterns sit happily beside checks, plaids and tartan fabrics. Blow-up photos create accurate art print fabrics possible with modern printing methods. Jersey knit is a popular fabric for winter prints and is perfect for the current demand for dresses.
Pattern mixing of prints such as spots with chevrons or scaled up or down similar motifs compete with animal prints. The love of animal print has not abated with animal print trench coats, animal print shoes and cuffs.


As winter approaches shantung silk and thick duchesse satin and damask brocades help create the volume needed to achieve the silhouette of the many reworked sixties styles. These are especially suitable for evening or occasion events which are car to door.
Rich satins zing when in the jewel tones of purple and red, are the new fashion fabric trend for autumn.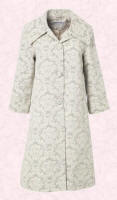 One UK Arcadia high street company that has done brocade especially well, is the Wallis group whilst Donna Karan produced a light as air brocade coat for their autumn 2006 range. Another retailer who has excellent richly opulent fabrics in its garments is Zara.
Creamy gold and antique gold toned brocades are perfect for special dresses and coats for the festive season.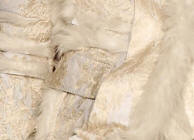 You are reading an original fashion trends article written by Pauline Weston Thomas© at www.fashion-era.com ©


Oriental imagery is displayed on out of the ordinary exotic coats, jackets, ball gowns, evening pants, dresses and even bags. These items of apparel are made of fabric covered in the embroidery, print or damask weave of exotic birds, fronded feathers and curlicues, bursting chrysanthemum blooms, luscious peony forms, leaves, fleur-de-lis and heraldic forms. They conjure up visions of opulent Baroque luxury and Ottoman delight.
Striking, but simple approaches to this look with items that have refined black and gold ornament is the easiest way to adopt this look, as is all gold ensembles. The braver will find items using strong heraldic mixes of blue, rich rusty reds, copper and gold to get maxim impact. Beading like this Blumarine example right is luxurious. Click the image to see the detail.
These embellished rich satins are often cut in kimono style or easy coats and jackets with Bal sleeves. Taffeta textiles are used to create flamenco ruffles, this striking soft bustle train effect reinforce a different kind of volume.
...(v4r)
Yarns are becoming more rustic, but have a lightness. The new fashion trend is for thicker looking winter knits, but which are lighter in weight than traditional chunky winter fabrics. Since the decline of thicker garter stitch knits in the mid 90s for 'little velvet trimmed fine knit cardigans' we have come to view wool yarns only as fine yarns. Now in the same way that irregular lines, ramie and silk have become accepted for naturally occurring slubs, so too wool mixes that have a more rustic quality will become acceptable on the high street. There will also be airy gauze like wool yarns that are gossamer light and fine next to the skin.

One of the strongest textural uses of yarn is without doubt the revival of the cable knit pattern. Cable knit patterning as all over pattern or as single cables is a very important feature of winter, going beyond knitwear and hats into footwear and handbags. Knitted cable and Aran knits are on everything from hats to sweaters to bags.
Ralph Lauren had a fall hunting theme using rich textures such as a cable knit olive green cardigan teamed with tartan dress in silk taffeta. Vassar woman wore a pencil skirt, cardigan and shirt dresses.
Cosy knit accessories from top designers like Michael Kors and Sonia Rykiel are sure to be copied by the high street too. Knitting is big again both in commercial terms and craft terms with knitters reviving old skills.
Cable knit bags are trimmed with calf skin studs and tassels or given the Luxe finish with knitted in strips of fur. Bags have knit cable panels and corner trims or braids or fringes are worked in crochet. Fur is used extensively on bags and knitted fur effects are popular. There are bands of cable on all types of garments, with cable knit sleeves in coats, cable knit spat like boots.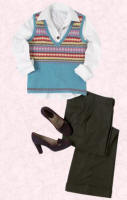 This patterned yoke style left and set on a plain body is a great way to gradually reintroduce patterned knit into your wardrobe. Traditional Fair Isle and Inca patterns re-emerge from the knitwear archives of years gone by. This fair isle V-neck knit from Boden has been paired with wide slouchy trousers.
Many knitted tops have raw edges giving them a funky edgy quality.
Set against the delicacy of lace some totally rib knit garments are making a reappearance. In contrast the deep wide rib band is back as in the D&G knitwear above. Marc Jacobs used the wide rib knitwear techniques to good effect in his toboggan hats. Some knits have shawl collars with wide deep rib bands.
Lagerfeld showed a new twin set which was a cardigan worn over a cardigan rather than over a jumper and he may have set a new fashion trend easy for us all to adopt.
You are reading an original fashion trends article written by Pauline Weston Thomas© at www.fashion-era.com ©
‡
The lacy theme continues as hole like meshes, crochet and macramé pick up on the airiness of lace films.
Lace and mesh fabric has moved beyond being a mere fabric fashion trim. The summer of 2006 saw a great love of broderie anglaise as a garment fabric and now as whole garments made from Irish crochet or lace fabrics. Look way beyond lace dresses onto lace coats and lace bags.
Michael Kors teamed a tan roll neck sweater with a very 60s pinafore dress with argyle pattern socks. Use of college tartans revived the Love Story/Ali McGraw look with rugby preppy stripe looks teamed with maxi kilts and knee socks.
As consumers search for ever new novelty and better quality in products they feel they deserve, there is clearly a trend for high end yarns and fabrics. Dominant innovators are the Italian yarn producers. They face competition from low cost producers such as China Turkey and Korea.
2 years ago in Italy the Manifattura Sesia Mill invested in high end yarns and dropped basic yarns. The move is toward luxury end fibres. Zegna Baruffa mills of Italy are a leader of manufactured merino yarns and textiles.
Cashgora, made in Italy by the Zegna Baruffa Mill will soon introduce Cashgora a development from the cashmere goat to the mass market. It has a really long staple making it shinier and softer than other cashmere, but with all the qualities of both cashmere and mohair. Cashgora can create different end qualities dependant on whether it is spun with wool or with nylon or with camel or alpaca hair.
...(v4r)
There is still a desire for tops including knits that can be paired with jeans. This gives designers freedom to design in a variety of textures and shapes from cropped to long and belted knits. But the move is away from the the little chiffon top fashion of earlier years. Tops featuring novelty yarns or made up as Victorian inspired lace knits may begin to replace the flowing chiffon georgette empire and halter tops of recent times.

Denim is perennially popular and is still manages to be made up in the latest new fashion trends. Denim is worked in every style including tuxedo tops, equestrian denim and boyfriend look denim. Premium denim brands are making their jeans skinny in dark indigo or black.
Washed and distressed jeans have passed in favour of denim jeans that look brand new. Jeans are such an important part of the wardrobe of many age groups and a denim jacket thrown over a floaty chiffon dress soon dresses it down.
Textiles made from eco friendly materials are gaining interest as some consumers seek clothes made by ethically conscious companies from the basic production of eco aware yarns to the working conditions, production techniques and finishing methods found in garment factories. Bamboo fabric is gaining favour with eco designers.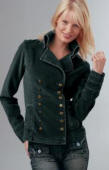 Gold braid trims continue to trim jacket edges creating ornamental Napoleonic Military effects. Even boots are over decorated with gold trim in Russian braid effects. This excess military effect embraces double and over sized button decoration which meanders around garments almost like jewellery.
A trend which has been gaining increasing ground is that of sailor button decoration on pants, coats and jackets. Big oversized buttons are the fastener of choice of Autumn 2006.
All thumbnails below enlarge. Read full fashion colour report 2006/7 here. See Autumn 2006/7 colour mood boards and read about the main Autumn Winter 2006/7 looks here.
Images courtesy of Boden, IFTF, Wallis, New Look and NEXT Directory UK. Special thanks to David of http://www.prshots.com/.
You are reading an original fashion trends article written by Pauline Weston Thomas© at www.fashion-era.com ©
(Page Date 11 July 2006)
If you like this page then please share it with your friends
---
For more information on ladies and teens fashion trends go to:-
Archived Sections
Custom Search
About Fashion-Era.com
Fashion-Era.com looks at women's costume and fashion history and analyses the mood of an era. Changes in technology, leisure, work, cultural and moral values. Homelife and politics also contribute to lifestyle trends, which in turn influence the clothes we wear. These are the changes that make any era of society special in relation to the study of the costume of a period.

Fashion-Era.com can take no responsibility for any information on the site which may cause you error, loss or costs incurred from use of the information and links either directly or indirectly. This site is owned, designed, written and developed by author: Pauline Thomas and Guy Thomas. This site is designed to be viewed in 1024 X 768 or higher.
ALL RIGHTS RESERVED. Fashion-era.com reserves the right to add or delete information, graphics and links. Copyright © 2001-2014 on all content, text and images in Fashion-era.com. Images and text in this website may not be used on other websites.
Before you write to me for costume/fashion help or information please, please consult the extensive sitemap which lists all our pages. If you still cannot find the answer after searching the site, then before you email me, please consider if you are prepared to make a donation to the website.
Donations
Reader's donations help this site flourish, in particular donations encourage me to write more articles on fashion history as well as current trends. PayPal allows anyone with a credit card to donate easily and securely. You may donate any sum you feel appropriate.