Fur Fashion Trends Autumn 2006 Winter 2007
Reprinted International Fur News Reports For Women Autumn Winter 2006/7 From IFTF
International Catwalks Set the Stage for Spectacular Innovations
For Autumn/Winter 2006-2007, the emergence of a new sense of shape and structure in designer collections has made fur not only a key element this season, it has provided a vital direction for the image of fur itself.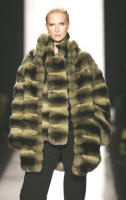 Rounded shapes, A-line silhouettes, cropped jackets, and architectural looks are the season's key signatures, and everywhere, designer fur has been masterfully cut or combined with fabrics and leather, using detailing that emphasizes collars and cuffs, sleeves and pockets, borders and edges.
Colour and shape replace ornamentation and decoration as the focal points. A quiet sensuality turns up in pared-down power-dressing, sometimes with metallic touches for a bit more glamour. Black continues to best show the new silhouettes, joined this season by winter white and grey, along with a palette of dark colours.
One of the key looks for Autumn/Winter 2006-2007 is the voluminous rounded silhouette, with elements that range from rounded shoulders, to rounded sleeves that are puffed, gathered or belled, to bubble and tulip hemlines.
Some of the best examples were at Chado Ralph Rucci, where the designer fashioned chinchilla into a deep-green bubble jacket, complete with rounded shoulders, or at Alberta Ferretti, whose collarless mink coat in midnight blue featured dropped shoulders and gathered sleeves, and was tied at the waist with a bow.
The New Fur Coat.
Designers have come up with new ways of working with fur, and the result is a garment that is more casual and wearable. It's the 'New Fur Coat', combining the best of fur with materials such as fabric or leather in innovative ways. It's the way a modern woman will wear fur everyday, because it is easily worked into her lifestyle.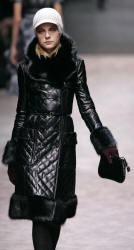 Marc Jacobs started the trend, with his single breasted grey wool coat, topped with dyed silver fox crafted oversized rounded collar and full, belled sleeves.
Burberry Prorsum designer Christopher Bailey takes on the style using fox to update Burberry's classic trench coat, now detailed with deep, fur banding from waist to hem, deep fur cuffs and an oversized collar.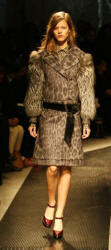 At Prada, designer Miuccia Prada took a slim wrap coat in a grey animal-print and gave it, shoulder-defining silver fox sleeves.
In Patrick Robinson's debut collection for Paco Rabanne, one outstanding star was a slim navy leather coat made luxuriously contemporary with brown fox sleeves.
‡‡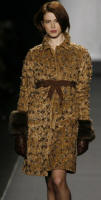 Designers were creative and plentiful in their use of designer fur touches at a garment's many edges, borders, collars and cuffs to give it a new shape and visual interest.
Jean Paul Gaultier mixed a brown shearling coat and gave it a deep, border of vertically worked golden isle fox.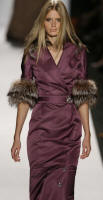 Cuffs were a focal point for several designers' use of fur accent. Carolina Herrera used fox cuffs and collar to accent her mauve silk faille wrap gown.
Bill Blass added sable cuffs to a cognac embellished coat tied well above the waist.
When trimming the border or the cuff with fur wasn't enough, designers used both, such as Chado Ralph Rucci's pale yellow wool A-line coat with a rounded hemline, accented with sable cuffs and borders.
Milan led the trend where new shorter lengths appeared at Miu Miu, Prada, Balenciaga, and Gucci, and what better to join this new look than mini fur coats. Costume National's ombred dyed grey fox fur coat had gathered sleeves and a leather belt. Slinking down the catwalk at Gucci was a sleeveless golden fox mini coat worn over a metallic mini dress with a sexy, low-plunging cowl neckline.
Prada's hooded black anorak, trimmed in fur, worked well over a sheer black mini dress.
For Autumn/Winter 2006-2007 the global fashion community has turned out strong, powerful fur looks that fit the lifestyle of modern women. These new shapes and creative uses of designer fur have reached out to a new customer, one who has never worn fur before.
§
Autumn/Winter 2006-2007 women's collections are inspired by diverse sources
From couture shapes of an earlier era, to dark shadows of rich, illuminated colour and the elegance of subtle glamour, fur has achieved a new power and authority in fashion. Here are three key highlights of this powerful Autumn/Winter season in women's furs.
Purists.
This group of designers have fashioned a season of pure, stripped-down style in which shape and structure dominate. Alberta Ferretti used sleek structure with an elegant line in a black wool cape and wide black fox collar.
The karakul jacket at Marni showed shape in its cropped length and belled sleeves. Rounded shoulders provided shape in an animal-print coat at Marc Jacobs, made opulent with a fox border. Using shape to its fullest, J. Mendel created a steel-grey karakul coat with structured shoulders and a narrow waist, worn in contrast over a slightly flared skirt.
The New Romantics.
A shift toward romantic dressing was evident at shows in Paris, Milan, London and New York. From romantic elegance to a darker, shadowy view of fashion, designers often found their inspiration in things historical.
The Toscana maxi coat by John Galliano at Christian Dior was embellished with a pilgrim belt buckle and fox trim. Romanticism was paired with naturalism in Jean Paul Gaultier's fox cape.
Napoleonic style was the interpretation at Dolce & Gabbana, who took a face-framing white mink scarf with mink tails and paired it with a cropped jacket with oversized notch collar.
Roberto Cavalli's deep-garnet seamed and intricately worked coat was given a romantic touch with rich fox cuffs.
‡
Glamour with Attitude.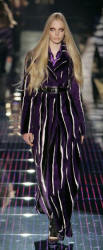 Furs for Autumn/Winter 2006-2007 showed that glamour can take on a powerful stance for modern women, in ways that go to extremes, such as the use of metallic and coats that contrasted maxi against mini.
At Gucci pinstripes in purple and white endowed a sheared mink maxi coat with luxe power, while at Costume National a new mini coat mixed gold satin with mink sleeves. At Prada, unusual fur placements gave coats the unexpected edge, such as mink patched pockets and fox backing on a brown wool coat.
These Autumn/Winter 2006-2007 directions in fur draw from diverse influences, but whatever the style, fur is the defining element in fashion.
The season's accessories play off the dual themes of shape and proportion.
In a season when less means more, the newest accessories speak volumes, both in terms of providing accents for the new spare silhouettes and in the way their own shapes and proportions spotlight these trends. Fur accessories presented for Autumn/Winter 2006-2007 uniformly follow this shift in shape, and finish the look that designer architects have created in their fashions.
Rounding Up Accessories.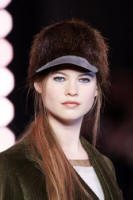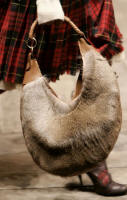 Given the Autumn/Winter season's penchant for all things round, it's only natural that the accessories would follow suit. Most typical was the fur helmet, in black fox fur at Givenchy. A suede peak was added to Nina Ricci's helmet in brown muskrat.
J. Mendel opted for a black knitted karakul skullcap. The helmet achieved a bucket shape, done in coyote at Hermes.
Accentuating a rounder proportion in handbags, Alexander McQueen turned sheared grey fox fur into a hobo bag, perfect for the 'fashionista' who has everything!
Playing With Proportions.
Designers went to the limits with fur accessories this season making each accessory a statement in itself by playing up new proportions. A good example is the oversized fur-cuffed cap at Louis Vuitton and perhaps more directional, the larger-than-life white mink signature-print saddlebag.
Proportions that were intentionally exaggerated came into play with Zang Toi's oversized fox stole, which mimicked the grand scale of the large, re-proportioned tartan in his trouser suit. The newest play on proportions involves long over short, most notably in Versace's pairing mink-trimmed opera-length navy leather gloves with a sleeveless knit mini dress.
The introduction of new accessories that play with shape and proportion turned up the volume on fur and confirmed the bold new direction of shape in fashion for Autumn/Winter 2006-2007.
Above images courtesy of IFTF.
(Page Date 26 July 2006)
-------v6-------
If you like this page then please share it with your friends
---
For more information on ladies and teens fashion trends go to:-
Archived Sections
Custom Search
About Fashion-Era.com
Fashion-Era.com looks at women's costume and fashion history and analyses the mood of an era. Changes in technology, leisure, work, cultural and moral values. Homelife and politics also contribute to lifestyle trends, which in turn influence the clothes we wear. These are the changes that make any era of society special in relation to the study of the costume of a period.

Fashion-Era.com can take no responsibility for any information on the site which may cause you error, loss or costs incurred from use of the information and links either directly or indirectly. This site is owned, designed, written and developed by author: Pauline Thomas and Guy Thomas. This site is designed to be viewed in 1024 X 768 or higher.
ALL RIGHTS RESERVED. Fashion-era.com reserves the right to add or delete information, graphics and links. Copyright © 2001-2014 on all content, text and images in Fashion-era.com. Images and text in this website may not be used on other websites.
Before you write to me for costume/fashion help or information please, please consult the extensive sitemap which lists all our pages. If you still cannot find the answer after searching the site, then before you email me, please consider if you are prepared to make a donation to the website.
Donations
Reader's donations help this site flourish, in particular donations encourage me to write more articles on fashion history as well as current trends. PayPal allows anyone with a credit card to donate easily and securely. You may donate any sum you feel appropriate.