Grey and Mannish Fashion for Winter 2006/7
Women's Fashion Trends 2006/7
Grey fashion clothes are all set to be one of mainstay fashion looks of the working girl's wardrobe this winter 2006/7. Begin your search at Wallis Fashion, which is part of the Arcadia group in UK. Wallis Fashion have some attractive grey pieces on cue with current fashion looks and which are smart, understated and very wearable.
The Boyfriend Man Look
If you are thinking of doing mannish fashion looks, then look no further than Wallis Fashion shops where you will find plenty of grey clothes amid red, purple, citrus green, dog's tooth checks and tartan plaids fashion colours.
Loose wide slouchy trousers really are the fashion alternative for many women to the tightest fitting of jeans. Realistically, such slender jeans are often best suited to models, tweens, teens and twenties.
The nicest mannish grey look I've come across is this photo, see left, of a fashion model wearing the Wallis 'W' Limited Edition Range slouchy trousers. This is trouser volume done in an attractive way. The grey slouch pants are mannish in wide cut, yet here are styled to retain a feminine appealing look.
The grey look shown left is relaxed, yet because of the sober colouration, can also be business smart, making it a perfect fashion choice for work. You get two fashion looks all rolled into one. Wallis Limited Edition Range grey check wide leg trousers £45 (65 Euros). Mustard knitted beret £8 (12 Euros). Bag £30 (44 Euros). Accessories from a selection at Wallis. All Wallis, Principle and Dorothy Perkins images are courtesy of Arcadia.
This particular fashion look, above, is from the selected pieces in the new range called W - A Limited Edition Range by Wallis. This unique collection for Wallis Fashion, consisted of thirty statement pieces and was first launched in September 2006. The W items are exclusively available in the top 10 Wallis stores and from their fashion clothing website. Wallis Fashion really do mean Limited Edition with any W garments - they are only producing a maximum of 300 for each fashion style.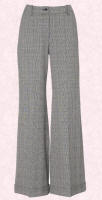 If you hate skinny jeans or sprayed on leggings, you may soon find yourself opting for this sophisticated alternative of wide slouchy 40s style grey mannish trousers. This fashion look was made famous by the film star Katherine Hepburn and the trousers were often borrowed from the boyfriend.
These fine grey check trousers can be bought as separates or a total fashion look. There is also a jacket and dress in the same fabric, making mixing and matching a no brainer.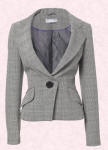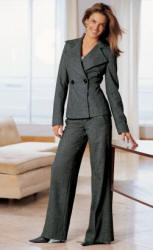 If you take to Mannish fashion try not to overdo the fashion look by teaming the trousers with over masculine looking jackets and men's ties. There are plenty of feminine looking jackets around especially those with large big collars and nipped in waists like this coordinating separate from Wallis stock right and the curvy waist defining jacket left.
This charcoal grey trouser suit left from NEXT DIRECTORY has new wider revers to the collar style. The trouser legs are fuller, but there is no turn up. Turn ups can make you look even shorter if you are shorter than average. So unless you are short in the body and have long legs, shorter women should check carefully if turn up trousers enhance their body silhouette. You may look terrific in them, but this is certainly point you must watch. Image courtesy of Next Directory.
Trouser suit from NEXT Winter 2006/7 Directory. Grey herringbone jacket £59.99 sizes 6 - 22, Grey herringbone trousers £39.99 sizes 6-20R/8-20L/8-18XL, Grey contrast stitch boots £74.99 sizes 35.5 - 42
Both NEXT and Wallis fashion can be relied upon to cater to a wide age and broad size range of UK sizes 8 to 20. Next make some items like this grey trouser suit to size 22. Both retailers just touch the plus size fashion market. Both fashion sellers also do a petite fashion range designed for the woman or girl of 5'3" and under. Wallis Fashion Winter 2006/7 Check trousers £45 (€70), Wallis Check jacket £75 (€120).
You are reading an original fashion trends article written by Pauline Weston Thomas© at www.fashion-era.com ©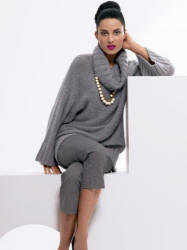 Just as with volume fashion rules, mannish rules mean one main garment, like the mannish turn up trousers. The resulting look can be quite masculine, but remember you are a woman and need to add soft feminine touches.
For the best fashion and feminine effect, mix and match masculine elements with lace blouses, soft cashmere sweaters, angora knits, lace knits and figure curving tops.
Over sized slouchy cowl neck tops are on offer at several shops. I particularly like these versions of the grey cowl neck long sweater tunics.
...(v4r)
Above left - Grey cowl neck sweater £30 (45 Euros). Grey crop trousers £35 (51 Euros). Accessories from a selection at Wallis. Wallis Autumn/Winter 2006. Again these first 2 items are part of the new W Limited Edition Range mentioned above.
Above right - Principles outfit. Principles like Wallis and Dorothy Perkins is also part of the Arcadia group. This lovely Principles cowl tunic is £45 and the Ruskin chocolate boots are £125. The two greys are quite different, thus the high street is offering a good selection of tonal values in grey fashion looks.
An extension of the long slouch top is the mini sweater dress which can be worn as dress or double up as a tunic. This Matalan grey knit dress below at just £14 is a more fitting figure hugging example of the sweater dress.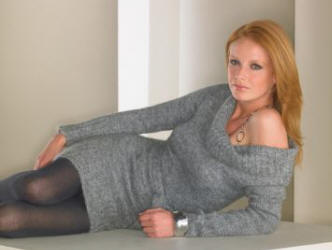 Long Tall Sally caters for the taller woman. At Long Tall Sally their winter range also features two quite different cowl neck grey tops that have caught my attention.
At Dorothy Perkins, the 'back to work' style replaced summer dressing. For work-wear at Dorothy Perkins, masculine tailoring with a feminine touch has been a key theme for Winter 2006/7. Look out for their endless combinations of fashion conscious work-wear.
The Dorothy Perkins basic range starts at only £15. What you get in this range is a soft-feel trouser in bootleg, wide leg or straight leg shapes. The best colours are this season's black, charcoal or chocolate. Dorothy Perkins say you can put together your own capsule wardrobe to suit your budget. Just £25 will buy you a formal suit jacket with pink stitch detail inside and it's possible to create a full look, including suit, blouse, and heels for as little as £80.
I especially like their grey Donegal tweed suit – comprising a sharp pencil skirt with cute cropped swing jacket and it is guaranteed to bring a touch of 40s glamour to your office.
You may already have seen the photo on site in fashion looks, of the Dorothy Perkins relaxed grey fashion outfit with the model wearing grey tones all topped with a beanie hat.
HATS are big fashion news. See the Dorothy Perkins grey fashion outfit with beanie on the Hats page.
You are reading an original fashion trends article written by Pauline Weston Thomas© at www.fashion-era.com ©
‡‡
Just as Dorothy Perkins suggest that grey is a great back to work fashion look. I think grey is a good and practical colour for a city winter coat or jacket. Grey adapts well to the grubbier facts of the daily commute and you need not run screaming to the dry cleaners at the hint of sitting on a less than pristine bus seat.
Grey mixes well with black, red, pink, citrus and many of the fashionable tartan plaids and checks available. This coat from Wallis Fashion has generous cape like sleeves, this makes it better able to sit over slightly bulkier swing jackets, which in turn have roomy sleeves.
If grey is a difficult colour for you to wear, then consider if you merely need to find the correct tone. Fashionable grey ranges from the palest ice grey to soft silver, through to the deepest of charcoal, anthracite and pewter. Blondes generally fair better in the palest silver tones of grey and dark tones rather than mid tones. Their brunette sisters can wear more varied tones of grey and their silver haired grandmothers look great in many silver grey tones which can also be teamed with pastel pink, mauve, lemon and blue very easily.
Metallic tones of silver grey are also more uplifting than dull mid-elephant grey colours. When buying knits look for yarns that have been spun from blends of different grey tones. This always makes for a livelier colour than a one tone grey which can be flat.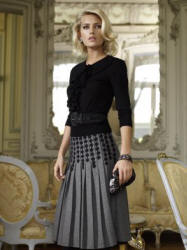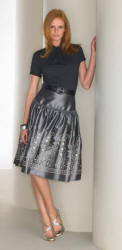 Another way to wear grey well, even though the colour really does not suit you, is to wear it only on the bottom half of your outfit as these models do.
This way of wearing a grey skirt, is an excellent choice for those who long to follow the grey trend, but cannot wear grey close to their complexion.
See left photo from Phase Eight and right from Matalan. A white or coloured top could look just as good teamed with either skirt.
Phase Eight top £60, skirt £75, belt £35, bag £25.
Matalan skirt and top, half sleeve gathered roll neck £6, belt £3, embellished peplum skirt £16, metallic cross strap heels £14.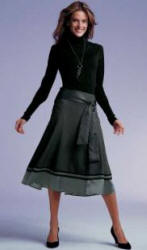 This is a similar soft look from NEXT Directory.
Deep Waist Roll Neck Sweater in Black is £14.99. No. 102-207-X38.
Grey Circle Skirt is £29.99. No. 109-809-X38.
Black Ring Long Charm Necklace Chain length 72cm, £12.99.
Demi Wedge Court Shoes, Heel height 7cm approx. £29.99
These images courtesy of Phase Eight, NEXT and Matalan.
We flirted with grey fashion looks briefly last autumn, but now this understated palette has taken hold and is strong at the start of 2007 as pastel silver. Grey can be classy and fits in with the new elegance of the understated look, where bling is now so often overdone, banal and boring. The new subtlety of grey is polished and cool.
Read full fashion colour report 2006/7 here. See Autumn 2006/7 colour mood boards.
The main new winter 2006/7 fashion colour combo colours are greys, charcoals, earthen browns, ochre and rust tones, red, burgundy, purple, plum, deep blue, khaki olive, black and white. BUT you can read more about these colours and about fabrics on the Winter 2006/7 colour page and see the colour moodboard page I made for fashion-era.
You are reading an original fashion trends article written by Pauline Weston Thomas© at www.fashion-era.com ©
See my red, purple and earthen gold mood boards here.
Images courtesy of Wallis, Principles, at Arcadia also Long Tall Sally, Phase Eight, Next and Matalan.
(Page Date 30th August 2006, updated 16 Jan 2007)
-------v6-------
If you like this page then please share it with your friends
---
For more information on ladies and teens fashion trends go to:-
Archived Sections
Custom Search
About Fashion-Era.com
Fashion-Era.com looks at women's costume and fashion history and analyses the mood of an era. Changes in technology, leisure, work, cultural and moral values. Homelife and politics also contribute to lifestyle trends, which in turn influence the clothes we wear. These are the changes that make any era of society special in relation to the study of the costume of a period.

Fashion-Era.com can take no responsibility for any information on the site which may cause you error, loss or costs incurred from use of the information and links either directly or indirectly. This site is owned, designed, written and developed by author: Pauline Thomas and Guy Thomas. This site is designed to be viewed in 1024 X 768 or higher.
ALL RIGHTS RESERVED. Fashion-era.com reserves the right to add or delete information, graphics and links. Copyright © 2001-2014 on all content, text and images in Fashion-era.com. Images and text in this website may not be used on other websites.
Before you write to me for costume/fashion help or information please, please consult the extensive sitemap which lists all our pages. If you still cannot find the answer after searching the site, then before you email me, please consider if you are prepared to make a donation to the website.
Donations
Reader's donations help this site flourish, in particular donations encourage me to write more articles on fashion history as well as current trends. PayPal allows anyone with a credit card to donate easily and securely. You may donate any sum you feel appropriate.