Fashion Trends - Women's Hats Autumn 2006 Winter 2007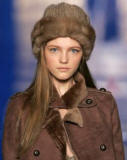 Once the ladies hat was an essential accessory and no one dared go out of the house without a hat. Now, once again, a woman's fashion hat is an essential accessory for this autumn 2006 and Winter 2007. Good winter warmer hats perform not only a fashion function, but a utilitarian one too.
You can see women's fashion hat and hair fashion history from other eras here at hats 1900+. Special occasion and wedding hats for 2006 are shown and discussed on the occasion page.
Scroll below for lots of images of women's fashion hats for autumn 2006.
Almost 50% of body heat loss is through the head and neck area. In our world of heated cars and centrally heated homes many people have simply forgotten that hats are a marvellous utilitarian fashion. If the skull region is kept warm, then the blood in the brain circulates properly to all parts and therefore makes our brain function much better. With a blood supply freely moving through the brain, we are able to continue performing tasks and go about our business. When we become very cold, especially when the wind chill factor is high in winter this activity slows down and all we can think about is how cold we feel. Concentration is lost and getting warmer is all that matters.
Without a protective covering, the head and neck becomes a very exposed area. In freezing weather up to 50% of body heat can quite rapidly be lost just in this area alone. Adequate headgear does not prevent heat loss, but because trapped air is a poor conductor of heat the hat helps provide an insulating layer. The trapped air keeps the head warmer. Without a hat in the wrong climatic conditions, hypothermia will occur much faster than when wearing a hat. In fact when someone does have hypothermia the first thing you should do is make sure their crown and neck is covered to prevent further heat loss which can be as much as 50% of body heat.
This Autumn 2006, women's fashion hats range from simple berets, Aran knit cable patterns, rib knit hats, cloche hats, felted hats, beanies, baker boy caps, Dr Zhivago fur hats and trilby styles. With layering all the rage this fall then hats are a great way to slip on another layer.
Let's look at both the designer hat versions and the high street headwear equivalents.
‡‡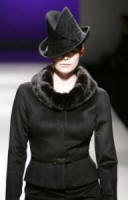 This coming winter 2007, the Trilby is the fashionable hat style to complete either the mannish fashion look or understated fashion look. On the left we see a black Trilby hat topping off a black fifties suit trimmed with a mink collar and by Conran. On the right we see the Trilby hat by high street retailer Laura Ashley.
The trilby was first seen in the Victorian era when millinery supplies were big business. In the Victorian era if you wanted to get ahead you got a hat. The Trilby gained prominence as the hat of choice in the 1920s when it supplanted stiffer styles. It was an all purpose narrow flexible brim hat that was much less rigid than earlier more sombre stiff designs.
The name Trilby is from the style of hat selected for wear in 1894 at the first London performance of the play based on George du Maurier's novel Trilby.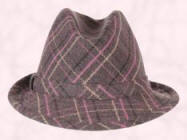 The style was worn especially for sporting and country wear. But soon it looked more formal than any other style of hat as casual wear or no hat became the norm. Ladies hats had a revival in the 1980s when a youthful Princess Diana helped popularize a woman's hat. The Trilby and the beret were both popular hat styles around the mid 1980s.
This winter many fashion companies have produced variations of the Trilby. Expect to see it in a wide range of materials from angora to classic wool checks like this fine example right from Accessorize.
Image courtesy of Accessorize - Pink plaid upturn brim trilby £20 €14.90.
You are reading an original fashion trends article written by Pauline Weston Thomas© at www.fashion-era.com ©
Most ordinary ladies hats are everyday, pull-on functional and easy to wear hats. They are also small enough to keep in your capacious handbag when not on your head. On chill winter days a hat like a beanie, a beret or a Baker Boy cap should keep you warm and safe.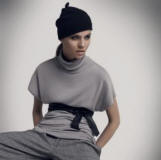 The most simple of hat styles for both sexes is a pull on or beanie hat closely followed by a beret shape. Both types are easy to make yourself by either sewing, knitting, crocheting or felting. But this season there are plenty of beanie hat, beret or tam o'shanter varieties to choose from in the stores.
When I think of a beanie I think of a plain close fitting hat that probably 50 years ago was more like a bobble hat or ski cap. Once bobbles and tassels are removed you are left with a close fitting basic cover for the skull like this beanie hat shown left. This great easy to wear beanie is from Dorothy Perkins and is teamed with an on trend grey jersey top, wider trousers and all finished off with a contrast bow belt.
The model looks great and the outfit is as always for Dorothy Perkins, value for money and is inexpensive

But modern beanies have great variation. They can be very close fitting jersey knits, textured cable yarn knits, fleece hats, felted wool hats, thicker fuller rib hats and also made of special thermal insulation fabrics like Gore-Tex. You may also call a beanie a beany.
This ivory white cable knit beanie to the right is by Burberry. The rust knit beanie by Principles left is a very good high street version.

This fine pull-on version of a beanie hat with a bow by Marks and Spencer is wonderful value at £8 and is so stylish it's almost a brimless cloche hat.
§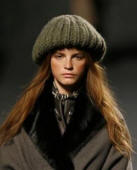 Beanies are literally big this winter, when you look at this olive green version of knit rib beanie hat by Marc Jacobs. It certainly is a chunky piece of knitted headwear, but still a beanie at heart.
This dusty teal grey beanie right is from Topshop and is also knitted as a wider rib. It reminds me of an updated 1950's bobble hat and of old hand knitting patterns of hats. I love it and I want one for country walks! Maybe it's even time to get out those knitting needles or my knitting machine and dash off some ladies hats!
Topshop have a similar design in women's headwear.
Last year I featured Constance Willems and her hand made felt and knit hats. She has an interesting selection of headwear for women and for men. Some hats are very suited to cold weather. You can see some of her hats here in the hat section at Fashion-era or visit her website here. She features several modern beanie styles and capacious felted hoods that have a medieval quality.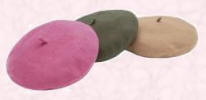 These multi colour berets are from Benetton, but expect to see coloured and patterned or check berets in every store.

This grey beret from John Lewis is in angora so has a softer, fluffier more gentle look. The purple angora Baker Boy cap in the header is also from John Lewis.
This Prince of Wales check baker boy cap (also called bakerboy hat) is from Accessorize and is £15/€23.50.
Baker boy hats have a slightly more rounded crown like a sectioned schoolboy hat rather than flat workman's caps of the 1900s, but they are usually puffier than a baseball cap. A baseball cap also has a much larger sun protecting visor peak.
Baker boy hats are also known as schoolboy caps.
The crown of a Baker boy hat is divided into segments which helps achieve a good round shape and this is one of the easy hats in the field of millinery to sew yourself.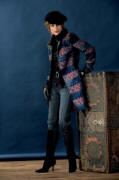 Some people call these caps John Lennon caps, but Lennon caps are flatter like a workman or seaman's cap. The Beatles made such hats popular at the time, but the wearing of hats by men was already in decline in the 1960s. Less rigid social attitudes, better transport and hooded garments like duffle coats and anoraks all helped in the demise of the hat.
The image left is a woman's hat from Gil Bret's Autumn 2006 winter 3007 range.
When combined with a fine black polo neck jumper and casual dark denim jeans, the long luxurious jacquard jacket in midnight blue and brick red with a fake fur collar, is a real eye-catcher. Long jacket 8045/6484 - UK £235.00/IRL€320.00. Jeans 8248/6515 - UK £90.00/IRL€120.00. Material: 97% cotton, 3% elastane and Polo neck jumper 8654/0619 - UK £90.00/IRL €120.00. Material: 70% silk (mulberry silk), 30% cashmere - all teamed with a hat.
‡
Riding style jockey helmet hats were shown at many designer shows including those of Ricci and Balenciaga.
The solid, but quite high domed hats made for distinctive and memorable women's fashion hats.
This brown helmet peaked hat is a mink hat by Ricci. The black hat to the right is also fine mink and by Balenciaga.
But would you really want to wear one unless you were on a horse.
You are reading an original fashion trends article written by Pauline Weston Thomas© at www.fashion-era.com ©
Designers everywhere used luxury furs to make headwear up as large Dr Zhivago hats. Also expect to see faux fur versions of women's fur hats in the high street.
Hoods are particularly good at trapping large amounts of body heated air helping to keep you warm. The modern hood can be loose or attached to a knit or on a posh parka. A hoodie (despite the criticism of them) can be just the answer for days when you want to cocoon. But if parkas are not your style then there are many hat types to select from this fall. Read more about hats in main looks for Autumn 2006/7 and in wardrobe tips for autumn winter 2006/7.
If you wish to read more about millinery choices for special occasions including some wedding fascinators of 2006 then visit the occasion hat page.
You are reading an original fashion trends article written by Pauline Weston Thomas© at www.fashion-era.com ©
(Page Date 11 July 2006)
Images courtesy of Dorothy Perkins, IFTF, Topshop, Laura Ashley, Vera Mont, John Lewis, Marks and Spencer, Accessorize and Benetton. Header image courtesy of John Lewis.
-------v6-------
If you like this page then please share it with your friends
---
For more information on ladies and teens fashion trends go to:-
Archived Sections
Custom Search
About Fashion-Era.com
Fashion-Era.com looks at women's costume and fashion history and analyses the mood of an era. Changes in technology, leisure, work, cultural and moral values. Homelife and politics also contribute to lifestyle trends, which in turn influence the clothes we wear. These are the changes that make any era of society special in relation to the study of the costume of a period.

Fashion-Era.com can take no responsibility for any information on the site which may cause you error, loss or costs incurred from use of the information and links either directly or indirectly. This site is owned, designed, written and developed by author: Pauline Thomas and Guy Thomas. This site is designed to be viewed in 1024 X 768 or higher.
ALL RIGHTS RESERVED. Fashion-era.com reserves the right to add or delete information, graphics and links. Copyright © 2001-2014 on all content, text and images in Fashion-era.com. Images and text in this website may not be used on other websites.
Before you write to me for costume/fashion help or information please, please consult the extensive sitemap which lists all our pages. If you still cannot find the answer after searching the site, then before you email me, please consider if you are prepared to make a donation to the website.
Donations
Reader's donations help this site flourish, in particular donations encourage me to write more articles on fashion history as well as current trends. PayPal allows anyone with a credit card to donate easily and securely. You may donate any sum you feel appropriate.