Women's Fashion Jewellery Autumn 2006 Winter 2007
Everywhere this year you will see shops displaying large chunky over-the-top gold jewellery, gold chains and cocktail rings with massive settings.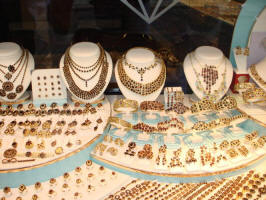 I took this photograph in Prague this summer outside a jeweller's shop just off the Charles Bridge in Prague city.
The Czech state is famed for its Bohemian garnet jewellery. Some of the gemstone settings are beautiful and some are pure kitsch, but I was struck by this central garnet encrusted torque.
The estate jewellery on display was magnificent and full of over the top fashion accessories encrusted and studded with garnet gems set in gold.
Garnet gems are perfect to bring out tones of red - one of the season's hottest colours for fall. You can read more about red fashion trends on the Lady in Red page.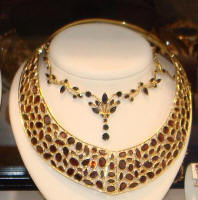 This, jeweller's window and many others like it were set ablaze with over the top opulence. Remember just one of these ornate necklaces is enough. I am very fond of this deep torque example encrusted with red garnets and shown to the right.
How I wish I had gone in to examine the red garnets more closely and to try this piece on. Now I wonder how I resisted going in to take that closer look.
Click to see how wonderful this bold dramatic red garnet torque looks when enlarged.
If you are seeking a gift of women's gold jewellery, then the garnet gem is the birthstone of January. You can read more about the red garnet birthstone on my January page.
You are reading an original fashion trends article written by Pauline Weston Thomas© at www.fashion-era.com ©
‡‡
Cartier's Caress d'Orchidee collection of orchid jewellery motifs for this year is stunningly designed diamond estate jewellery.
This beautiful ring is one of the items in the Cartier range. Large rings are a hot fashion trend.

But if you cannot run to estate jewellery you may well find some costume jewellery such as these lovely cubic zirconia double circle chandelier drop earrings.
These are from www.sparklingaccessories.com and may well add just the finishing touch for your special night out.
With their pave set cubic zirconia at the posts and pave set cubic zirconia lining the hanging sterling silver loops they are truly glamorous.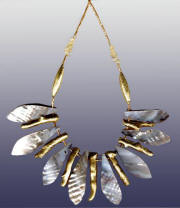 Maria Helena Spector is a Peruvian painter and jewellery designer living in London. She also sells jewellery for women who have problems in getting necklaces for a larger plus size neck.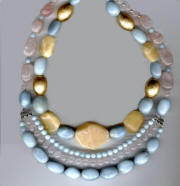 Maria Spector does of course sell pieces that fit an average sized neck too.
Her necklaces are unique one of a kind pieces and are worked mainly with semi precious stone and gold leaf.
This beautiful necklace left by Maria Spector is Mother of Pearl and corals covered in 24ct gold leaf. The necklace right is made from amazonite, calcite, rose quartz and 24ct gold leaf and would give presence to any woman wearing it. Plus size women carry off strong bold pieces really well.
These very unusual necklaces have an earthy quality that is beyond mass produced Boho jewellery. You really won't see loads of others wearing a necklace exactly the same as a one off from Maria. If you desire something unique then the work of a designing artist like Maria is the answer - she is an artist at work who loves her craft. Some of Maria's fine paintings and drawings are also on display at her website link here.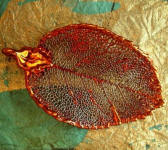 Another designer with interesting, unique and affordable pieces is Marina Nelson of Soularwave.etsy.com.
She makes gold dipped leaves into pendants. She told me about her new autumn leaves and I think they would look wonderful with the clothing options I've written about in autumn trends 2006.
These jewellery pendants are 22K gold dipped leaves and they look gorgeous with rich autumn browns and purples or even with just a crisp white shirt.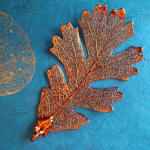 Marina tells me that the stunning leaves she makes are each unique handcrafted pieces of wearable art. The real Evergreen leaves are dipped in 22K gold and handpainted with copper-like colours. The process preserves and strengthens the leaf so it can be treasured forever, but you can still see the intricate inner structure.
This pendant can be slipped onto most chains and ribbons that you already own or alternatives Marina offers such as leather cord. Like Maria above, internationally aware Marina also does custom work.
...(v4r)
You can see more pieces using different evergreen leaves and other jewellery items at soularwave.etsy.com.
You are reading an original fashion trends article written by Pauline Weston Thomas© at www.fashion-era.com ©
§
Cuffs are big news this fall. Their popularity has been growing as a golden jewellery accessory for some time, but this autumn they will be more prominent and more easily available than before.

This extra large link shining gold cuff right is by Calow and is available from John Lewis stores. You can see more cuffs on the gold accessory page.
All those three quarter sleeves and elbow length sleeves that are so popular in the Autumn 2006 Looks page are the perfect foil for showing great bracelets and cuffs. This thumbnail below is of bracelets and bangles from the garnet window display shown above.
A great timepiece is not only decorative, but useful too.
For classic women's gold jewellery, you may also find a traditional, yet modern watch like this 9 ct gold watch by Rotary (Model LB10227/41) with a 20 brilliant cut diamond oval face surround, will smooth you into next years more understated, but luxe trends. This watch at RRP £475 is from Rotary Stockists.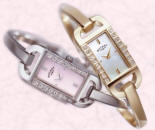 Alternatively this 9ct gold plated Rotary fashion watch bangle has a white mother of pearl dial and Austrian crystal set bezel. Model shown is Rotary watch LB02304/07. This watch at RRP £139 is available from Rotary Stockists.
Of course the silver tone bangle version also available from Rotary stockists is just as fashionable with so much silver and grey also in the colour palette this fall.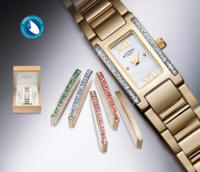 If you prefer to ring the changes you may like to be able to colour match the crystals bars of your watch to your dress. This Rotary Dolphin watch enables you to do just that. Furthermore because it is part of their Dolphin range, you could just as easily wear it with your bikini and swim in it all day.
This Model LB02423/41 shown left is the Ladies Dolphin Standard waterproof gold plate Sabrina bracelet watch, has six sets of interchangeable Austrian crystal bezels. It can be regarded as 'Six watches in one' all for £165.
Images courtesy of Maria Spector, Rotary, Marina Nelson and sparklingaccessories.com.
You are reading an original fashion trends article written by Pauline Weston Thomas© at www.fashion-era.com ©
(Page Date 11 July 2006, updated Sept 2006)
-------v6-------
If you like this page then please share it with your friends
---
For more information on ladies and teens fashion trends go to:-
Archived Sections
Custom Search
About Fashion-Era.com
Fashion-Era.com looks at women's costume and fashion history and analyses the mood of an era. Changes in technology, leisure, work, cultural and moral values. Homelife and politics also contribute to lifestyle trends, which in turn influence the clothes we wear. These are the changes that make any era of society special in relation to the study of the costume of a period.

Fashion-Era.com can take no responsibility for any information on the site which may cause you error, loss or costs incurred from use of the information and links either directly or indirectly. This site is owned, designed, written and developed by author: Pauline Thomas and Guy Thomas. This site is designed to be viewed in 1024 X 768 or higher.
ALL RIGHTS RESERVED. Fashion-era.com reserves the right to add or delete information, graphics and links. Copyright © 2001-2014 on all content, text and images in Fashion-era.com. Images and text in this website may not be used on other websites.
Before you write to me for costume/fashion help or information please, please consult the extensive sitemap which lists all our pages. If you still cannot find the answer after searching the site, then before you email me, please consider if you are prepared to make a donation to the website.
Donations
Reader's donations help this site flourish, in particular donations encourage me to write more articles on fashion history as well as current trends. PayPal allows anyone with a credit card to donate easily and securely. You may donate any sum you feel appropriate.