Ladies Evening Party Dress - The Short Prom Dress
Fashions for Office Parties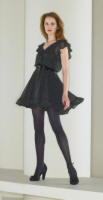 The party season is always with us, but somehow the season leading up to Christmas makes women panic before they find that special evening party dress. The reaction is just the same if the search is for a prom dress.
This page includes a mixed range of dresses suitable for a variety of age groups. Mostly the available dresses in shops are sleeveless and this is a concern for many older women including myself. Once the tone in the arms goes, opt for little top arm cover-ups for these dresses. Somewhere there will be a jacket or shrug that makes a dress you might initially refuse to consider turn into a wearable option with a small top layer. See below and a bolero jacket here.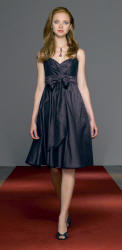 If you are younger then you can wear short evening party dresses that are totally feminine and show legs and plenty of bare shoulder.
Above Left - short dress from Matalan.
Right - A very pretty dress called the Bo Party Dress in dark purple at £135 and from Monsoon. It would also make a great short prom dress.
The time to get away with the skimpier look is when you are young and much lovelier than you will ever realise. One day it dawns on you that if only you had known how good you looked at 21, you would have had more confidence to wear clothes that really are difficult to wear wisely when you advance in years!
You are reading an original fashion trends article written by Pauline Weston Thomas© at www.fashion-era.com ©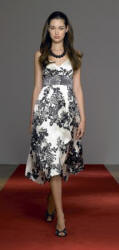 The black and white dress left and the deep purple dress above are both created by the much loved high street retailer Monsoon. Each is the perfect red-carpet short party dress for a woman who can carry off the pretty baby doll elements of the empire line designs.
Each ladies party dress is romantic, feminine, striking, yet tasteful.
Each is the sort of dress that should it suit your figure type and personality. This party dress will carry you through several seasons, because full skirts can only get fuller as we take on 'volume' fashion looks.
V necks are popular and are taking on more of a wide-set V shape rather than being the pure narrow plunge necklines of other years. Plunge necklines are still around, yet because of the more refined elements of the rest of a dress, seem to have left that old fashioned raunchy look behind.
Note how skirts in all four styles have become fuller and each skim the knee line. Soft chiffons and luxury silks are ultra feminine and ladylike. These two evening party dresses below are from high street retailers Laura Ashley and French Connection.
The Laura Ashley's pale silver grey dress is subtly understated, yet very glamorous with its cinched in waist.
The yellow lemon party dress from French Connection is Grecian in line and has that same soft feminine charge. The French Connection evening party dress also comes in dark charcoal grey shown in the centre, giving an almost classic little black dress version.
Lots of women hate showing their arms, especially if they have poor tone. A sleeveless dress can often be matched in the store with a cover up garment such as a shrug or other bolero jacket. Make friends with the assistant and ask what variety of cover-up items they have that match the dress you have selected.
‡‡
The straight sheath dress, harking back to the 1950s, is a hot autumn evening party dress choice. Necklines are primarily boat shaped, but sometimes can be square cut with wide or narrow straps or strapless bandeaus. These three evening party dresses have more tulip volume from the waistline and taper to a narrow hemline.
The plainer silhouette is used to show lush fabrics including satins, lace overlays, flocked fabrics and brocades to advantage. These evening party dresses and shown in the thumbnails above, are from left to right, the Christmas ranges of House of Fraser, Wallis, and Marks and Spencer. Images of these ladies party dresses are courtesy of the respective companies are available later in autumn.
You are reading an original fashion trends article written by Pauline Weston Thomas© at www.fashion-era.com ©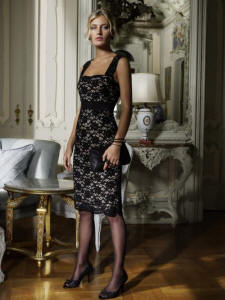 This black lace dress left is by Phase Eight.
This is a great cocktail dress to take you through a wide range of evening events.
Its striking black lace overlay, contrast wide straps and fashionably high contrast banded waist line would see you through no end of dressy invitations from dance to dinner.
It's perfect if you don't want to wear a full length gown. It's snappy, yet formal and would show off a good figure too.
Phase Eight have some very good pieces including some gold lace effect evening party dresses. See the Phase Eight gold dress on the gold fashion for autumn 2006 page.
Enlarge this thumbnail to see the scallop lace hem of the Phase Eight dress.
When buying lace dresses look for quality lace, which is not over flimsy. Cheaper flimsy ultra fine lace, which is primarily net, catches easily and tears. It can get crumpled rapidly too.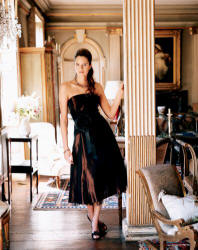 High quality lace is more resilient to creasing and you will be glad that you opted for a better quality fabric when, in wear, you realise how much more expensive the dress will look.
Keep your eyes open for lace garments where the dress, dress top or sleeve ends, utilize the scallop of the lace in an imaginative way. Lace is a memorable fabric for a prom dress too.
There are plenty of strapless ladies dresses on offer this season. High street retailers Monsoon and Laura Ashley will both have several styles available.
Rich earthy brown is a hue of this autumn and this classic cocktail frock from Laura Ashley, combines on trend colour, strapless bodice and a volume skirt. See picture above right.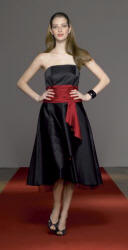 Notice how 50% of the models shown here are not over tanned and are sporting natural skin tones. This is a trend gaining momentum as the raunchy look expires.
If you are ethnically pale skinned, then in winter, a pale skin is now very acceptable. Whatever your skin colour, if you plan to bare your shoulders make sure you condition your skin and use a body scrub/body brush weeks in advance. Regular exfoliation and conditioning with good body creams will keep your skin looking beautiful and give it a health glow.
If you prefer a hint of colour, then just a light faint glow of fake tan looks more natural than a deep mahogany tan.
...(v4r)
The deep mahogany fake tan look is very dated. For a really soft hint of colour, try Dove Summer Glow Body lotion and gradually build the lightest of soft tans in a couple of days. Or you could use some of the sunless tan glow make-ups that are temporary and very suitable for a one-off event.
This black strapless evening party dress from Monsoon is very similar in style to the one from Laura Ashley above. Contrast sashes like the red sash cummerbund, add freshness to what is basically a little black dress.
You are reading an original fashion trends article written by Pauline Weston Thomas© at www.fashion-era.com ©
Everyone should have at least one little black dress.
If you are very youthful you may be looking for dresses like these two choices below. They have elements that can also be adapted easily to personalized Gothic looks. Both these little black dresses featured below are short and very pretty.
River Island's classic black dress (main picture below) is given a fashionable overhaul with a bandeau finish and exaggerated ruffles. River Island Tiered Dress - Ruffle pleated bandeau dress £59.99; Metallic crossover shoes £49.99; Patent tie front brogue shoes £49.99.
The little black bra dress, above right, is by French Connection. French Connection Black Frill Tiered Dress £90
A basic black dress, like the short sleeved scoop neck magic slimming dress from Marks and Spencer, is versatile in that it could be worn in the daytime too. See below.
‡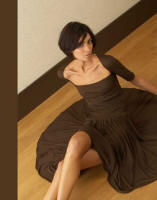 If you seek all day sophistication that will take you into evening, then this beautiful dress from Harvey Nichols might be just the answer. This dark brown ladies dress is by Graeme Black and could be styled in variety of ways to make it look different.
Whilst it would look great with the finest of sheer tights, the addition of full net petticoats, lace tights or leggings would add a contemporary touch. Just add jewellery and transform it for evening wear.
What wonderful attractive collar bones this model has. If you have good features such as great collar bones or a lovely long neck, then choose a neckline that shows them off.
There are other parts of the body apart from breasts that have great allure when used in a subtle manner.
The raunchy look has become tired and lost ground. Now the new understated look is certainly more appropriate for an office event.
If you feel you are fed up of black, but want a stunning statement of colour. Then these evening party dresses below can offer an interesting alternative. Colours of this season include rich purples, golds and reds.
I have featured pages on all these colours in the autumn trends section. Maybe the man of the moment will remember you were wearing, not a purple, red dress or even a little black dress, but a little blue number that matched your eyes.
Men love it when women wear velvet dresses. Velvet is such a sensuous luxurious fabric that is well suited to grown up winter dressing.
A lush rich violet blue frock like this velvet evening party dress from Phase Eight, above right, will make you feel very special. It's perfect for the festive season. The intensity of the colour is striking and memorable. This velvet dress is available at Phase Eight shops now. You can read about velvet fabrics, over pressing, under pressing, general care and sewing velvet tips in the velvets section.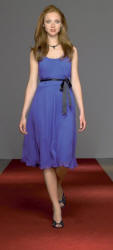 Lighter blues like these two cobalt blue dresses are just as lovely and are colours that look good against most complexions.
This wispy chiffon number from Monsoon is a marvellous shade of blue. (See Left). Monsoon Kiko Dress in Cobalt £85 is available in autumn.
You would certainly stand out among any sea of little black dresses. It says elegance with not a hint of vulgarity.
Sometimes at Christmas you get a party invite with the words 'fancy dress'. Some people love that and others hate hearing those words, because they feel that the one time of the year when they can dress-up, has been hijacked by the cast of a badly designed costume movie.
Let us concentrate on the many who prefer to go glamour.
You are reading an original fashion trends article written by Pauline Weston Thomas© at www.fashion-era.com ©
-------v6-------
Look no further than Debenhams which has a great selection of both short and long evening party gowns and prom dresses. Many designs are special ranges by top UK fashion designers such as Jasper Conran, Pearce II Fionda, Ben de Lisi and Julien Macdonald. Many styles are fashion forward featuring the latest fashion trend elements.
What better choice than this little frill tiered evening party dress from Debenhams which is perfect for any 50s theme party or other occasion. It has a real come-dancing look to it. This dress is by Debenhams and is perfect for parties. The 'Star' range is designed by Julien Macdonald for Debenhams and this is a Limited Edition prom dress. Dress available autumn.
In fact if you browse the Debenhams website you will see that already there is a large and varied selection of short and long evening dresses for autumn. It has one of the best collections of little black dresses I have seen in one spot.
Debenhams also have a petite range.
Following similar fashion lines, these pretty cocktail dresses are perfect for those with a petite figure. Both the designs are by Petite Affair and are perfectly proportioned for a petite fit. The clothes are scaled down to suit more delicate limbs and a dainty figure for the shorter woman who is 5'3" or under.
The cocktail dresses are both from the petite range at Petite Affair an online website specialising in fashions for the smaller woman.
Petite Affair Autumn/Winter 2006 Ebony Velvet Print Dress, sizes 6-16 at £149.
Petite Affair Autumn/Winter 2006. Sequinned Evening Dress 6-14 £110, Velvet Shrug 6-16 £39.
Petites are generally neglected by fashion houses. Over recent years a small amount of progress has been made with ranges like Précis Petite and Minuet. NEXT UK has a ladies petite range of a limited selection of its regular NEXT Directory. Some chain stores such as Marks and Spencer also offer a ladies petite selection.
However I think petite garments are so often made up in safe classic styles. It must be very dull for a young petite woman to be faced with some of the dire ranges on offer in some stores. A girl of 20 does not want a petite product that looks more suitable for a woman of 80. In fact a woman of 50 or 60 doesn't want a petite garment with a look that she thinks her mother might like!
The petite market wants fashionable looks just like their 5'9" friends. Retailers might be missing an opportunity to develop this niche in the UK.
Read my Marks and Spencer slimming Magic dress review.
Finally if you are hunting for an affordable basic black dress you can wear to the office all day with perhaps a covering jacket and go straight out wearing it at 6pm, consider the short sleeved magic slimming dress in black from Marks and Spencer. You can read my consumer review of the magic dress on a full page on site or see it via the link below.
I'm sure you have looked at photos discarded with disgust 10 years ago and suddenly realised you were not nearly as bad as you may have thought and were actually quite stunning! So when you are young enough to get away with certain looks take that opportunity.
You can be assured that as long as you shop in advance there will be plenty of short party dresses available. If you are brave enough to wait until a week before Christmas, then the chances are you might just pick up a bargain in the sales, although many Christmas and office party events take place in November and early December. Have a great night...
You are reading an original fashion trends article written by Pauline Weston Thomas© at www.fashion-era.com ©
Images all courtesy of Monsoon, Debenhams Plc, Phase Eight, Laura Ashley, River Island, Harvey Nichols, Petite Affair Ltd, Marks & Spencer and French Connection. Special thanks to Prshots.
-------v6-------
(Page Date 20 August 2006)
If you like this page then please share it with your friends
---
For more information on ladies and teens fashion trends go to:-
Archived Sections
Custom Search
About Fashion-Era.com
Fashion-Era.com looks at women's costume and fashion history and analyses the mood of an era. Changes in technology, leisure, work, cultural and moral values. Homelife and politics also contribute to lifestyle trends, which in turn influence the clothes we wear. These are the changes that make any era of society special in relation to the study of the costume of a period.

Fashion-Era.com can take no responsibility for any information on the site which may cause you error, loss or costs incurred from use of the information and links either directly or indirectly. This site is owned, designed, written and developed by author: Pauline Thomas and Guy Thomas. This site is designed to be viewed in 1024 X 768 or higher.
ALL RIGHTS RESERVED. Fashion-era.com reserves the right to add or delete information, graphics and links. Copyright © 2001-2014 on all content, text and images in Fashion-era.com. Images and text in this website may not be used on other websites.
Before you write to me for costume/fashion help or information please, please consult the extensive sitemap which lists all our pages. If you still cannot find the answer after searching the site, then before you email me, please consider if you are prepared to make a donation to the website.
Donations
Reader's donations help this site flourish, in particular donations encourage me to write more articles on fashion history as well as current trends. PayPal allows anyone with a credit card to donate easily and securely. You may donate any sum you feel appropriate.